Editor Emma Ballard picks her top 10 most memorable moments from the professional golf world over the last 12 months.
What a year it has been in professional golf. I can't think of year like it, with so much upheaval, controversy and general bad feeling. However, I am here to look back at so much more than the impact of LIV Golf.
There have been some fantastic, significant, poignant and historic moments throughout the year and it was difficult to choose just 10 to highlight.
So, in no particular order, here are my top 10 moments in professional golf from 2022.
Linn Grant: History maker
This year Sweden's Linn Grant took the professional golf world by storm, in what was her full rookie season. There were multiple highlights throughout the year, which culminated in six victories across multiple tours.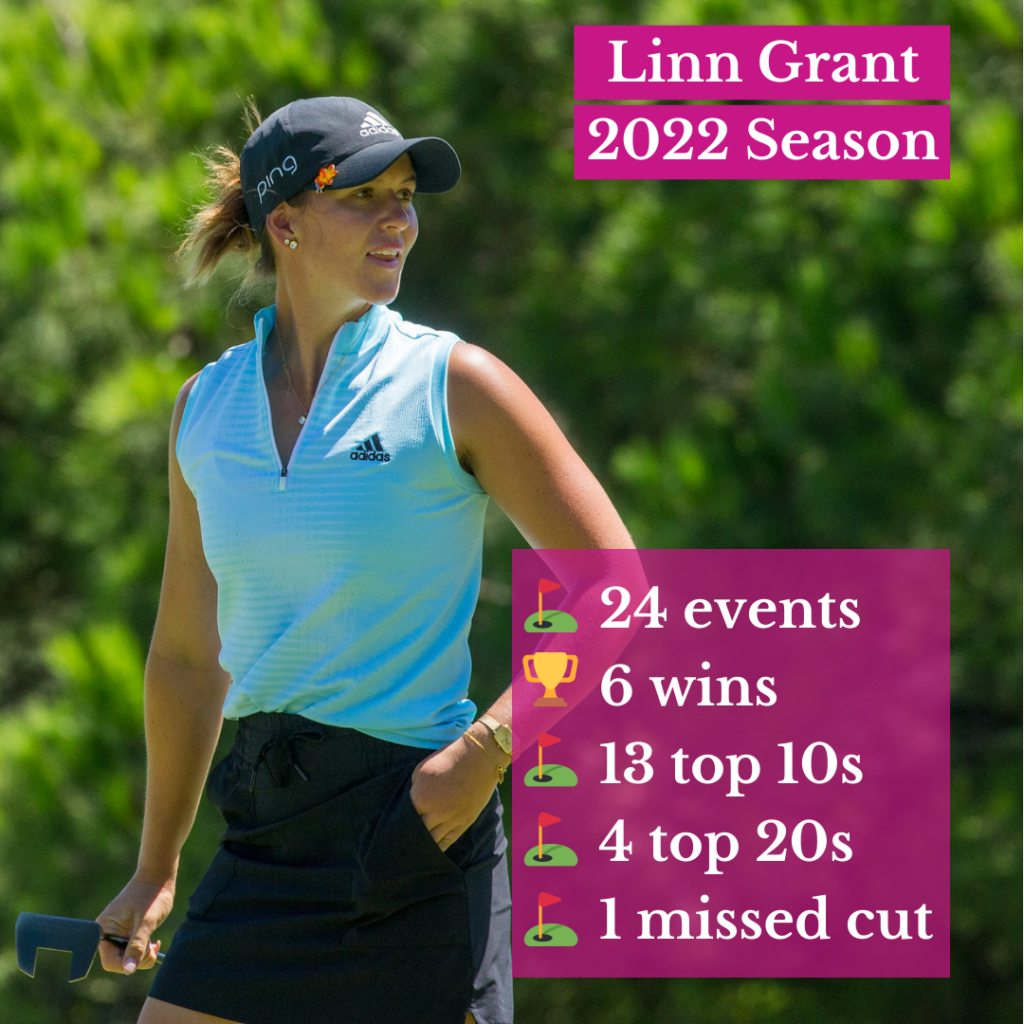 However, the stand-out victory and moment that I picked is obviously her comprehensive win at the Scandinavian Mixed. The then 22-year-old Swede stormed to a sensational nine-shot victory at Halmstad Golf Club and capped a historic week shooting rounds of 66, 68, 66 and 64 to win with a total of 24-under-par and become the first female winner on the DP World Tour.
The Volvo Car Scandinavian Mixed is a co-sanctioned event between the LET and DP World Tour which sees 78 men and 78 women playing for the same prize fund of US $2 million and one trophy.
Commenting on the impact her victory could have, Grant said:
"I hope this victory is big. I hope it brings women more forward and it gets people's eyes on us a little bit more. It is always nice to say that you beat the guys for a week!"
Grant's win caused lots of healthy discussion around mixed events and also gave Women & Golf's Charlotte the opportunity to write about why this was such a pivotal moment in professional golf. Read it here.
Grant finished the year with the Rookie of the Year and was crowned Race to Costa del Sol Champion on the Ladies European Tour.
Tiger Woods: The 150th Open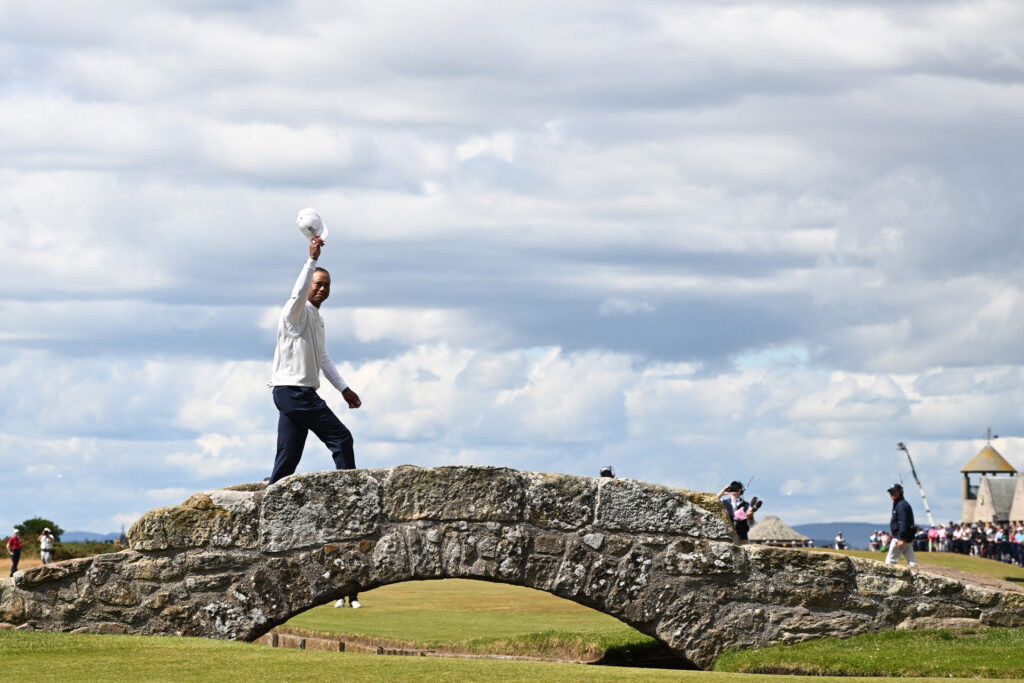 After having to wait an extra year for the 150th playing of The Open Championship, St Andrews was more than ready to welcome 156 of the best male golfers and a record number of spectators to the hallowed fairways.
It was a spectacular week, which culminated in a thrilling final round where Cameron Smith held his nerve to shoot the round of his career, an eight-under-par 64 to win his first Major. At the same time it was disappointment for Rory McIlroy who had been looking to win his fifth major, but he just couldn't compete against the then 28-year-old Australian.
For me, the most poignant moment of the championship was the second day when legends of the game said (potentially) their farewells to the Old Course at St Andrews. Along with Mark Calcavecchia and Paul Lawrie, Tiger Woods took what might be his last Open Championship walk over the Swilcan Bridge.
An emotional Woods made his way onto the 18th green and it was clear to see how much this course and this Major meant to him. The 46-year-old said:
"It's very emotional for me. I've been coming here since 1995, and I don't know when, I think the next one comes around in 2030, and I don't know if I will be physically able to play by then. So to me it felt like this might have been my last British Open here at St Andrews."
It was a day and a moment to celebrate all that we love about golf and to show our utmost respect for the traditions and the players of this game that mean so much to us.
Matt Fitzpatrick: That bunker shot
There's nothing quite like a Major Championship going all the way to the last hole with only one shot separating the final two players on the course. In June at the U.S. Open, it was tense watching as Matt Fitzpatrick hit his drive into one of the fairway bunkers and Will Zalatoris hit his drive into the middle of the fairway.
At this point, in my mind, there was potential for a play-off, or maybe worse for Englishman Fitzpatrick. Then he pulls off one of the best shots we've ever seen at a Major to have a finish that will go down in the history books.
Talking of history, by winning the 122nd edition of the U.S. Open championship by one stroke over past U.S. Junior Amateur champions Will Zalatoris and Scottie Scheffler, Fitzpatrick joined 18-time major champion Jack Nicklaus as the only golfers to have won the USGA's two oldest championships at the same venue. Nicklaus accomplished his feat at Pebble Beach Golf Links in 1961 and 1972.
Winning: The largest single prize in women's golf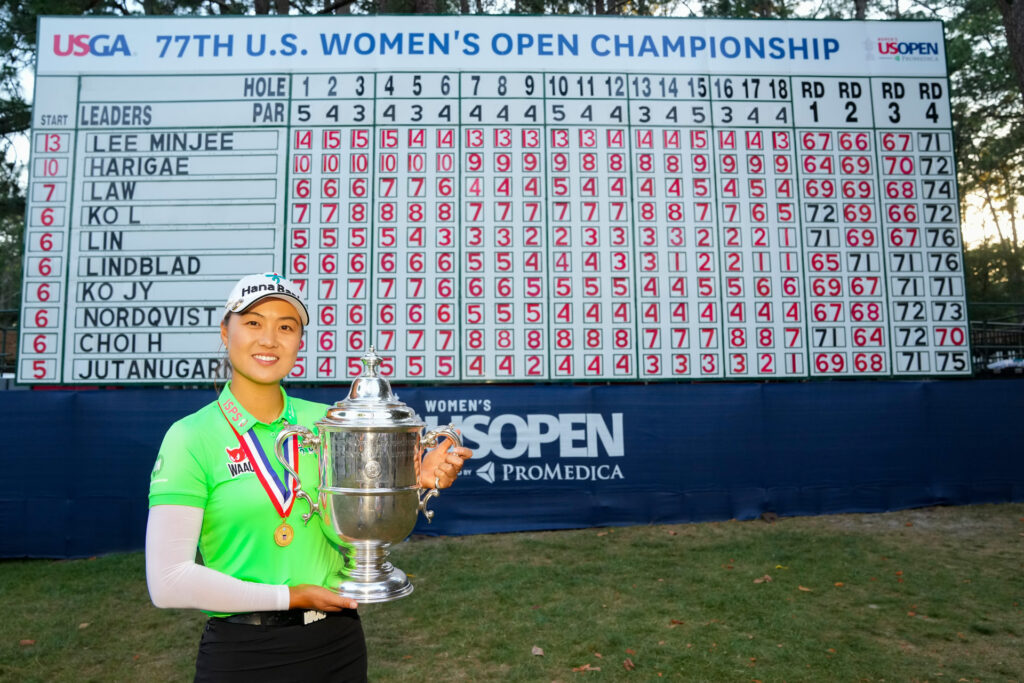 In January 2022, it was announced that the prize fund for the U.S. Women's Open was to nearly double, increasing from $5.5 million to $10 million and become the highest in women's golf and among the leaders in all of women's sports. The USGA also announced a commitment to raise the purse to $11 million and then $12 million over the next five years.
Roll on June and with a final-round 71, Minjee Lee ran away with the 2022 U.S. Women's Open presented by ProMedica, finishing at a championship-record 13-under-par 271. She joined fellow Australians Jan Stephenson (1983) and Karrie Webb (2000, 2001) as U.S. Women's Open champions, and followed Webb in 2001 as a Major winner at Pine Needles Lodge and Golf Club.
With the win, Lee earned $1.8 million, at that moment, the largest single prize in the history of women's golf. At the time, the 26-year-old said:
"This is pretty special. This is the one I've always wanted to win since I was a little kid, so it just feels pretty amazing to be able to get it done today. I just can't believe it."
But the increase in prize money wasn't to stop there. In a ground-breaking moment for women's golf, CME Group and the LPGA Tour announced ahead of the 2022 CME Group Tour Championship, the Tour's season-ending event, that the prize fund would grow to $7 million, up from $5 million in 2021.
The winner was to receive $2 million, which took the title of the largest single prize in the history of women's golf. Which was won by Lydia Ko.
Where will prize funds go in 2023? Who knows but with the Saudi Ladies International making an equal prize fund with the men's equivalent of $5 million, the only way surely is up!
Lydia Ko: Dominantes the women's game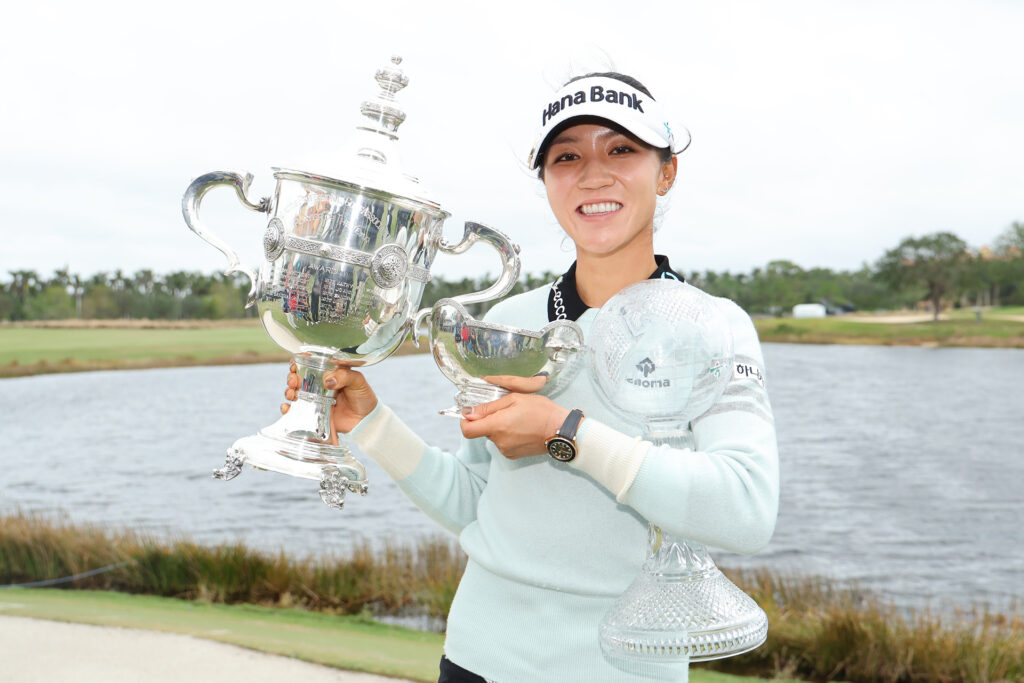 Talking of Lydia Ko. After making the top 10 moments of 2021, she is back again in 2022. The 25-year-old carried her form into the 2022 season, starting the year going wire-to-wire to win her 17th LPGA title at the Gainbridge LPGA at Boca Rio in Jaunary. Although her next victory didn't come until October, Ko had a consistent season with three wins, 11 top 10s from 22 starts.
She won in South Korea at the BMW Ladies Championship in Wonju in October and showcased her solid year in November by winning the CME Group Tour Championship, claiming the record-breaking $2 million first prize and a new blue jacket. Winning the season's money title, Vare Trophy for lowest scoring average and the LPGA Player of the Year for 2022.
Ko capped off 2022 by returning to the World Number one spot on November 28, for the first time since 2017. It was impossible to highlight just one moment because she has had such a dominant season.
LIV Golf: Golf but louder (because they shout about it)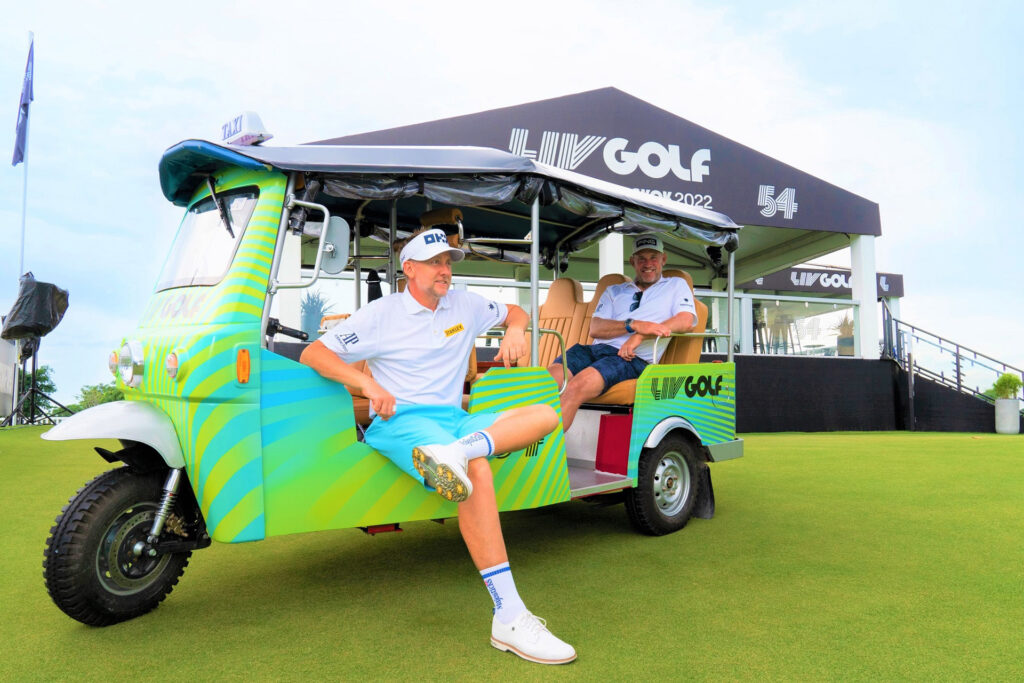 I did say the list was in no particular order but it is safe to say that LIV Golf has been the most talked about topic across professional golf.
From its official launch in March, there have been hundreds of articles written about the Saudi breakaway league. It's not something that I have wanted to focus on too much but you can't just bury your head in the sand.
I don't think there is one particular moment of the LIV Golf events that I want to highlight but back in June ahead of the U.S. Open, Brooks Koepka (who was yet to defect to LIV) said something that made me air my frustrations about the disproportionate amount of media coverage that is given to men's professional golf.
"I don't understand. I'm trying to focus on the U.S. Open, man. I legitimately don't get it. I'm tired of the conversations. I'm tired of all this stuff. Like I said, y'all are throwing a black cloud on the U.S. Open. I think that sucks. I actually do feel bad for them [USGA] for once because it's a sh***y situation. We're here to play, and you are talking about an event that happened last week."
Here was my response: Too right Brooks, it's a "sh***y situation"
And what of the potential for a women's LIV Golf league? It may be closer than you think - find out more.
Rory McIlroy: Capping off a crazy week
When you talk about LIV Golf, Rory McIlroy's name is not far behind. He has become the spokesperson for the PGA Tour and Greg Norman's biggest nemesis.
There may be some heartache around the turmoil in the men's game and not getting his hands on his fifth major but McIlroy has had some spectacular moments this year. A final round 64 which included chipping in from the bunker on 18 on the final day of The Masters will be a moment that is hard to forget...
The Irishman won the FedEx Cup and DP World Tour Championship, as well as moving back into the World Number one spot after defending his CJ Cup title.
These are all worthy of top moments of their own but, in my opinion, the real moment for Rory McIlroy was his victory at the RBC Canadian Open in June. It capped off what had been a crazy week in professional golf, from LIV Golf's first event to Linn Grant's Scandinavian Mixed victory.
The 33-year-old's 21st PGA Tour victory was also one more than Greg Norman - a point that wasn't lost on him. It's safe to say the PGA Tour Netflix documentary is going to be a must-watch when it's released early next year.
Muirfield: Redemption for The Honourable Company of Edinburgh Golfers?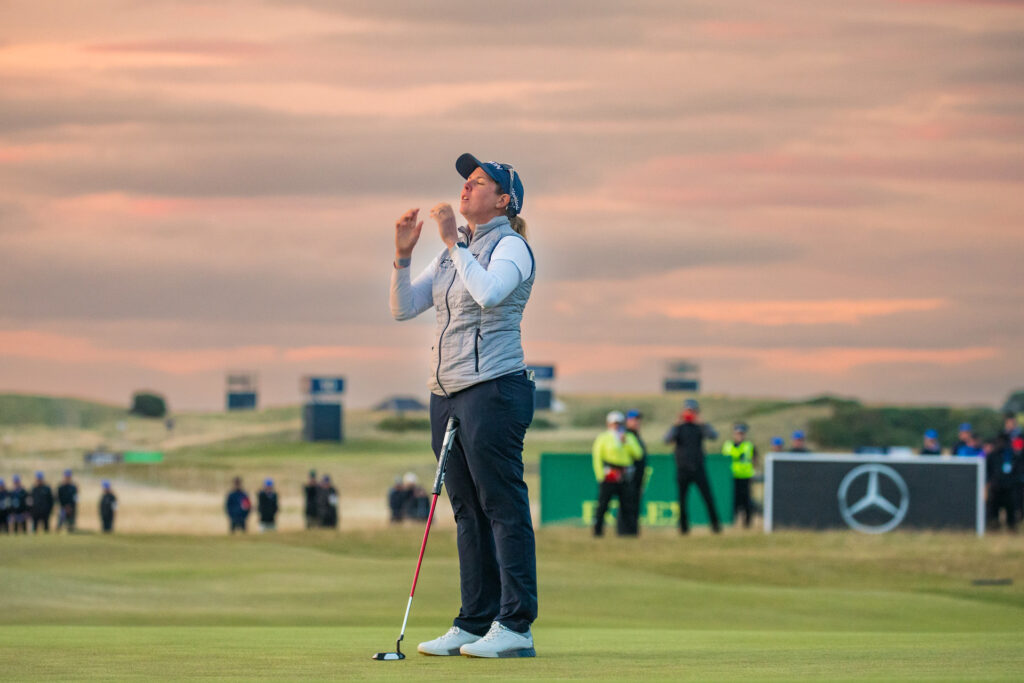 In the build up to this year's AIG Women's Open, there was a lot of discussion around Muirfield hosting the women's major. At Women & Golf we took the stance that it was a good moment for women's professional golf and as the players were quizzed in the media centre ahead of the event, they also agreed.
Including Muirfield local Catriona Matthew who believed we should be looking to the future:
"I think everything is always moving forward, and now Murfield have got women members who are allowed to come and play here. I think you just have to look forward rather than look backwards."
Obviously, we were treated to an epic play-off between Ashleigh Buhai and In Gee Chun which finished in the fading light but a more significant moment had come the day before.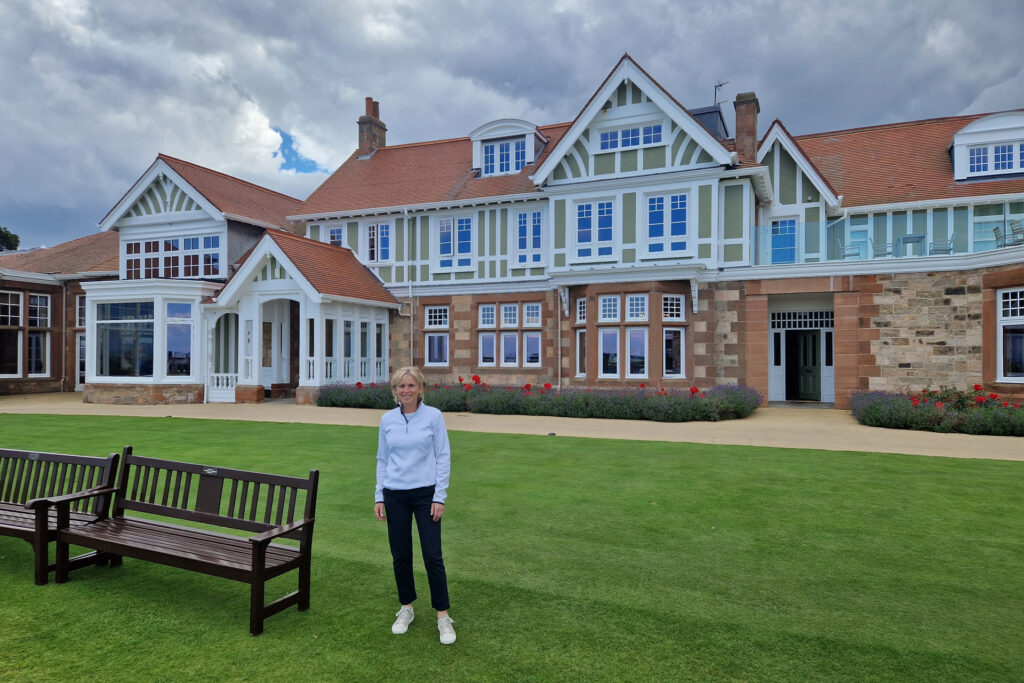 As moments go, this one was pretty special and it was difficult not to appreciate its significance. The first group off on the Saturday morning of the third day of the AIG Women's Open had a playing marker. On that day the opportunity fell to Muirfield member Lindsey Garden.
It seemed quite remarkable that only six years previously there weren't any female members of The Honourable Company of Edinburgh Golfers. Now fast forward to 2022 and one was teeing it up at the first playing of a women's professional event at the historic golfing venue.
Buhai may have taken home her first major but Muirfield could also claim a victory as they look ahead to a more equitable future.
Hannah Green: Set the standard for mixed golf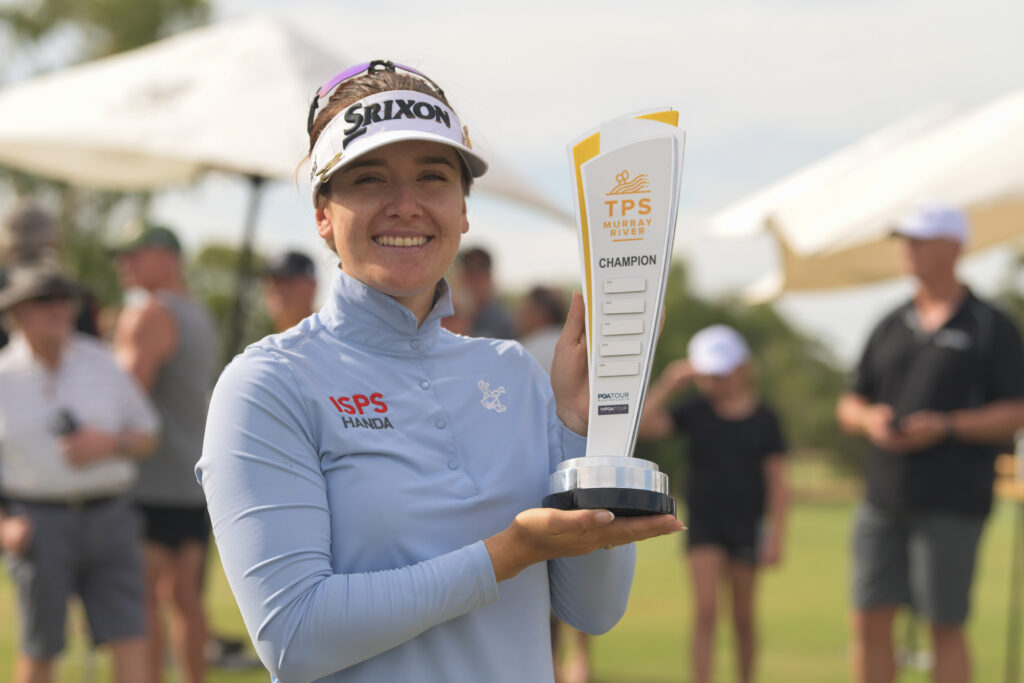 Linn Grant will be the golfer that we all think of when it comes to winning a mixed event in 2022 but she wasn't the first to do so. Back in February, Hannah Green was on home soil playing in a Webex Players Series, TPS Murray River at Cobram Barooga Golf Club.
Green was part of a four-way tie for the lead through 54 holes and shot a final round five-under-par 66 to finish on 20-under-par and win by four shots. In doing so, the 2019 KPMG Women's PGA Champion put herself into golf's history books.
Female golfers had won mixed-gender pro-am events over one and two rounds but until that point there had been no female winners of a Webex Players Series event or any four-round mixed-gender tournaments on any major golf tour.
"I feel amazing. I'm just so grateful that I came. It actually wasn't my plan to play; I was hoping to go back to Perth. Things happen for a reason so I'm really glad that I made it," said Green, who had won the Vic Open title at 13th Beach the week before.
"I wanted to win these two events as soon as I said that I'd enter them. I didn't think it was a ridiculous goal to try and get my name on these trophies so now that that's done hopefully I can continue this momentum."
Atthaya Thitikul: Bursts onto the LPGA Tour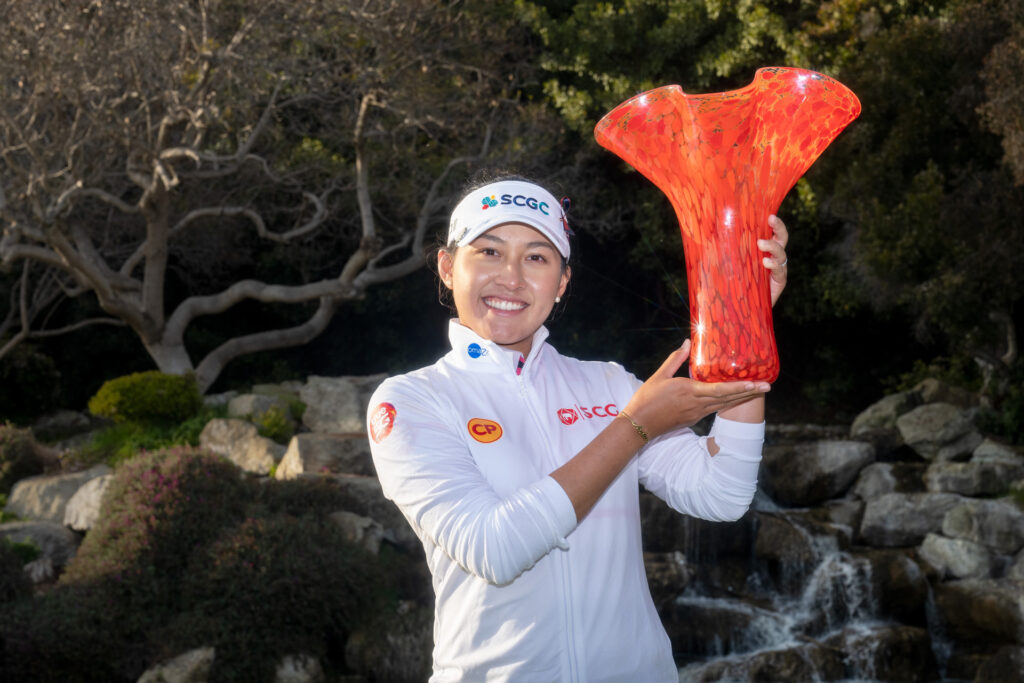 Ahead of her Rookie year on the LPGA Tour, it was thought that it would only be a matter of time before teen Thai sensation Atthaya Thitikul would win. However, I'm not sure how many would have predicted that she would achieve this after just five starts.
That's exactly what the 2021 Ladies European Tour Race to Costa del Sol champion did and in quite some style, coming from six shots behind to shoot an eight-under-par 64 with just 24 putts to win the JTBC Classic.
As well as adding the Walmart NW Arkansas Championship presented by P&G title, 19-year-old Thitikul had 13 additional top-10 finishes this season, including a solo fourth at the KPMG Women's PGA Championship, a tie for eighth at the Amundi Evian Championship and a tie for seventh at the AIG Women's Open.
Thitikul also topped the World Rankings on October 31, becoming just the second Thai player to ever do so alongside Ariya Jutanugarn.
Lydia Ko may now be at the top but I am certain Thitikul remains one to watch and I am excited to see what the 2023 season holds for her. Maybe a Major victory?