It was an emotional second day at The 150th Open as golfing legends said their goodbyes to the Old Course and reminisced about those who had gone before them.
I hate to rush through, but let's get the formalities over with – Cameron Smith shot the round of the day with a 64, giving him a two-shot lead at 13-under-par going into moving day, although the Australian is at the top of the leaderboard he still knows there is a lot of tricky golf ahead:
"I think being off late again tomorrow afternoon it's obviously going to be a bit firmer, more like the first day. So I would say it's going to be pretty brutal out there. I think there's going to be a few more gnarly pins, and I think being smart out there is definitely going to be the key to staying at the top of the leaderboard."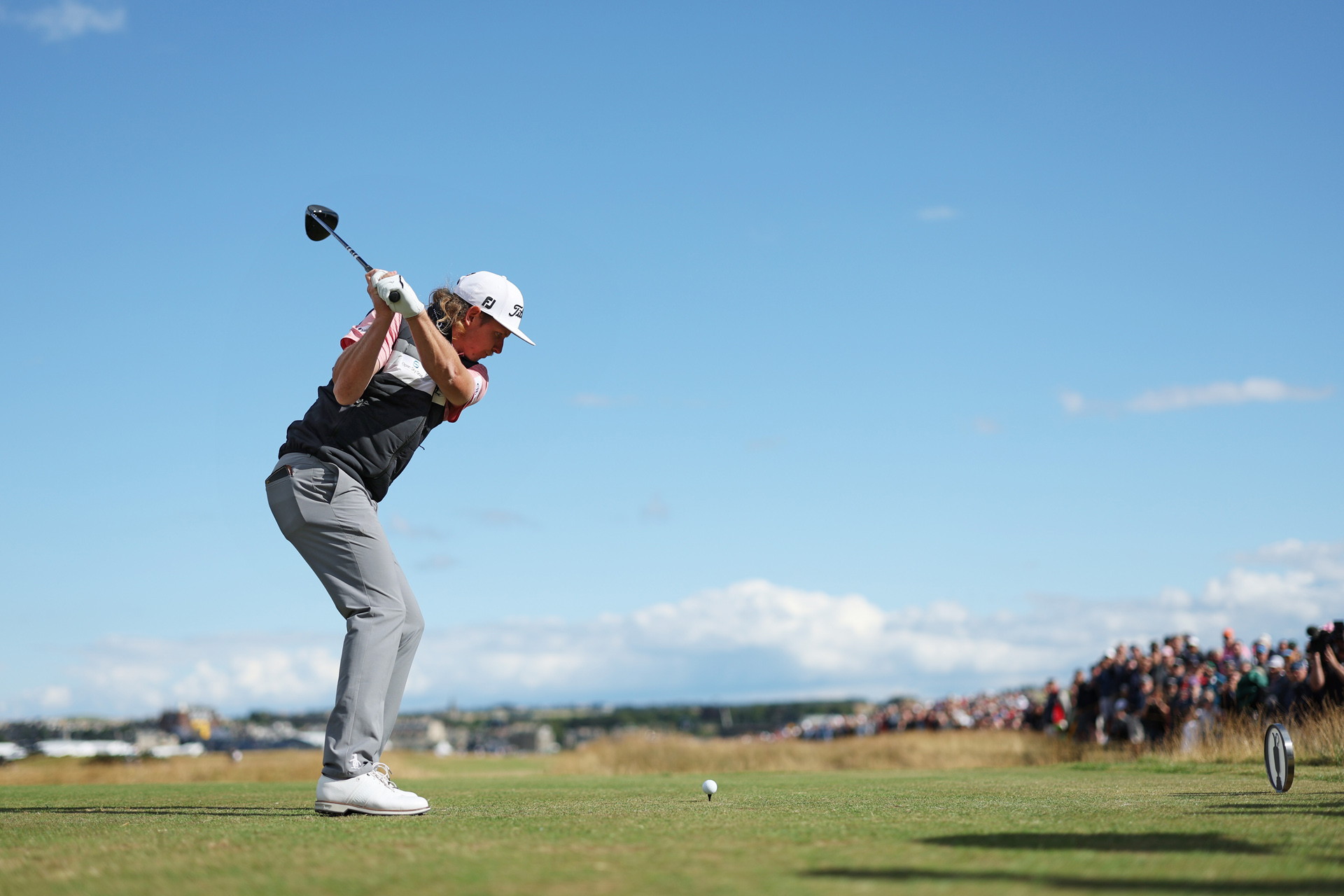 Fan favourite Rory McIlroy produced an extremely solid 68 which sees him three-shots behind Smith on ten-under-par.
The biggest upset from the day was that McIlroy's playing partner and defending champion Collin Morikawa wasn't able to create the magic of Royal St. George's and one-over-par was not enough to see him tackling the Old Course this weekend.
Today was more than just a cut number
With formalities over and most of our thoughts on who will lift the Claret Jug on Sunday, I really want to take a look back to the Champions who have walked these hallowed fairways this week. Today the course may have belonged to the likes of Smith, Adam Scott (65) and McIlroy, but our (well my) hearts were with legends like Tiger Woods, Paul Lawrie and Mark Calcavecchia.
How can a golf course hold such emotion? Be a hallowed turf that golfers feel compelled to want to walk on? There's something about the Old Course at St Andrews which sets it apart from every other golf course on the planet.
To the non-golfers out there, it's very hard to comprehend just how much this 150th Open venue means to most golfers. I'll admit that at times today I even felt a little flat as I watched legends of the game take (potentially) their final steps on the Swilcan Bridge.
Saying goodbye
Mark Calcavecchia, 1989 Champion after beating Wayne Grady and Greg Norman in a play-off at Royal Troon, had his swan song on the Swilcan Bridge, a moment that had been delayed by Covid and injury. Afterwards, he commented:
"I'm not sure what I was expecting, but I felt it. I felt the emotions. Got a little mildly choked up, but all the way around, the last two days, the fans were great. They were cheering for me and pulling for me, and they'll aware that this was my last Open. So that was pretty cool. It means a lot. It really does.
"Forget about my golf. It wouldn't have mattered if I shot a pair of 75s or a pair of 85s, which I nearly did. It was about playing one more, my last one here at the home of golf, which is really cool to be able to end it here."
Asked whether it would be the last time we see Tiger Woods, the 62-year-old added:
"I'm going to say no. This isn't his last Open, especially here. He'll be back."
Scotland's Paul Lawrie, who had the honour of hitting the opening tee shot yesterday wasn't sure if he would make a return to any future Open championship:
"I'm not sure. I'll wait and see how I feel next year. But right now, no. But it is what it is. I always said I wouldn't ever take a spot if I didn't feel as though I could certainly play okay and play four rounds, I won't do that. I'll see how I feel next year whether I play or not."
An enduring love for the Open Championship at St Andrews
By far the biggest emotion was left for Tiger Woods. Since his accident last year, he hasn't looked 100% on the course. Grimaces and limping were very apparent during the first two rounds. The majority of golf fans willed that he could find a way but it almost seemed that his double-bogey on the first hole yesterday summed up his luck this week.
An emotional Woods made his way onto the 18th green and it was clear to see how much this course and this Major meant to him. The 46-year-old said:
"It's very emotional for me. I've been coming here since 1995, and I don't know when, I think the next one comes around in 2030, and I don't know if I will be physically able to play by then. So to me it felt like this might have been my last British Open here at St Andrews.
"And the fans, the ovation and the warmth, it was an unbelievable feeling. I understand what Jack and Arnold had gone through in the past. I was kind of feeling that way there at the end. And just the collective warmth and understanding.
"They understand what golf's all about and what it takes to be an Open champion. And I've been lucky enough and fortunate enough to have won this twice here. It felt very emotional, just because I just don't know what my health is going to be like. And I feel like I will be able to play future British Opens, but I don't know if I'll be able to play that long enough that when it comes back around here, will I still be playing."
Tiger Woods was visibly emotional
"This is my favourite golf course. I fell in love with it back in 1995. And it hasn't changed. I just love how it can be played in so many different ways. And, again, today, we had winter this morning and we had summer this afternoon.
"I had a few tears. I'm not one who gets very teary-eyed very often about anything. But when it comes to the game and the passing on, just the transition. I was lucky enough in '95 to watch Arnold hit his 1st tee shot in the second round as I was going to the range. And I could hear Jack playing his last one. I was probably about four holes behind him. But just to hear the ovations getting louder and louder and louder. I felt that as I was coming in."
"The people knew that I wasn't going to make the cut at the number I was. But the ovations got louder as I was coming home. Just the respect. I've always respected this event. I've always respected the traditions of the game. I put my heart and soul into this event over the years. And I think the people have appreciated my play in it.
"Life moves on. And I think that's what people understand. And they knew my circumstances this year. I was very lucky to have had a great team around me to get me to where I was physically able to play three times this year and very thankful to all of them for getting me to this spot."
Today was so much more than a cut number. It was a day to celebrate all that we love about golf and to show our utmost respect for the traditions and the players of this game that mean so much to us.
View The 150th Open leaderboard here.