Matt Fitzpatrick makes historic double winning the U.S. Amateur and U.S. Open on the same course, whilst fellow Major Champion Jennifer Kupcho wins in a play-off
There's nothing quite like a Major Championship going all the way to the last hole with only one shot separating the final two players on the course. It was tense watching as Matt Fitzpatrick hit his drive into one of the fairway bunkers and Will Zalatoris hit his drive into the middle of the fairway.
It had the feeling that there was a potential for a play-off, or maybe worse for Englishman Fitzpatrick. Then he pulls off one of the best shots we've ever seen at a Major to have a finish that will go down in the history books.
Fitzpatrick's caddie Billy Foster, who had waited over 30 years to be on the bag of a Major winner, spoke about the incredible bunker shot:
"What a golf shot. The weakness in his game this season has been his fairway bunker play, which has been about as good as mine, and I'm rubbish. But if you're going to hit a good one, it might as well be the last hole of a U.S. Open."
Win sees Fitzpatrick join golfing royalty
The 27-year-old Englishman who triumphed nine years ago at The Country Club when he claimed the U.S. Amateur, became just the 13th man and the first non-American to also add the U.S. Open Championship to his portfolio.
In winning the 122nd edition of the championship on a chilly New England Sunday by one stroke over past U.S. Junior Amateur champions Will Zalatoris and Scottie Scheffler, Fitzpatrick joined 18-time major champion Jack Nicklaus as the only golfers to have won the USGA's two oldest championships at the same venue. Nicklaus accomplished his feat at Pebble Beach Golf Links in 1961 and 1972.
Now 50 years later, Fitzpatrick put himself in rarified company.
"The feeling's out of this world," said Fitzpatrick, who carded a final-round 68 for a six-under-par total of 274. "It is so cliche, but it's stuff you dream of as a kid. I can retire a happy man tomorrow.
"Any time you're sharing a record with Jack Nicklaus, it's unbelievable. So for me to have that as well is incredible. He called me up down there just at the presentation to congratulate me. Coming from someone like that, it means the world."
Phenomenal final round from Fitzpatrick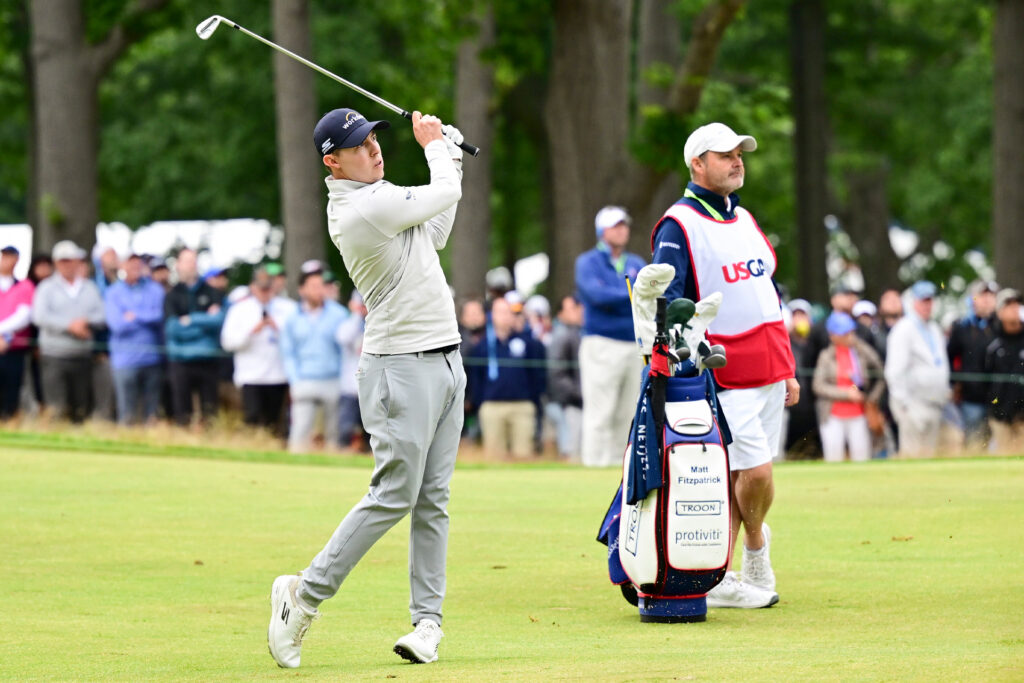 Fitzpatrick put on a ball-striking clinic on Sunday, hitting 17 of 18 greens. The only miss was on the 503-yard 10th, a hole the members play as a par 5 that was statistically the championship's toughest (4.39). Trailing Zalatoris by one, Fitzpatrick's fortunes changed at the par-4 13th when he converted a 49-footer for birdie.
When Fitzpatrick won the 2013 U.S. Amateur title at this venerable venue – one of the five founding clubs of the USGA – he closed out Oliver Goss of Australia on the 15th hole, and he essentially won the U.S. Open on the same hole, making a 19-foot birdie after reaching the green with a 220-yard 5-iron from a spot in the right rough where spectators had matted the turf down.
"It was one of the best shots I hit all day," he said. "To do that and take advantage of the break I had was fantastic."
Zalatoris, whose tee shot on 15 landed in thick rough, failed to get up and down from a greenside bunker. That gave Fitzpatrick a two-stroke cushion with three to play, and the cool customer from Sheffield closed with three consecutive pars. On the par-4 18th, a hole he bogeyed on Saturday, Fitzpatrick reached the putting surface from a left fairway bunker, a play some thought was risky.
Zalatoris had one final chance to force a two-hole aggregate play-off, but his 15-foot putt on the 18th green burned the left edge of the hole. It was his second consecutive runner-up finish in a major, having lost a three-hole aggregate play-off to Justin Thomas at last month's PGA Championship.
"Matt's shot on 18 is going to be shown probably for the rest of U.S. Open history," said Zalatoris. "I walked by it, and I thought that going for [the green] was going to be[gutsy], but the fact that he pulled it off and even had a birdie look was just incredible. So hats off to him. He played great all week."
Finally Billy Foster gets his Major
Once the championship was secured, Fitzpatrick first celebrated with his caddie, Billy Foster, and then his parents and younger brother, Alex, who was his caddie here nine years ago.
Englishman Foster was very emotional:
"Two or three times it flashes in front of your eyes and you have a little tear filling up and you say 'stop that, stop that. Don't even go there, just get on with it. But I'd be lying if it didn't cross my mind two or three times out there today. You just want it so badly you can't help but think about it. But we both did very well, we worked well out there today. There was no mistakes, not one. Everything was perfect."
The PGA Tour now goes to the Travelers Championship in Connecticut, whilst the DP World Tour is in Germany for the BMW International Open.
Kupcho triumphs in a play-off with Korda and Maguire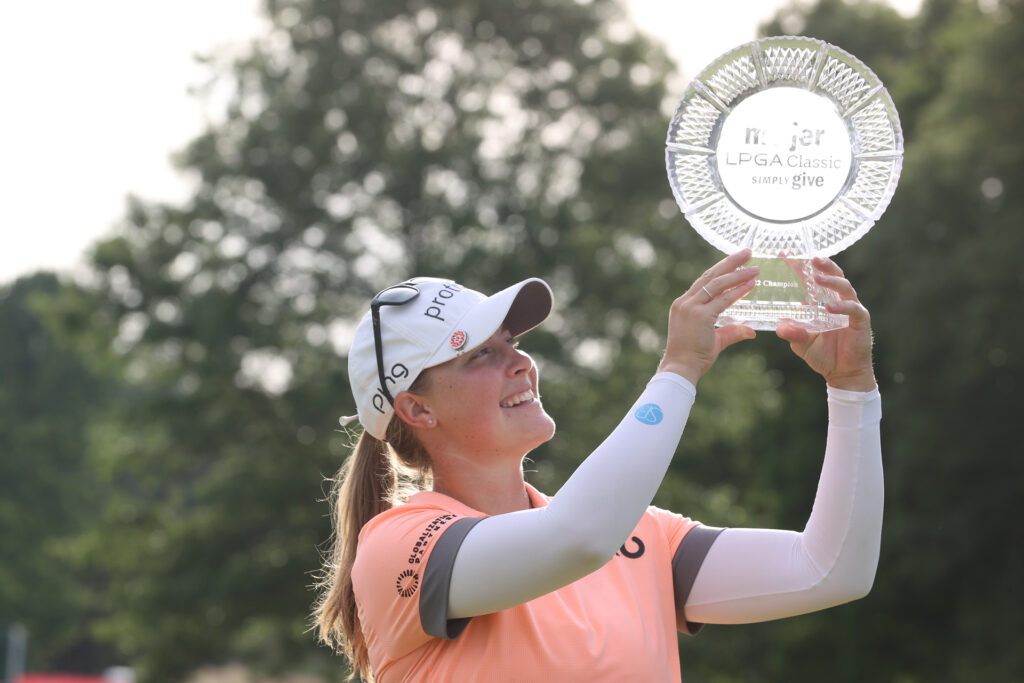 After a rocky start on Sunday at the Meijer LPGA Classic, Jennifer Kupcho bounced back to secure her second LPGA Tour victory after a play-off with defending champion Nelly Korda and Ireland's Leona Maguire.
Kupcho made an early double bogey on the third and a bogey on the sixth to drop to -14 and three back from Korda, but she rebounded quickly with an eagle on the par-5 eighth and birdie on the ninth to turn at -17 with a one-shot lead.
Korda tied things up with a birdie on the 10th, and the pair carded matching birdies on the 12th to sit at -18. But Maguire wouldn't be left out of the conversation. She made back-to-back birdies on holes 13 and 14 to move to -17 – one back of the lead at the time – and birdied the last to post the clubhouse lead at 18-under-par.
With the bar set, Kupcho bogeyed the 16th and Korda birdied the 18th to tie Maguire and force a three-way play-off. Things looked to be over when Kupcho hit her second shot to three feet with an 8-iron on the first play-off hole, but she lipped out her eagle putt. After a Korda three-putt, Kupcho and Maguire went back to the tee, and it ultimately took a missed short putt from Maguire to give Kupcho her second career LPGA Tour victory and the $375,000 winner's cheque.
Play-off goes to two holes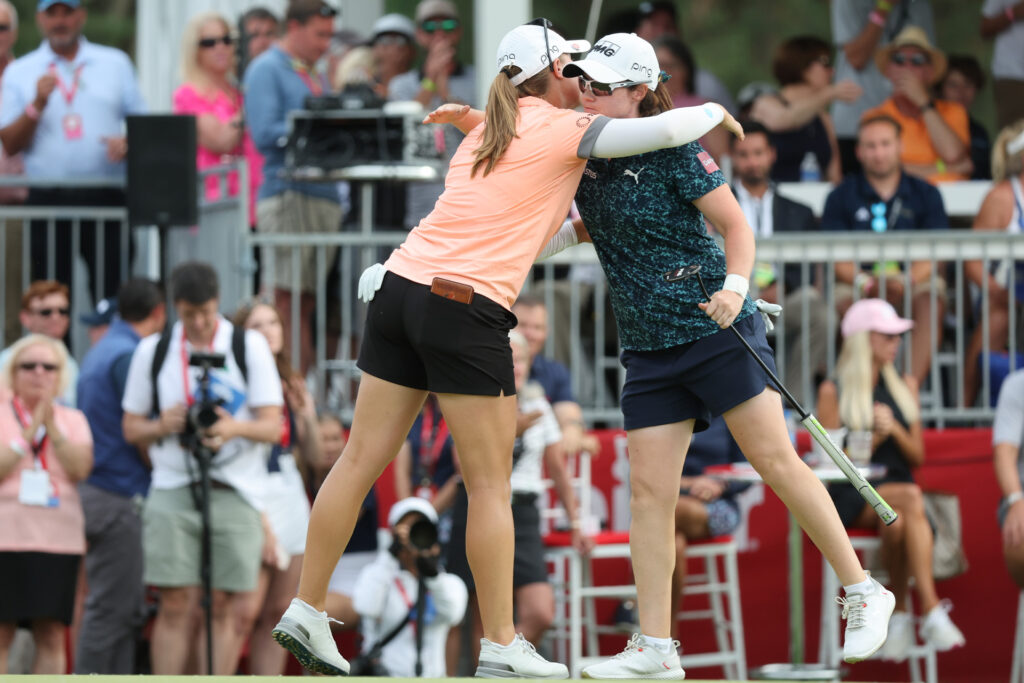 The 25-year-old was in shock at her win:
"I thought she was going to make it. When she hit it by the hole and I still had to putt from the fringe I thought to myself, that's not a gimme because I was just shaking and missed essentially a same-length putt. But then once I made the tap-in, I was already looking at the rules official to go to the next hole. Honestly, it was just a shock. She went to Duke, I went to Wake Forest. Playing with her so much, she doesn't miss putts. I was really just shocked."
The win comes just two and a half months since Kupcho became a Rolex First-Time winner at The Chevron Championship earlier this year and though getting the monkey off her back at Mission Hills was sweet, this win hits a little differently, especially coming on Father's Day.
 "I think this one is even better than the first personally. I had such a big lead going into the final round at Chevron, so to come out of this one with top-ranked players all over the place, the leaderboard was packed, within strokes so it was very close, and I feel very proud of myself for coming out of it. I thought to myself this morning that I should call (my dad), but I kept telling myself, 'No, like we'll call him after the round with the trophy in our hand' and I'm excited I can do that now."
Watch final round highlights
[parone_rss_video_player campaign="269" feed="41-lpga-tour" autoplay="true" env="prod" defaultlang="en" /]
Although the three-putt on the first play-off hole stung, Nelly Korda is still taking plenty of positives away from her week at Blythefield Country Club. Spending time away from the game has given her some perspective and while she would've loved to defend her title, she's still really pleased with where her game is at after so few starts this season.
"I fought my way back on the back nine and snuck into the play-off. "Unfortunately, sometimes you have it and sometimes you don't. If you told me I think three, four months ago when I was in the ER that I would be here I would be extremely happy."
Lydia Ko fired a 4-under 68 on Sunday to finish in solo fourth at -17, with a foursome of players in a tie for fifth at -16 under including LPGA Tour rookie Atthaya Thitikul and 2015 Meijer LPGA Classic champion Lexi Thompson. 11-time LPGA Tour winner Brooke Henderson and Wei-Ling Hsu rounded out the top 10 at 15 under.
After the excitement of the U.S. Open, it's another Major week as the KPMG Women's PGA Championship tees off on Thursday at Congressional. Where Nelly Korda looks to defend her title.
Aramco Team Series - London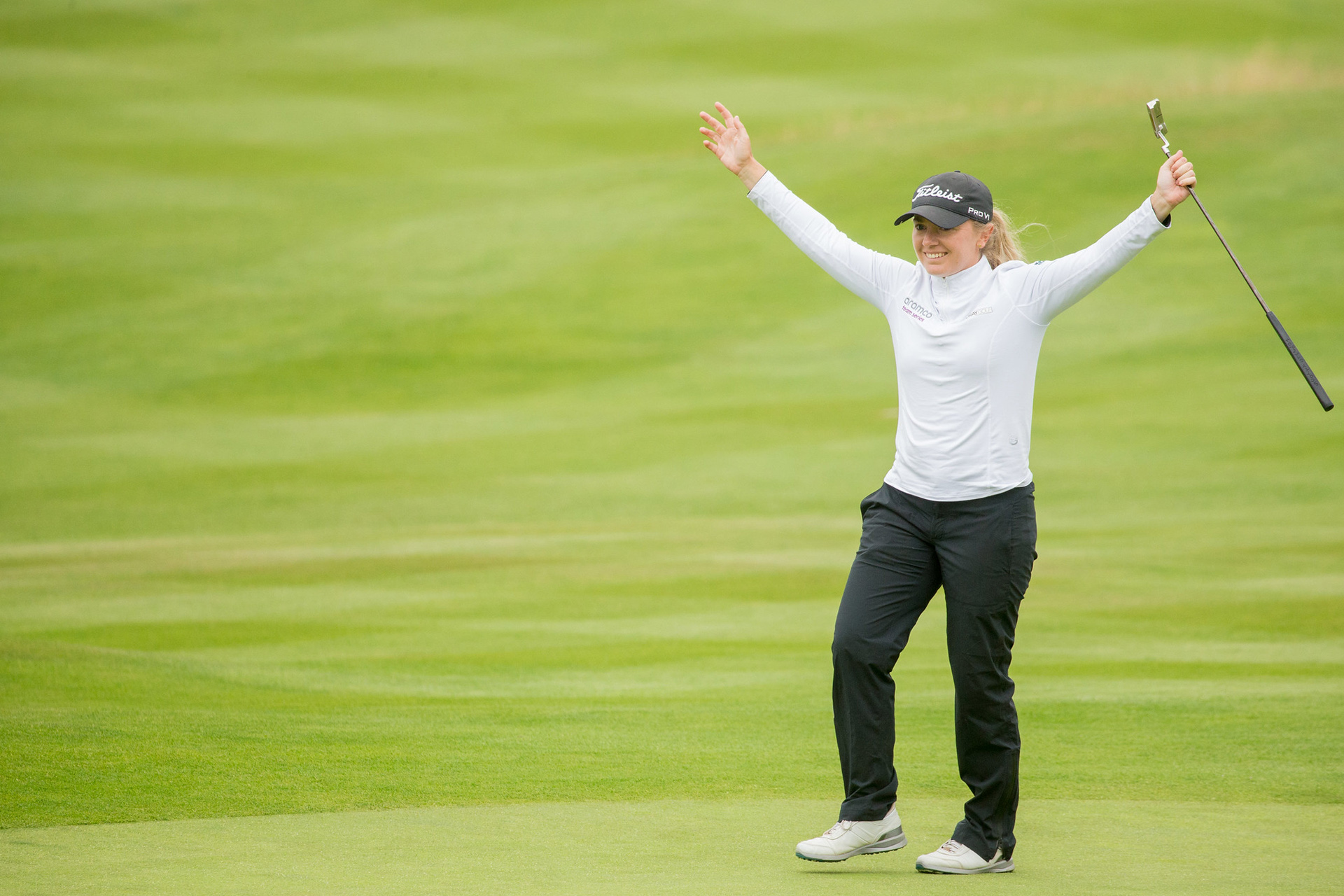 The 54-hole unique tournament held its second event of the series at Centurion Club in St Albans, Hertfordshire. Bronte Law holed a monster putt to take the individual title whilst Team Garcia won in the play-off.
Read the full round-up here.
This week, as well as the KPMG Women's PGA Championship, the LET will be in the Czech Republic for the Tipsport Czech Ladies Open.
Amateurs take top spots at LET Access event
It was a family affair at Smorum Golfklub as local amateur Cecilie Leth-Nissen clinched victory in her first professional event and her sister Amalie, who is also an amateur, finished second at the Smorum Ladies Open by EC Drive.
Read the full report here.
The LETAS now moves to Belgium for the Golf Vlaanderen LETAS Trophy.
Riihijarvi earns first Epson Tour win
Kiira Riihijarvi was crowned champion of the inaugural Ann Arbor's Road to the LPGA Powered by the A2 Sports Commission. The Finn secured her first career victory at -10 after defeating first- and second-round leader Pavarisa Yoktuan. Riihijarvi won by two shots.
"I'm feeling great. I feel odd. I don't think it's processed quite yet, but I'm happy."
Riihijarvi carded four birdies and went bogey-free on the back nine to sign for a three-under-par 69. The leaderboard changed throughout the final round, but one thing remained steady – Riihijavari in the top spot.
"I had a good caddie this week, and we talked about a lot of stuff so that was keeping me calm. I was really trying to focus on taking it one shot at a time and just doing my best because that's all I could really do."
So far in 2022, the Finn has made five cuts in nine starts. She missed the cut at her last two appearances, the IOA Golf Classic presented by LPT Realty and the Inova Mission Inn Resort & Club Championship. This win puts her back on track heading into the second half of the season.
Two shots behind Riihijarvi was Pavarisa Yoktuan. The first- and second-round leader held steady on the front nine, even par through seven holes, before making bogeys on eight, nine and 11. But she finished her round with a birdie on 18.
Amateur Ashley Lau finished in third. The University of Michigan golfer recorded five birdies to go four-under-par on the day. Lau came into her first professional tournament with no expectations and was happy with the outcome.
Klara Spilkova, Linnea Strom and Grace Kim shared fourth place at five-under-par. Spilkova climbed up the leaderboard during her final 18 holes, moving from 11th to the top 5. She recorded five birdies on the day. This finish marks Strom's third top-20 performance and Kim's fourth of the 2022 season.
Next is the Island Resort Championship.
Which other tours would you like us to report on? Drop us an email with your request here.