It's just one year to go until the greatest rivalry in women's golf is ignited. We look ahead to the 2023 Solheim Cup
The Solheim Cup returns from 18-24 September 2023, with the best women golfers from Europe and the USA going head-to-head for the 18th time in the history of the event.
Set to be one of the most eagerly anticipated golfing events of the year, the 2023 Solheim Cup is gearing up to host one of the most exciting environments the tournament has ever seen – with major champions, young stars and talented veterans leading the way on both fiercely competitive sides.
Still reeling from an incredibly impressive win on US soil, the European Team, captained by Suzann Pettersen, will be looking to retain the cup in Spain amongst a home crowd.
All eyes will be on the renowned Championship course at Finca Cortesin in the Costa del Sol, as some of the finest women golfers from all over the world take on this tranquil course set in the rolling hills of southern Spain.
The race is now on for European and American players to secure their spot on each team, for what will be the highlight of the season and an incredible sporting exhibition.
About La Finca Cortesin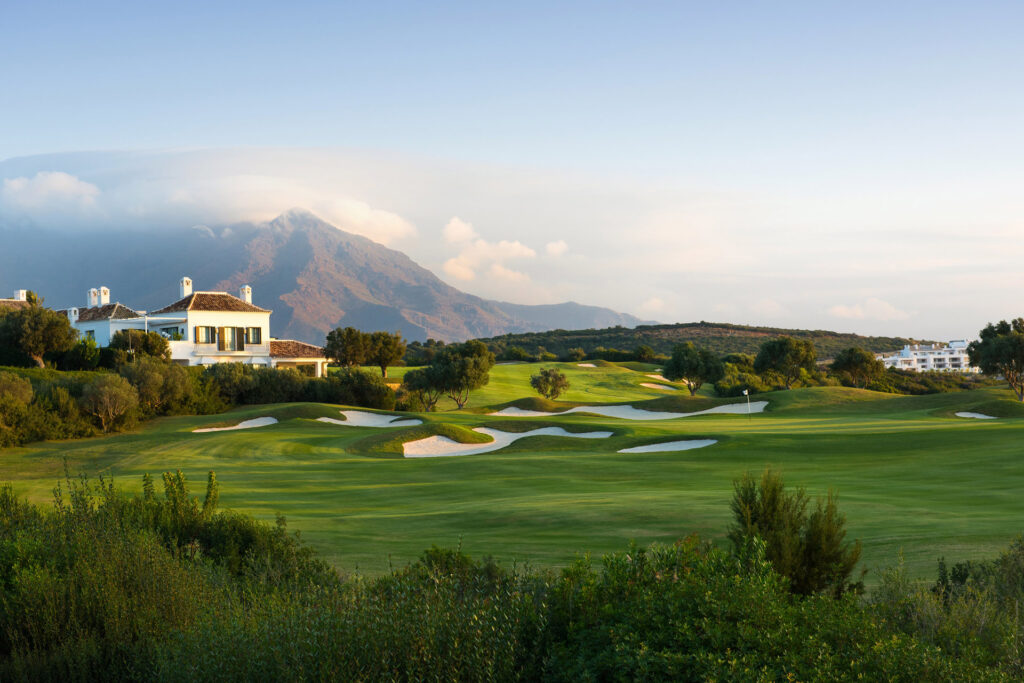 This stunning course will provide a fitting venue for the 2023 Solheim Cup, being rated as one of the finest in Europe. Set high above the spectacular Costa del Sol coastline, Finca winds its way through a beautiful natural landscape of Mediterranean oaks. Its impeccably manicured Bermuda grass fairways are punctuated with over 100 bunkers, but the course's clever design means it provides an enjoyable challenge to low and high handicap golfers alike.
Solheim Cup format
The Solheim Cup takes place over three days.
On days one and two, morning foursomes matches ­– where players hit alternate shots – are followed by afternoon fourball matches – where each player plays her own ball and the lowest score counts. The final day, or Singles Sunday, is made up of singles matches. And that's usually when the magic happens!
2023 Solheim Cup Team Captains
Europe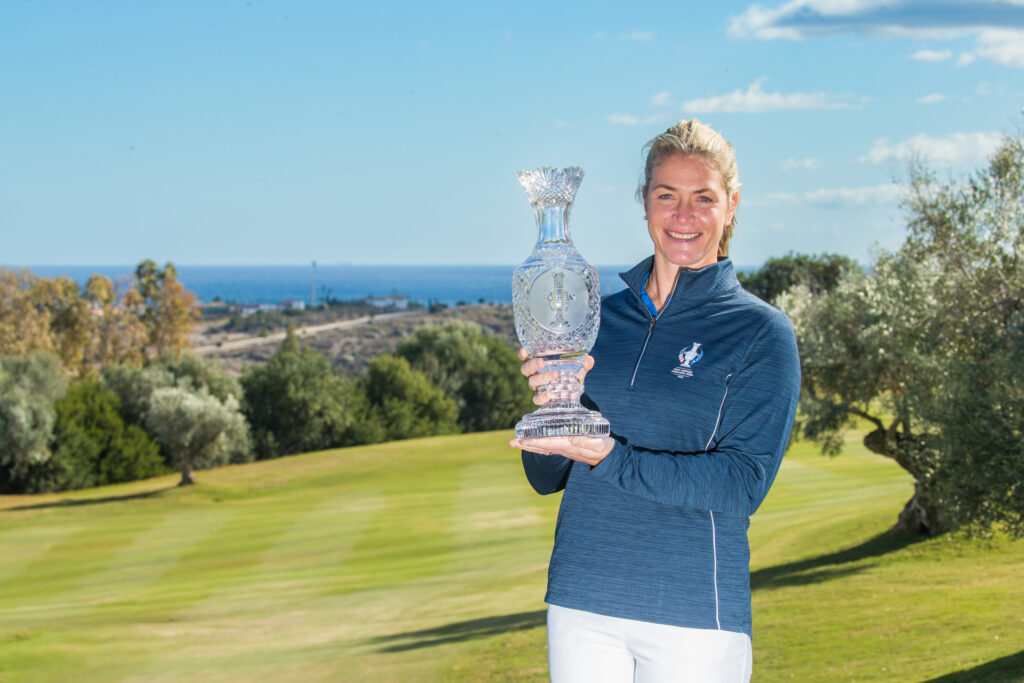 In November 2021, Norwegian Suzann Pettersen was named as the European Captain for the 2023 Solheim Cup, during an official venue handover and press conference at Finca Cortesín.
Of her appointment she said:
"I am simply thrilled to be named Solheim Cup Captain. This is the biggest honour of my career," Pettersen said.
"I have played with and under many wonderful captains since I made my debut in the competition 19 years ago. Every Solheim has been special in its own way. You make friendships for life and memories you'll never forget.
"Every captain is different and brings their unique skills to the table. I am very much looking forward to bringing my experience to the role and working hard over the next 22 months to defend the Cup on Spanish soil."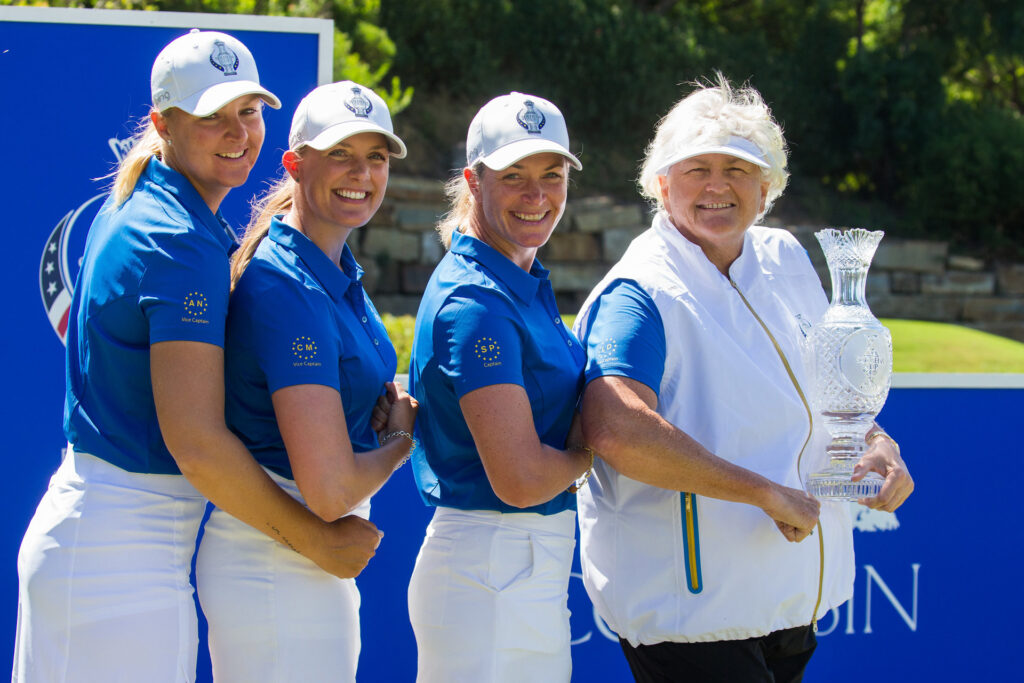 Pettersen then announced her Vice-Captains, Anna Nordqvist, Dame Laura Davies and Caroline Martens in August 2022. Speaking of her choices:
"I'm excited for what Caroline, Anna and Laura can bring to Team Europe as we look to defend the Cup on Spanish soil in the Costa del Sol. With all three of them by my side, I couldn't ask for anything better and I'm certain that they will be great for our team."
USA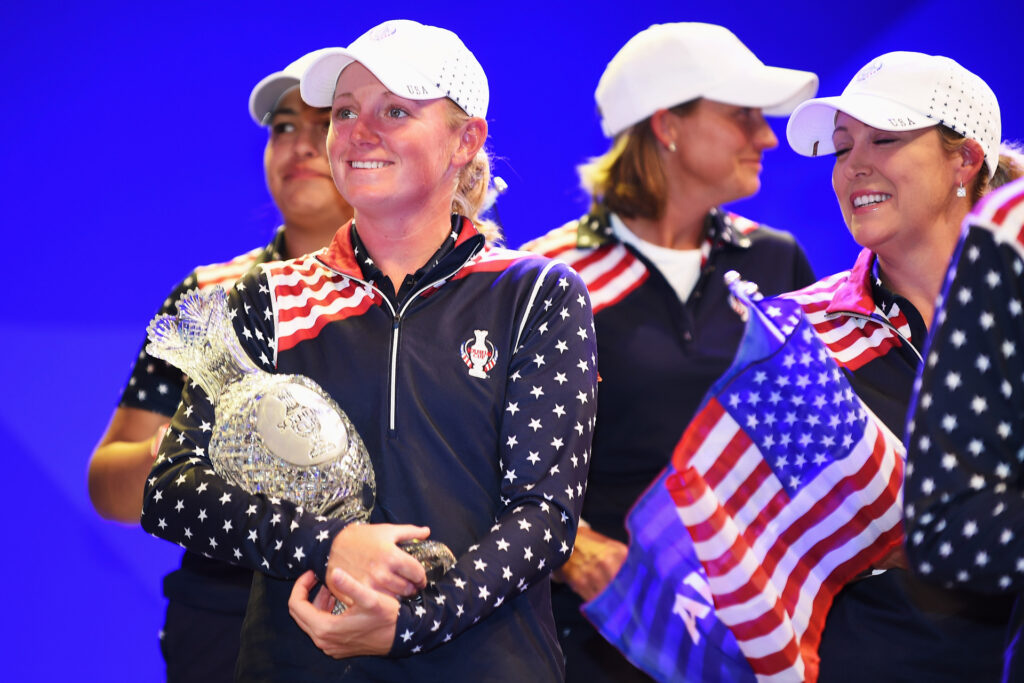 Team USA have gone with two-time major champion Stacy Lewis as their 2023 USA Solheim Cup Team Captain. With the appointment of the four-time member of Team USA being announced in February 2022.
Of her appointment Lewis said:
"To be named captain for the USA Solheim Cup Team is an incredible honor and I'm beyond grateful to the Committee for choosing me. I have so many amazing memories from my years on the team and the two opportunities I've had to work alongside the team. I absolutely love the Solheim Cup and I want 2023 to be as great an experience for my team as my years wearing Red, White and Blue have been for me."
So far, she will be joined by Morgan Pressel, a six-time Team USA player and Natalie Gulbis, who has played in three matches, as Assistant Captains.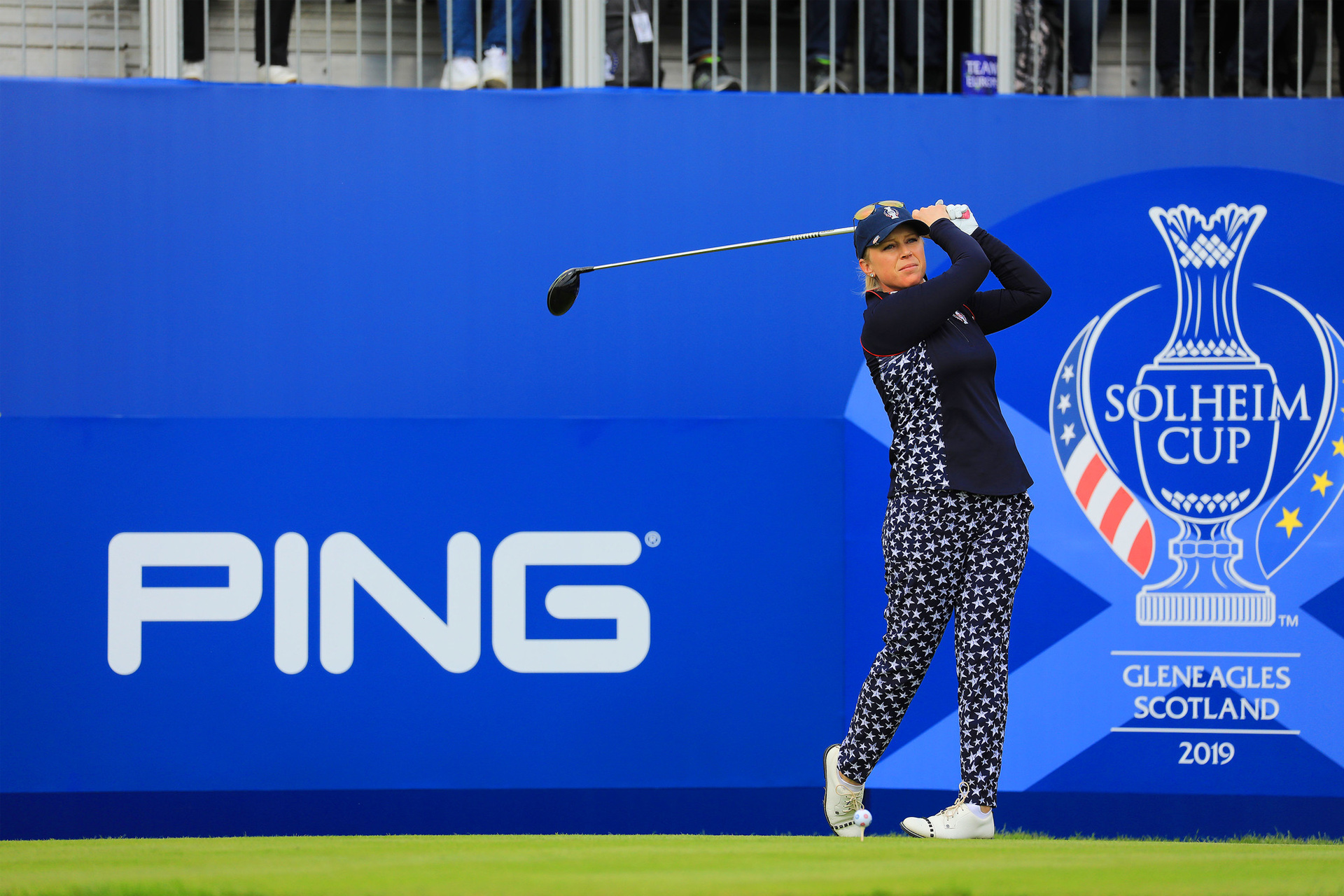 Lewis on Pressel:
"Her passion for the Solheim Cup and her competitive energy will be great assets to Team USA. I've known her for years as a competitor and friend, and I'm happy to have her with me as we spend the next year building a great team."
And on Gulbis:
"Natalie has been a fantastic resource for me throughout my career, both personally and professionally, and I know her positive spirit will be an awesome influence in the team room."
*Updated* On September 27, Lewis added Angela Stanford as her third assistant captain. Lewis said:
 "Angela has a great eye for statistics, finding the little details that go into picking the best players and making the right line-up combinations."
Solheim Cup record
| | | | | | |
| --- | --- | --- | --- | --- | --- |
| Year | Venue | Winning Team | Score | USA Captain | Europe Captain |
| 2021 | Inverness Club, Ohio | Europe | 15-13 | Pat Hurst | Catriona Matthew |
| 2019 | Gleneagles, Scotland | Europe | 14.5-13.5 | Juli Inkster | Catriona Matthew |
| 2017 | Des Moines G&CC, Iowa | USA | 16.5-11.5 | Juli Inkster | Annika Sorenstam |
| 2015 | Golf Club St. Leon Rot, Germany | USA | 14.5-13.5 | Juli Inkster | Carin Koch |
| 2013 | Colorado Golf Club, Colorado | Europe | 18 10 | Meg Mallon | Liselotte Neumann |
| 2011 | Killeen Castle Golf Resort, Ireland | Europe | 15-13 | Rosie Jones | Alison Nicholas |
| 2009 | Rich Harvest Farms, Illinois | USA | 16 12 | Beth Daniel | Alison Nicholas |
| 2007 | Halmstad GK, Sweden | USA | 16 12 | Betsy King | Helen Alfredsson |
| 2005 | Crooked Stick Golf Club, Indiana | USA | 15.5-12.5 | Nancy Lopez | Catrin Nilsmark |
| 2003 | Barseback G&CC, Sweden | Europe | 17.5-10.5 | Patty Sheehan | Catrin Nilsmark |
| 2002 | Interlachen Country Club, Minnesota | USA | 15.5-12.5 | Patty Sheehan | Dale Reid |
| 2000 | Loch Lomond Golf Club, Scotland | Europe | 14.5-11.5 | Pat Bradley | Dale Reid |
| 1998 | Muirfield Village, Ohio, USA | USA | 16-12 | Judy Rankin | Pia Nilsson |
| 1996 | St Pierre G&CC, Wales | USA | 17-11 | Judy Rankin | Mickey Walker |
| 1994 | The Greenbrier, West Virginia | USA | 13- 7 | JoAnne Carner | Mickey Walker |
| 1992 | Dalmahoy Country Club, Scotland | Europe | 11.5-6.5 | Kathy Whitworth | Mickey Walker |
| 1990 | Lake Nona G&CC, Florida | USA | 11.5-4.5 | Kathy Whitworth | Mickey Walker |
Biggest comeback
In 2015, Team USA trailed 10–6 and needed 8.5 points to win back the Solheim Cup. They did just that, with Paula Creamer winning the final match to give the USA a one point (14.5 to 13.5) victory. It's still the biggest comeback in the history of the Solheim Cup.
What happened during the final day of the 2021 Solheim Cup?
It was 9-7 to Europe heading into the singles, with Europe needing 14 points to retain the title whilst USA needed 14.5.
A timeline of what happened during the singles matches:
3:30pm – 10 v 7 – Leona Maguire wins 5&4 against Jennifer Kupcho
3:50pm – 11 v 7 – Madelene Sagstrom wins 3&2 against Ally Ewing
3:58pm – 12 v 7 – Celine Boutier wins 5&4 against Mina Harigae
4:15pm – 12 ½ v 7 ½ – Anna Nordqvist ties with Lexi Thompson
4:30pm – 12 ½ v 8 ½ – Nelly Korda wins 1 up against Georgia Hall
5:07pm – 13 v 9 – Nanna Koerstz Madsen ties with Austin Ernst
5:14pm – 13 v 10 – Megan Khang wins 3&2 against Sophia Popov
5:17pm – 13 v 11 – Brittany Altomare wins 2&1 against Carlota Ciganda
5:26pm – 14 v 11 – Matilda Castren wins 1up against Lisette Salas
5:47pm – 14 v 12 – Jessica Korda wins 3&1 against Charley Hull
5:52pm – 14 v 13 – Yealimi Noh wins 1up against Mel Reid
6:07pm – 15 v 13 – Emily Pedersen wins 1up against Danielle Kang
The winning putt
It was nearly ninety minutes after Boutier had secured Europe's 12th point and USA had claimed four points themselves that Matilda Castren had a putt to retain the trophy and that's exactly what she did.
It was a tense final day with the win going to Europe 15-13.
Three days of intense and gripping match play action will unfold next year for the thousands of fans in attendance at La Finca Cortesin. For more information or to purchase tickets for the 2023 Solheim Cup, visit https://solheimcup2023.eu/
Did you know that Women & Golf are hosting a trip to the Solheim Cup next year? Find out more here.