A tense final day at the Solheim Cup saw team Europe retain the trophy, beating team USA 15 points to 13.
Europe came into this week with a number of things against them, or so it seemed on paper. Firstly, they were on American soil and with only one win in eight attempts, they certainly were lacking the home advantage. Secondly, due to Covid travel restrictions, there were only going to be a handful of European supporters in the stands. And finally, they were the weaker team (on paper).
The good thing about it being written down on paper is that you can always scrunch it up and throw it in the bin. And that is pretty much what the European team did. In these unprecedented times, where nothing quite runs as normal, you have to take an approach that is fitting for the situation.
You can flip the home advantage on its head – all European players bar Pedersen play regularly on the LPGA tour. Plus, there was more pressure on the American team to perform as the crowd was only there for them. Additional distractions weren't there, Europe could focus solely on the match and when it comes to matchplay, a better world ranking doesn't necessarily mean you have the edge over your competitor.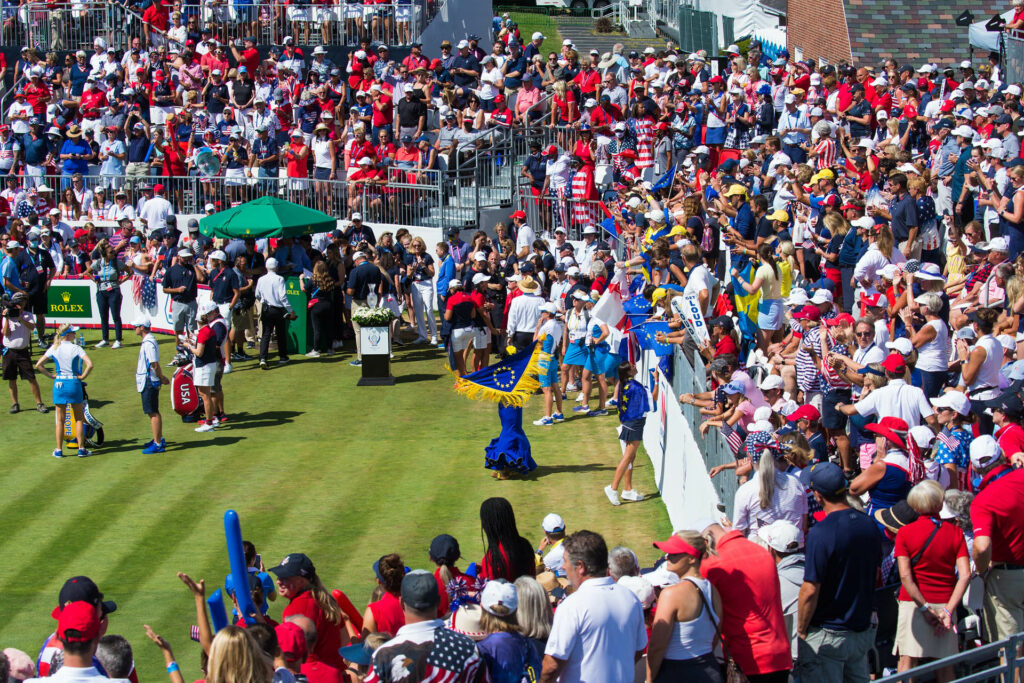 Making sure that you play as a team
Putting statistics aside, it was about playing as a team, which was summed up perfectly by Mel Reid ahead of the competition, she said:
"At the end of the day we're a team. There's no individuals here in my opinion. Everybody has to play their part in whatever way that is, and if we bring the Cup home, amazing. If we don't, we're still a team. We're still going to have that party on Monday night that we're known for, and it's still going to be one of the most memorable weeks for everybody on this team."
Fast forward through two days of competition where Europe made an early charge leading 5 ½ to 2 ½. (It was noted on our daily Solheim Cup newsletter that team USA had never come back to win when more than three points down on the first day). Day two was a day of two halves where Europe battled back in the afternoon to lead nine points to seven heading into the singles.
On Sunday, Celine Boutier talked about how the team were feeling about the final day ahead, she said:
"I think you can just expect anything. It's 12 points; a lot can happen, whether our way or not our way. We've just got to keep playing like every point counts. Even we saw it with the juniors, as well. They were trailing by like seven points and just ended up winning, so anything can happen. Obviously, it's better if we're a couple points ahead, but we'll take whatever we have and fight as hard as we can tomorrow."
Solheim Cup Monday - Singles matches
With 14 points needed by Europe to retain the trophy and 14 ½ by USA to win it back, it was important for either team to get off to a strong start. And that's exactly what team Europe did winning the first three matches.
The stand-out player and player of the tournament was Leona Maguire, so it was very fitting that she won the first point with a 5&4 victory over Jennifer Kupcho. After winning, she said:
"I just tried to get off to a really good start, and then that eagle on 2, that's a pretty good start, and I hit it really solid. Made birdie on 6, which was a hole I hadn't played well on all week. Yeah, just wanted to put pressure on Jen from the get-go. She's a phenomenal player; we've played many times before, and I knew I'd have to have my "A" game today, and luckily there was still some energy left in my legs and I was able to get it done."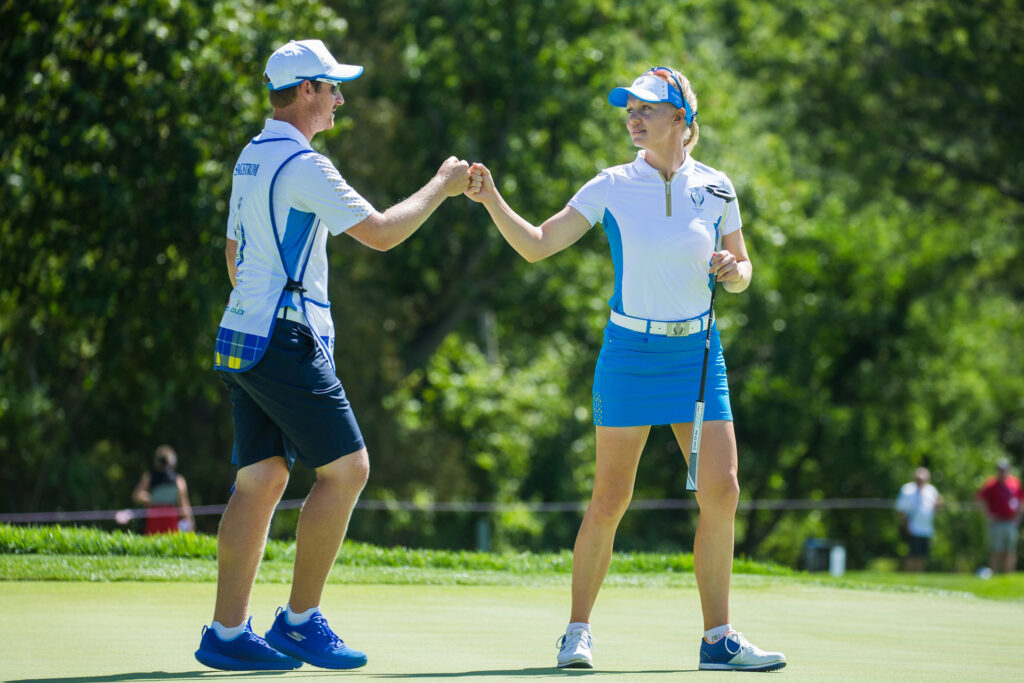 The second win came from Madelene Sagstrom, who finally secured a point for Europe. Putting the controversy of Saturday behind her, she said:
"I was really happy Catriona decided to put me out first thing Sunday morning, just showing that she believes in me, showing that the team has got my back, so that was really nice.
"We put up a great fight, and it was just nice today to be able to go out. I played some really good golf today. Ally did too, so we had a really good game, but I'm really happy to be on the winning side."
Not long after that Boutier also won 5&4 and things seemed to be going Europe's way. But for those of us that watched at Gleneagles, we know if doesn't always go your own way.
A timeline of what happened during the singles matches:
3:30pm – 10 v 7 – Leona Maguire wins 5&4 against Jennifer Kupcho
3:50pm – 11 v 7 – Madelene Sagstrom wins 3&2 against Ally Ewing
3:58pm – 12 v 7 – Celine Boutier wins 5&4 against Mina Harigae
4:15pm – 12 ½ v 7 ½ – Anna Nordqvist ties with Lexi Thompson
4:30pm – 12 ½ v 8 ½ – Nelly Korda wins 1 up against Georgia Hall
5:07pm – 13 v 9 – Nanna Koerstz Madsen ties with Austin Ernst
5:14pm – 13 v 10 – Megan Khang wins 3&2 against Sophia Popov
5:17pm – 13 v 11 – Brittany Altomare wins 2&1 against Carlota Ciganda
5:26pm – 14 v 11 – Matilda Castren wins 1up against Lisette Salas
5:47pm – 14 v 12 – Jessica Korda wins 3&1 against Charley Hull
5:52pm – 14 v 13 – Yealimi Noh wins 1up against Mel Reid
6:07pm – 15 v 13 – Emily Pedersen wins 1up against Danielle Kang
The winning putt
It was nearly ninety minutes after Boutier had secured Europe's 12th point and USA had claimed four points themselves that Matilda Castren had a putt to retain the trophy and that's exactly what she did.
Again, it was fitting that another rookie was able to make the most significant contribution of the day. She talked about how much she had enjoyed her first Solheim Cup experience, she said:
"It's been such a cool experience. I mean, it's more than I could have asked for, playing with Anna in the foursomes and four-ball matches. It was so much fun, and we did great. Just the team atmosphere is so great. Everyone is so supportive of one another, and just the chemistry is amazing. Our bus rides, we were listening to music, and it was just like everyone was hoping the best for each other, and yeah, I think it's the team really that made this happen. We worked really well together all of us and we got all along and had so much fun together. It's just been an amazing experience, and I'm so, so happy I made it."
Final match goes to the 18th hole
We had to wait until the final match came down 18 before the celebrations could commence and it was Emily Pedersen who won a final point for Europe. She was playing against Danielle Kang who has Pedersen's boyfriend on the bag. Pedersen commented:
"I mean, it's always a bit strange, but at the end of the day, we're out there to do a job. I know it's nothing personal, and he knows the same. I want to win, I just get to tease him a little bit more tonight!"
Captain Matthew proud of her team
Europe Captain Catriona Matthew felt the team stamped their authority on the match from the start, she said:
"Obviously getting off to that three and a half to a half start was really crucial. Then I think it was Mel yesterday and Leona getting that half point, that point was really crucial for us, gave us momentum, I think, coming into today and kept the spirits up in the team room."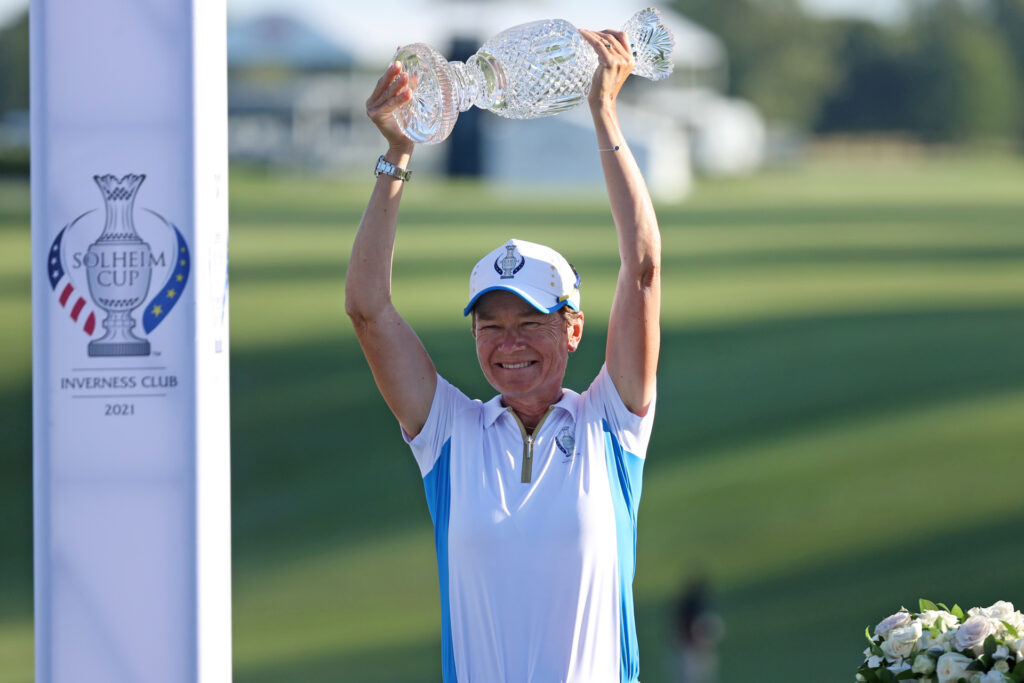 At the closing ceremony she reiterated the importance of being a team, she said:
"We were a team of 12. They all contributed. We couldn't have done it…one person doesn't win it, we needed all 12 of them, so just congratulations to the whole team."
Captain Catriona Matthew is the first European captain to have back-to-back victories. She has said this is her last but there are many that would like her, her calm demeanour and presence at Finca Cortesin in 2023.
That's a discussion for another day. It's now time to celebrate (if you were supporting team Europe) and reflect on three fantastic days of golf from both teams which showcased the highest standard of team golf on the global stage.