Here's all you need to know about the 2023 U.S. Women's Open taking place at Pebble Beach Golf Links
It's time for the third women's Major of the season which comes just two weeks after they took on Baltusrol for KPMG Women's PGA Championship, which saw 20-year-old Ruoning Yin claim her first Major title.
It's a record-breaking Major this week, so here's all you need to know and some player stories to look out for at the 78th U.S. Women's Open.
78th U.S. Women's Open Fast Facts
Host: Pebble Beach Golf Links will host a women's Major for the first time. The first professional tournament held at Pebble Beach was the 1926 Monterey Peninsula Open. In 1929, the course hosted the U.S. Amateur Championship for the first time. In 1947, Pebble Beach became one of the host courses for the Bing Crosby National Pro-Am, which is currently known as the PGA Tour's AT&T Pebble Beach Pro-Am. Pebble Beach has hosted 13 USGA championships, including six U.S. Opens, five U.S. Amateurs and two U.S. Women's Amateurs. The course was also the site of the 1977 PGA Championship and has hosted the PGA Tour Champions' Pure Insurance Championship since 2004.
Set-up: Pebble Beach will be set to 6,505 yards and will play to a par of 36-36 = 72. The yardage for each round of the championship will vary due to course setup and conditions.
Field: 156 golfers, from 30 countries, will be cut after 36 holes to the low 60 scorers (and ties).
Purse: The 2022 purse was $10 million, the highest purse in women's golf and among the leaders in all of women's sports. With the winner receiving $1.8 million. In January 2022, the USGA and ProMedica announced the elevated purse through their long-term partnership that includes presenting partner rights for the U.S. Women's Open. The USGA has committed to raise the purse to $11 million and then $12 million by 2026. The 2023 purse is yet to be announced*
Champion: receives the Mickey Wright Medal, custody of the Harton S. Semple Trophy for a year and an exemption from qualifying for the next 10 U.S. Women's Open Championships and an exemption from qualifying for the next five ANA Inspirations, AIG Women's Opens, KPMG Women's PGA Championships and Evian Championships.
Current champion: Minjee Lee throughout the final round of the 77th U.S. Women's Open was totally unflappable. The only hint of nerves came as she went to hole out on the final hole. The two-time Major Champion remained cool, calm and composed throughout. Admittedly it was her Major to lose as she took a three-shot lead into the final round. But with her motto "Win at all costs" visible on her back and other places on her clothing, you knew Lee meant business.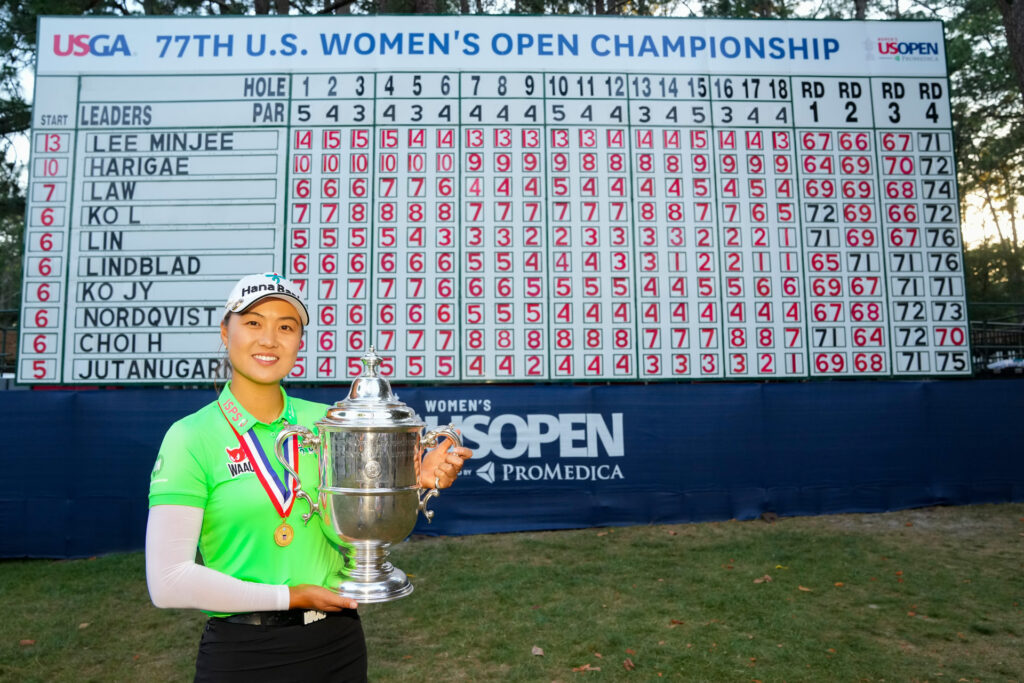 *updated: The purse has been increased to $11 million with $2 million going to the winner. USGA CEO Mike Whan announced at a press conference on Wednesday:
"I had a lot of records happening this week. Record entries; over 2100 women tried to get into one of these 156 slots. Record purse; we'll be playing for $11 million this week with $2 million going to the winner. I pointed this out a couple of weeks ago at LACC. I'm not sure why, but I find this pretty cool, $8000 cheque to everybody who doesn't make the cut."
About Pebble Beach Golf Links
Pebble Beach Golf Links is part of the famous 17-Mile Drive, which was originally designed as a local excursion route for visitors to take in the historic sights of Monterey and Pacific Grove and the scenery of what would become Pebble Beach.
The course was designed by Jack Neville and Douglas S. Grant and opened on February 22, 1919. Neville's objective was to place as many of the holes as possible along the Monterey coastline and he accomplished this by using a "figure 8" layout.
The 78th U.S. Women's Open is the 14th USGA championship to be conducted at the resort
The 2023 U.S. Women's Open will be the fifth played in California and first at Pebble Beach
Pebble Beach Golf Links will also host the 2035, 2040 and 2048 U.S. Women's Opens, as well as
the 2027, 2032, 2037 and 2044 U.S. Opens.
The AT&T Pebble Beach Pro-Am, a PGA Tour event, has been held at the resort since 1947
Player stories of the week
Michelle Wie West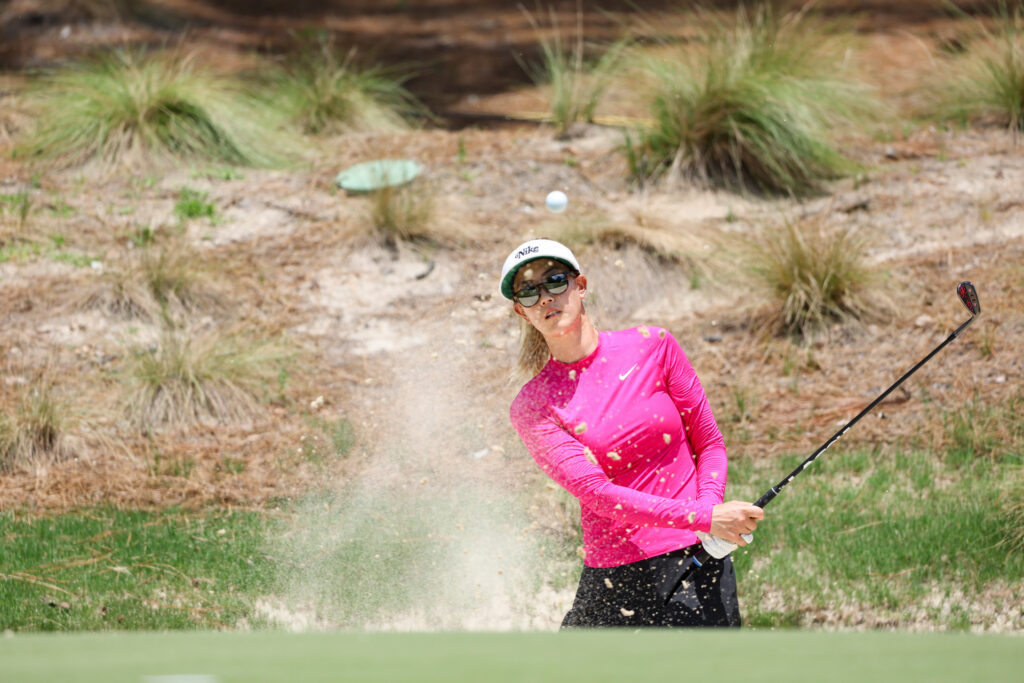 It was at the 2022 U.S. Women's Open that Michelle Wie West announced she would be stepping away from competitive golf.
"Excited to announce the next phase of my career as I'll be stepping back from playing on the LPGA Tour full time. I'm so grateful for the past 14 years I spent on tour, travelling the world and competing against the best in the game. Excited to spend more time on projects that I always wanted to do but never had time for and to continually work to help golf become a more diverse and inclusive space.
"Happy to announce that I'll be partnering with Nike and Nike Women to become their newest Athlete Collaborator and newest member of the Nike Think Tank to get more involved with the design process and to work on meaningful projects with them.
"Thank you guys for your support throughout my life/career, it means so much to me."
At the time, the 2014 U.S. Women's Open Champion committed to playing at Pebble Beach. Wie West comes into the week having not played any competitive golf since last year's Major.
Wie West has been around the LPGA this year and hosted the hugely successful Mizuho Americas Open which saw Rose Zhang claim her first victory as a professional in her first attempt.
Unlikely that we will see the 33-year-old contending this week but it will be great to see her back on the fairways.
Annika Sorenstam
World Golf Hall of Famer Annika Sorenstam accepted a special exemption to tee it up this week at Pebble Beach.
Three of Sorenstam's ten Major wins are U.S. Women's Open titles, including the 1996 championship at Pine Needles when she successfully defended her title won at The Broadmoor. This will be Sorenstam's 17th U.S. Women's Open start.
In 2021, she returned to competitive golf at the 3rd U.S. Senior Women's Open, where she cruised to an eight-shot victory, securing her place in the 2022 U.S. Women's Open at Pine Needles Lodge & Golf Club in Southern Pines, N.C. The 2022 U.S. Women's Open was Sorenstam's first start in the championship in 13 years and 16th overall.
"I am incredibly grateful to the USGA for the opportunity to play in this year's U.S. Women's Open," said Sorenstam. "It is a championship that has helped to define my career, and to play in the first one at Pebble Beach, which will be a defining moment for women's golf, with my family by my side will be a week we never forget."
Again, unlikely to contend but what a moment to have Sorenstam and Wie West on our TV screens. They'll be playing together with In Gee Chun for the first two rounds, so that will be a great group to watch.
Contenders
With so many players in the mix during the final round of the KPMG Women's PGA Championship, choosing a winner this week is almost impossible. The quality, depth and breadth of players in the women's game is unbelievable.
In the mix will be the likes of Rose Zhang, who finished in a tie for eighth at Baltusrol. Leona Maguire may not have had the final round she would have hoped for but she is still very much in form.
Zhang will be pulling on her experiences over the last year but also she will have close guidance from Wie West and Sorenstam who have acted as mentors to her. Talking of Annika, she said:
"She's always said to smell the roses, and that's one of my favourite lines. Even to this day. So she's just such a great person to talk to when it comes to the long longevity of her career."
It's only been two weeks since the previous Major, so any of the contenders from that week such as Yuka Saso, Carlota Ciganda and Xiyu Lin could feature and let's not forget the winner Ruoning Yin who will be looking to secure a third title of the season.
Yin is confident that she has more to give this season:
"Definitely want to win some more. I think for me, I feel like I'm in a pretty good spot right now, and my game is quite on spot and my mental is pretty strong. Yeah, I'm looking forward to winning more."
English hopes in Georgia Hall and Charley Hull will both be hoping to vastly improve on their KPMG performance, as will World Number two Nelly Korda.
View the first and second round pairings and tee times via the link here.
How to watch the 2023 U.S. Women's Open
In the UK, you can watch live coverage of the U.S. Women's Open on Sky Sports Mix, Sky Sports Main Event and Sky Sports Golf. Coverage starts on Thursday June 6 at 9pm (BST) on Sky Sports Mix. There will be 24 hours of live coverage across the four days of the Major.
Follow the U.S. Women's Open live leaderboard link here.
TaylorMade U.S. Women's Open Competition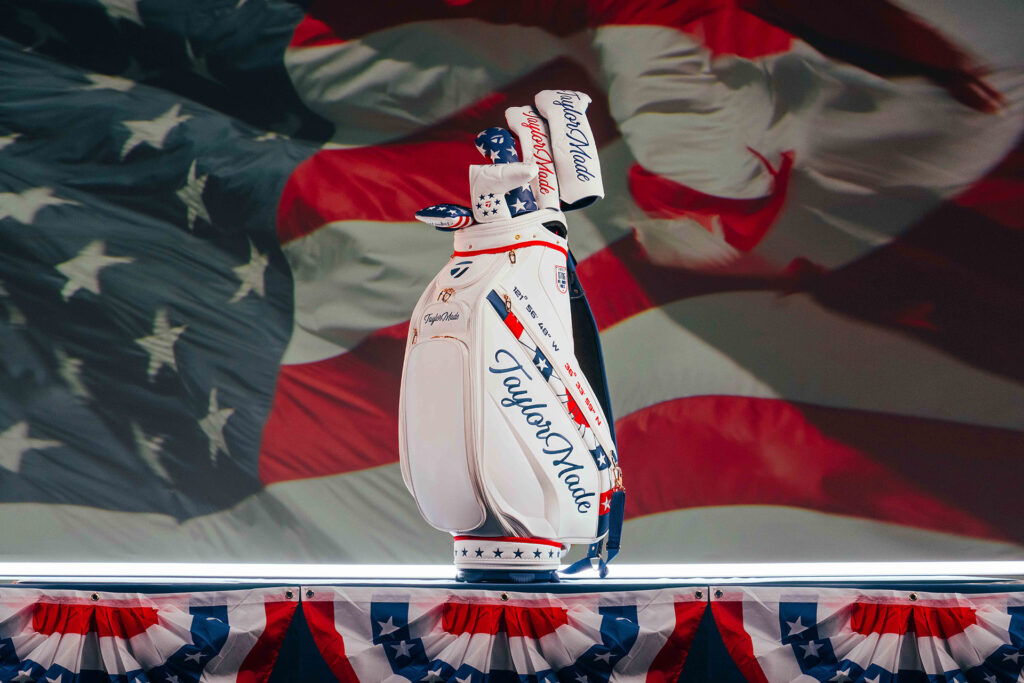 Don't forget to enter our TaylorMade U.S. Women's Open Competition to win a limited edition U.S. Women's Open tour bag and matching headcovers. Enter via Instagram or Twitter.
Inspired by the third women's Major of the season? Why not come and watch the best players in the world at the AIG Women's Open this summer at Walton Heath. Ticket prices start from £20.