Rose Zhang announces her move into the professional ranks in style by winning her first LPGA event as a pro, beating Jennifer Kupcho in a play-off
It has been a phenomenal two weeks in the life of Rose Zhang, she claimed her second NCAA title on May 22, turned 20 on May 24, turned professional on May 26 and then won her first LPGA tour event on June 4.
The three-time McCormack Medal winner left the amateur ranks having held the top position in the Women's World Amateur Golf Ranking for a record 141 consecutive weeks, dating back to September 2020.
After turning professional on May 26, Zhang received a sponsors invite to the inaugural Mizuho Americas Open. An event that was taking place at Liberty National Golf Club for the first time and was hosted by Michelle Wie West.
Ahead of her first professional appearance the 20-year-old said:
"I feel like as a professional player it would be a dream to be on the LPGA Tour, play on there weekly and travel alongside all the best players."
It was never on Zhang's mind that she would be heading out in the final pairing on Sunday with a two-shot lead.
"Answer is no. (Laughter.) I honestly didn't even expect to make the cut, and the reason why I say this is because I don't think about my expectations a lot.
"I think about playing the golf course. I think about trying to shoot the best score that I can. Obviously I have frustrations, disappointments with my game, but I never once think about where I finish, where I should finish, et cetera.
"So with that my mind, the expectation for me winning did not even cross my mind. I was just playing my game. I was having a good time out there. This is the game that I love, and I'm so thankful to be a professional doing it now."
ANWA alumni top the leaderboards
Just playing her game is what kept Zhang at the top of the leaderboard for the entire final round. After making a bogey on the par-3 fourth hole, the American held her nerve to par every hole, with clutch par saves on many holes. Birdies remained elusive, although she did come close on 17. After all the par saves, Zhang just needed one more but it wasn't to be on 18 and she headed into a play-off with Major winner Jennifer Kupcho.
In this new event which saw 24 AJGA juniors competing alongside the professionals, it was apt that Zhang, the 2023 ANWA champion had played alongside the 2022 champion Anna Davis and then went into the play-off against the first ANWA champion Jennifer Kupcho who won back in 2019.
Play-off for the inaugural Mizuho Americas Open
The light was fading as the time headed towards 8pm local time. Hitting first, Kupcho's drive found the fescue on the right of the 18th fairway and Zhang followed the lead, hitting her tee shot in the right fairway bunker. Both players hacked their second shots out short of the green and Zhang pitched her third shot up to approximately 12 feet, a few feet further from the hole than her third in regulation. Kupcho took note of the check on Zhang's ball and knocked hers to six feet, and both buried their par putts to send things back to the 18th tee.
Kupcho and Zhang learned from their earlier mistakes, each finding the fairway with their drives, but Zhang stuck her approach shot close, hitting it to roughly six feet for birdie and the win. When Kupcho left her approach on the front of the green, rammed her putt well past the flag and missed the comebacker for par, it was Zhang's to win, and she took advantage, two-putting her way to her first career LPGA Tour victory and first win as a professional.
Zhang became the first player since Beverly Hanson in 1951 to win on her first LPGA debut. A phenomenal achievement from a phenomenal player. With her win Zhang was immediately able to accept LPGA membership and gain Race to CME Globe points. It also means that she is now eligible to play in this year's Solheim Cup. Something that the golfing world will definitely be keen to see.
AJGA competition
On the AJGA side of competition, amateur Yana Wilson scored 37 points during the final round on Sunday, outlasting competitors Anna Davis and Sara Im by three and five points respectively. With four bogeys and five birdies on the day, her final-round score set her in the first place since her 13th hole. Although officially scoring in Stableford Scoring throughout the week, Wilson recorded rounds of 67, 70, 77 and 71. The champion has verbally committed to play collegiate golf at the University of Oregon.
When you start with a win, what's next for the most talked about player in women's golf? Final exams at Stanford this week:
"It is most certainly on my mind. I have no idea what I'm going to do with that. I've got an essay due, PSAT due for CS. We'll figure that out. I'm also moving on the 13th, so I have a busy week ahead of me, and that's not golf related."
Zhang's next professional start is most likely to be at the KPMG Women's PGA championship. With this win, the interest and excitement around the second women's Major of the year is likely to grow.
Golf's newest megastar has arrived and if she can keep up momentum, it will be just what the women's game needs.
The next event is the ShopRite LPGA Classic Presented by Acer at Seaview, Bay Course.
Swede success for Pettersson at Helsingborg Open
Report by the LET
Sweden's Lisa Pettersson fired a phenomenal final round of five-under-under 67 to claim her first LET title by a stroke at the Helsingborg Open.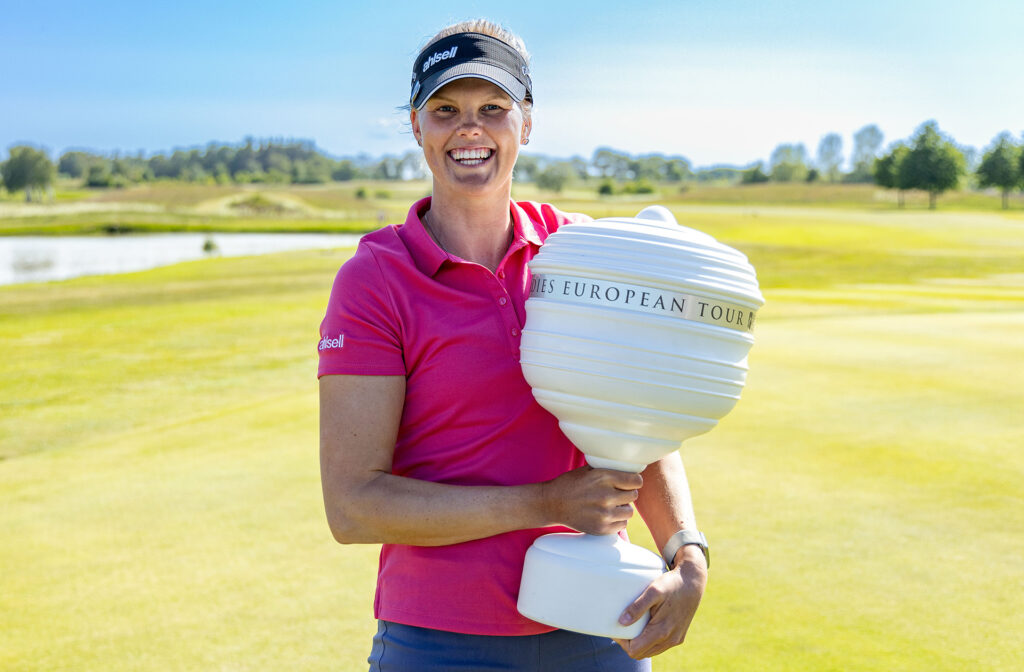 The 27-year-old from Taby started the last day one shot behind the second-round leaders, Nicole Garcia from South Africa and Ana Pelaez Trivino of Spain.
It took another 16 holes for her to tie for the lead with Pelaez Trivino, until she finally won with a dramatic eagle.
Playing in the penultimate group, in warm and benign conditions, Pettersson went out in 35 after making a solitary birdie on the par-5 fifth hole. She bogeyed the narrow par-4 11th but then picked up birdies at the 12th, 15th and 16th holes, before making an incredible eagle on the par-5 18th to come home in 32.
After setting the clubhouse target at 11-under-par, she faced a nerve wracking wait on the practice putting green as Pelaez Trivino, who had led all day, played the last hole. The Spaniard needed an eagle to win outright or a birdie to force a play-off, but her third shot, a chip from the front of the green, checked up six feet short of the hole. Then, her birdie putt slipped agonisingly past the left side. The resulting par, and a final round score of 69, was enough for Pettersson to win by the slimmest of margins.
"I don't think it has sunk in yet to be honest. I don't really know what happened out there. I'm in shock, but it feels good," said the second year LET player, who had previously recorded two runner-up places on the LET in Scandinavia, at the 2022 Skaftö Open and Åland Open.
"I obviously like playing at home and it was really, really fun. I really like playing in Sweden. Even though I'm not from Helsingborg, I still feel the support.
"I hit a really good drive on 18 and I told my caddie, (Philip Axelsson) who's my boyfriend, that it was the last drive of the tournament and it was nice to finish with a good drive. Then I had about 180 metres left, and I hit a 5-iron to about two metres, or eight feet, and the putt went in.
"I just tried to hit a good putt. I was nervous but I didn't know what it would lead to, so I was thinking I would try to finish with a good putt for my own score.
"I haven't been in this position before. I came second twice last season, but I didn't get to play in a play-off, so I didn't know exactly how I should handle it. I was just waiting to see what would happen. I tried to hit some putts and stay loose and warm. When she didn't make it, it was surreal. I didn't quite realise that it meant that I had won.
"I skipped one of my best friends' weddings this week to play in this event. She was understanding but I'm sure she will understand even more now."
Pelaez Trivino occupied solo second place after another solid performance for her fifth top 10 finish of the season.
It was a great performance by fellow second year player Smilla Tarning Soenderby of Denmark, whose 68 ensured she finished in outright third position on nine-under-par. The 22-year-old from Fredericia was extremely happy to record a career best result on the LET and to be under par in all three of her rounds. She moved to her highest ever ranking of 27th on the Race to Costa del Sol.
Czechia's Klara Davidson Spilkova had another good week on the LET with a final round of 66 – the joint best round of the week – to end in fourth place on eight-under-par. 
In the 2023 Race to Costa del Sol, Aditi Ashok continues to lead but Ana Peláez Trivino has jumped into second ahead of Linn Grant, in third, and Klara Davidson Spilkova remains in fourth place.
The LET now moves to Stockholm for the Volvo Car Scandinavian Mixed at Ullna Golf Club, the second event in the Swedish swing.