Annika Sorenstam took us back in time as we witnessed a triumphant debut at the U.S. Senior Women's Open. Plus the rest of the news from tour golf...
It was almost as if we'd turned back time when I was watching the U.S. Senior Women's Open, female golfing greats battling it out for a major title. I only wish there had been more TV coverage here in the UK, so that I could have watched more of it.
This video from the USGA particularly highlighted how these women are still such icons of the game:
The week belonged to Annika Sorenstam, with expectations high as she made her debut at the third U.S. Senior Women's Open. She didn't let the pressure get the better of her and after leading by two shots heading into the final round, it was almost like watching Sorenstam at her peak. The ease at which she navigated and played the final round was a joy to watch.
It turned into a truly dominant performance and apart from a minor bogey blip on 13, she won by eight shots at -12. Her closest rival was fellow Swede Liselotte Neumann and Dame Laura Davies was one further shot back at three-under-par in third.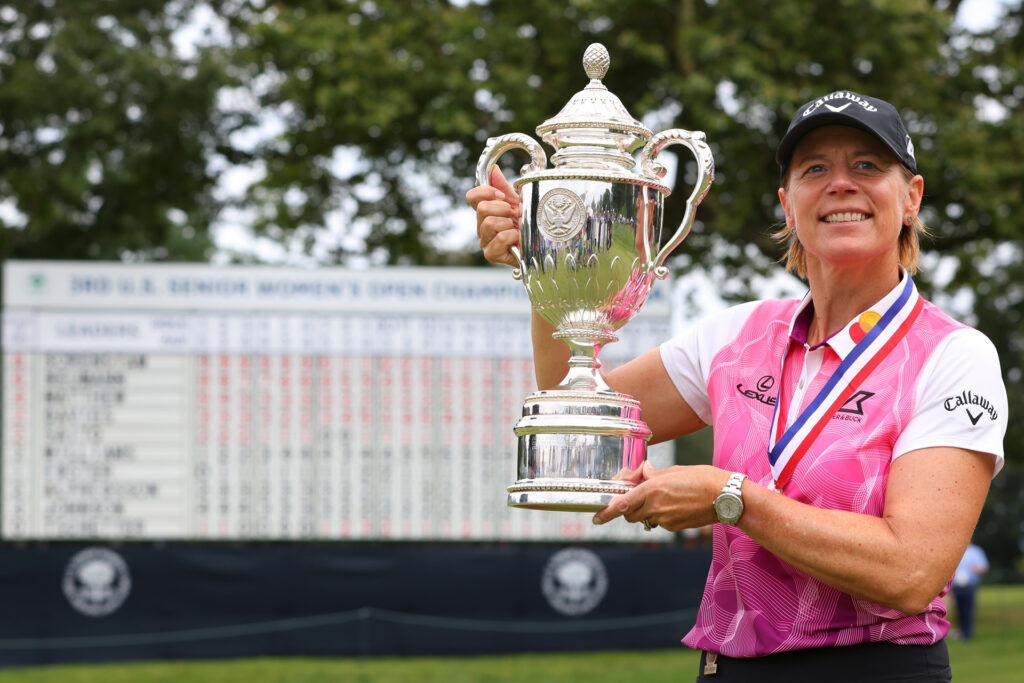 Sorenstam, who had her husband Mike McGee caddying for her and her children watching from the fairway (both not even born when she won her last major the U.S. Women's Open in 2006), dedicated her win to her family, she said:
"The Open has such a soft spot in my heart. It's kind of where my career started, so to come back here and bring my family, with my husband on the bag, my two kids walking the fairways, it's really a dream come true.
"I worked hard for this championship. When I turned 50 I said 'I'm going to play.' I want to support the ladies, I want to support women's golf and I figured this is what I've got to do.
"Coming back from 13 years was not easy. This is really a family affair. They supported me all along, they know what it takes to be out there."
Going for Gold - Men's Olympic Golf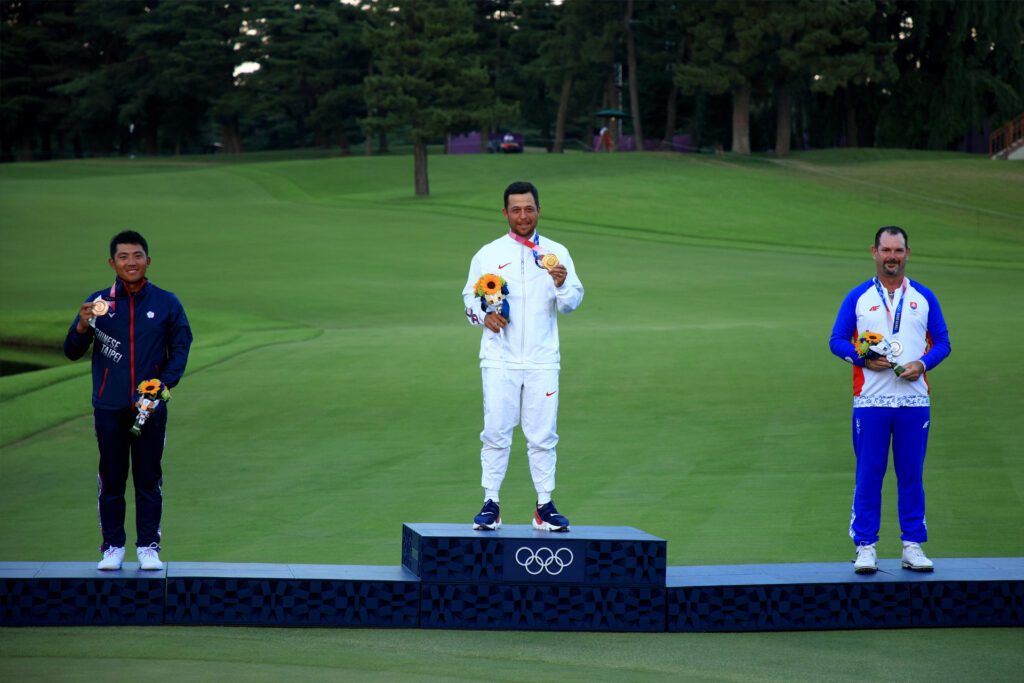 Criticism always seems easier to generate than praise in the age of social media and the last week was spent talking about why golf shouldn't be in the Olympics, or if it is then it should be for amateurs, that stroke play is the wrong format, missed opportunities for a team event and the perennial problem with lack of coverage. Some very valid points raised but how about looking towards the positives for this moment in time.
After watching seven players battle it out for the bronze medal, I think Rory McIlroy summed up the moment perfectly, he said
"I've never tried so hard in my life to finish third, I gave it my all out there today. I'm proud of how I played and how I competed. I'll look back on this week with nothing but great memories. It's been brilliant, just everything about it, it's not just another golf tournament – you're a part of something much bigger. I'm really looking forward to Paris in three years time."
With 26 of the 60-player field within seven shots of the lead, the final day was always going to be an interesting one and that it was! Seven groups in front of what turned out to be Xander Schauffele's gold-winning group was Chinese Taipei's C T Pan, Slovakia's Rory Sabbatini and Canada's Mackenzie Hughes.
Believing he had no chance of medalling, Sabbatini set out to play a more aggressive round than he would in a normal PGA Tour event. It paid off, shooting the low-round of the week a ten-under-par, 61 and ultimately securing the silver medal for Slovakia. Whilst it wasn't Hughes' day, shooting four-over, Pan also shot low with a 63 to put himself into the play-off.
The seven-man play-off from bronze included Pan and had two 2021 major champions Team USA's Collin Morikawa and Japan's Hideki Matsuyama in it as well as Ireland's Rory McIlroy, GB's Paul Casey, Colombia's Sebastian Munoz and Chile's Mito Pereira.
The players were divided into two groups for the play-off, with Casey and Matsuyama eliminated with bogeys at the first extra hole. None of the remaining five players could make birdie on the next extra hole, so moved to a third where Morikawa and Pan birdied to take it to a fourth extra hole.
Morikawa ended up with a horrendous plugged lie in the greenside bunker on the fourth play-off hole and made bogey, as Pan made par to secure a medal for Chinese Taipei.
So for all the criticisms in the build up, the men's event more than delivered with a close-run stroke play followed by the match play play-off for bronze that gave us a taste for what future Olympics could look like. I'm looking forward to the women's event which starts on Wednesday.
First time winners in Northern Ireland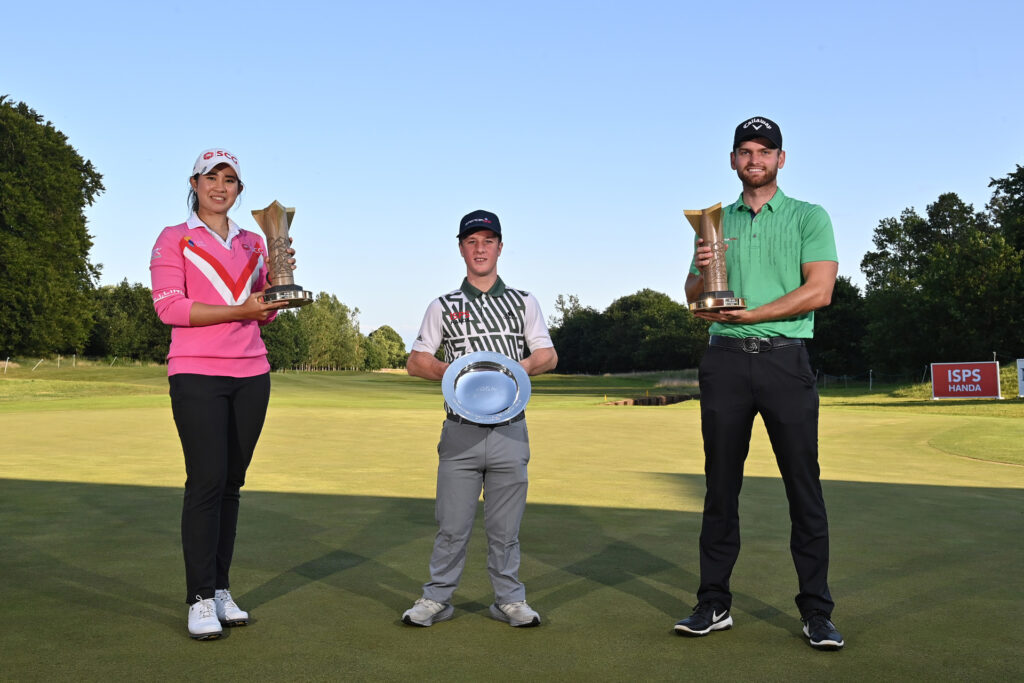 There is constant talk about the need for innovation in golf, whether that be at grassroots or elite level. That's exactly what we got at the ISPS Handa World Invitational in Northern Ireland. A tri-sanctioned event, with equal fields and equal prize money. There was also the ISPS HANDA World Disability Invitational, the second event in the 2021 EDGA European Tour season which was won by Brendan Lawlor.
In the men's event, it was a shock win for England's Daniel Gavins who came back from seven shots behind on the final day to beat David Horsey and third-round leader Jordan Smith to win. On his maiden European Tour victory, he said:
"I can't believe it! I just tried to shoot as low as I could today. Seven behind, I didn't really think I was in with a chance of winning. I think it will take a while to sink in - what an amazing day!"
The women's event ended up in a play-off as joint third-round leaders American Emma Talley and Thailand's Pajaree Anannarukarn both shot rounds of 70 to finish on -16. The play-off went to a second extra hole where Anannarukarn holed a nine-foot putt for the win.
Thinking about what she'd tell her younger self, Anannarukarn said:
"I think just to enjoy golf more. Sometimes we took it for granted. We forget to enjoy it. We were too intense sometimes. But I would tell myself to enjoy it more. Golf is a fun sport, and I am very lucky enough to be able to do what I love and to have it as my job, honestly, and to be able to be here on the LPGA Tour, it's a great, great accomplishment."
This was the 22-year-old's first LPGA Tour win, two weeks ago she had her best finish to date with third place at the Dow Great Lakes Bay Invitational with her playing partner Aditi Ashok. She's now having this week off before competing at the Trust Golf Women's Scottish Open and AIG Women's Open.
There's no doubt that the event was a great success, my only slight complaint was that although this event was tri-sanctioned, at times it very much felt like two separate events where the women's tours spoke about the women and the men's about the men. There was some crossover but to make this truly feel like one event, there needs to be more synergy between the tours in future years.
Big Green Egg Swedish Matchplay Championship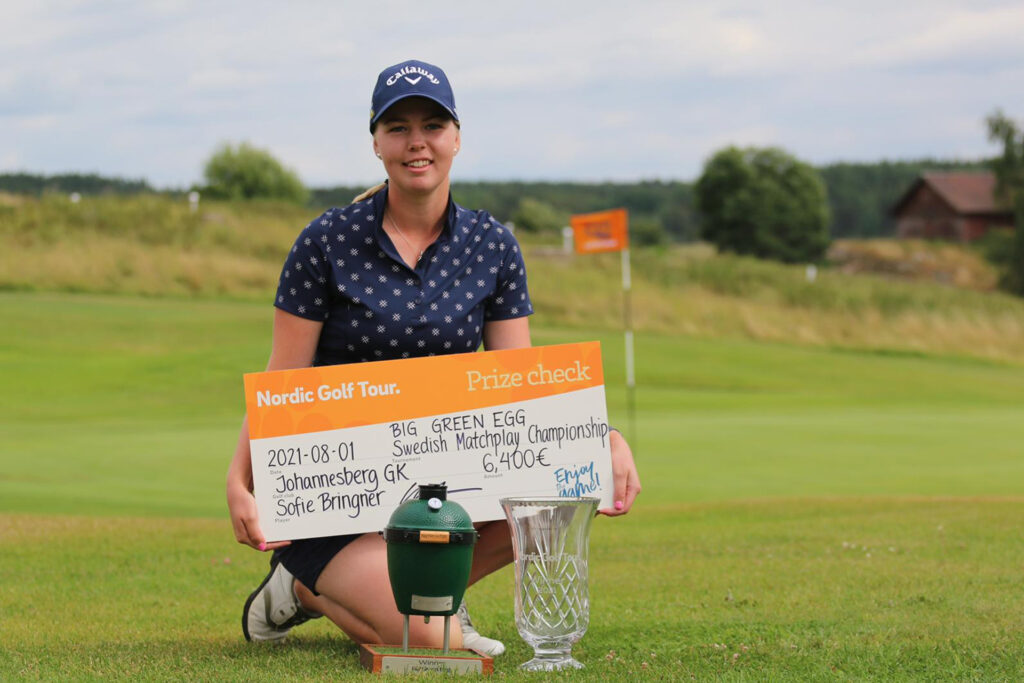 It was a home win for Sweden as Sofie Bringner defeated Switzerland's Caroline Rominger in the Big Green Egg Swedish Matchplay Championship, part of the LET Access Series.
The semi-finals took place on Sunday morning, with an all-Sweden clash between Bringner and Anna Magnusson, who she beat on the last hole. While in the second match Rominger secured a 3&2 victory over Sweden's Corinne Vidén to book her place in the final.
The afternoon shootout saw Bringner shine on the back nine when she clinched her maiden LETAS win on the 15th hole by 4&3.
The 24-year-old said of her win:
"It was a good and steady day today. Steady from the tee, into the green and I dropped a few putts as well, so it was nice. It means a lot for me to win here in Sweden. This is my first professional win and I'm very glad for that."
Which other tours would you like us to report on? Drop us an email with your request here.