Minjee Lee won her second Major at the 77th U.S. Women's Open, winning by four shots over Mina Harigae
Drama and Majors normally go hand-in-hand and I wait for something or someone to make a mistake and then watch the fallout. However, this wasn't the case at Pine Needles Lodge and Golf Club. Every now and then it just so happens that a golfer is able to hold their nerve, dominate a final round and almost appear goddess-like in the way they navigate the golf course.
This was Minjee Lee throughout the final round of the 77th U.S. Women's Open, she was totally unflappable. The only hint of nerves came as she went to hole out on the final hole. The now two-time Major Champion remained cool, calm and composed throughout.
Admittedly it was her Major to lose as she took a three-shot lead into the final round. But with her motto "Win at all costs" visible on her back and other places on her clothing, you knew Lee meant business.
Watch highlights from the final round of the 2022 U.S. Women's Open presented by ProMedica
[parone_rss_video_player campaign="238" feed="41-lpga-tour" autoplay="true" env="prod" defaultlang="en" /]
Largest single prize in women's golf
With a final-round 71, Australian Lee ran away with the 2022 U.S. Women's Open presented by ProMedica, finishing at a championship-record 13-under-par 271. She joined fellow Australians Jan Stephenson (1983) and Karrie Webb (2000, 2001) as U.S. Women's Open champions, and followed Webb in 2001 as Major winner at Pine Needles Lodge and Golf Club. Plus her caddie Jason Gilroyed won his second title at Pine Needles after carrying Cristie Kerr's bag to her victory in 2007.
With the win, Lee earned $1,800,000, the largest single prize in the history of women's golf. The 26-year-old said:
"This is pretty special. This is the one I've always wanted to win since I was a little kid, so it just feels pretty amazing to be able to get it done today. I just can't believe it."
Taking control of her Major destiny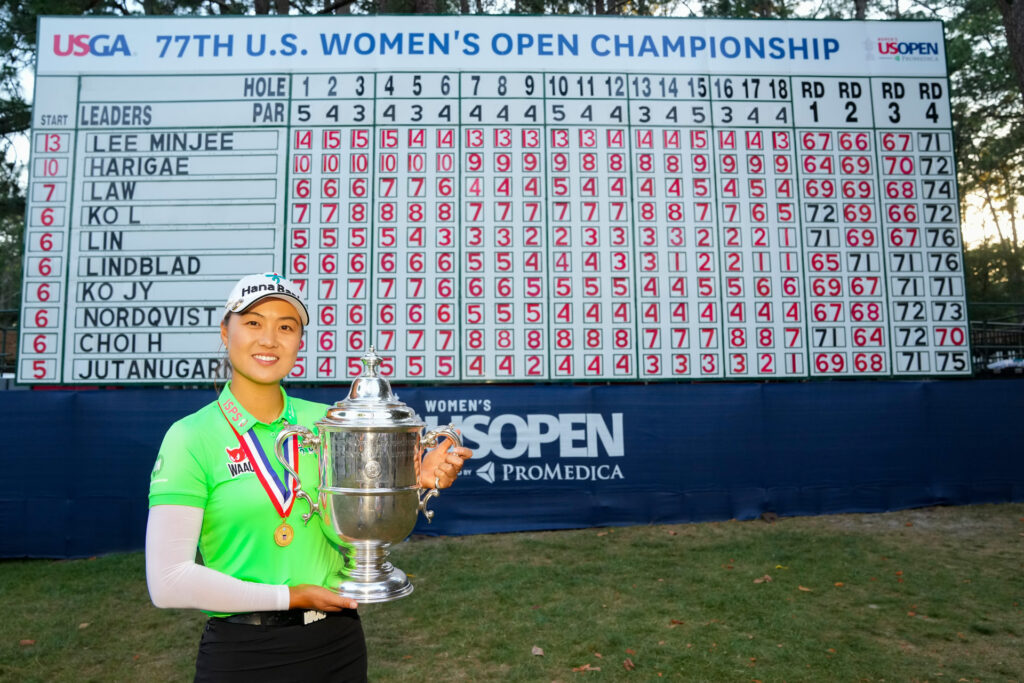 The world number four, Lee started the day with a three-shot lead over American Mina Harigae and quickly took control of the final day, birdieing her first two holes to pull five clear of the field. She faltered with bogeys at 5 and 7, perhaps showing signs of the nerves that come with leading a major championship. But thanks to those early birdies, Lee knew that she had plenty of room to make those mistakes and quickly move on.
"Even with a three-shot lead I never felt comfortable today. I felt like I still needed to play well. I still needed to hold my ground. That's pretty much what I did," said Lee, the seventh player to win the U.S. Women's Open and the U.S. Girls' Junior. "To start aggressively, I think it was the right move, and then after that I had quite a big shot lead, so I was able to just play my game just to finish."
Lee led by as many as six shots on the back nine, with birdies at 12 and 15 coming in just as clutch as par saves at 11 and 14. "I had really good saves, up-and-downs from a lot of the places," she said. "Then finishing I had a couple birdies and a couple bogeys. I think that was enough to get it done today."
By adding the U.S. Women's Open to her the 2021 Amundi Evian Championship title, Lee became the first player to win majors in consecutive years since In Gee Chun (2015 U.S. Women's Open, 2016 Amundi Evian Championship).
Playing for second place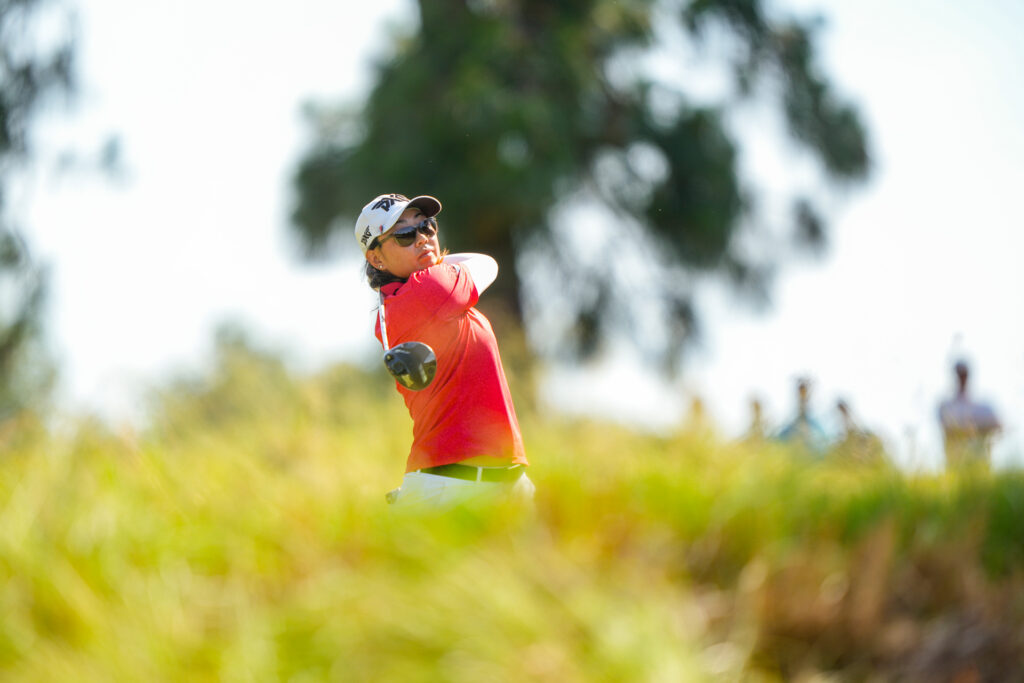 In the end the real tussle came to finish in second place. Lee's playing partner Harigae was just unable to capture the same spark that she had shown around Pine Needles the previous three days. Nevertheless, her second-placed finish at nine-under-par is tied for the best finish of her LPGA Tour career. And with the newly elevated $10 million purse, Harigae will still receive more than $1 million, by far the largest payday of her 13-year LPGA Tour career.
The 32-year-old said:
"I wanted to hang in there. It's a major championship, and anything can happen coming down, but she was just way too solid today. She didn't miss many shots or putts. I think I was just really concentrating on solid contact and hitting fairways and greens and giving myself a shot at second."
2014 U.S. Women's Open runner-up Hye-Jin Choi shot a final-round 70 and moved into solo third at -7, followed by Rolex Rankings No. 1 Jin Young Ko in fourth at -6 and former No. 1 Lydia Ko in fifth at -5.
Low amateur of the week was Sweden's Ingrid Lindblad, who finished in a tie for 11th place:
"It's a long week. We don't play a lot of 72-hole tournaments [in college]. Most of them are 54 holes and they're usually 36-18 or 18-18-18. [I'm] not really used to it. I was a little tired going into today."
Next year the 78th U.S. Women's Open will be played at Pebble Beach, with expectations and excitement high for runner-up Harigae:
"I just have so many great memories at Pebble Beach, and it's my favorite place on earth, so I'm really looking forward to it next year."
View the final U.S. Women's Open leaderboard here.