Women & Golf took a trip to stay and play at Dundonald Links in Ayrshire taking on the championship course and a round at 152nd Open venue Royal Troon
Back in November 2021, Women & Golf were invited to the opening of the new clubhouse at Dundonald Links. At the time I was really blown away by what had been accomplished:
"What Darwin Escapes have achieved with this new clubhouse is nothing short of spectacular. The idea of contemporary with legacy is prevalent in the clubhouse - modern, clean, highly styled but with subtle nods to golf tradition and heritage. There's definitely no stuffiness!"
There was also the opportunity to tackle the links, which gave me an authentic experience in driving rain, cold and wind 😏!
When we were offered the opportunity to return to Ayrshire, 18 months later, I was keen to get back to see how the new clubhouse had 'bedded-in' and whether the links may be a little kinder under Spring conditions.
Perfect Accommodation
Even after 18 months of use, the four-bed lodge that I stayed in still looked like new. I don't think you can tire from walking into the communal kitchen/dining area and seeing the putting green that works are a focal point for each cluster of lodges.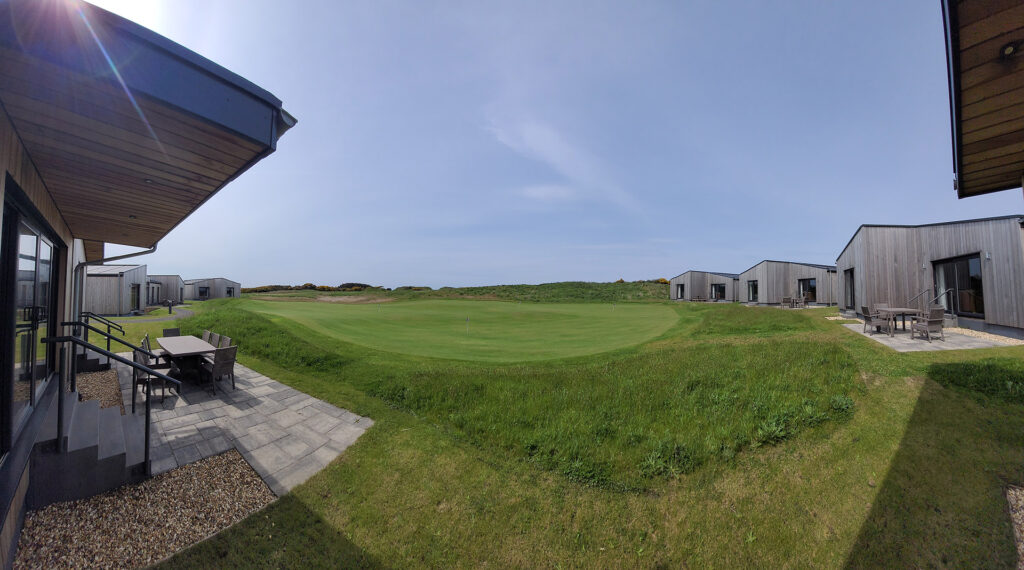 Here's a reminder, from my first visit, of what you will find in the four bedroom lodge:
When you enter the lodge you find a generously sized boot room/utility area which is perfect for all your golf gear and allows you to keep the rest of the lodge free from wet/muddy/grassy shoes and waterproofs.
The open plan, fully-equipped kitchen, dining and living area is large in size with enough room to seat eight people. There were four double rooms, all with their own en-suite bathroom. The bathroom was very modern in style, quite dark, but the touch screen mirror lights definitely brightened it up. A TV in every room and free Wifi means that there really couldn't be a better place to kick back and relax after a day on the Links.
Having now stayed at one of Dundonald's sister locations, The Springs, the attention to detail, cleanliness and welcoming feel is something that seems to extend throughout the Darwin Escapes properties.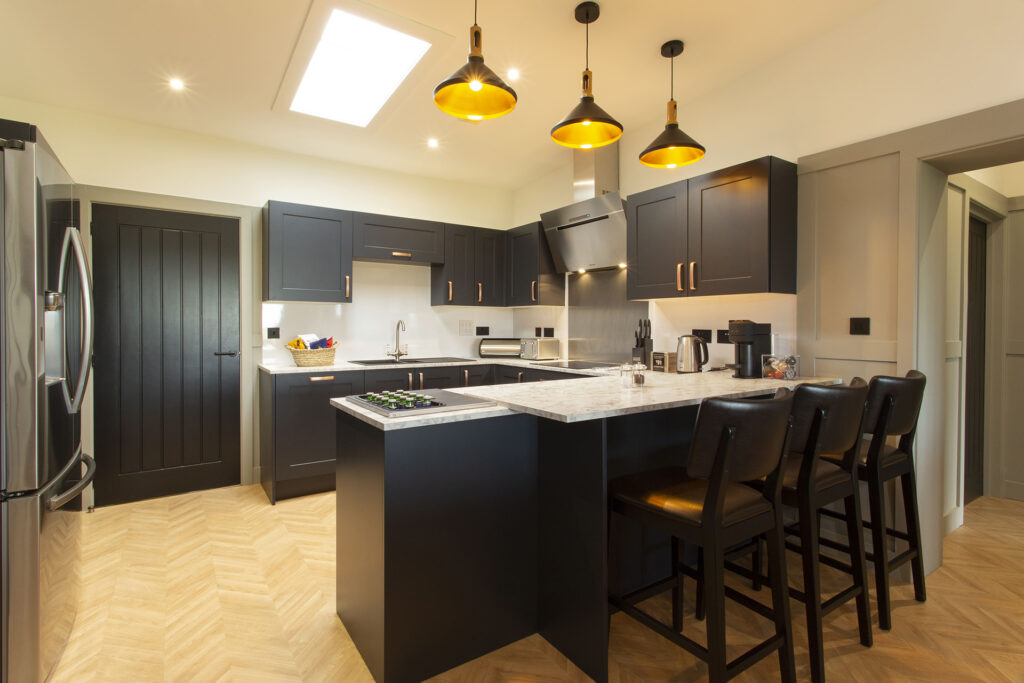 I may have been staying in one of the four-bedroom lodges, but two, four and six-bedroom lodges are available. The six-bedroom lodge has a pool table! Plus, there are also 22 hotel rooms, all of which have been designed to combine contemporary with legacy and are situated a short stroll from the clubhouse.
The Canny Crow
When I mentioned about the clubhouse bedding in, part of that was literal as the building itself is constructed of natural materials and finished with local whinstone and a grass roof.
The last 18 months have seen the building blend with the local landscape, which is part of Dundonald's long-term commitment to sustainability and conservation. I didn't get a picture to do it justice but the grass roof has really come alive since I first visited.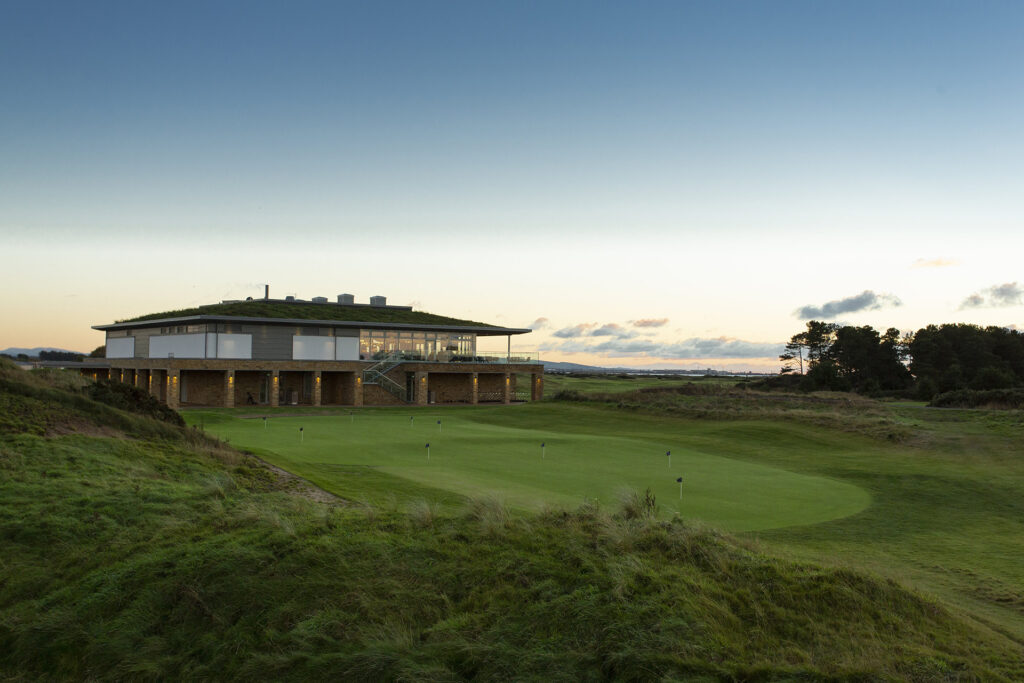 I promise I will get to the golf but I just have to talk about the food on offer at The Canny Crow. The three course dinner that we had at the opening night lives long in the memory, so I was looking forward to what would be on offer this visit.
Lunch did not disappoint! There is an extensive menu to choose from but open sandwiches seemed to be the order of the day. My smoked salmon and Marie Rose prawns was delicious, however, I did get a little food envy of the steak with crispy onions on top! Either way, a good way to fuel up before the round.
In the evening, after golf, we were treated to a three course meal from the à la carte menu, there were some specials too. The food was presented well, I enjoyed the combination of flavours in each course and it's another meal to be logged in the memory bank.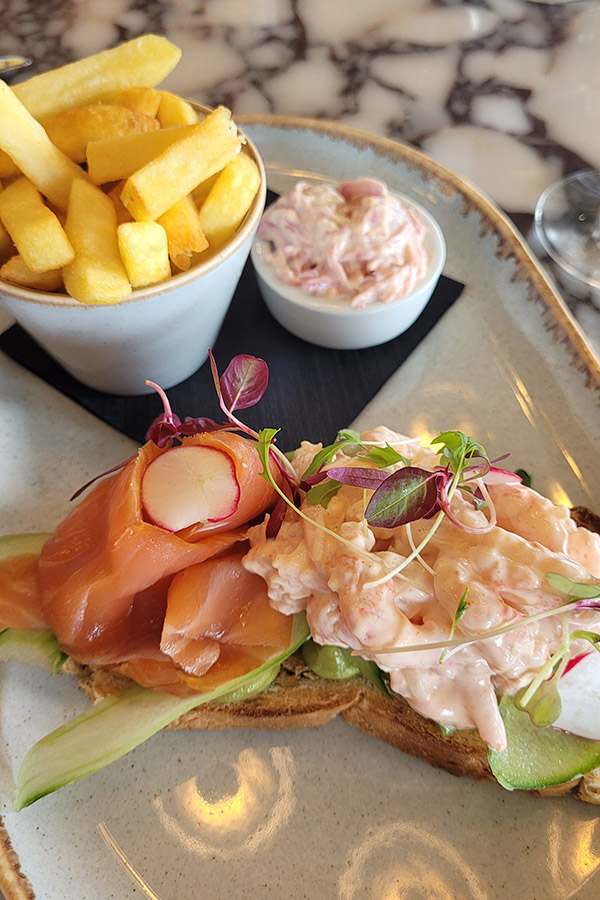 The meal was finished off with an Old Fashioned, a nod to The Whiskey Room which can be booked for a whiskey tasting experience.
Day 1 - Dundonald Links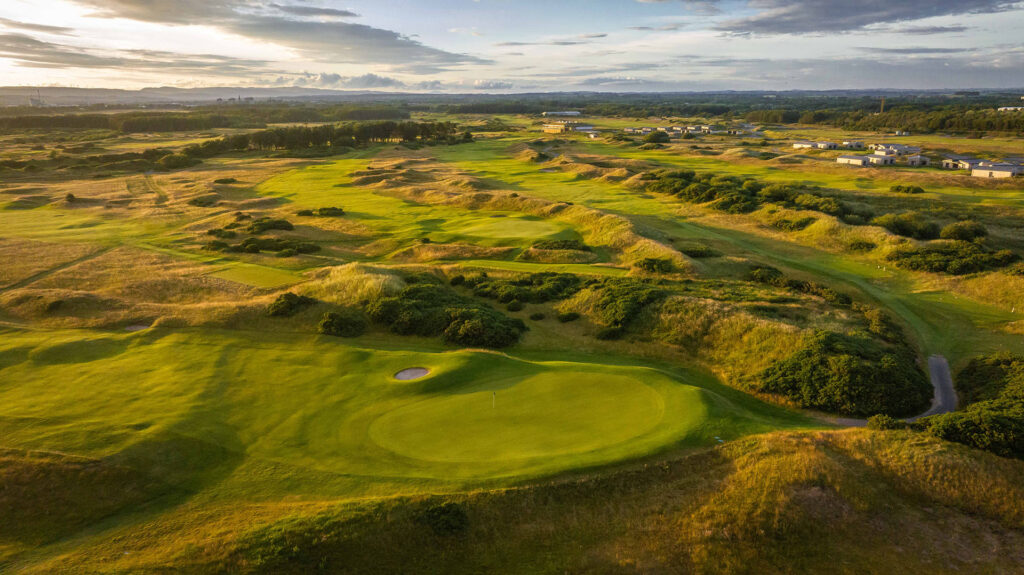 The above picture captures beautifully what Dundonald Links is all about, a course that weaves its way through the natural landscape around it. From the moment you step onto the first tee to the time you walk off the 18th green, you spend your whole round traversing a course that sits perfectly in its surrounding.
I appreciate that bunkers are no natural phenomena but each one appears so perfect in its location that you might almost believe there was a superior being out there creating them naturally at will!
In this instance, the superior being (of sorts) was Kyle Phillips, who had a vision for the links back in 2003:
"My desire was to create a championship Aryshire-style links course that felt and played as though it was an old, rediscovered course by integrating newly discovered features with existing site features."
This entirely describes what has been achieved.
You'll also notice around the course, signage entitled "On Course with Nature..." which gives you an insight into what benefits the links can bring to local wildlife and the role that Dundonald are playing in nurturing the environment around them.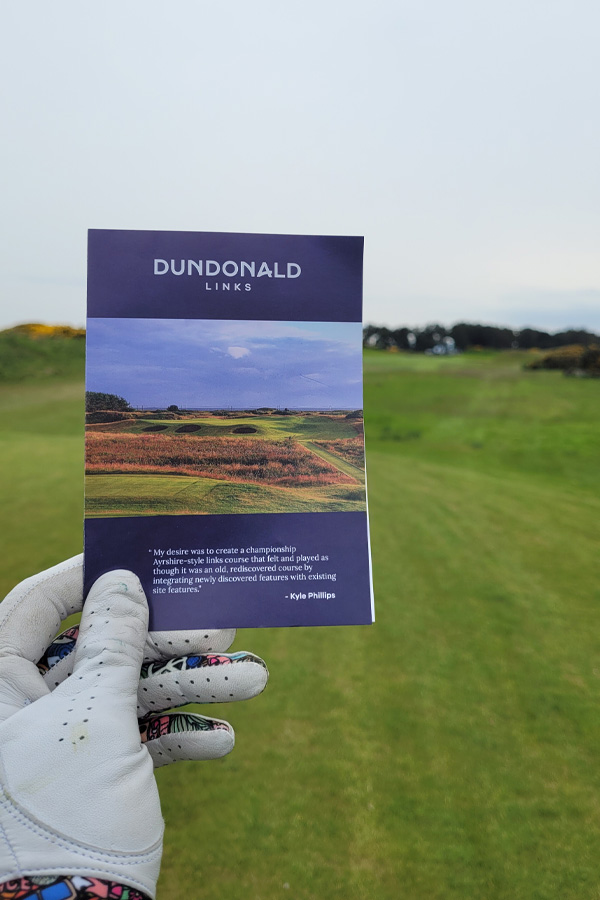 I won't talk at all about my game, except that it wasn't that great on the front nine but improved vastly on the back nine. I'm not sure whether that was due to having warmed up or the bottle of beer from The Bothy which is the halfway house right by the clubhouse.
Playing the course under much calmer conditions than my first visit meant that I really got to appreciate the course a lot more, rather than having my head down in the rain.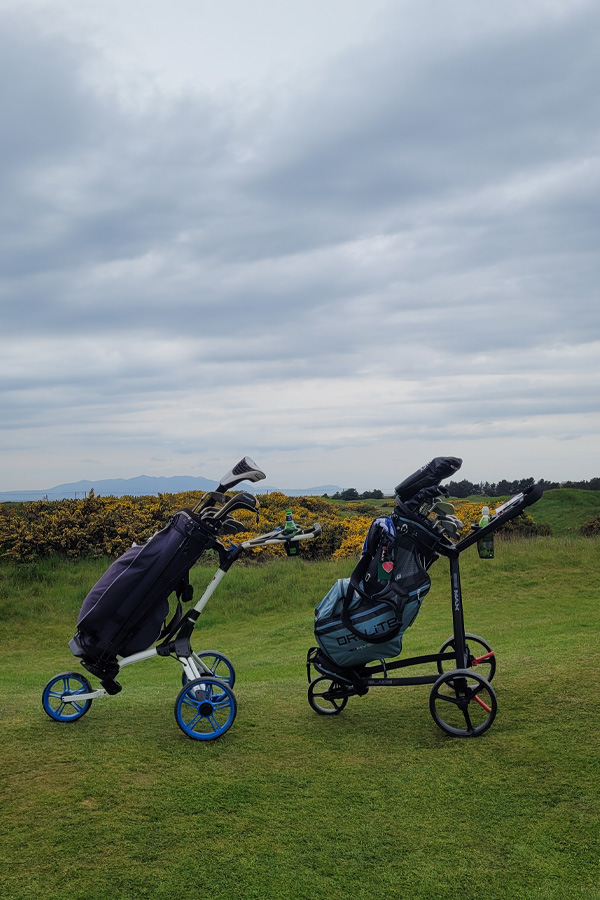 I don't believe it was just that I was playing better, but for me, I preferred the back nine to the front. As you head away from The Bothy and run parallel to the lodges on 10, you hit the signature hole at 11. A short 102 yards from the front tee.
You then venture out towards the railway which separates the course from neighbouring club Western Gailes and gives you views of the Isle of Arran.
The 15th was another favourite of mine, 125 yard par 3, an inviting hole to hit at with a raised green, again with Arran in the distance.
I would advise keeping a little bit of energy in the tank because the 18th is a long one and with a stream that meanders down the right hand side of the green, it is tough. I'll never be able to emanate Rafa Cabrera Bello's shot but it was cool to be able to admire just how phenomenal his shot was.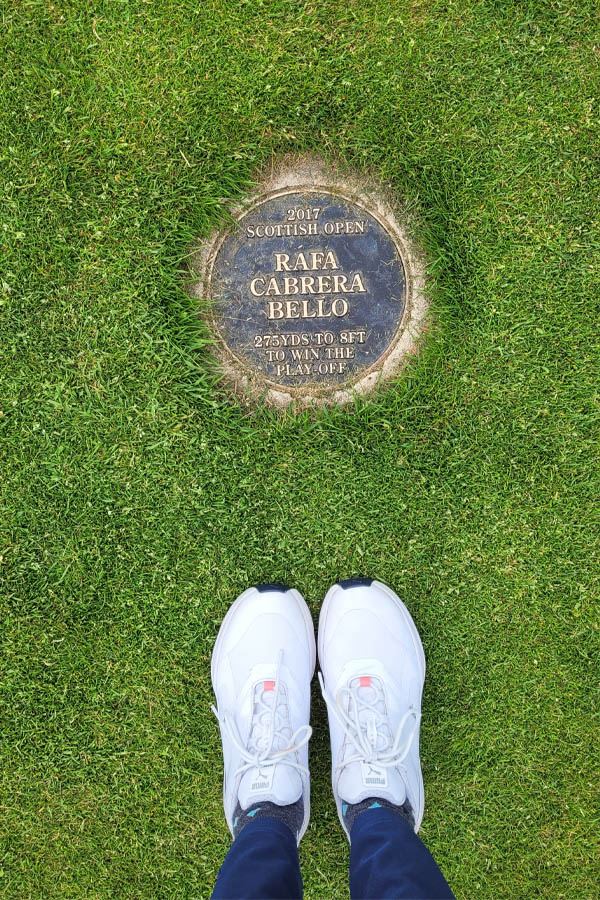 Dundonald Links will be hosting the Trust Golf Women's Scottish Open on July 28-31, so if you want to see how you should tackle the links, I suggest going along to watch or tuning in on TV/online.
One final mention must go to the team I played with, Will Pugh from The Sun, Ashley Pheasant from Darwin Escapes and Katherine Downes from The Wandering Golfers - for being excellent and entertaining company.
Day 2 - A special trip to Royal Troon
When you get to play two courses for the price of one trip, then you will never ever complain when the second course is the calibre of Royal Troon. The day after playing Dundonald we headed 15 minutes down the road to be guests of Visit Scotland for their annual partner day - Scotland "Home of Golf" Day.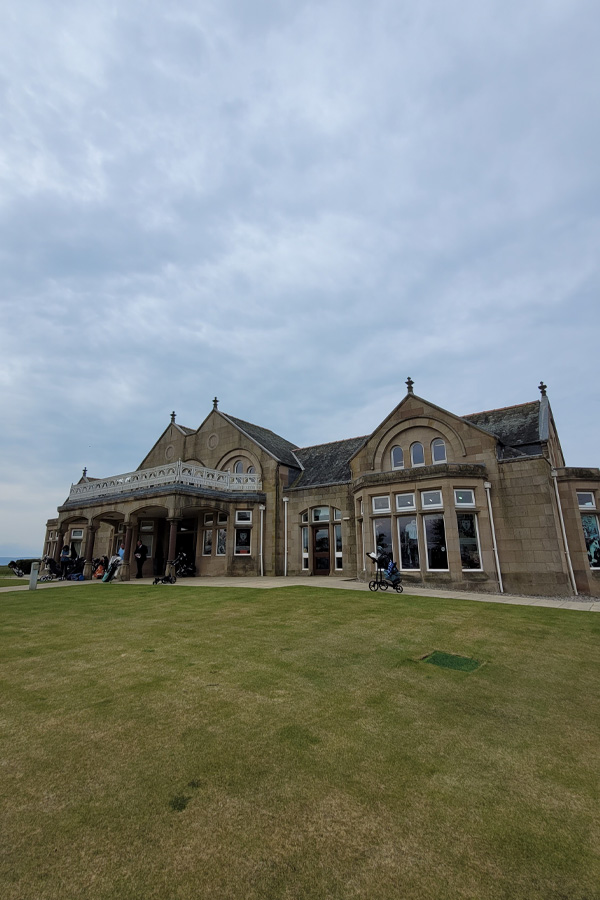 The juxtaposition was not lost on me entering a clubhouse that was built in 1886 compared to the one I'd been in the day before that was opened in 2021. Where one made me straighten up a little and check I wasn't wearing trainers to the other where you instantly felt at ease.
That being said I love both environments and I believe they both have their place. It's also worth noting that tradition doesn't always have to mean it's centuries old (Dundonald is already creating many of its own traditions).
With bacon rolls on board, there was definitely some nervous tension in the air as we all headed to the first tee where a small group had formed. My only aim on any first tee shot is to make a half decent connection (not to embarrass myself).
After a quick picture with the Open trophy it was time to take on Royal Troon's Old Course host of the 152nd Open next year but also the club that hosted the AIG Women's Open behind closed doors in 2020 where Sophia Popov triumphed.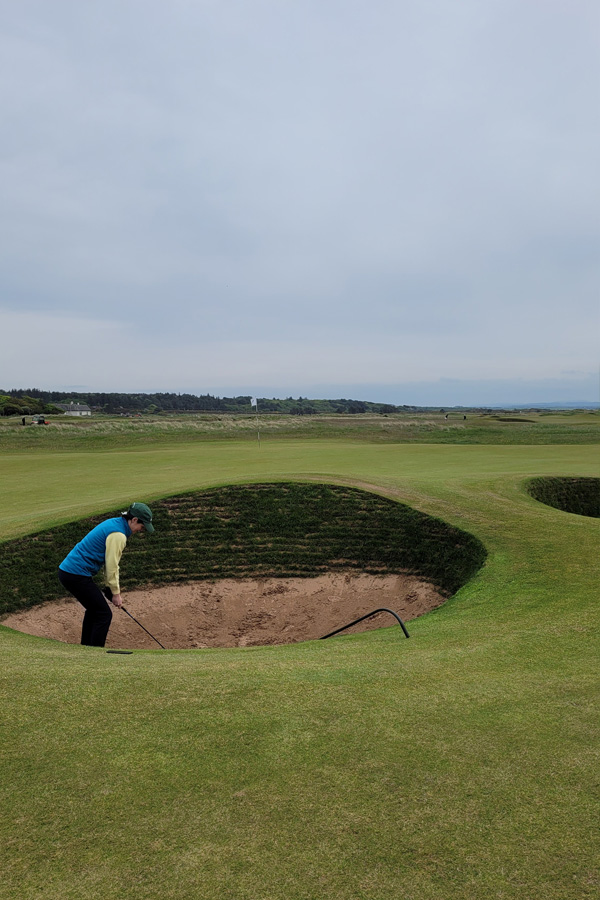 Like Dundonald Links, Royal Troon is a course that just sits in the natural surroundings. You are by the coast, so there's a potential to be battered by the wind but it was really very calm when we played.
You'll potentially need a lot of balls, I was disappointed to lose one on the second hole after a straight drive that just didn't quite make the carry. Talking of carriers they are long on some holes and for me that made them intimidating.
What else will you need to get used to? Bunkers - there are a lot of bunkers and unlike Dundonald where you potentially could avoid them, you're unlikely to at Royal Troon. Get some bunker practice in before you play a round there!
I was taken by the amount of elevation on the course. Having not been before I had assumed it might be reasonably flat but undulating. Holes 7 and the signature Postage Stamp, hole 8 are both off elevated tees.
Let's briefly talk about the Postage Stamp, how the stroke index for this hole is 18 is beyond me! Intimidation wise it's 1 for me! I ended up in the bunker in front of the green, needed two shots to get our and then three putted! Disaster, but what a hole. I do want to go back and try it again.
It was a fantastic opportunity to play such a prestigious golf course which has been graced by so many legends of the game. I definitely felt like it was a pinch yourself moment.
At over 6100 yards from the front tees, it's a long old slog but worth every duff, chip and bunker shot. Again I should thank my playing partners Sean Noble from Azalea Group, Katherine (especially for putting up with my golf for two days) and Will Shreeve-Peacock from Today's Golfer.
My trip to Ayrshire came to a close with a three-course dinner in the clubhouse which was perfectly finished off with a dessert featuring a Royal Troon branded wafer!
Two days, two links courses and an extremely hospitable stay at Dundonald Links. If Ayrshire and its golf courses are on your bucket list, then I can highly recommend making Dundonald your base to explore the area. You will not be disappointed.
To find out more about Dundonald Links - please visit their website here.