We see first hand the transformation of Dundonald Links as they open their new clubhouse and accommodation to the public.
Earlier this year the exciting Dundonald Links redevelopment plans were revealed and last month the latest phase in Darwin Escapes' £25m investment to transform the club into one of the UK's most modern new golf resorts was announced.
Now it's time to reveal the new clubhouse in all its glory as it officially opens to the general public today, Monday, November 15. I was invited, on behalf of Women & Golf, to the grand unveiling last week, which included staying the night in one of the 18 new luxury lodges that are situated on site.
Let's start with the lodge accommodation, take a look around one of the four-bed lodges that I stayed in:
Perfect accommodation for a golf holiday
To say that I was disappointed to only be staying for one night is an understatement. I was blown away by the accommodation on offer. The attention to detail is superb. When you enter the lodge you find a generously sized boot room/utility area which is perfect for all your golf gear and allows you to keep the rest of the lodge free from wet/muddy/grassy shoes and waterproofs.
The open plan, fully-equipped kitchen, dining and living area is large in size with enough room to seat eight people. There were four double rooms, all with their own en-suite bathroom. The room was pristine, warm and welcoming. The bathroom was very modern in style, quite dark, but the touch screen mirror lights definitely brightened it up. A TV in every room and free Wifi means that there really couldn't be a better place to kick back and relax after a day on the Links.
However, if you want to continue the competition or practice after your round, there is a putting green right outside the back of the lodge – I could definitely see family/friends competing there late into the night on summer evenings.
I may have been staying in one of the four-bedroom lodges, but two, four and six-bedroom lodges are available. Plus, there are also 22 new hotel rooms, all of which have been designed to combine contemporary with legacy and situated a short stroll from the new clubhouse.
New state-of-the-art clubhouse
The attention to detail that I have already mentioned extends to the new two-story clubhouse. It's hard to believe that the clubhouse used to be an extended portacabin! What Darwin Escapes have achieved with this new clubhouse is nothing short of spectacular.
The idea of contemporary with legacy is also prevalent in the clubhouse - modern, clean, highly styled but with subtle nods to golf tradition and heritage. There's definitely no stuffiness!
The weather didn't allow for great views but I was assured that there are panoramic views where you can see Alisa Craig rock and the Isle of Arran. The building itself is constructed of natural materials and finished with local whinstone and a grass roof. Over time this will see the building blend with the local landscape, which is part of Dundonald's long-term commitment to sustainability and conservation.
Visiting golfers will also have access to a gym, sauna, steam room and extensive changing facilities, as well as a pro shop, bar, whisky-tasting room and the new Canny Crow restaurant, which will serve up a menu of golfing classics, steaks and Scottish fine-dining.
The Clubhouse launch evening
In the evening, the guests were invited to the Canny Crow, so named due to the local crows who have a habit of stealing from golfers! After a welcome drink, we sat down for dinner and were treated to a rousing opening by Clanadonia, a tribal drum and bagpipe band. A delicious three-course meal and whiskey tasting followed. We were then told the fantastic news that Dundonald will again be hosting the Trust Golf Women's Scottish Open in 2022. The evening was completed with a Q&A with ex-England rugby star Will Greenwood.
After a very comfortable night's sleep, breakfast was served back in the Canny Crow where I had my first Scottish tattie scone. After a tour of the rest of the clubhouse, including the gorgeous women's locker room. It was time to head out onto the links.
Tackling the Links
To experience true links golf, it has to be played in windy and wet conditions. Well, that's what I told myself as I headed to the first tee in full waterproofs, beanie hat and head down into the wind. I jest, slightly, as I would definitely have preferred calmer conditions but I was determined to finish my whistle-stop visit to Dundonald by spending some time on the course.
I was given a caddie to help me navigate through the wind and rain. I've never used one before. He was so knowledgeable, friendly and easy to talk to which really enhanced the whole experience. Especially as we turned fully into the driving rain on the fourth hole!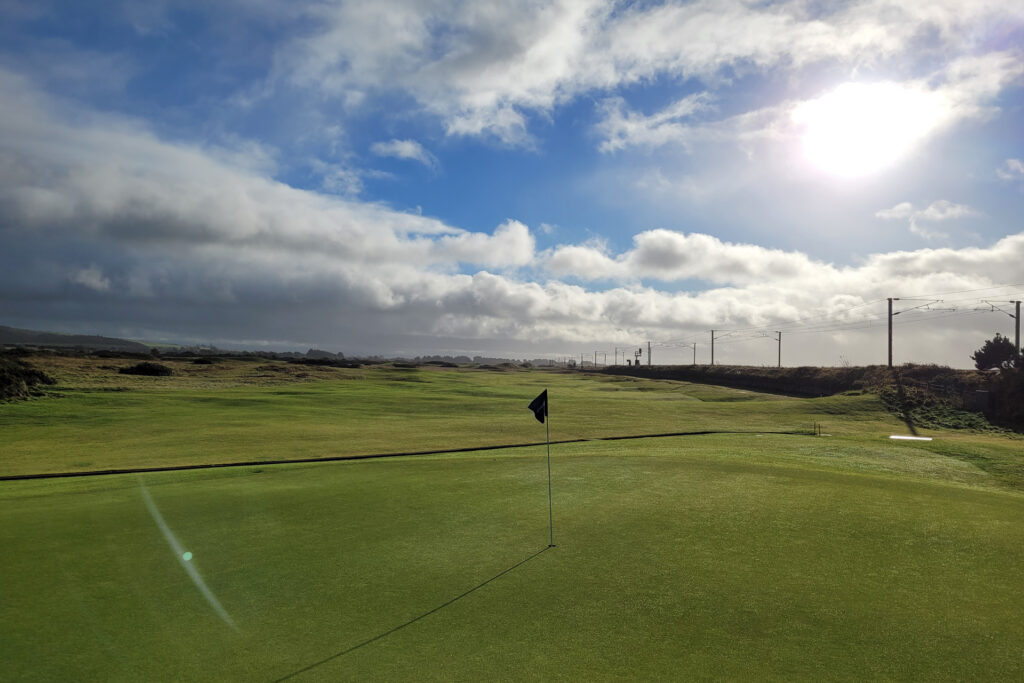 The rain did blow through by the time we got to the 10th hole but I still needed a long iron to tackle the courses signature hole, the 11th which was only 100 yards!
My golf was nothing to write home about but I really enjoyed the course. The rough had recently been cut back which helped me on a few occasions. It also highlighted that I am in need of some serious bunker practice!
The course loops back to the clubhouse at four, nine and 18. I was glad that no-one was out watching on from the clubhouse balcony…it didn't end prettily!
It was a jam-packed 20 hours spent at Dundonald Links and I came away with real excitement about what the future holds. There is no doubt that the vision of the owner Darwin Escapes is inspiring and I will be sharing Managing Director Lindsey Esse's thoughts soon.
Anyone who is lucky to live locally should definitely pop by to try out the hospitality at the Canny Crow and for those looking for their next golfing holiday, this may just be the perfect spot.
For more details and to book a golf break at Dundonald Links, please visit dundonaldlinks.com