Belle Mare Plage on Mauritius is undoubtedly one of the world's great golf resorts, and it's hard to imagine a destination exists that is more enticing to women golfers. Chris Bertram explains...
Rarely has it been truer to say that a picture is worth a thousand words than in this article. Frankly, my 1,607 words are as close to superfluous as is possible to be. I could have written 5,566 and they wouldn't be worth one of the images.
The pictures demonstrably tell the story more accurately and eloquently than I, or indeed anyone else, ever could.
I will carry on though, for no other reason than to assure you that Belle Mare Plage really is as extraordinarily appealing in real life as the images suggest. There's no photoshopping required on these; these are the real deal.
The Indian Ocean really is as azure blue as the images suggest, the sand is as powdery, soft and golden and the luxury-yet-charming hotel does sit as achingly perfect among towering, swaying palm trees.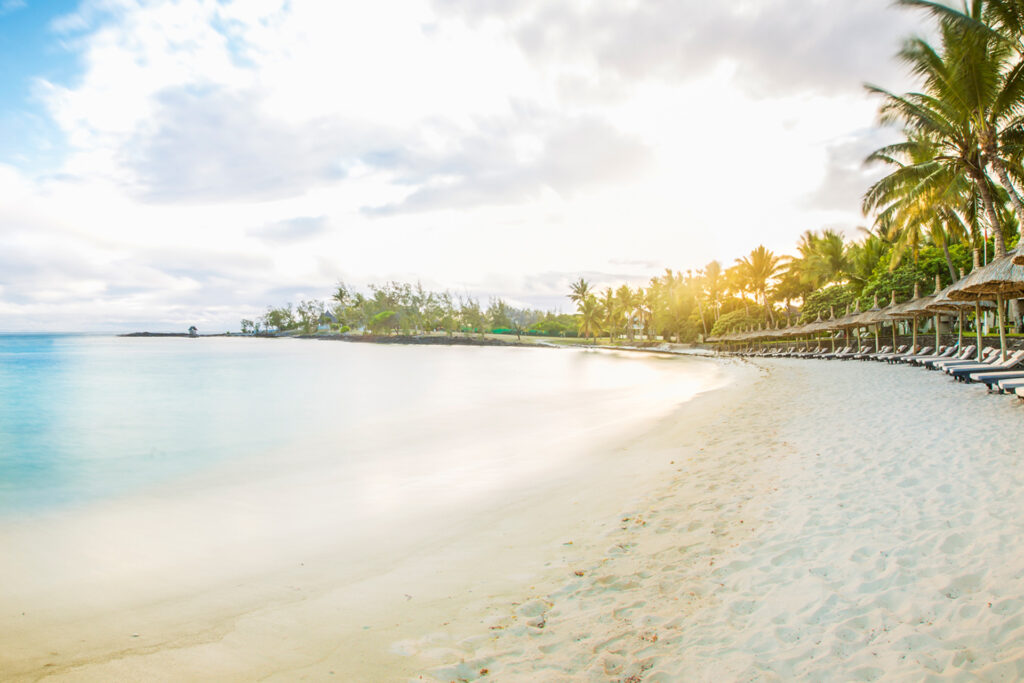 Nothing more than a walk along this beach - which has no peers in Mauritius (a not inconsequential statement) - every morning before breakfast and every evening before dinner alone is enough to make you fall in love with Belle Mare Plage.
What does Belle Mare Plage have to offer?
But there is of course much more than 'just' a picture-perfect scene to lap up morning, noon and night. Much, much more.
Where to start… Let's touch on a few less-obvious delights to Belle Mare Plage. The staff are truly wonderful, the Mauritian character seemingly perfect to work in hospitality - friendly, smiling but also efficient and hardworking. Nothing is too much trouble for them; my theory is they are so proud of their island and so pleased you've chosen it as your holiday destination that they want to ensure you have the best possible time.
Or what about the food? Because Mauritius is a fusion of influences, from British to French to Indian and with Africa just a short hop away, the range of food is spectacularly good. You've never had better Indian dishes than here, you'll gain a new appreciation for French cuisine and if you want the simple pleasure of fall-off-the-bone roast chicken dinner, you'll get it too.
Every night La Citronelle restaurant serves a bewilderingly extensive buffet from all corners of the globe with a menu that changes daily and a quality that never does so much as flicker never mind drop.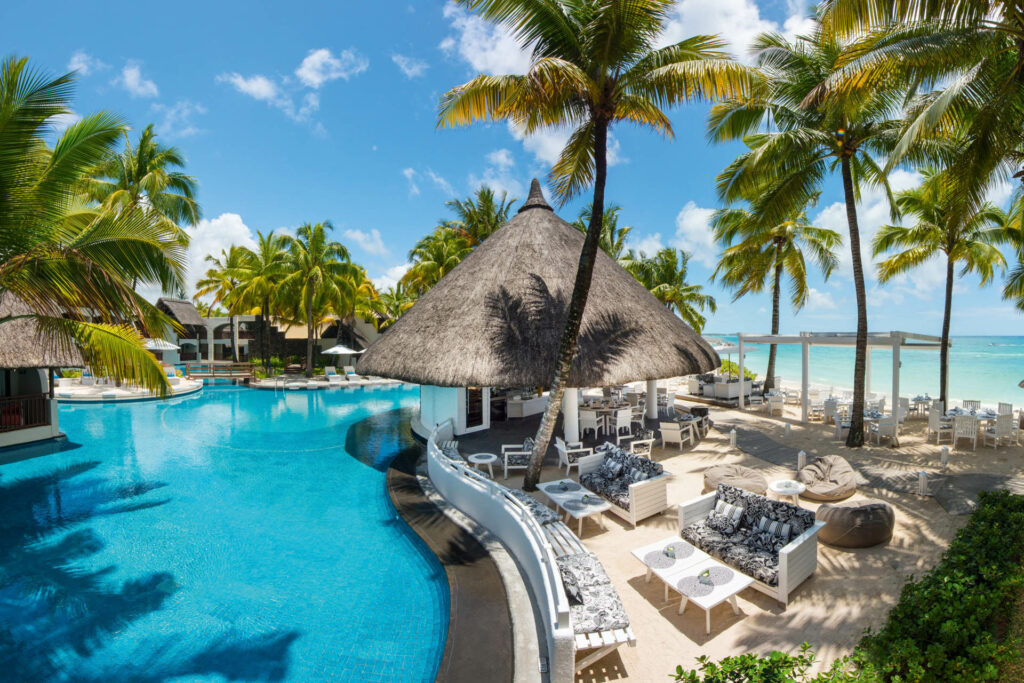 Breakfast is a similarly lavish affair, where pancakes and waffles, omlettes and eggs Benedict, and a mouthwatering array of tropical fruits are prepared to your specific order.
Belle Mare Plage is a popular resort, but this is definitely no bun fight. Dishes are replenished constantly and while you might have a minute to wait for your steak to be cooked to your particular taste, this is a long way from the breakfast buffet experience of a standard UK hotel. As ever, the staff make everything run smoothly and you'll find after a few days they will remember your preferred evening drinks and bring you a fresh coffee at breakfast before you've asked for it.
As at dinner, you can choose a table overlooking the central pool or the Indian Ocean. Yes really - you can enjoy all this just yards from those golden sands and while drinking in the turquoise hues of the sea.
If you want a change of scene (we struggled to drag ourselves from La Citronelle), head to the set menu of Deer Hunter - which is within the Links course's clubhouse - La Spiaggia, an Italian eaterie of real class, or Blue Penny Cellar, a must for foodies and wine buffs.
Lunch is taken in Indigo or Lakaze, both of which are right on the edge of the beach. Yep, this really is absolute perfection.
If you want to work off all this epic food and do a bit more than stroll the beach, you can hire bikes (small charge) and cycle along the beach path to the village of Belle Mare, or hire (no charge) a kayak and paddle out to sea or just around the cove. There's a gym and three pools too. And of course, there is golf, 36 holes of it in fact.
Let's not forget about the golf – Legend Golf Course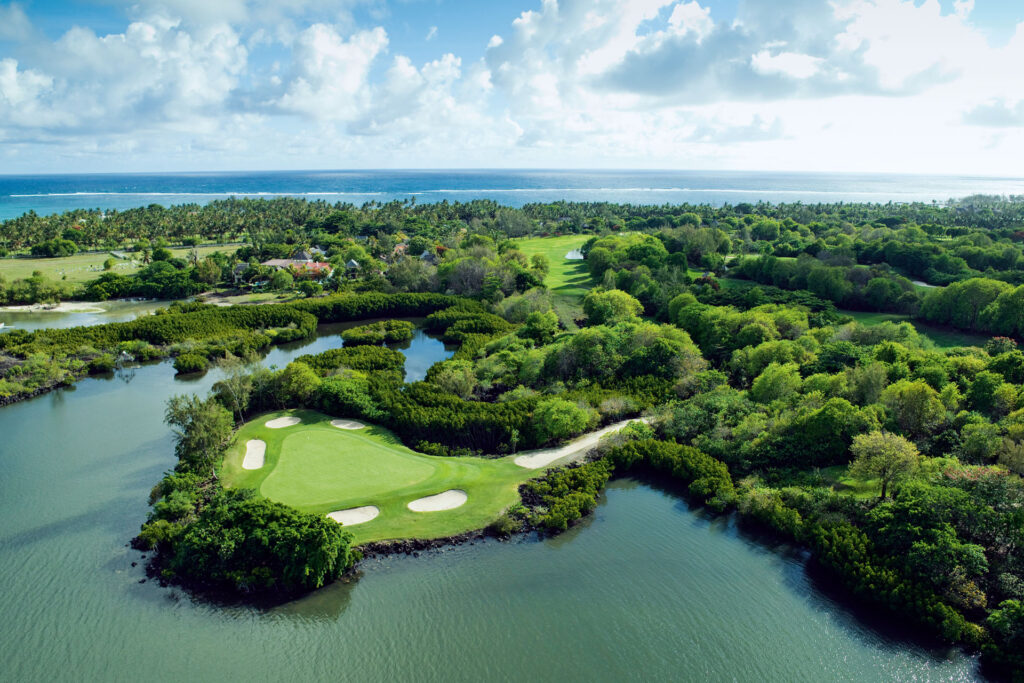 The Legend is located over the road from the resort and it is an absolute joy to leave your room and know you'll have checked in at reception and be on the 1st tee within 10 minutes.
It was designed by respected former Tour player Hugh Baiocchi and its key theme is water. It feels like it is everywhere… yet despite that, the Legend is actually very playable! You look at the course guide and see so much blue - with some on every hole - that you load up your bag with balls, fearing the worst.
But there is width and there are large landing areas to let you steer clear of the hazards and plot your way round. It's really fun.
There are shades of Florida at times with holes framed by water and palm trees, but without any residential development to taint the view. The conclusion to both nines, which return to the clubhouse, are superb and appropriate for what is one of the top-three courses on the island.
It's also in incredible condition, including some of the slickest and pure greens you'll ever putt on.
Links Golf Course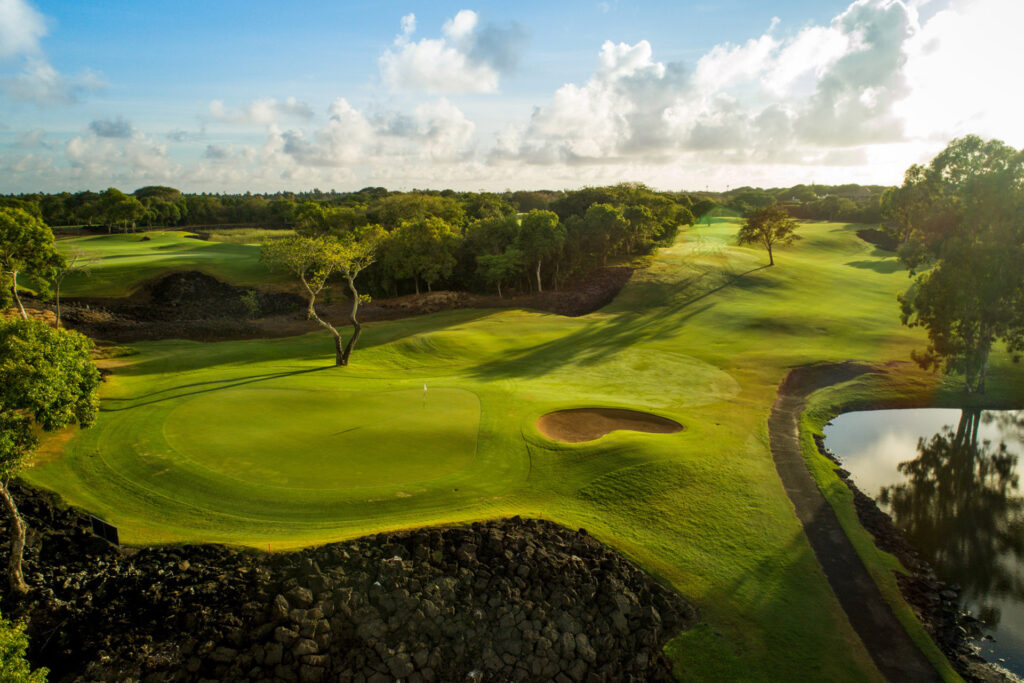 The Links is a five-minute transfer away. The shuttles go every half hour, so get a tee time at 20 past the hour and it is a very efficient operation.
It was laid out by Rodney Wright and Peter Alliss and is a very different course to its sister. Whereas the Legend was relatively flat, the Links rises and falls over at the distinctly undulating ground and, combined with the numerous piles of black volcanic rock that decorate most holes, make for an interesting test.
It's unlikely you'll not be blocked out and face a blind shot at some point, so this is not your typical 'resort golf'.
The Links hosts the Pro-Am that precedes the Legends Tour's end-of-season finale on, aptly, the Legend. Covid saw it postponed in December but it is scheduled for March instead and lets golfers play with one of the male stars they grew up watching in the Ryder Cup and in Opens as well as a celebrity - Liverpool icon Robbie Fowler and former England cricket captain Andrew Strauss were among those set to take part in December.
It's hard to predict which will be the more popular course with guests but what is certainly true is that they are very different, and for a 36-hole resort that is a huge benefit.
A perfect course set up for female golfers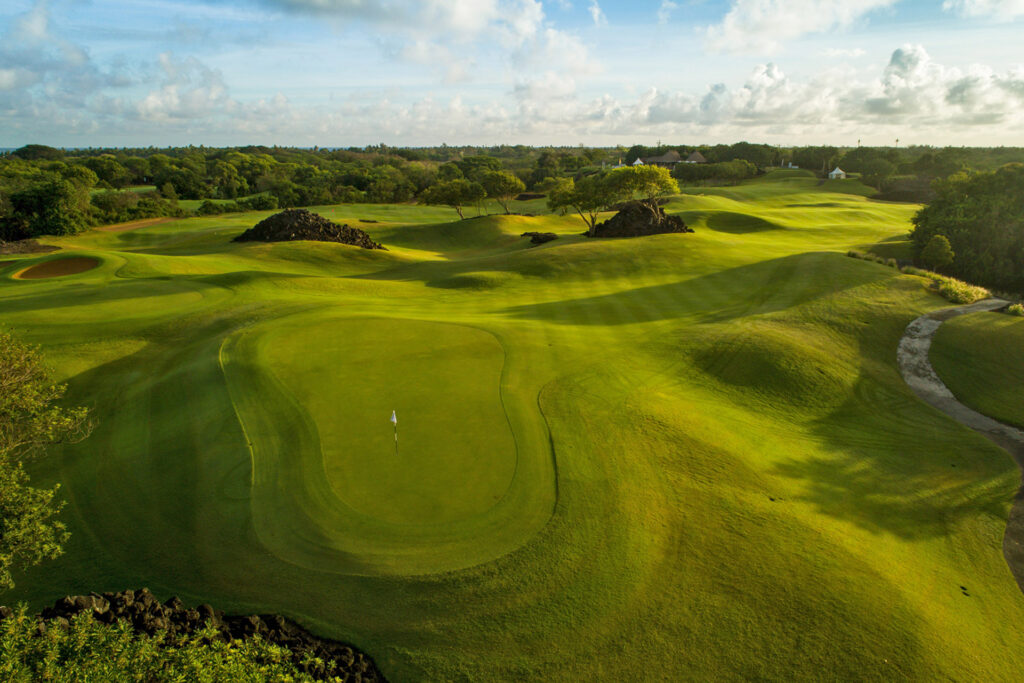 The forward tees are well thought out, not an afterthought as they can be, and that leads us on to something we noticed every day we were there… just how many female golfers were there.
In general, we've never been to an overseas golf resort where there were more people playing the sport; at breakfast, every second table had people dressed in golf gear.
And there were so many women. Now, you might have read these words and seen the pictures and think 'I'm not surprised, it sounds great!' And it is. But it was still very noticeable how many couples were playing together and how many female-only groups there were. It felt like we were among so many like-minded golf lovers, and that was so nice. It was also fun to spot the golf club logos on everyone's polo shirt in a morning…
Accommodation at Belle Mare Plage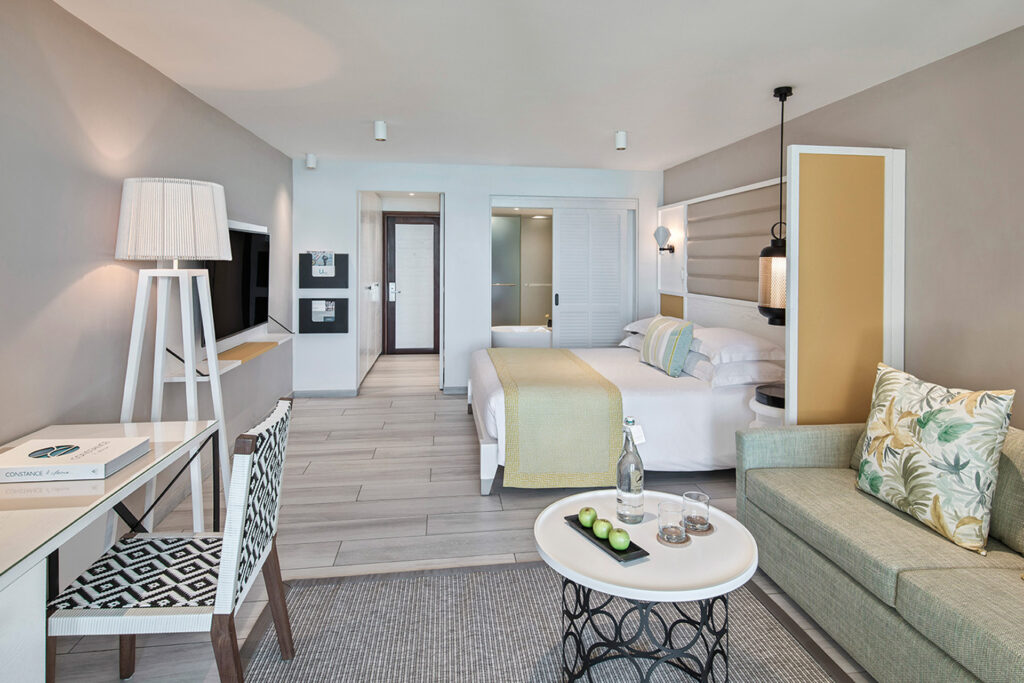 A few things to wrap up. The rooms and suites are laid out along the beach in the cutest thatched-roof two-storey buildings imaginable. They are spacious, airy, well-equipped and with bathrooms to die for. The balcony is a blissful place for a refreshment between the end of the beach day and dinner.
After dinner, there is entertainment every night in the main bar and if you enjoy a dance to see classic songs, you will love Belle Mare Plage by night.
There's a boutique to browse for a new swimsuit, polo shirt or golf skort (or just replenish sun cream supplies) and one of the pools is designated as 'quiet', so no kids or phones or loud chatting. The resort even cleverly disables the Wi-Fi around it.
Twice a day the boathouse crew take guests to a little spot out at sea to let them snorkel. It's absolutely magical, and we've been on scuba dives where we've seen a lot less fish and breath-taking coral. It's (amazingly) free, and if you've never snorkelled before, make Belle Mare Plage your first experience of it. Incredible!
Or, after you've played golf, you can fall into one of the hammocks on the beach and drift off to the sound of the Indian Ocean lapping the rocks just a few yards away. Or indulge in the spa, whose treatments are as comprehensive as the gorgeous thatched-roof little building is charming.
A memorable holiday destination
Belle Mare Plage isn't the cheapest golf destination around but then it is also one of the world's finest resorts. In a ranking of the world's top golf resorts, it would be threatening the top 20 for its all-round combination of golf, accommodation, setting and other amenities.
It's much more than a pristine beach and alluring water, but as we are sure you decided for yourself as you looked at the images accompanying this article, that dreamy location is a good place to start.
For a special golf trip guaranteed to steal your heart and your mind, you won't find a more memorable destination.
* Chris Bertram is Golf World's Top 100 Courses & Resorts editor and has played more than 500 courses worldwide.
To find out more about Belle Mare Plage please visit the Constance Hotels and Resorts website.
Fancy a trip closer to the UK? Then we're heading to Spain in 2022 - find out more about our Women & Golf hosted trip here.