Women & Golf took a trip to stay and play at Northern Ireland's Premier luxury Hotel and Spa, taking on the championship course at Galgorm Castle.
Luxury accommodation, top class facilities and excellent customer service are all things that I got to experience on a recent trip to Belfast.
At the beginning of May I headed from Birmingham to Belfast International airport. After an easy 50-minute flight on EasyJet and a 30-minute taxi ride, with a very friendly local, I arrived at the Galgorm Castle Estate.
My first port of call was the golf club Galgorm Castle. Greeted by a large ISPS HANDA World Invitational sign, I knew I was in the right place.
One of the main reasons for going on this trip had been to play the Castle championship course which has hosted the Northern Ireland Open since 2010 and the tri-sanctioned ISPS HANDA World Invitational since 2019.
The ISPS HANDA World Invitational brings together the LPGA, LET and DP World tours where 132 women and 132 men compete in two separate competitions but for the same prize money.
Galgorm Castle Golf Club
I received a warm welcome from Director of Golf Ross Oliver and was given a tour of the facilities.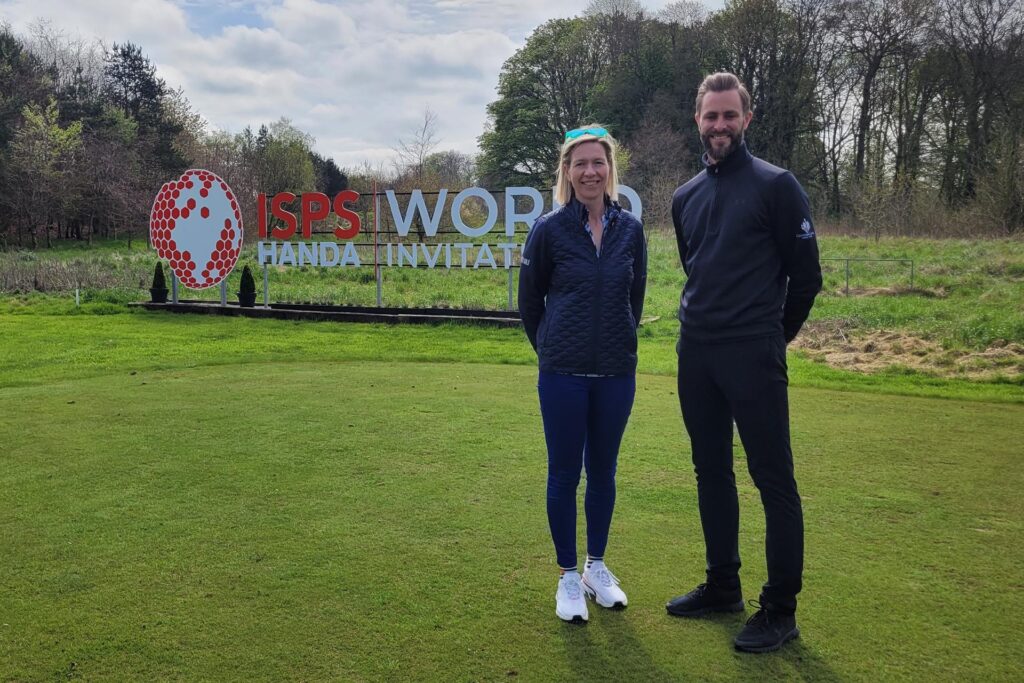 The club is relatively new, with the Simon Gidman designed golf course opening in 1997. Oliver referred to the club as a developing venue, which he believed helped them to take the decision to host tour events. The club saw it as a way of elevating the exposure of the course, without having to wait for years of domestic business to grow its popularity.
With Galgorm's aim to be one of Ireland's best championship parkland courses, Spring 2023 has seen the completion of a three year multi-million pound investment programme to the Castle Course. There have been changes to all holes on the course with significant changes to the layout on holes 9-11, 13 and 14. Galgorm now measures over 7,300 yards from the championship tees!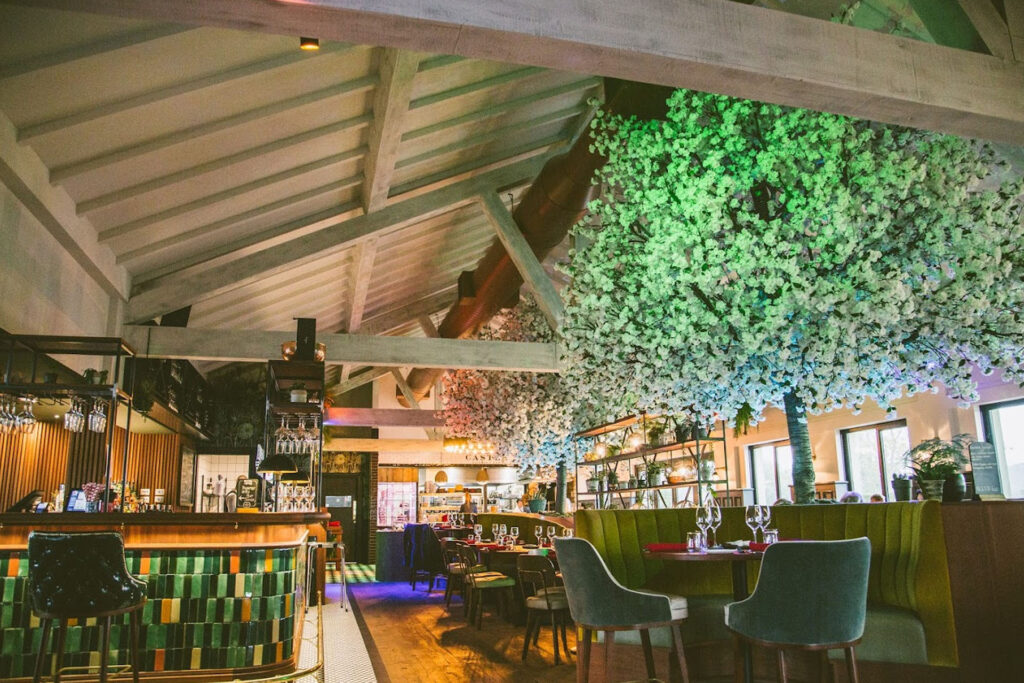 Before heading out onto the course, my tour took me to the Castle Kitchen + Bar. I was particularly taken with the beautifully designed interior. As I had experienced at The Springs, it definitely didn't feel like you were inside a golf clubhouse.
Members, locals and resort guests are all able to enjoy the clubhouse facilities, which include a well stocked pro shop, with both men's and women's clothing, and a Toptracer driving range.
Galgorm Castle Championship Course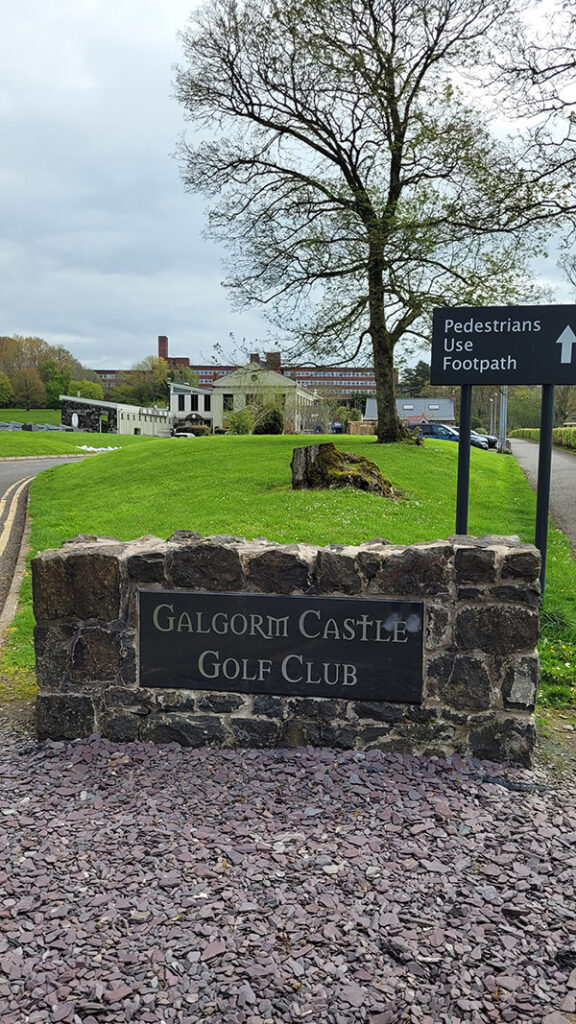 Time to get out onto the course! There are four tee options on the championship course, unsurprisingly I chose to play off the most forward tee, which was red. The red course measures 5505 yards and a par 72. Every hole has an attractive stone marker with all the yardages and layout of the hole, I appreciate that this is also available with a course planner but thought it was a great visual to have.
I had not travelled with golf clubs so I was using a set of TaylorMade Stealths, £35 to hire, and a PowaKaddy electric trolley, £15 to hire.
Considering all the rain we had had at the time, the course was in great condition. The first three holes ease you into the round nicely, not too much trouble, two par 4s and a par 5, which I managed to get through pretty unscathed!
As I stood on the 4th tee, I could immediately see why this was deemed the hardest hole for women. Water to the left, water in front of the green and unsurprisingly my drive went straight into water.
You take a footbridge over to the green with permanent tournament branding behind it, emphasising the course's prestige.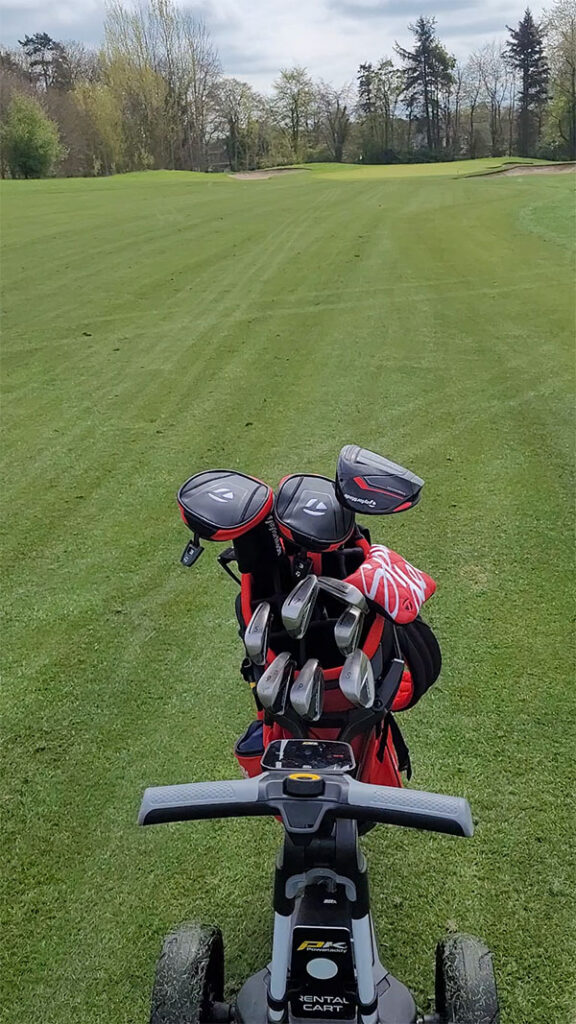 The standout hole for me was the 119 yard par 3 seventh hole, which features a stone wall coming up from the lake and shaping round the green. Maybe a little intimidating but there is safety if you hit the ball up the left hand side.
The new changes to the ninth hole, which included the enlarging of the lake nearer the green, a bridge across the lake and a boulder wall in the face of the lake facing the direction of play, all looked fantastic. A definite lay up and hit across the water was in order for me!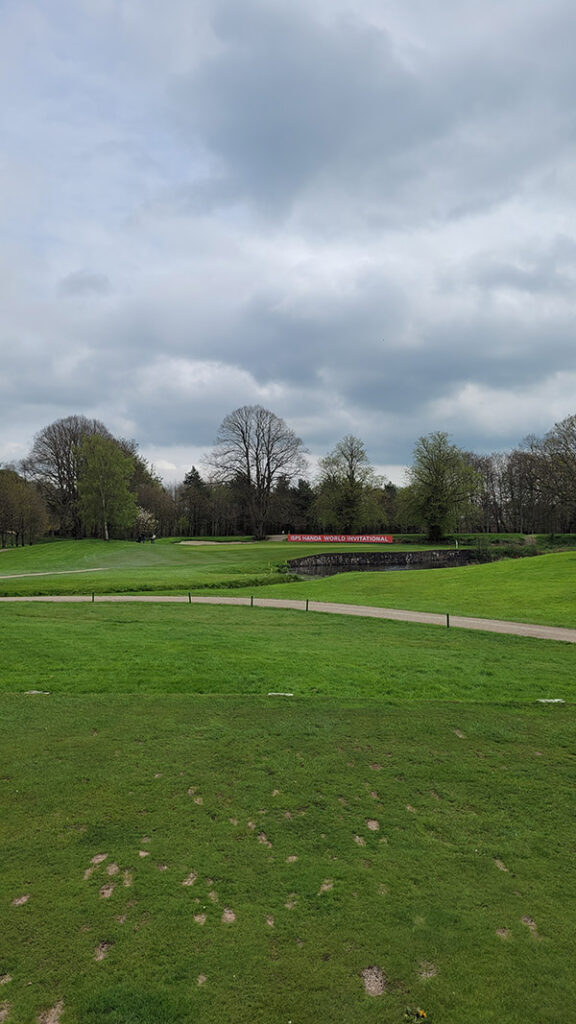 McQuillans, the halfway house, wasn't open when I was there but it looks like a great place to stop and take it all in before heading onto the back nine. Just a note that the toilet facilities are open all year round.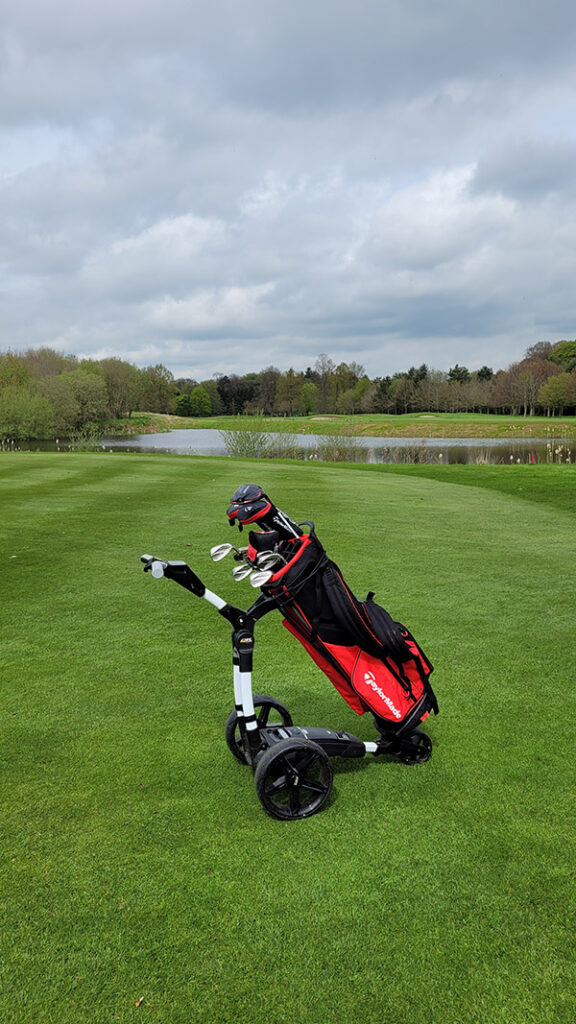 Holes 11 to 14 run alongside the River Maine which runs throughout the Galgorm Estate. From the forward tees it is possible to avoid the water and keep the ball in play.
The 14th is called Devils Elbow, I don't know the reasoning behind the names of each hole but it certainly wasn't a devil to me!
You don't have to lose your ball on 15 but a wayward drive ended up wet. I then redeemed myself with some consistent play on the final three holes which move away from the water and zig zag back to the clubhouse.
Finishing on a 457 yard par 5, a nice par to finish what was a very pleasant round at Galgorm Castle following in the footsteps of some of the best players on the LPGA, LET and DP World tours.
I ended up where I had begun more tour, in the Castle Kitchen + Bar for a well earned pint! Then it was on to my accommodation for the night.
Galgorm Resort
Galgorm is situated in the Ballymena countryside right, set across 364 acres of parkland, by the banks of the River Maine which offers views of the river flowing by and provides a very tranquil spot to really switch off from the stresses of modern day life.
The resort itself is about a mile from the golf club, so you will need to drive or get a taxi in between the two.
After my stay at Galgorm Resort and Spa, it is my opinion that exceptional customer service is what lies at the heart of the business.
I was welcomed immediately I walked into the building and escorted to the right check in desk. Every member of staff was extremely polite and couldn't do enough to help me. After settling into my room, I received a call from reception just to check that everything was OK.
Some of you may think this was preferential treatment as they knew I was going to be writing a review. I really do not believe it was as once you're in the building you just become another Galgorm guest.
My Deluxe Suite room

I stayed in a Deluxe Suite which was set up as twin room. There was also a desk to work at, table, chairs and a small sofa. The room had all the perks you would expect - a hair dryer, ironing board, tea and coffee making facilities and the very nice touch of a free mini bar.
Don't get yourself too excited! It's not a limitless stock but enough to have a pre dinner drink if you wish to.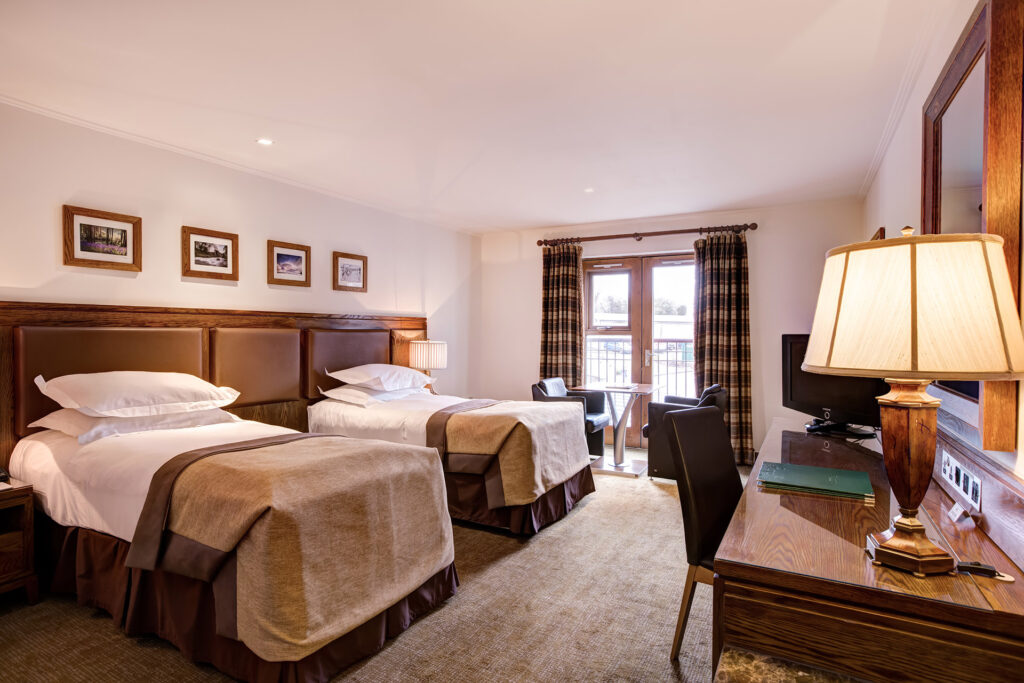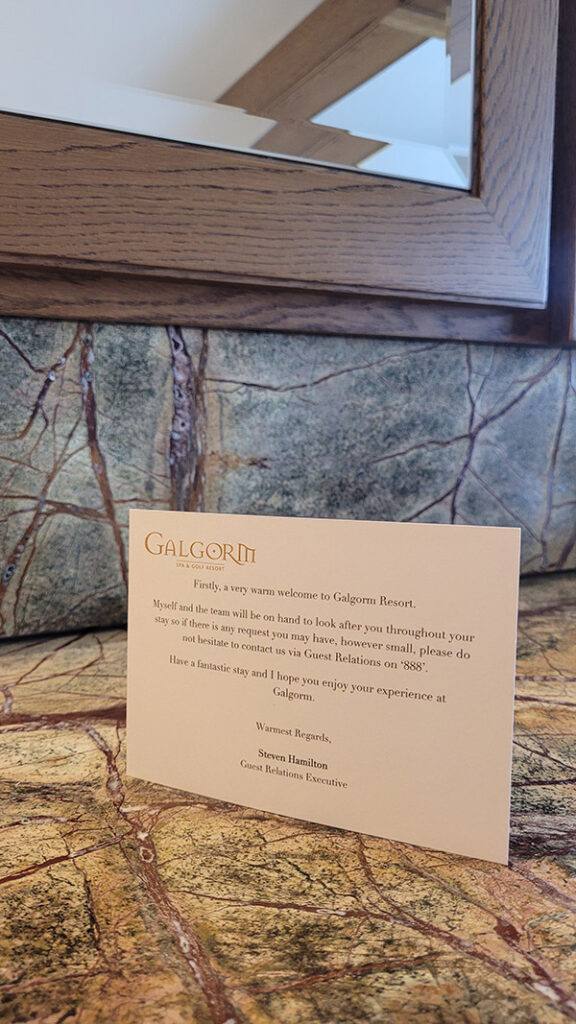 The bathroom had a large deep bath, brightly lit mirror, toilet and a walk in shower. Again everything was clean and in working order.
There are 125 rooms in the hotel, with a number of different suites to choose from and if you don't want to stay in the hotel or are part of a larger group, there is also the option to stay in a range of lodges and cottages.
All guests are able to use the dining, bars and spa facilities.
The Thermal Spa Village
I had a view of some of the spa facilities from my room. However, due to the timing of my round of golf and dinner reservation, I didn't have time to fully appreciate this part of the resort experience.
The Thermal Spa Village boasts an Alpine Garden and established Serenity Garden. Plus there is an extensive selection of riverside hot tubs, indoor and outdoor heated pools, forest bathing experience, a snow cabin, a samarium, steam rooms and saunas and a Celtic Sauna Infusion.
Does that sound spa enough for you?!
Each room has bath robes to keep your modesty as you head down to use the spa and believe me, if I had had time, it looked like the perfect place to unwind and relax.
Dinner at Fratelli's
Galgorm has three restaurants onsite - Gillies Bar & Grill, The River Room and Fratelli as well as The Conservatory with its gin library which is perfect for afternoon tea.
My dinner was at Italian restaurant Fratelli. I adore Italian food, so Fratelli was the perfect restaurant for me. Unlike the other restaurants, Fratelli is situated outside of the main hotel building, in a beautiful little courtyard.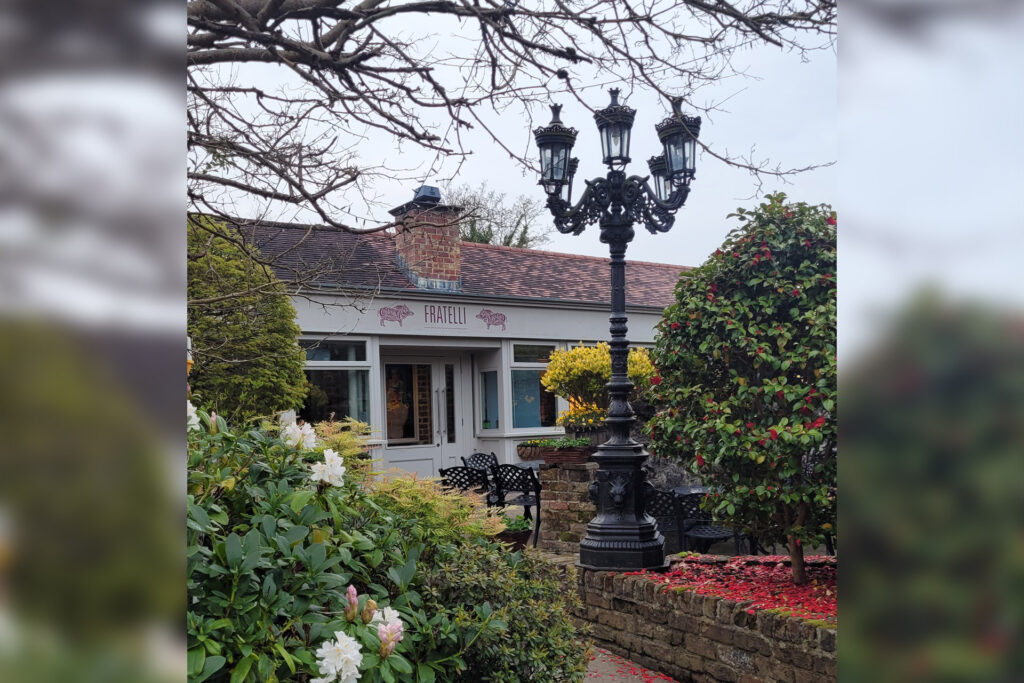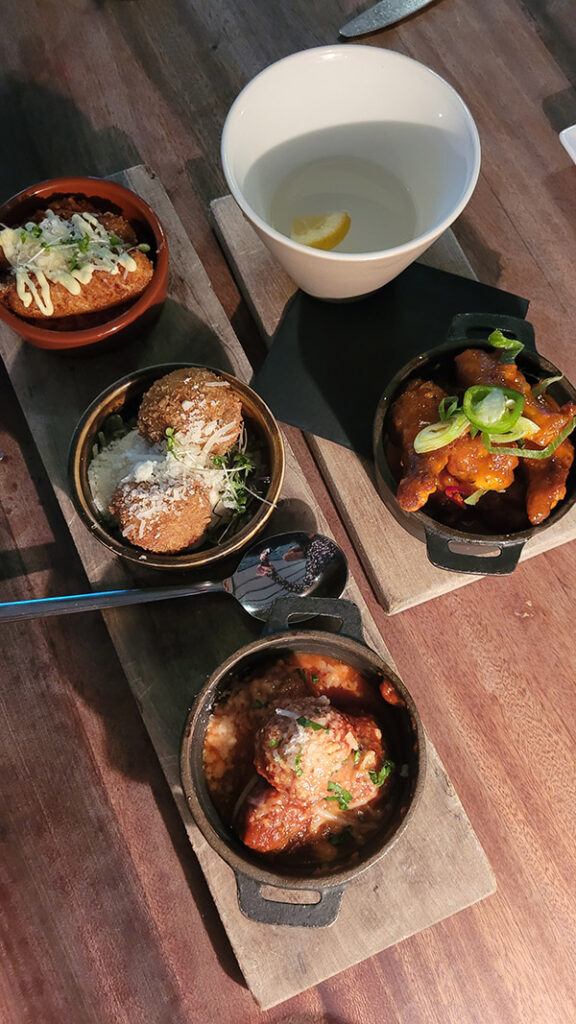 Inside the restaurant, I was warmly welcomed and shown to my table. The menu was explained and I ordered a glass of the house red wine. Throughout the night, the staff were friendly and attentive, which made for an extremely pleasant evening.
The menu is laid out like most Italian restaurants I have eaten at before but what I was really taken with was the delicious small plates or Cicchetti, basically Italian tapas! You could have a whole meal based on that part of the menu alone.
The lasagne did not disappoint and as a self-professed lasagne connoisseur, I would give it a solid 8.5 out of 10. I'm afraid I was too full for pudding, so apologies to anyone who has a sweet tooth.
McKendry's Bar
Open until late McKendry's Bar, also within the main hotel building, is a popular place to be. So popular it was difficult to find a table after dinner. This isn't surprising as there was live music the night I stayed. The bar has a cosy country house feel, which really appealed to me.
My only gripe is that the cost of drinks was high. But maybe this would be more acceptable if I were in full holiday mode.
Breakfast
After a relaxing night's sleep, I was eager to get to breakfast. There's more than one option at Galgorm but I was booked into The River Room.
Sitting in the conservatory with views over the river, it was a beautiful start to the day. There is a continental breakfast buffet in The River Room, plus a cooked menu where you can indulge in a full Galgorm Breakfast. I opted for french toast with maple syrup and bacon which as you can see from the photograph was absolutely delicious!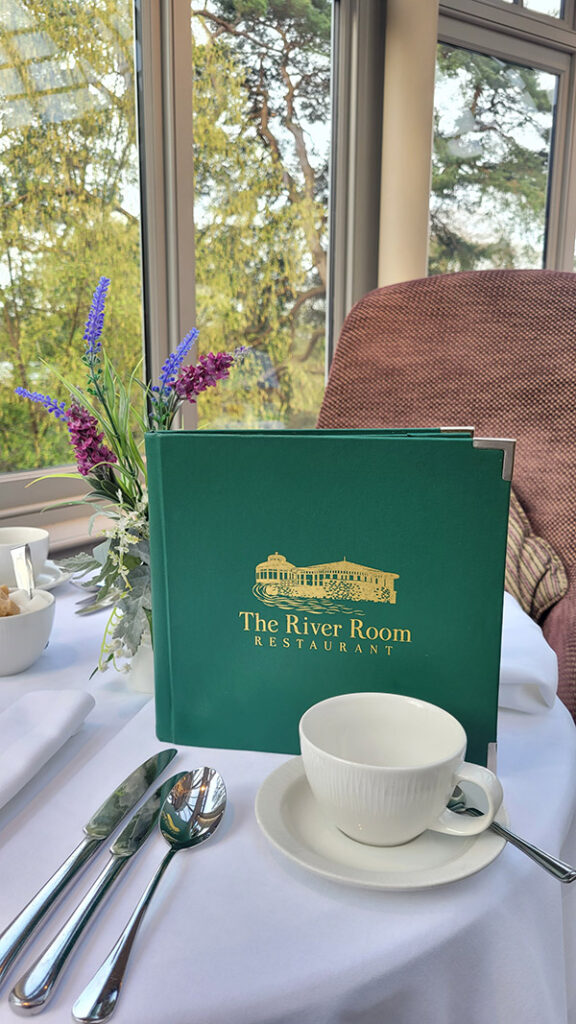 After one last look at the view, it was time to pack up and head to my next golfing destination, Malone Golf Club, a 45 minute drive south. My trip to Northern Ireland may have only been for one night but I was determined to get the most out of my 33 hour visit!
Galgorm Packages
A one night dining only experience, which includes use of the spa and breakfast starts at £300 for two guests, whilst a play and stay package which includes golf, the spa and breakfast (no dinner) starts at £310 for two guests*.
Booking a package is the best way to experience Galgorm in my opinion. Green fees for Galgorm Castle on their own are £115 from May-September.
Verdict
Galgorm is the sort of destination that you are going to want to return to again and again. There is so much to do and explore just in the hotel alone. Plus the many golfing destinations within the area. It's the perfect place to spend a golfing weekend or to go on a week long golf holiday. Whether you are travelling with a loved one, family or friends.
If golf's not your main agenda then the spa facilities, gorgeous countryside surroundings to explore and reasonable close proximity to Belfast mean that you can indulge in a more cultural visit if you so wish.
Championship golf, excellent customer service, delicious food and a relaxing stay - what more could I have wished for? I can't wait to go back.
* As stated on the Galgorm website 27/05/23
To find out more about Galgorm - please visit their website here.