What is it like to attend your first professional women's event and what can you learn from watching legends like Laura Davies? Jess Ratcliffe reports from the Rose Ladies Series
It was a sunny Thursday morning as I drove through the gates of Sunningdale Golf Club to watch the Rose Ladies Series. Even before I arrived, I had this feeling it was going to be a day to remember and boy, was it.
As I stepped out of the car, I couldn't tell if the sound I heard was my jaw hitting the floor or the monster drives happening down on the range, with every bay taken by a pro sending that little white ball into the bright blue sky.
I was mesmerised and before I knew it, I found myself sitting on a bench watching every swing, wondering which group I was going to follow today.
And then it happened. Dame Laura took to the range and as my eyes grew to look like two golf balls, I knew exactly which group I was going to follow.
I'm not going to lie, at first, I felt like the ultimate creeper, following Laura Davies, Inci Mehmet and Sophie Stone as they started their round with three cracking tee shots.
With only friends, family…and me…allowed to spectate, I was terrified I'd accidentally step on a twig and put them off, but it wasn't long before I realised how relaxed this powerhouse three-ball was.
When it came to taking their shot, the focus was inspiring, but in between, the feeling was one of friends having a fun round, with laughter and non-golf conversation in the air.
Gaining hints and tips from the pros
The funny thing is, I went into the day thinking my tips would come from watching the best of the best hit the ball – but actually, my biggest lesson came from watching what happened before and after they hit the ball.
The standout observation that I want to bring into my own game, is how consistent their pre-shot routines are. Firstly, it's all about their target as they choose where they want to send the ball but also, where a "good miss" would be. A thought that was new to me.
Then, after a few practice swings until the feel of it clicks, they swing with a calm confidence that they can send their ball to their target. Knowing they've done everything they can to optimise for it.
And here's the kicker, if the shot didn't go as they planned – maybe it got an unlucky bounce into a bunker or landed in the heather – the disappointment lasted what looked like seconds.
By the time they've reached their next shot, the last one is long gone and their focus is on sending the ball that's in front of them to their target.
Now, I know they're professionals and so all of this might be expected, but even so, as a beginner watching this unfold from mere metres away, that is what's stayed with me.
Time to work on my pre (and post) shot routine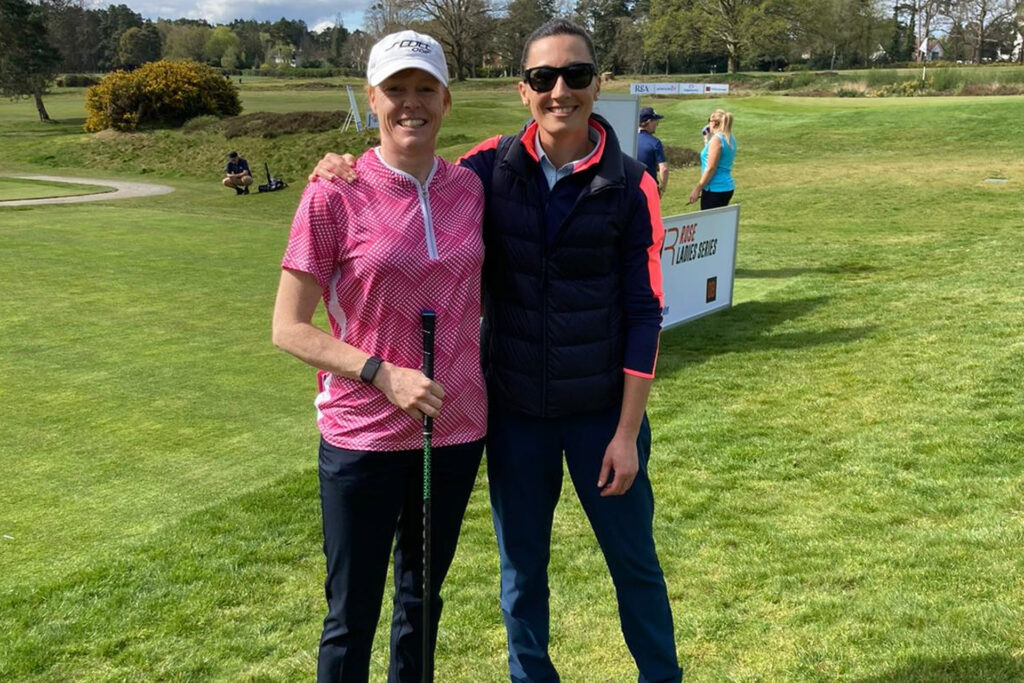 And as I continue my quest to reach single figures by the end of May, I feel full of inspiration to bring a consistent pre (and post) shot routine into my game.
Thank you to Sonia from the Rose Ladies team for welcoming me on the day and congratulations to Georgina Blackman who won.
Watch the Rose Ladies Series from Sunningdale on Sky Sports Golf YouTube below – and if you keep an eye out, you might spot me in the background.
Find out how Jess is getting on with her quest for single figures in her latest blog here.