A big week for golf in Australia, a birthday win for Thriston Lawrence, a double for Viktor Hovland and LPGA Q-Series hits halfway point.
It was a history-making week in Australia as the country's marquee events were played at the same time and at the same venues on the world-famous Melbourne Sandbelt.
Adrian Meronk became the first Polish player to win the Stonehaven Cup for the men's Australian Open in the tournaments' long history, finishing it with an exclamation mark when he eagled the 72nd hole.
World Number one Kipp Popert from Kent in the United Kingdom conjured a stunning final-round 69 in difficult conditions to overtake the leaders and win his first Australian All Abilities Championship as the Open celebrated the sport's inclusivity.
And South African Ashleigh Buhai completed the year in which she won her first major, the AIG Women's Open, by making par at the last to hold off Jiyai Shin of South Korea to win the Patricia Bridges Bowl as Australian Open women's champion by a shot.
Read the full round-up from the Australian Opens here.
Birthday win on home soil for Thriston Lawrence
It was the perfect birthday weekend for Thriston Lawrence, who turned 26 on Saturday. The South African overcame a turbulent final round to post a two-over-par 74 and win by one shot over Clément Sordet.
Adding the South African Open to his Joburg Open win from last year. Lawrence was clearly thrilled to have won again on home soil:
"This is what you strive for, being a kid you dream for this moment, to win such a prestigious event in front of an amazing crowd."
After dropping five shots from holes 12 to 16, Lawrence was level with Sordet heading into the final two holes. Sordet missed a short par putt on 17 and Lawrence steadied with two pars to secure his third DP World Tour victory.
"It felt all easy going through the round and then golf happened at the end. Clement was playing really well, I was playing well then made a few mistakes, missed them on the wrong sides and couldn't score from there.
"(On the 15th) me and my caddie got the wind wrong but the mistake is on me, I still need to hit the golf shot. I took a conservative line and I shouldn't have, I've been aggressive all week.
"It was unfortunate for Clement on 17 to miss that short one - it's just golf. I managed to get it done and I'm really pleased."
Sweden's Jens Fahrbring birdied two of the last three holes to finish a shot behind Sordet in third, with Germany's Matti Schmid another shot back in fourth place.
The DP World Tour only has one event this week which is still in South Africa - The Alfred Dunhill Championship.
A second Hero World Challenge title for Viktor Hovland
Viktor Hovland went back-to-back defending his Hero World Challenge title in the Bahamas. The only other player to achieve this is the host himself, Tiger Woods.
Although Hovland won by two shots, it wasn't plain sailing as he had to hold his nerve on the final hole. With Scottie Scheffler in pursuit, the Norwegian nearly wasted his two-shot lead by finding the water. The 25-year-old kept his composure to get up and down for a bogey and to finish on 16-under-par. Scheffler also struggled and had to settle for bogey and second place.
Talking to NBC after his round, Hovland said:
"It's freaking nerve-racking.
"I was leading by five I think after the turn and didn't play all that great on the back nine but it was good enough. It made it a little bit exciting I guess."
Speaking about going back-to-back:
"That's pretty bad-ass," Hovland said with a smile. I'm just happy he (Woods) didn't play the last two years. (But) to win his tournament is something very special."
Woods was set to play this week in Albany for the first time since missing the cut in the Open Championship in July, but withdrew on Monday due to plantar fasciitis in his right foot. Woods is still meant to be in action this week in The Match with Rory McIlroy against Jordan Spieth and Justin Thomas.
The PGA Tour has one more event before Christmas with the QBE Shootout in Naples, Florida, which features 12 two-person teams. We'll get to see Nelly Korda and Lexi Thompson teeing it up this week when they partner Denny McCarthy and Maverick McNealy respectively.
LPGA Q-Series Week One round-up
The first half of LPGA Q-Series is complete with four rounds at Magnolia Grove Golf Course down and four at Highland Oaks Golf Course in Dothan, Alabama to go. Lauren Hartlage is the sole woman atop the leaderboard at 14-under-par.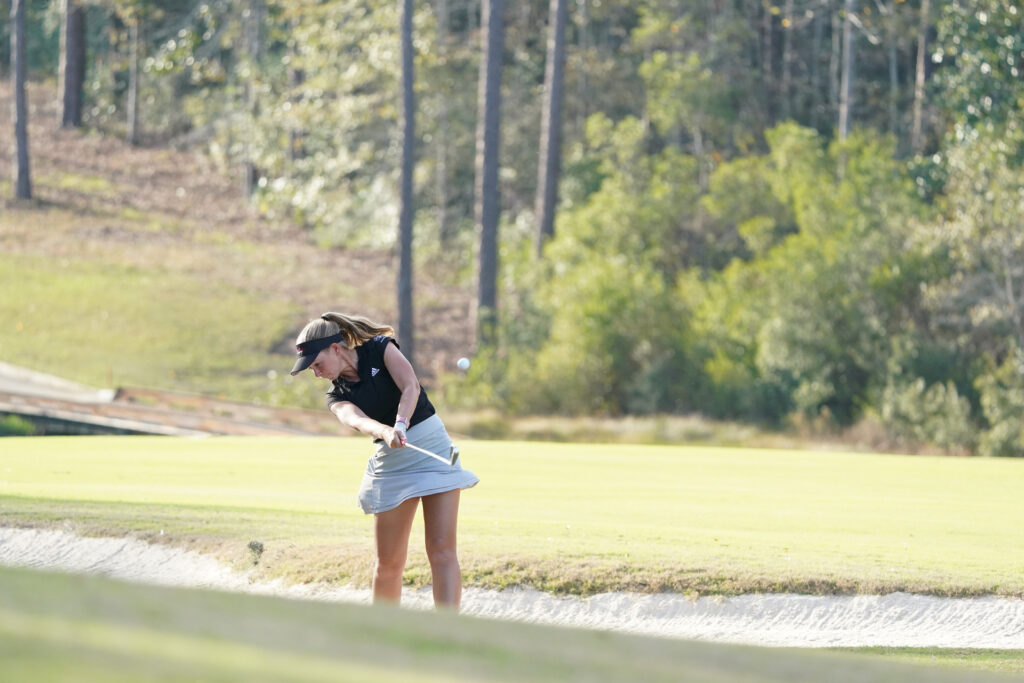 "I'm feeling good," said Hartlage. "I've been ball-striking it really well this week, which I think is really important, giving yourself some birdie looks. I played these courses last year, so I'm really familiar with them, and I really like the layout. I'm pretty proud of how I've kept up the last four rounds and looking forward to next week."
The Kentucky native played consistently throughout the first week with rounds of 66-69-69-68. The 24-year-old prioritized accepting whatever happened and keeping a positive mindset. With an LPGA Tour card on the line and eight rounds of golf to accomplish her goals, Hartlage keeps her focus on the present.
"I think, obviously, like making the cut and getting your card are the long-term goals," said Hartlage. "But those kind of aren't in my control. I can control my attitude and how I approach each shot."
Although she's focusing on the shot in front of her, Hartlage can't help but keep the taste of the LPGA Tour that she got last season in the back of her mind.
"I got to play some last year, and obviously I didn't play well enough to keep my card," said Hartlage. "Being able to go out there and see what it was like, it's been something I've been dreaming of my whole life. It's been a great journey, and I'm excited to be this position."
Tied for second, one shot behind Hartlage at 13-under-par, was Luna Sobron Galmes, Polly Mack, Manon De Roey and Riley Rennell. De Roey, Rennell and Mack remained near the top of the leaderboard after signing for rounds of 2-under, 1-under and 3-under, respectively. Sobron Galmes climbed from T25 to sharing second after an 8-under performance that included nine birdies.
"I feel very good with my putter today," said Sobron Galmes. "I made all the putts that I had the opportunity to [make], so I'm very happy."
Sitting in a comfortable spot heading into the second week, Sobron Galmes is happy to have some time to rest and reset. Even after a lights out round, the 28-year-old plans to keep her mindset the same as it was when she began week one.
"I came from Spain playing three weeks in a row, so I think I need to relax," said Sobron Galmes. "But my game is in good shape, in the moment, so I'm going to do the same thing [next week]."
A total of 75 players made the cut at 2-under par, including recently turned professionals Ashley Lau (-2), Heather Lin (-8), Nataliya Guseva (-8), Natthakritta Vongtaveelap (-11) and Valery Plata (-11).
View the full LPGA Q-Series leaderboard here.