KPMG Women's PGA comes down to the last hole, dramatic play-off on the DP World Tour and Harrington wins U.S. Senior Open
Like the U.S. Open the previous week, the KPMG Women's PGA Championship had it all and kept us guessing until the final hole. Both In Gee Chun and Lexi Thompson would have been deserving winners, both 27-years-old and both not having won in over three years. In the end it was Chun who triumphed whilst Thompson faultered with her putting letting her down again.
If I'm honest, it was difficult to really get into this final round. With only 12 hours of live coverage (in the UK) spread across the four days of the Championship, we came in to the Sunday already eight holes down. At this point Chun had lost her three shot lead and Thompson was in front.
Although the back nine was compelling to watch, for me it really lacked something, mainly the narrative as to how we had got to this point.
To be honest the lack of live coverage makes it very difficult to cover and that is why you will see that our daily reports were taken from the PGA of America's online media centre.
We started the week with a fanfare around the doubling of the prize fund to $9 million but there are still big strides that need to be made to make this Major viewing. It's a real shame because this Major deserves a better billing and recognition from the wider golf industry.
Rod Morri at Golf Australia Magazine has highlighted the massive gap between this event at Congressional and the men's PGA equivalent at Southern Hills - the women got 5.6% of the total coverage the men received. A crazy figure when you think about it.
I definitely don't want to downplay Chun's victory but we cannot grow the women's golf fan base with just 12 hours of coverage of a Major event. It's 2022!
Read the full final day round-up and watch highlights here.
Amateur Melichova wins Tipsport Czech Ladies Open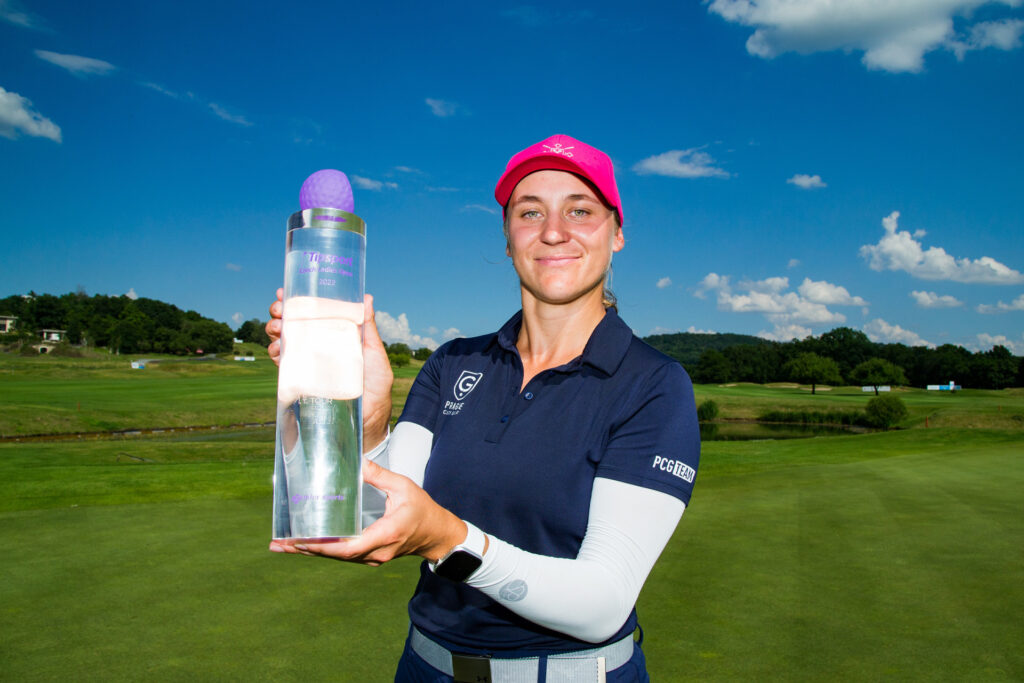 Czech amateur Jana Melichova triumphed at the Tipsport Czech Ladies Open securing a one-shot victory at Royal Beroun Golf Club.
After rounds of 68 and 65 on the first two days, the 24-year-old produced a final round of 69 to seal victory.
It was an excellent start to day three for Melichova who rolled in birdies on holes four, five, seven and nine to make the turn in 32 (-4).
The former Old Dominion University student then sunk another birdie on 10 to hold a four-shot lead.
However, Melichova had some trouble just a few holes later carding three consecutive bogeys.
But another birdie on 17 proved to be crucial as she reached a total of 14-under-par to become the second Czech winner on the LET.
"It's a dream come true. I always planned to play LET and I always wanted to win a title and I succeeded today, I'm incredibly happy.
"I was mainly nervous, but I think I handled that stress really well and was really happy with my game and everything was perfect. Even the three bogeys in a row didn't get me down because I had people here and they were cheering for me, so I just wanted to make more birdies.
"I seemed calm but it's tough out there, there were so many thoughts going through my mind so it's hard to stay calm and patient."
Watch the Czech Ladies Open final round highlights
[parone_rss_video_player campaign="284" feed="41-ladies-european-tour" autoplay="true" env="prod" defaultlang="en" /]
Two players finished in a tie for second place with Czechia's Klara Spilkova and Denmark's Nicole Broch Estrup on 13-under-par.
It was a great finish to the week for Spilkova, who became the first Czech winner on the LET back in 2017.
Spilkova carded a final 70 (-2) which included four birdies and two bogeys to be runner-up alongside Broch Estrup.
"I feel a bit up and down, but I feel very happy and grateful for what I have done and how it all unfolded for me this week.
"It was really nice to play in front of the home crowd, there have been a lot of people everyday so I really appreciate their support. There was a lot of good energy through the week.
"I was pleased with how I stayed patient and believed in myself, I stayed solid and today I wish I made more putts but it is how it is, and that's golf.
"It's an amazing thing Jana has done today, she should enjoy the moment because this doesn't happen very often. I've been on tour for 12 years and for her to be in a situation like this is very magical."
Sweden's Johanna Gustavsson continued her excellent form this season with a fourth-place finish after a final round of 66 (-6).
Despite bogeys on the second and sixth holes, the Swede soon rolled in three birdies consecutively on holes seven through to nine and added a further five birdies on the back nine.
Spain's Laura Gomez Ruiz produced a final round of 65 (-7) with an eagle on the last to finish in fifth place on 11-under-par.
Austrian amateur Emma Spitz and Spain's Luna Sobron Galmes were tied for sixth place one shot further back on 10-under.
The round of the day went to Wales' Chloe Williams, who signed for a 64 (-8), to end the tournament with a total of nine-under-par.
Four players rounded out the top 10 with Spain's Elena Hualde, Finland's Ursula Wikstrom, Switzerland's Kim Metraux and Wales' Lydia Hall all T9 on eight-under-par.
In the 2022 Race to Costa del Sol, Swedes Linn Grant and Maja Stark are still first and second in the rankings with 1,969.39 and 1,752.50 points, respectively.
While Gustavsson remains third but has closed the gap to the top and now has 1,687.83 points to her name.
Next is the Amundi German Masters.
Maiden LETAS win for Kristalle Blum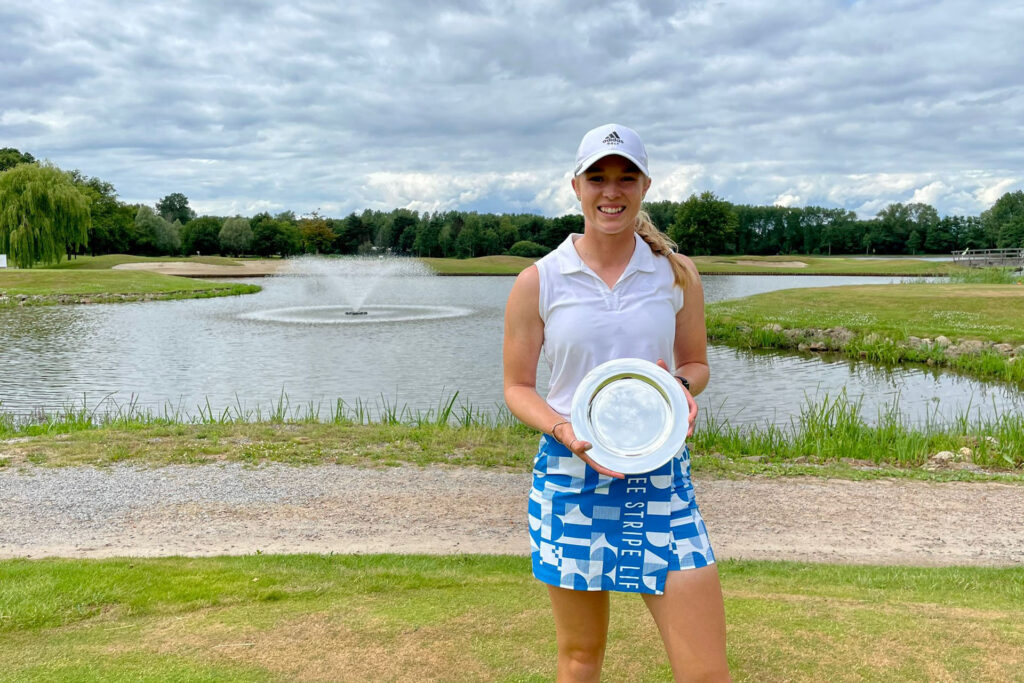 Australia's Kristalle Blum recorded her first victory on the LET Access Series and won by one stroke at the Golf Vlaanderen LETAS Trophy.
The 24-year-old walked into her last round with a one-shot lead having carded rounds of 69 and 67 on the first two days.
Her lead was extended with an early birdie on the par-five third and though Blum dropped a few shots during the round, she signed for a three-over 75 to keep her single-shot lead in front of the chasing pack of four players.
"I was very nervous the last few holes and just tried to focus on my breathing," she said. "I had no idea where I sat on the leaderboard, so I just had to keep doing my thing and I'm glad it was enough."
It was particularly special for Blum as she has had her brother Nick on the bag for the last three LETAS events, where she has had two top-10 finishes and a victory.
She continued:
"Having my brother on the bag has been amazing, I had a tough year last year being on my own due to Covid, so having him here not only to keep me company but then get the win is incredible. He played a big part this week."
Blum started the season with two LET starts in her homeland after which she travelled to compete on European soil.
"It's been a massive couple of months for me and I didn't have a big turnaround after those LET events in Australia," she explained.
"I feel like the last 18 months have been a rollercoaster and my game has come so far. The transition was good and although I did get re-ranked on the LET, I chose to focus on LETAS and now it just really shows I've made the right choice."
Before continuing her 2022 season on LETAS, the Adelaide native had already planned a week off which turned out to be the perfect timing.
She added:
"I'm beyond excited, I actually head to Croatia for a few days which will be a great spot to celebrate, and then going to see Ed Sheeran at Wembley so I've really timed the win well!"
Only one stroke back and tied for the runner-up spot was a quartet of players including fellow Australasian, Momoka Kobori from New Zealand, who fired the round of the day with a four-under 68 to climb up the leaderboard.
"It's been so nice this year having more of the Australian and New Zealand girls come over and play," admitted Blum.
"It's been just me most of the time I've played LETAS and seeing Momoka also win the other week definitely gave me some motivation to go and achieve the same thing."
Germany's Chiara Noja and the best amateur of the tournament, local star Sophie Bert both carded a final round of two-under 70 to share second place alongside France's Yvie Chaucheprat and Kobori.
Another local amateur Savannah De Bock finished tied for sixth with Norway's Julie Boysen Hillestad on three-under-par.
While Dutch amateur Judith van der Voort finished outright eighth at -2 total with four players completing the top 10.
England's Gemma Clews, Sweden's Anna Magnusson, Scotland's Tara Mactaggart, and French amateur Lilas Pinthier all share ninth place on one-under-par.
With her runner-up finish, Germany's Noja continues to dominate the LETAS Order of Merit standings with 1,171.25 points while New Zealand's Kobori moves to the second spot with 813.75 points.
After her first win and three additional top-10 finishes this season, Kristalle Blum moves to fourth place with 740.75 points.
Now to France and the Hauts De France - Pas De Calais Golf Open.
Haotong Li wins third DP World title
The BMW International Open ended in dramatic fashion as Haotong Li and Thomas Pieters battled it out in a play-off.
Both players finished their rounds at 22-under-par to force a play-off, with Li's putt lipping out to win outright in regulation play. They headed back to the 18th hole.
Li overhit his chip past the flag and the holed a birdie putt from 50ft. Pieters, who had been in the bunker, had a 7ft putt to extend the play-off but wasn't able to convert it.
The 26-year-old Chinese player was extremely emotional after his win, having not won since January 2018:
"I don't have the words to describe this right now.
"As soon as I chipped the ball, I thought that I'd given another chance away. I couldn't believe that was going to happen to me again.
"Ten months ago, I thought I would quit golf and somehow, [look] where I am now, it's golf. It's so hard to describe. I had no idea I could win this play-off."
The DP World Tour now moves to Ireland and the Horizon Irish Open.
Sixth PGA Tour win for Schauffele
It was a second win of the season and his sixth on the PGA Tour as Xander Schauffele won the Travelers Championship by two shots.
Schauffele took advantage of a final hole mistake from leader Sahith Theegala to finish on 19-under-par and secure his second win of the season after partnering Patrick Cantlay to victory in the Zurich Classic of New Orleans in April.
"I've been out here long enough, this is my sixth year on Tour, and you just know that no-one's going to hand you a win.
"I was very aware of that and ready to birdie the last and I thought that was going to be to get in a play-off so I was just lucky it was to make me on top.
"I really think this was, in a small way, a big win for me mentally just because I sort of had to check myself. When you've been out here and things are going easy you just expect to play well all the time. Sometimes it's good to take a step back - and I thought I did that this week."
This week it's the John Deere Classic.
Cheng holds on for victory
Ssu-Chia Cheng adds her name to the list of Island Resort Championship presented by Delta County Area Chamber of Commerce winners. The Taiwan native earned her second career victory shooting a total of 17-under par, winning the tournament by six strokes.
"It definitely feels amazing to be winning a tournament, to be able to play some good golf out there today under stress and all the expectations from everybody and even myself. I was struggling with mental issues bothering me for the past few years, so this was a little step for me, and I'm definitely happy and feeling great."
Cheng started her round strong with an eagle on the first and kept her eyes on the prize, firing off five birdies throughout her round.
She says she was feeling mentally tired around 16 and 17, which happened to be right after consecutive birdies on 15 and 16. Her plan stayed the same throughout all three rounds - stay away from the rough.
While the win was a positive step for Cheng's mental development, she remains focused on what she can do to show fans, especially young ones, what it means to be a professional golfer.
"I want to be not just be a good player, a good golfer, but to be a good person on and off the course," said Cheng. "I want to show them this is a good job. You have a lot of ups and downs during your career, but I guess that's the reason why I love it."
Harrington wins first Senior title and it's a Major
We have to finish up with the fantastic news that Padraig Harrington win the U.S. Senior Open. With a final round one-over-par 72 to beat rival Ryder Cup Captian Steve Stricker by one shot.
The Irishman becomes the third consecutive player to win the US Senior Open on their debut.
After his victory he said:
"I think it's special for me to win this one just because I've never won a USGA event. I think that adds more than if you could turn around and win a different senior major.
"But because I was never a US Open champion or a junior champion, it's great to come and win the senior one. It adds something that I never had in my career."
Which other tours would you like us to report on? Drop us an email with your request here.