After two intense weeks at LPGA Q-Series, 46 players from 21 countries secured LPGA Tour status for 2023
It's hard to imagine, without going through it yourself, how gruelling eight rounds of golf in two weeks are when an LPGA Tour card is on the line. The ability to keep grinding round after round in the quest to finish in the top 45 (plus ties) and gain status on the 2023 LPGA Tour.
One hundred players started that journey on December 1 and yesterday, 46 players were able to make their dreams come true.
The field was a mix of LPGA players trying to regain cards, Ladies European Tour and LET Access Tour players, some who had won this year, as well as Epson Tour and a host of KLPGA players, many who were proven winners and major championship competitors.
To say the field was packed full of talent, is not a statement made lightly. At the end of 2022 LPGA Q-Series, 46 players from 21 different countries took home LPGA Tour status, including Ines Laklalech, who is the first LPGA Tour Member from Morocco as well as North Africa and the Arab region.
Here are three stories from the final round of the 2022 LPGA Q-Series reported by the LPGA:
Hae Ran Ryu takes medalist honors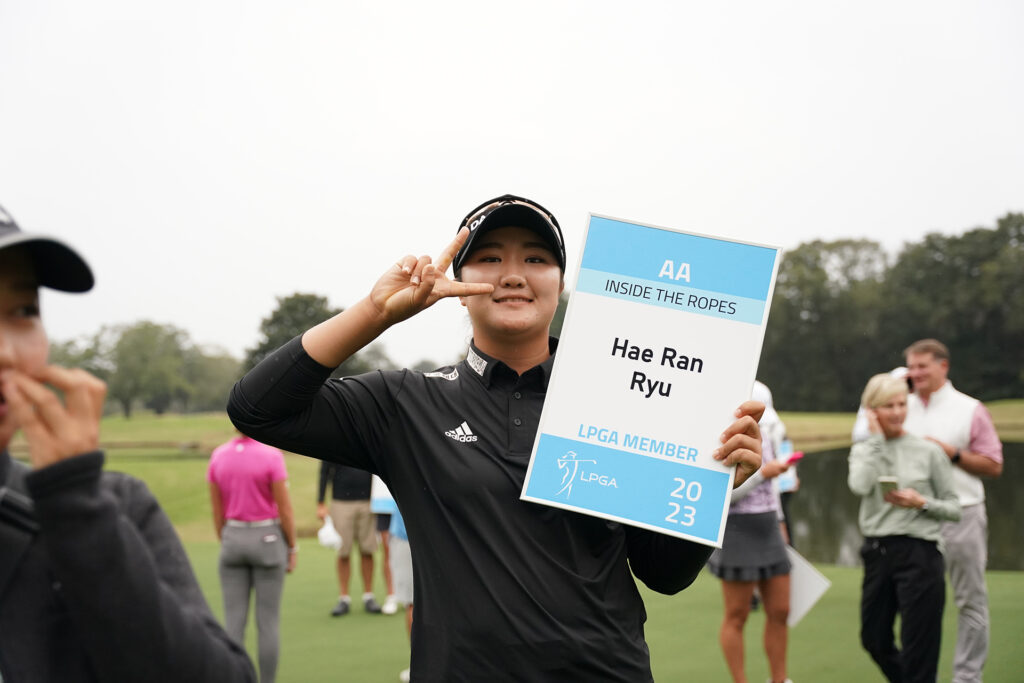 Hae Ran Ryu finished the two-week stretch at 29-under-par, two shots ahead of the rest of the field. She took home medalist honors and 2023 LPGA Tour Membership after signing for a final-round, four-under-par, 68 that saw her card six birdies and two bogeys throughout the final 18 holes.
"Earning this Tour card means a lot, especially on the number one tour in the world. To be the first to finish makes me even prouder. And also to be the second Korean winner in a row," said Ryu, who shot in the 60s for six of the eight rounds over the last two weeks. "I didn't think that I could earn the LPGA Tour card so soon. It's still unreal to me that I could play on the LPGA Tour."
The 21-year-old held a two-stroke lead after round seven, which sparked some nerves at the beginning of the final day. However, Ryu thinks the overall experience helped her grow as a player and the five-time KLPGA winner is excited to be a rookie once again. "It hasn't been that long ago since I was a rookie on the KLPGA, so to be a rookie once again feels new," said Ryu. "I think with more time it would feel more real, and I look forward to playing with some of the best players in the world."
Former Women's Amateur Champion Aline Krauter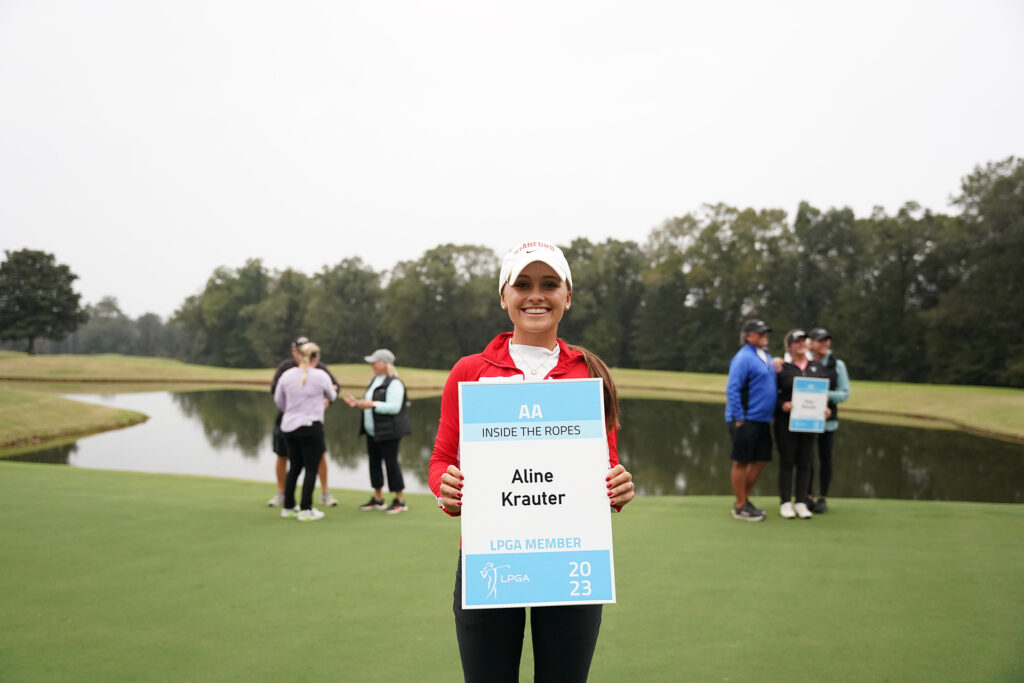 Turning professional just before LPGA Qualifying Tournament Stage I has proved the right thing to do for the 2020 Women's Amateur Champion Aline Krauter.
Krauter called her two-under-par, 70, final round a rollercoaster ride but leaned on her 10-under-par, 62 in round five – the round of the week and the first round of 62 or better shot in LPGA Qualifying since 2013 – to get her across the finish line.
Now that she's got her LPGA Tour card in hand, the former University of Sanford Cardinal can breathe and celebrate. "Finishing top of most of the leaderboards at all of the Q-Schools, all of the stages, yeah, I couldn't have asked for more," she said. "It means the world. That's been the goal for the past couple years I would say. Here I am, so I'm really excited to get the season started."
Ines Laklalech makes history (again)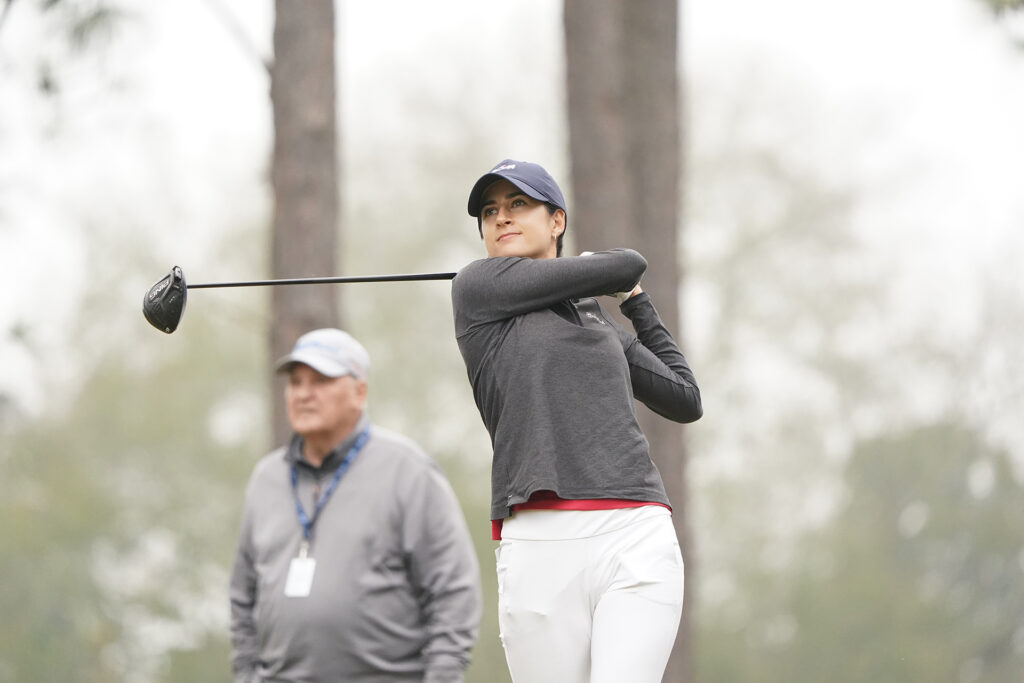 As Moroccan Ines Laklalech was working on a six-under-par, 66 in round seven of LPGA Q-Series, her beloved Atlas Lions, the Moroccan national soccer team, were making history in the World Cup, defeating Portugal 1-0 in the quarterfinals to become the first-ever African and Arab team to make it to the World Cup semifinals.
The long-time soccer fan was overjoyed with the news and her scorecard showed it as she carded eight birdies on Saturday. The 25-year-old says that while she's of course been paying close attention to the Lions' games, what's stuck out to her most is how the Moroccan national coach is talking about the team and their incredible run in the World Cup, something that's inspired her throughout her time in Lower Alabama.
"I've been watching very closely what the national coach is saying about the team because it's history. And his words really gave me confidence that everything is possible because that's their mindset right now. I think it's all connected and related because I've been watching videos of the press conferences every single day."
Laklalech isn't a stranger to making history. In September, she won the Lacoste Ladies Open de France on the Ladies European Tour (LET) in a play-off over Meghan MacLaren, becoming that Tour's first Moroccan, Arab and North African winner. She also finished in the top 10 four additional times this season on the LET.
A final round 73 was enough for Laklalech to secure a tie for 12th place and make history again.
2022 LPGA Q-Series Top 45 plus ties:
Hae Ran Ryu, Bailey Tardy, Valery Plata, Aline Krauter, Minami Katsu, Samantha Wagner, Chanettee Wannasaen, Linnea Johansson, Kum-Kang Park, Lauren Hartlage, Isi Gabsa, Luna Sobron Galmes, Yu-Sang Hou, Ines Laklalech, Dana Finkelstein, Polly Mack, Jennifer Song, Ellinor Sudow, Maddie Szeryk, Riley Rennell, Alexa Pano, Dani Holmqvist, Jaravee Boonchant, Min Lee, Pavarisa Yoktuan, Yuna Nishimura, Sofia Garcia, Karen Chung, Manon De Roey, Karis Davidson, Charlotte Thomas, Dewi Weber, Natthakritta Vongtaveelap, Louise Ridderstrom, Soo Bin Joo, Jing Yan, Jenny Coleman, Su Oh, Magdalena Simmermacher, Laura Wearn, Roberta Liti, Lindy Duncan, Ana Belac, Weiwei Zhang, Dottie Ardina, Arpichaya Yubol
2022 Epson Tour Graduates:
Celine Borge, Hyo Joon Jang, Grace Kim, Lucy Li, Yan Liu, Kiira Riihijarvi, Gabriella Then Xiaowen Yin.
What the graduates receive:
The top 45 and ties at the end of week two earn 2023 LPGA Tour Membership. Status that will be earned is as follows:
Players finishing in positions 1-20 and ties earn LPGA Tour status in category 14
Players finishing in positions 21-45 and ties earn LPGA Tour status in category 15 and Epson Tour status in category C
Players finishing outside the top-45 and ties, who complete all rounds before the cut, will earn Epson Tour status for 2023
View the final leaderboard for 2022 LPGA Q-Series here.