Rookie Ines Laklalech made history on the LET, there were maiden victories for Andrea Lee and Maria Torres whilst Robert MacIntyre is back and Max Homa gets a shock victory.
Rookie Ines Laklalech makes history
LET rookie professional Ines Laklalech has made history by becoming the first Moroccan, first Arab and first North African woman to win a Ladies European Tour title at the Lacoste Ladies Open de France in Deauville.
The 24-year-old from Casablanca defeated Meghan MacLaren with a bogey five on the first play-off hole, the par-4 18th, at Golf Barrière.
Laklalech started the last day with a one-stroke lead but MacLaren had taken the advantage after five holes in the final round. The Englishwoman held a two-stroke lead with four holes to play but Laklalech birdied the long 16th and then MacLaren bogeyed the short 17th, meaning that the pair were tied coming to the par-4 18th hole.
After taking regulation pars and tying on 14-under-par 199, the pair returned to the 18th tee for a play-off, but this time, MacLaren put her drive into the long rough on the left of the fairway and couldn't get her ball out at the first attempt. She had to take a penalty drop and played her fourth shot onto the green, whereas Laklalech reached the front of the green in two blows.
After MacLaren made a six, Laklalech won with a five and was able to celebrate becoming the first Arab woman to claim an LET title with her husband, Ali, who is also her caddie.
"It feels amazing," said a tearful Laklalech. "It's special to hear it. I don't have any words to describe this.
"I'm surprised because the last time I was in contention was in Sweden at the Skaftö Open and I lost it over the last few holes. I was just too tense physically and I was very, very surprised with the way I felt physically today. I didn't control anything and felt sure that the past experience in Sweden would help me today and it did. Played my game, played quite well and I'm just so happy.
"Of course going to the tee box in the playoff I felt very nervous but I hit a good shot and it was unfortunate how it ended, because Meghan didn't have a good lie, but I feel like this is a two-in-one. I experienced a play-off and a victory at the same time. This is definitely something that I will remember for the rest of my life."
Laklalech is a big fan of Tunisian tennis star Ons Jabeur and she hopes that her victory will inspire more Arabic girls to follow their dreams to play on Tour. "Morocco is doing a great job in promoting golf and I think having a Moroccan winning on a major tour will be huge for the country and for the Arab world in general," she said.
The whisker-thin loss was tough for MacLaren, who prior to her 53rd hole hadn't recorded a bogey since the first hole on the opening day and recorded a final round of four-under-par 67.
The 28-year-old said:
"Those are the fine margins that we win or lose by and it's a golf tournament, so it happened to me today. Ines is a great player. We played together at Q School and she's gritty and not going to go away. She deserves it today."
Diksha Dagar of India finished in third place on 11-under-par after a final round of seven-under-par 64 and she thanked her father for his guidance as her caddie during the tournament.
A stroke further back, Anais Meysonnier of France ended in outright fourth place after a final round of five-under-par 66 and former champion Caroline Hedwall of Sweden finished in fifth.
The 2021 champion Céline Boutier from France tied for sixth with Austrian Christine Wolf; Germany's Leonie Harm and Czechia's Klara Spilkova shared eighth and three further players, Kylie Henry, Marianne Skarpnord and Magdalena Simmermacher tied for 10th.
Following her victory, Laklalech climbed 38 places to 14th on the Race to Costa del Sol and MacLaren moved up three spots to sixth.
With five events still to be played on the 2022 LET schedule, the top 10 on the Race to Costa del Sol Rankings is now Linn Grant (1st), Maja Stark (2nd), Johanna Gustavsson (3rd), Manon de Roey (4th), Magdalena Simmermacher (5th), Megan MacLaren (6th), Ana Pelaez Trivino (7th), Lee-Anne Pace (8th), Georgia Hall (9th) and Liz Young (10th).
This week LET players tee up in the KPMG Women's Irish Open.
Maiden victory for Andrea Lee at AmazingCre Portland Classic
It was anyone's tournament going into the final round of the AmazingCre Portland Classic and it remained that way throughout the day at Columbia Edgewater Country Club.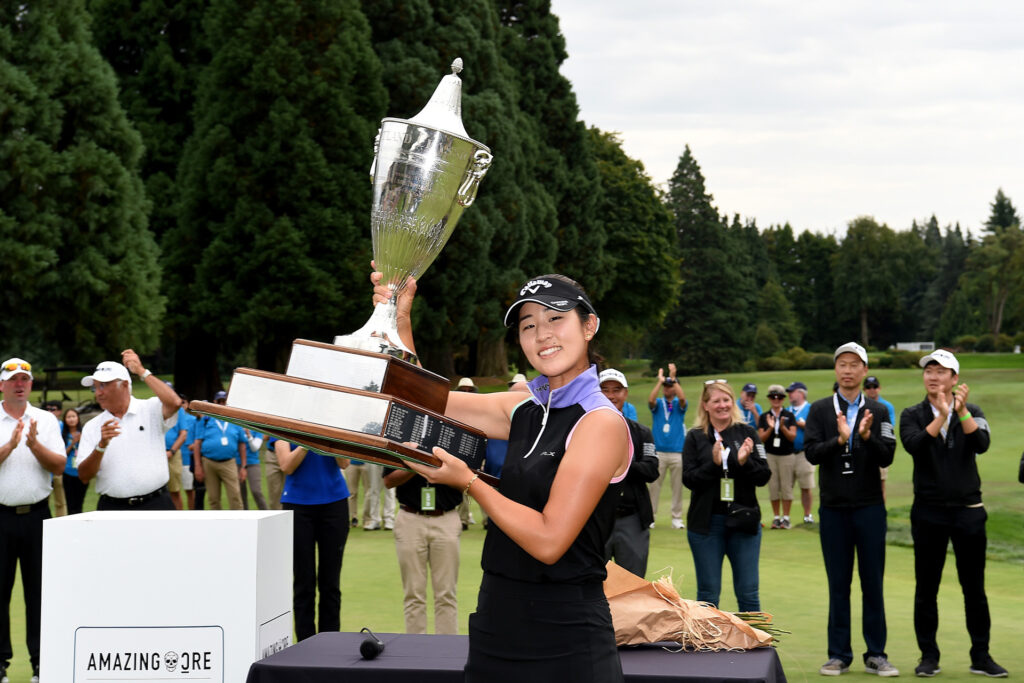 With numerous lead changes and a myriad of elite players clawing their way to the top of the leaderboard on Sunday, a clear champion wasn't established until the final putts. That champion was Andrea Lee, who finished at -19 and earned the first win of her LPGA Tour career.
"All the hard work has paid off. It's been my dream to win on the LPGA Tour, and the fact that I accomplished that today is just pretty surreal," the Rolex First-Time Winner said. "Some of the past champions (of the Portland Classic) are legends of the game… I'm extremely honored to join that list of names."
Lee started the day at -13 and in the lead group alongside fellow Epson Tour graduate Lilia Vu and 2022 first-time winner Ayaka Furue. She got off to a rough start with two bogeys in her first three holes but turned it around shortly after with birdies on holes five, six and seven. The American continued the birdie barrage with five on the back nine and took advantage of Columbia Edgewater's four par-5s throughout the round, birdieing every single one.
Lee had a two-stroke lead at -19 going into the final two holes, but she struggled on the par-4 17th after her ball landed in a fairway divot.
"It was a bad break obviously, but nothing you could do about it. I was kind of in between clubs, debating whether I should hit a really full 7-iron or choke-up 6-iron, and I went with choke-6 and tugged it a little," Lee explained. "I caught it pretty clean. If I aimed it a little bit more right it would've been on the green. But tugged it and went in the bunker. I just had to keep myself calm and try and get it up and down. Hit it to about a foot so that definitely helped calm the nerves."
Lee's spectacular sand save allowed her to maintain the two-stroke lead going into the final hole. Ecuadorian Daniela Darquea, playing one group ahead, put the pressure on Lee with a birdie on 18 to reach -18. But Lee said she remained calm, avoided focusing on the leaderboard and finished with a routine par that made her an LPGA champion.
Looking at Lee's final stats, it's easy to see how she became a champion. The Stanford alumna led the field in birdies and hit the most fairways and greens in regulation. Her game is the best it's ever been, she said, but it's been a long journey to reach this point.
Darquea's second-place finish is her best on the LPGA Tour. Her previous best was a tie for fifth at the 2018 Dana Open presented by Marathon. The 27-year-old lost full status on the LPGA Tour coming into 2022 but has used her Epson Tour membership to help improve her game and build her confidence at the five LPGA events she has played this season. In fact, Darquea was debating whether to even play in Portland this week or play on the Epson Tour. She said she made the right choice.
"It was rough at the beginning of the year, losing the card, going back to Epson," said Darquea, who shot seven birdies and a bogey on Sunday to earn her second-place spot. "I know I have the game to be here. I just need to keep the mental game going as it is."
Five players shared third-place position, including third-round co-leaders Furue and Vu, 2019 Portland Classic champion Hannah Green, German golfer Esther Henseleit and Korean Narin An. An's bogey-free 64 allowed her to jump up the leaderboard from 14 to third. Her eight-under-par round was only bettered by Bianca Pagdanganan, whose nine-under-par 63 was the best 18-hole score of the week at Columbia Edgewater. Making her LPGA Tour membership debut, Maja Stark earned an eighth-place finish with a six-under-par final round that saw her in an early lead after five consecutive birdies.
The LPGA now moves to Pinnacle Country Club for the Walmart NW Arkansas Championship Presented by P&G.
Maria Torres has first career victory on the Epson Tour
A bogey free, 4-under par final round set Maria Torres apart from the rest of the field at the Guardian Championship in Prattville, Ala. on Sunday. Torres walked away with her career first professional victory after missing the cut in her last six Epson Tour starts.
"I'm so excited," said Torres. "it's slowly sinking in, but it was a good three days, and I'm really happy."
Torres wanted to keep a level head coming into the final round, so she changed her mindset in order to be present in every moment.
"I wanted to take a different approach today," said Torres. "When you're in situations where you're in contention, it gets stressful. I wanted to take it as, every shot I'm there and not thinking ahead."
The former University of Florida Gator felt at home in SEC country. Little did she know when she touched down in Birmingham that she'd get her first win since repping the Orange and Blue.
Just two shots behind Torres were Celine Borge and Clariss Guce. The duo finished the week tied for second at 12-under par.
Guce remained in second position from Saturday's second round after going four-under-par on Sunday. The Filipino went bogey free on the front nine and carded five birdies in the first 10 holes but slipped up on the back nine with a lone bogey.
Six players rounded out the top five in a tie for fourth place. Hyo Joon Jang, Abegail Arevalo, Natalie Srinivasan, Ssu-Chia Cheng, Yan Liu and Dani Holmqvist totaled an 11-under-par after three rounds. A total of 58 players finished the week at even-par or better.
There's just three tournaments left this season on the Epson Tour, this week it's the Murphy USA El Dorado Shootout at Mystic Creek Golf Club in El Dorado, Arkansas.
MacIntyre makes Ryder Cup bid
Scotland's Robert MacIntyre won his second DP World Tour title at the Italian Open after beating England's Matt Fitzpatrick on the first play-off hole.
MacIntyre took full control of the Marco Simone Golf and Country Club, the 2023 Ryder Cup venue, on the final day. A 64 that contained 10 birdies, should have been enough to win out right but Fitzpatrick's birdie on the last hole forced a play-off.
After a poor tee shot, Fitzpatrick was only able to par the first play-off hole whilst MacIntyre made birdie to take the win.
Scotland's Robert MacIntyre claimed the Italian Open title after beating England's Matt Fitzpatrick at the first play-off hole in the DP World Tour event.
A monumental 10 birdies in a final round of 64 saw MacIntyre post a score of 14 under, before US Open champion Fitzpatrick birdied the 18th to force a play-off.
With just over a year to go until the Ryder Cup and with European Team Captain Luke Donald in the field (finishing in tied 34th), there no doubt that this victory will help in MacIntyre's bid to take part in his first Ryder Cup.
France's Victor Perez finished in solo third just one shot off the lead on 13-under-par with Rory McIlroy just one further shot behind.
Speaking to Sky Sports after his victory, MacIntyre said:
"This means everything. I was down and out about three months ago, I didn't know what I was doing, didn't know where to go.
"But we spoke to the right people, started working with (coach) Simon Shanks. There's so much work gone into this Mike (Thomson) my caddie, family, friends, everyone.
"I hit a terrible shot on 15 and thought it was backs against the wall. But we dug in. I've got a dogged attitude, I never give up and if I get punched, I punch back."
From one Ryder Cup venue to another, as this week Le Golf National plays host to the Cazoo Open de France.
An unbelievable ending sees Homa go back-to-back
It was the final hole of nightmares for England's Danny Willett, as he watched American Max Homa chip in and then three-putt from short range to not win or force a play-off.
Homa's win was his fifth PGA Tour title and secured him a back-to-back victory at the Fortinet Champion in California.
Willett's front nine included birdies at the first, fourth and eighth holes, with the only blemish coming at the ninth. Birdies then followed on 10 and 14.
Two early bogeys from Homa were followed by three consecutive birdies around the turn.
The 31-year-old ended up in a greenside bunker on the last and after chipping out went on to chip his next shot in to finish on 16-under-par. The pressure was then on Willett who unbelievably lipped out twice from inside five feet for a three-putt par that saw him finish one shot behind.
Commenting on his nightmare finish, Willett said:
"The last three minutes are kind of a blur. I played solid - Danny and Justin (Lower) both played well but that was a wild finish."
Homa, who will be playing in the President's Cup this week said:
"I've had a few guys tell me that if the LIV guys hadn't left I wouldn't have made the President's Cup team, so I had a little bit of a chip on my shoulder this week."
Talking of LIV, Cameron Smith cemented his place in the breakaway golf league by taking top spot in the Chicago event with 4Aces (Dustin Johnson, Talor Gooch, Pat Perez and Patrick Reed) taking the team prize for the fourth time.
This week is all about the Presidents Cup which is taking place at Quail Hollow in Charlotte, North Carolina.
Which other tours would you like us to report on? Drop us an email with your request here.