Gemma Clews secured her first professional win at the Rose Ladies Series event at Hillside Golf Club
The conditions at Hillside Golf Club for the fourth event in the 2021 Rose Ladies Series were surprisingly calm with a gentle wind swaying the fairway-side pine trees.
Early indications were that it was not going to be a low scoring round and with pace-setter Lauren Horsford making the turn in even par - even with an eagle three on the par five second hole!
The course was majestic, nestled in the sand dunes south of Southport on England's golf coast with some elevated tees, narrow fairways and deep grass! The melodic sound of singing crickets envelopes the course. It's a testing course - par 75 - with seven par fives! Two in the first two holes, two in the last two holes is what we like to call cruel
The Rose Ladies Series field was a mixture of women from the home nations plus four golfers just out of quarantine from Thailand. One of the quartet, Tritchat Cheenglab, had only one practice round under her belt and scored a creditable one-over-par.
We caught up with Sophie Keech on 11th who was finding it tough. Despite never playing here before she was loving the course which had some great holes. She was particularly pleased that the wind was calm and was also looking forward to Birkdale tomorrow where she played five years ago as an amateur.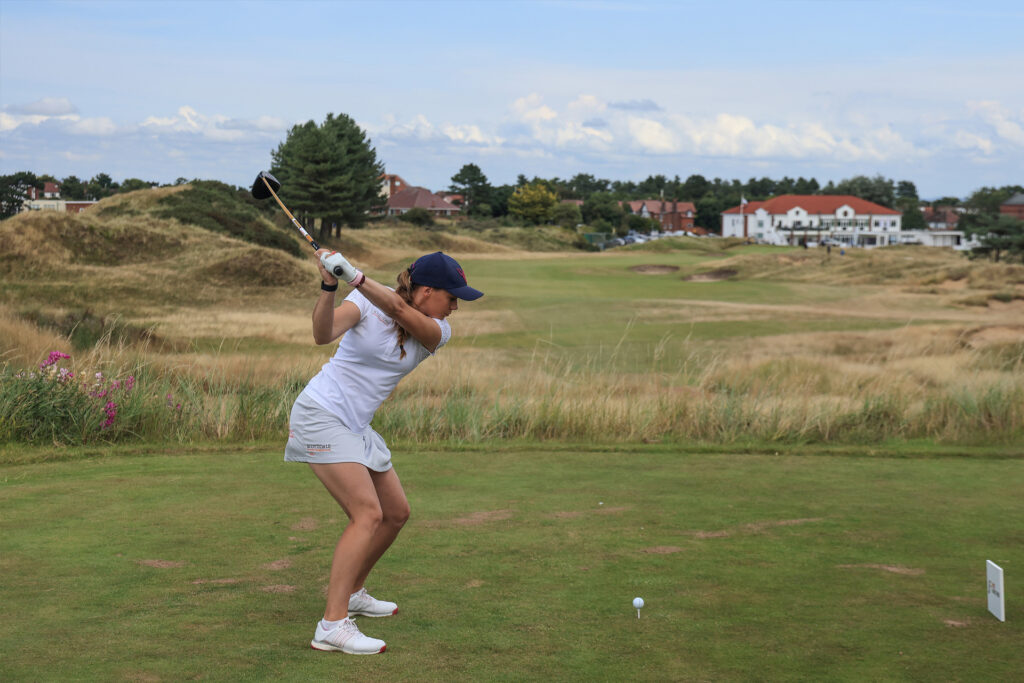 A near faultless performance
A cluster of players on even and one-over-par could not make any headway except Delamere Forest's Gemma Clews. One-under at the turn she then played a faultless back nine with four birdies and five pars. After her round we spoke with her at the scorers tent and here's what she said:
"Great day, super conditions - wind like a club wind and the course in a fabulous condition. Really pleased with my performance."
Asked whether she had played here before, she said:
"Played a practice round the other day but otherwise, no. My boyfriend played the British Masters here and I've walked the course many times as I only live down the road".
We told her we couldn't see her being beaten. Her modest response "We'll see..."
Kate Rose determined to support women's golf
Putting Gemma's modesty aside, she really put together a fantastic performance and the back nine helped her to secure a five-shot victory from her closest competitors Sarah Gee, Lauren Horsford, Sophie Stone who all finished on even par.
Kate Rose was on hand to present the trophy and backed up her previous comments around supporting women's golf. She told us that she is driven to focus on the next generation of women golfers and make sure that they are invested in and is continually looking for new sponsors to help support the event.
It's worth mentioning that The Slync Slam, which was added just before the first Rose Ladies Series event in April. Kate actioned the sponsorship with Slync.io which sees a bonus prize of £50,000 for any player that wins two events and the Grand Final in September.
A great way to celebrate Ladies Centenary Year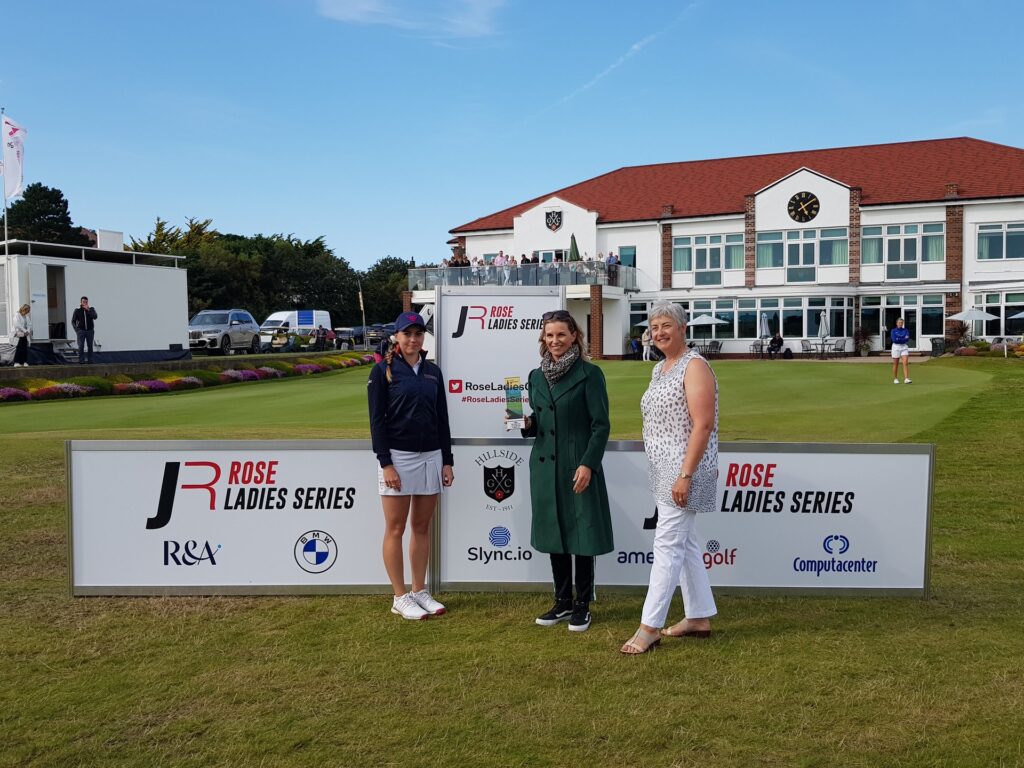 After the presentation, we caught up with Hillside Golf Club's Lady Captain Alison Barton. She couldn't have been more pleased with how the day went, she said:
"The weather has been extremely kind, showing off the course at its best and we had a very worthy winner."
Alison is in her second year as Lady Captain due to the pandemic and she was delighted to see people out and about on the course. Many members came to watch the next generation of women golfers and it was the perfect end to a week that included her Lady Captain's Day,
The pandemic has been tough on everyone but she has had great support from neighbouring Lady Captains, including Sally Hadden at Royal Birkdale and Jane Hughes at West Lancashire.
Talking about Gemma's win, Alison added:
"It was just really great to see the potential that she has, how far she hits it, how well she strikes it and she's just such a lovely girl. We were walking down the fairways and I was asking her if she had ever played in a professional event before and how did she feel.
"I think she was mostly excited and it was just another great opportunity that the Rose Ladies Series has provided."
The Rose Ladies Series now hops over the sand dunes to Royal Birkdale on August 3.
You can watch highlights of the Rose Ladies Series on Sky Sports Golf and the Sky Sports Golf YouTube channel.