A global pandemic was never part of the plan for any Captains in 2020 but considering the circumstances, one Lady Captain managed to build an engaged and caring golf community
A year as Lady Captain of a golf club is one that most look forward to, a time to celebrate, host events, raise money for charity, be an integral part of the evolution of the club and represent the club at the highest level. It is not a role to that is taken on lightly and although it is rewarding, it is very time consuming, so after potentially many years on committees you have one final year to savour, give it your all and ultimately set up your legacy.
For The West Lancashire Golf Club, the host of the first Rose Ladies Series event and the 2020 Women's Amateur Championship, Lady Captain Jane Hughes and for many others across the globe their year as Captain did not go quite to plan.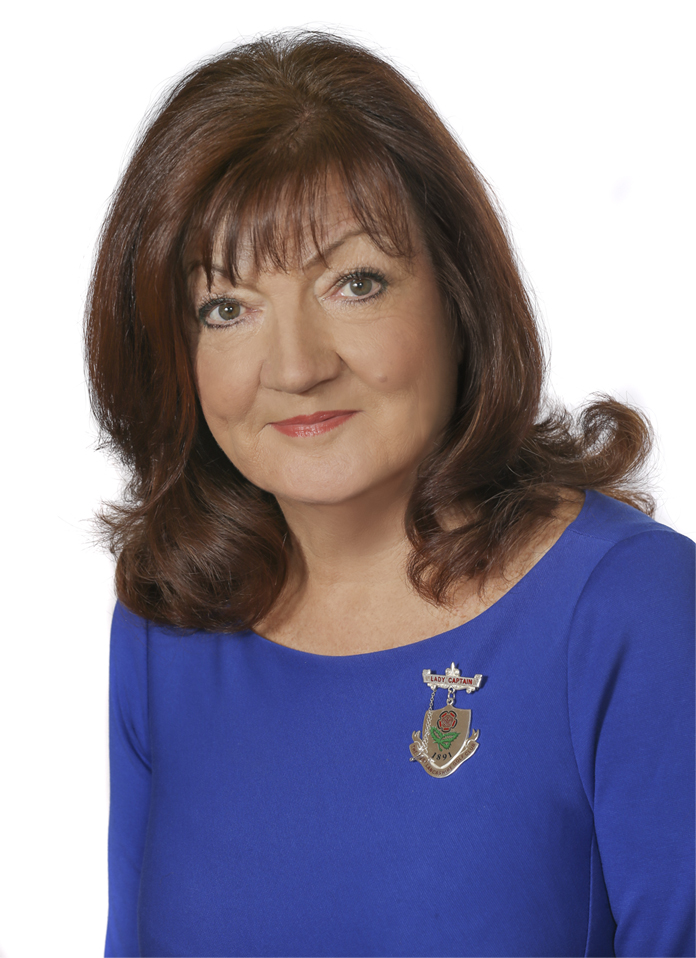 Jane is the first Lady Captain at the club, since the second World War, to be in post for two years. As she embarks on her second year, we sat down with her at the Rose Ladies Series event to hear about what happened during her very 'unusual' (first) year.
When did you come into office?
In 2020, I was going to be one of the last local Captains to go into office as our AGM was booked for the 25th March, but of course we went into lockdown on 23rd. This meant that the Captain and I were actually confirmed via the ZOOM in March 2021 as Captains for 2020! This year's AGM is being held in person, we hope, in mid-July this year when we be ratified as Captains for 2021.
How had you envisaged your year starting in 2020?
One of the things I was really disappointed about was that I had organised the first ever West Lancs Ladies overnight stay at Shrigley Hall. I had 54 ladies signed up to play. I even got permission from the outgoing Lady Captain so that I could get sign ups in advance of me coming into office.
My thought had been that we would all go away together and I'd get to know everyone. After rebooking for March this year and having to cancel for a second time, we will now be going in September. Although we have to wait, it is great to see that a number of newer members have signed up, they're coming and are really excited about it.
What was the main difficulty once we went into lockdown?
One of the most difficult things was communicating with members as we obviously were not able to use noticeboards, even when we are playing - like now. Also, due to the age and vulnerability of some of the members, even when they could, they did not set foot in the clubhouse, so everything was communicated by email. That must have become rather overwhelming when each part of the club is trying to communicate about different topics!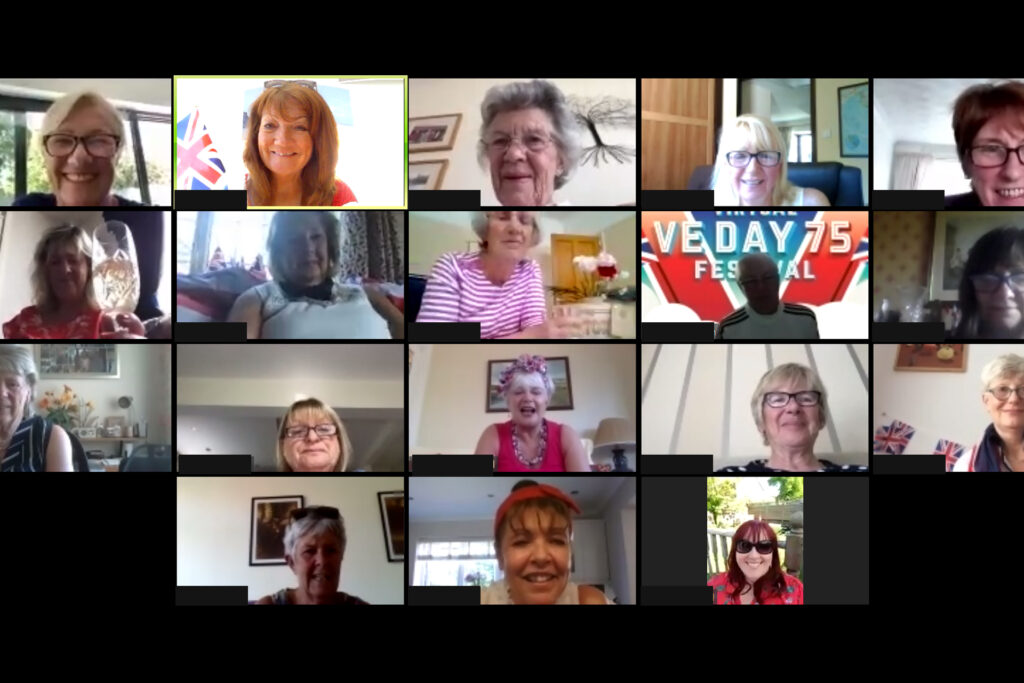 However, despite this, I felt I had a duty to keep them engaged and keep them in touch with one another, so I started to write a weekly blog. But there was still the issue of reading emails, so we started up an unofficial telephone tree where I got some of the members to ring the older ones, to keep in touch, make sure that they were okay. We offered to do shopping and all sorts.
Have you been able to have any celebrations?
We have done things, we have done quite a few. We always do Aintree here in April, get dressed up with big hats and watch it on the TV, of course we couldn't do that, it was just after I came into office. Anyway, we had a big ZOOM meeting where we all wore our big hats!
We celebrated VE Day in May, I made afternoon tea for all the ladies over 75-years-old living alone and my ladies committee delivered it as a surprise.
We did Waitrose wine tasting with some of the ladies and then the men wondered why they couldn't join in! So we ended up with husbands and wives on the ZOOM call.
At Christmas time, although we were in lockdown, I had 52 ladies come and sit individually for Christmas lunch. With a lot of effort we arranged the tables right through the dining room with a rolling system, so we were all doing as the Covid guidelines allowed us to do. Maybe because I have been a member here a long time, I felt like I wanted to do it, to keep the House and Social members involved too.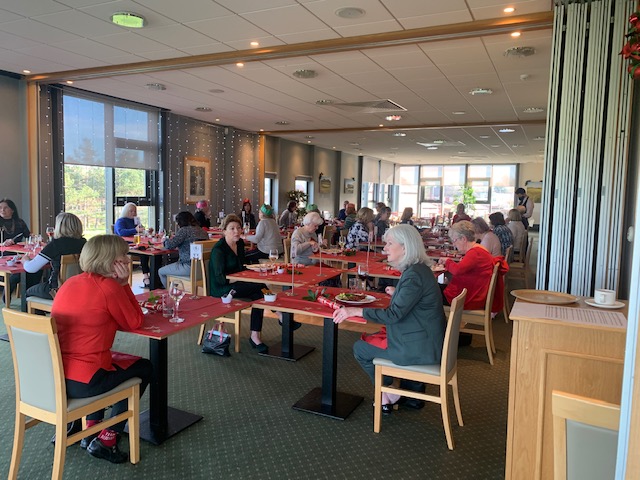 And then as soon as we were allowed to be outdoors, we had a picnic on the roundabout outside the front door where they all brought their own chairs. We had a glass of fizz, the picnic and a giggle.
We also had Sports Psychology, Quiz Nights, Golf Fashion Show, Coffee mornings and Fizz Friday to name a few!
What other ways did you communicate with the members?
We used to use Houseparty every night at 6pm but it became a big commitment timewise and I decided to pay for a Zoom subscription so any officer of the club could use it if needed and it has proved very good and well used. It was great to be able to check in with them if they wanted to have a glass of something and a chat. I even had Houseparty and ZOOM going at once!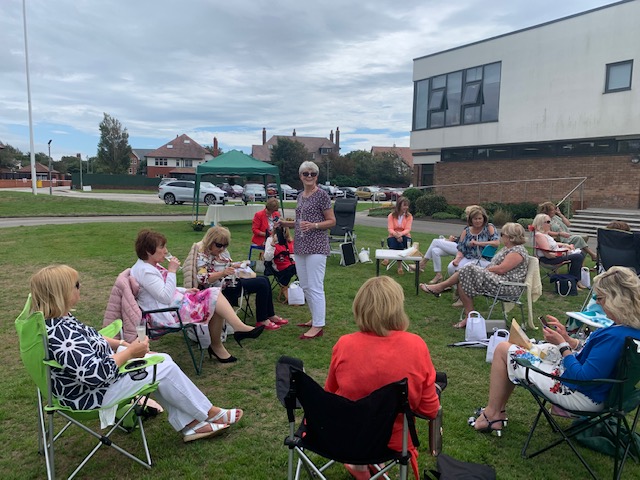 It seems like keeping in touch and building a community was very important to you.
I lost my husband three years ago, so I am on my own now and that for me was really, really hard. I think I could then see that if you live on your own you're actually really isolated in lockdown, any communication is good. That's why the telephone tree was so important, especially for those that do not use email or are not part of any of these jokey WhatsApp groups.
We also sadly lost a few members during lockdown. One of the most significant for me was the Senior Past Lady Captain at the time and I had known her all my life. We arranged a funeral 'drive by' at the front of the clubhouse as a mark of respect, and many people lined the route. I like to think she would have approved.
What else did your ladies section achieve?
My younger daughter works in Intensive Care and needed 'modesty gowns' for the patients, as she organised her physio team to turn the patients prone to be ventilated. She designed these and I asked the WLGC ladies to make them via the blog - which they did willingly and gave to me for the hospital. Members were fantastic with their generosity and their time!
One of the ladies made hanging baskets last year, which she sold to members for the Captains' Charity, and she has done the same this year, she has taken 33 orders! Another one has made beautiful greetings cards, a box of which she has donated for sale also.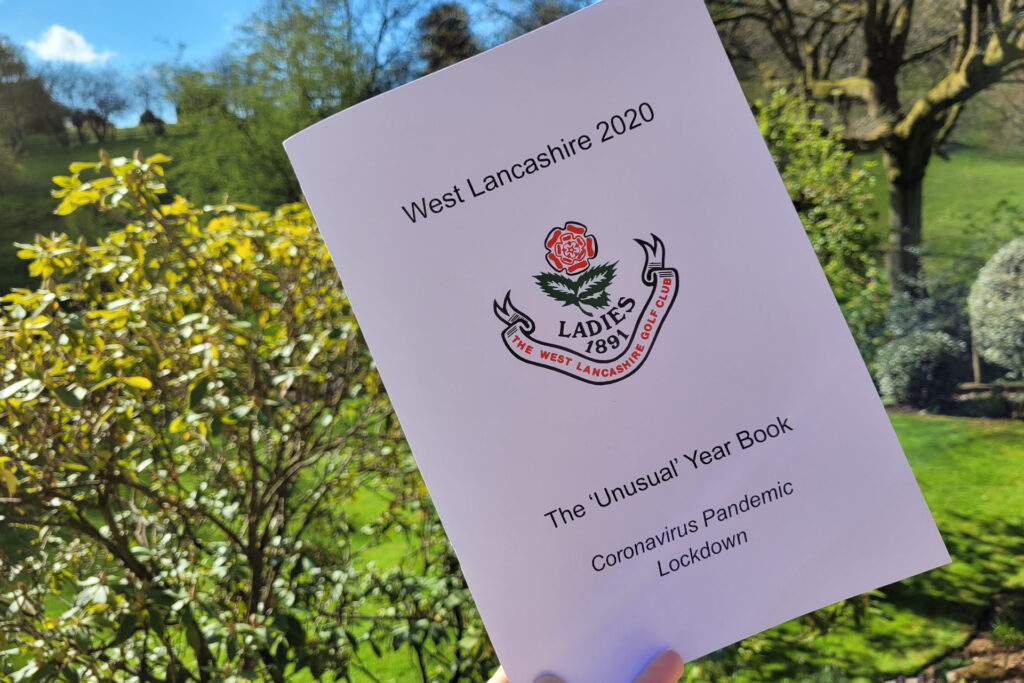 Tell me about The 'Unusual' Year Book
While we were locked down, via my blog, I asked ladies to send in written contributions of anything they felt was appropriate for me to compile into a booklet, perhaps to sell for charity. And I thought I might get recipes. Getting contributions from the ladies was really very nice. Some have sent things like poetry that they felt was pertinent, others have written poetry, and illustrated it. It's quite amazing. I was then able to put it together with photos off my phone of things during lockdown.
I had them printed, which was organised by one of the other members who knew a printer who did it for free and we offered them for sale to the ladies when we were able to meet for our picnic recently.
When I think back over my first year as Lady Captain, the quote on the back page from Captain Sir Tom Moore really sums everything up perfectly:
"Tomorrow will be a Good Day."
If you were a Lady Captain in 2020 and would like to share your story. Please email me here.