Rose Ladies Series 2022 schedule and results. Five events, four winners and two play-offs
As the saying goes, "all good things must come to an end" and as quickly as it started the final Rose Ladies Series event of 2022 took place at Bearwood Lakes Golf Club in Berkshire.
Starting on April 5 at West Lancs Golf Club, the series visited Sunningdale (April 14), Brokenhurst Manor (April 20), Walton Heath (April 25) and Bearwood Lakes (April 28).
A stellar line-up of LET and LET Access stars, PGA Professionals and elite amateurs took to the fairways to take up the opportunity given to them to play competitive golf, (for most) on home soil, and play for a £10,000 pay day.
Started in 2020 by LET player Liz Young, the Rose Ladies Series has become a very welcome fixture on the women's professional circuit. Although the emphasis has had to shift slightly as the LPGA and LET schedules come back to normal after the pandemic. There is no denying that these events provide a fantastic opportunity for professional women to gain valuable competitive experience at a time when their schedules are quieter.
This year has been no exception and founder Young emphasised the point, she said:
"I never thought it would go for three years. And every year, it seems to be bigger and better. The courses that we've played are fantastic."
The Rose Ladies Series wouldn't have been able to become "bigger and better" without the input of Kate and Justin Rose and this year gave the opportunity for Justin to attend events at Sunningdale and Bearwood Lakes so that he was able to see and hear first hand the impact the Series has had.
West Lancs Golf Club
The first event of the series came down to a play-off, after Lauren Horsford and Billie-Jo Smith both finished on two-over-par in cold and windy conditions. Horsford was triumphant, sealing her first professional win.
"It feels amazing to get my first professional win, after losing in a play-off last year at Royal Birkdale the experience definitely helped me in the play-off this time. My first tournament of the year getting the win has given me confidence for the rest of the season.
"I'm looking forward to playing all the other Rose Ladies Series events in the next few weeks on great golf courses. The sponsors have been amazing since the start of the series having the opportunity to be able to play events in the U.K. to get ready for the season."
Sunningdale Golf Club
The play-off continued for the second event at Sunningdale, the first time the Series had visited the club. Inci Mehmet made a return to competitive golf, playing alongside Dame Laura Davies and finishing on even par.
Mehmet was in the group ahead of Georgina Blackman, the left-handed former England Golf squad member, who also went on to post even par.
The play-off only lasted one hole with Mehmet conceding to Blackman. This gave Blackman her first professional win.
Afterwards, she commented:
"It's not really sunk in yet. I was going out there to play for fun, so it feels really good that I managed to get the win."
Brokenhurst Manor Golf Club
A return to Brokenhurst Manor for the third time. All hands were on deck from the members as they supported their home favourite and Rose Ladies Series founder Liz Young. However, the day belonged to another local tour star Hayley Davis. Setting a difficult four-under-par to beat, Davis, who went out in the second pairing, won by five shots.
"I've been playing really well. So, I was just looking forward to competing a bit more. Last week I played really well but just didn't really make all the putts. In one round it's quite hard, because if you miss a few you're already maybe out of contention.
"Today I played solid all day. I knew that if I just stayed patient out there, there was a few birdies on the way in which I made to be able to post a good score. Which was obviously good enough."
Walton Heath Golf Club
Again, another new venue for the Rose Ladies Series. Early starters set the pace, like at Brokenhurst, with Sharna Dutrieux and Cara Gainer both coming into the clubhouse at two-under-par.
For quite some time, it looked like it would be a second win for Hayley Davis but an unfortunate incident with some heather on the final hole ended up costing the Ferndown golfer a triple bogey and she finished on one-under-par.
In the end, it was amateur Rachel Gourley who held her nerve, playing alongside Dame Laura Davies and Trish Johnson, making four birdies in the last five holes to post a winning round of four-under-par.
"It was such an amazing experience and to have won it is just an extra bonus. I didn't even know I had won it till I walked off the last green and my Mum told me! I still don't think it's quite sunk in!!"
Bearwood Lakes Golf Club
And just like that, it was the final Rose Ladies Series 2022 event. The third year and the third visit to Bearwood Lakes. The owner admitted afterwards that the course hadn't been set up too easy and that was definitely the consensus amongst the player.
Brokenhurst Manor winner, Hayley Davis was aiming for an even-par round and that is exactly what she delivered. In the penultimate group behind Davis, Cara Gainer, who had had a very consistent Series, had a putt to force a play-off but it wasn't meant to be.
Davis secured her second win of the Series and now takes a lot of confidence into the season ahead. She told us:
"I just played really well, today. I know it's a tough course and the greens are tough. So, that sort of set the day up, I knew I needed to just make pars. I had my head really looking at level par and knew there were a couple of birdie chances coming in towards the last few holes. Just to keep myself in good position all day and I'd have a chance."
Now that the Rose Ladies Series is over, it's time to concentrate on the season ahead. Davis added:
"I've definitely been playing well for a while now and just working a bit harder. I've got a new putting coach and have been with my swing coach for a while. I'm just working on the same things now rather than trying to change things. I'm in a good place with my swing and my game and hopefully, I can take onto the LET and keep playing well."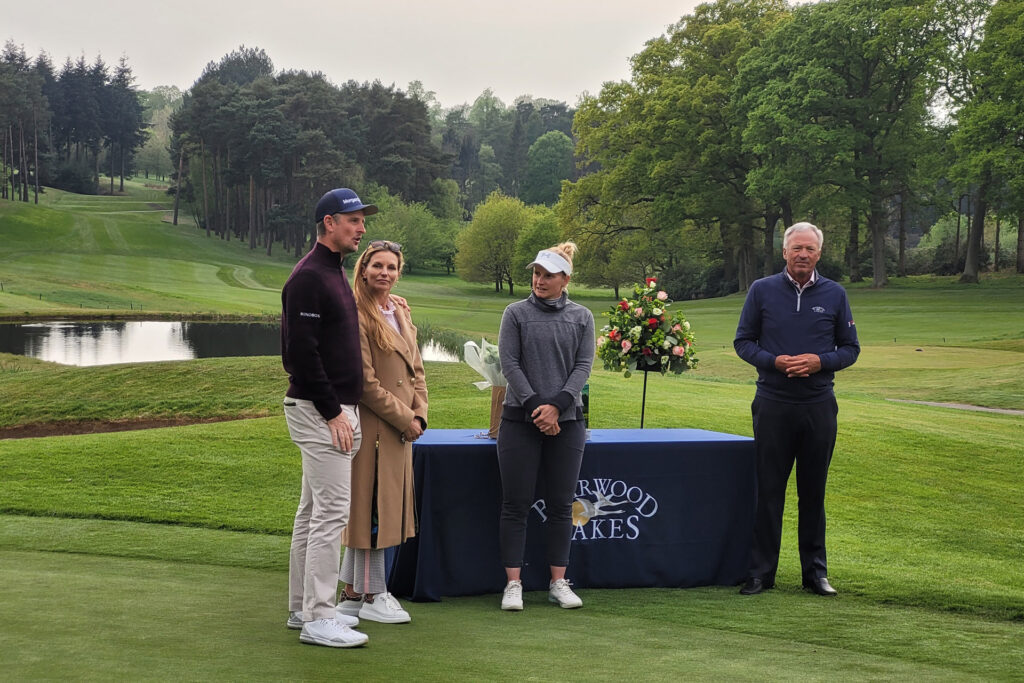 The future of the Rose Ladies Series
Like after the first two years, I hope to see the Rose Ladies Series return in 2023. There's no doubt in my mind that it is worth the time, effort and investment. It's single handily put women's professional golf on the map in the UK and if the doors can be opened, I am sure there's an appetite for spectators to attended as they did last year at JCB Golf & Country Club.
I didn't get a chance to ask Kate Rose about future plans but I would think the response would be similar to last year:
"We don't know where it's going in the future. It's really just running on an ad hoc, as-needed basis."
I hope they know that this Series is very much needed in the years to come.
View all the scoring from the Rose Ladies Series 2022 here.