Hayley Davis set the early pace and couldn't be caught at the third Rose Ladies Series event at Brokenhurst Manor
It was a gloriously sunny day at Brokenhurst Manor Golf Club on Wednesday as they played host to the third Rose Ladies Series event of 2022. The home course of Liz Young, the LET player who two years ago came up with an event idea that blossomed into the Rose Ladies Series.
It's not surprising that with the welcome return of the Series for a third year, Brokenhurst and their members were on hand to welcome the players for a third time.
A surprise third year
Young was obviously thrilled to see the 2022 series come together, after her round, she told me:
"I never thought it would go for three years. And every year, it seems to be bigger and better. The courses that we've played are fantastic. To have Sunningdale and Walton Heath on the list this year is great.
"We're just so grateful to have the support from the clubs and their members. The courses being given up to us at this time of year, especially with this lovely weather. Also, great to see more people watching, the Brokenhurst members were really behind us today.
"It was this time two years ago when my husband and I were like, this is going to be pretty bad if we don't have an income and wondering what we could do. Then speaking to Jason the pro here and now to have this is unbelievable.
"I really didn't think we were going to be doing it this year because obviously the LET and LET Access had got great schedules. But Paul and Excel suggested April as it's before the LET Access season fully gets underway and would work for players not travelling to LET events in Asia and Australia.
"I've been doing a lot of long haul with the LET recently so it's great to be back home for a couple of weeks, playing these Rose Ladies Series events before heading out to Madrid."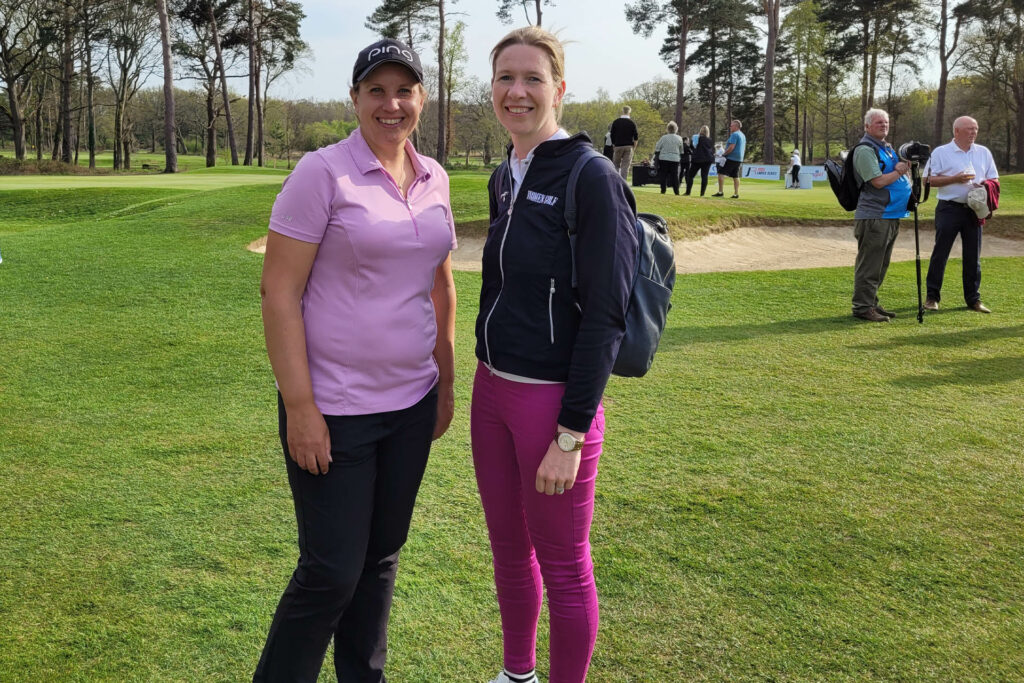 Ferndown favourite Davis set the early pace and won
The thirty-nine players who took to the fairways included a number of amateur invites including Luca Thompson who recently won the Hampshire Rose. As well as PGA Professionals, LET Access and LET tour players.
The day and £10,000 first prize belonged to LET player Hayley Davis. The Ferndown golfer was in the second group of the day and after being level par at the turn, she capitalised on some birdie opportunities to post a clubhouse lead of four-under-par.
Watch highlights from Brokenhurst Manor
Davis, who won the 93rd Roehampton Gold Cup just two weeks ago, commented on her form coming into this event:
"I've been playing really well. So, I was just looking forward to competing a bit more. Last week I played really well but just didn't really make all the putts. In one round it's quite hard, because if you miss a few you're already maybe out of contention.
"Today I played solid all day. I knew that if I just stayed patient out there, there was a few birdies on the way in which I made to be able to post a good score. Which was obviously good enough.
"I'm looking forward to Walton Heath as I haven't played there before and also Bearwood Lakes which I have played before and really like. Should be a good week."
Support for women's golf in the UK
It's safe to say that the Rose Ladies Series has become a part of the golf season, giving a springboard for professional golfers to gain some competitive experience at a time when they do not have as many playing opportunities.
The support is not lost on the players, with LET member Georgia Oboh adding:
"It's always been a great experience for me. And I'm really glad that the Rose Ladies Series is still continuing on even as we have more and more opportunities to play elsewhere. It's nice to know there's still a lot of support in the UK."
Just two events remain for this year's series – Walton Heath (Monday April 25) and Bearwood Lakes (Thursday April 28). We're looking forward to heading to Bearwood Lakes on Thursday to report from the final event.
See the full leaderboard from Rose Ladies Series – Brokenhurst Manor here.