17-year-old Rachel Gourley became the first amateur to win a Rose Ladies Series event at Walton Heath Golf Club
It's been quite the season already for England Golf U18 Girls National Squad player Rachel Gourley and we're only at the end of April!
The 17-year-old from Arcot Hall Golf Club, just north of Newcastle-under-Tyne, came into 2022 after winning the Justin Rose Telegraph Junior Golf Championship at Walton Heath Golf Club in October.
Back in March, with fellow England National Squad member Lottie Woad, Gourley entered the 88th edition of the Sunningdale Foursomes. This event traditionally opens the English season. Of the 128 pairs that entered Gourley and Woad were the only female pairing.
They won seven matches over five days, only playing the 18th hole once all week – winning their matches 6&5, 7&6, 3&1, 2up, 3&2, 2&1. In the final, the pair produced a dominant 6&5 win over professionals James Ruth and Paul Hendriksen.
After finishing runner-up at The Delamere Comboy Scratch Trophy, Gourley won the 36-hole Leveret Trophy at Formby Ladies Golf Club at the beginning of April.
Next stop was the Scottish Girls' Open Championship at Irvine Golf Club, contested over three rounds. Gourley had a tough battle on the final day but came out on top to win by two-shots.
Rose Ladies Series - Walton Heath Golf Club
Fast forward to Monday 25th April and the Rose Ladies Series penultimate event of the season at Walton Heath Golf Club. The first time that the series has been played at the Surrey golf club, hosts of the 2018 British Masters and the AIG Women's Open in 2023.
On hosting the Rose Ladies Series, Walton Heath Chief Executive Alex Woodward told Women & Golf:
"As a signatory of the Women in Golf Charter, Walton Heath is deeply committed to growing female participation in both the game and the industry as a whole. So, it is an honour to host the Rose Ladies Series at Walton Heath this year."
At each event at least two amateurs are invited to take part. Yesterday, there were six in the field.
It's hard to imagine how Gourley felt going out in the final group with legends of the game Dame Laura Davies and Trish Johnson but looking at her scorecard, she clearly wasn't fazed by it.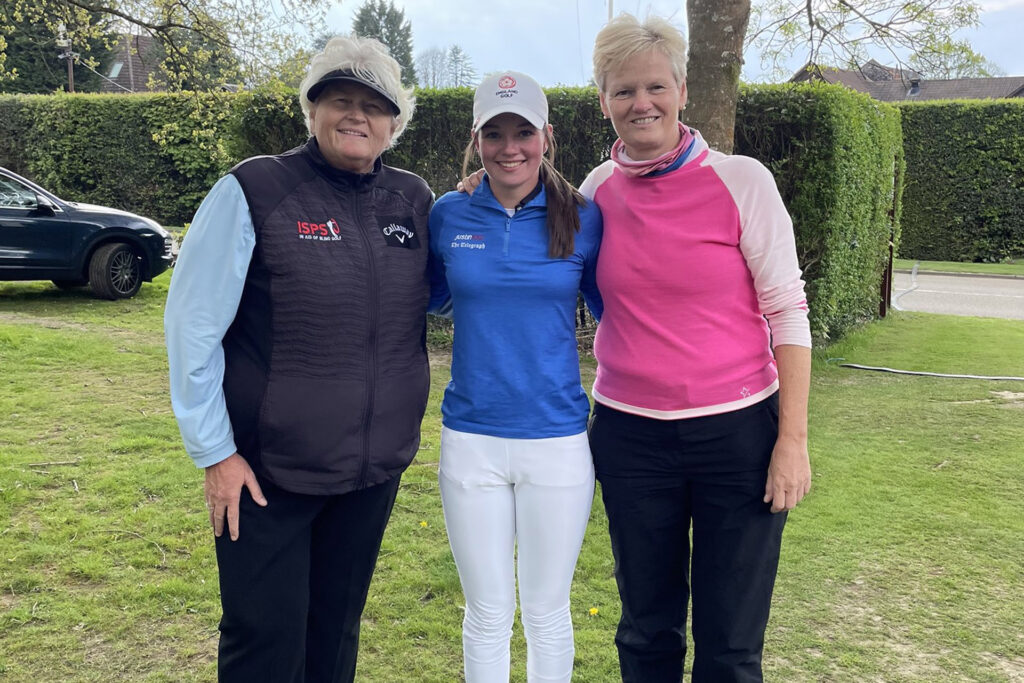 Pace set by early starters
As it had been at Brokenhurst Manor the week before, the pace was set by one of the early starters. Sharna Dutrieux, who was in the second group out, was four-under-par after eight holes. Unfortunately, this was followed by three bogies but she regained her composure and finished on a high with a birdie at the last. The clubhouse lead was set at two-under-par.
Only two groups behind, Cara Gainer joined Dutrieux at two-under-par, after a strong finish.
Last week's winner Hayley Davis also had a blistering round and was four-under-par heading to the final hole but a triple-bogey at the last ended her hopes of a back-to-back victory.
With six holes to play Gourley was on even par after an early eagle on five had been cancelled out by two bogies. By the 16th tee the +6 handicapper had drawn level and with two birdies on the final two holes, Gourley became the first amateur to win a Rose Ladies Series event.
We asked Gourley how she felt after winning her first professional event as an amateur, she said:
"It was such an amazing experience and to have won it is just an extra bonus. I didn't even know I had won it till I walked off the last green and my Mum told me! I still don't think it's quite sunk in!!"
We're certainly excited to see what the rest of the season has to hold for 17-year-old Gourley - exciting times ahead.
Just one event remains in the 2022 Rose Ladies Series as they head to Bearwood Lakes on Thursday, April 28.
For full scores from the Rose Ladies Series event at Walton Heath Golf Club - click here. Sky Sports Golf highlights to follow soon.