A LONG first day on the Old Course at St Andrews. Here are the main talking points from The 150th Open championship.
Today, the highly anticipated 150th playing of The Open Championship was finally here, delayed by a year due to Covid. The build-up has definitely felt like years in the making.
As Paul Lawrie hit the honorary first tee shot at 6:35am this morning – it was set to be an enthralling first round. Who would take advantage of the firmer fairways and calmer breeze but be able to deal with the trickier pin positions to counteract this advantage?
It wasn't necessarily the lowest scores that caused the most talking points today. So, we've picked five of the biggest stories of the day.
Amateur Barclay Brown
Teeing off in the second group this morning at 6:45am. Twenty-one-year-old Barclay Brown took to the fairways with Thai player Sadom Kaewkanjana and New Zealand's Ben Campbell. The English amateur from U.S. Open champion Matt Fitzpatrick's golf club Hallamshire had only qualified 10 days previously. In fact, he was inspired to play in Open Qualifying after watching Fitzpatrick win the U.S. Open.
Level-par after six holes, Brown then got into his groove and five birdies and one bogey later he was in the clubhouse, finishing in a tie for fourth after day one.
It's not surprising to hear he was feeling nervous ahead of his first Open appearance:
"I was unbelievably nervous at the start. And then once I got through the first couple of holes, it was nice to kind of calm down a little bit and hit some good shots and just get into it.
"When I saw the draw, I was saying it's not too bad because I'll probably be awake at 4.00am anyway playing the first day of The Open. So might as well be out playing golf rather than sitting twiddling my thumbs.
"I think amateurs are comfortable with it [links golf]. So many of the big events that we play, for all the UK players, links golf all year round. I think it helps us get more comfortable with it."
Ian Poulter's first tee shot
Ian Poulter was also off early this morning. After being met with some boos as he took to the tee, he narrowly missed hitting his opening tee shot out of bounds.
He then went on to par the first and after a bridie on six, holed a monster eagle putt on the ninth.
The 46-year-old finished at three-under-par and a share of 14th. Afterwards, all the questions were around the reception he had received on the first hole. The Englishman commented:
"I actually thought I had a great reception on the 1st tee, to be honest. All I heard was clapping. I have heard not one heckle. In three weeks, I've heard nothing
"I'm here to play golf. This could probably be my last Open Championship at St Andrews. So I'm trying to enjoy it despite the questioning. I'm staying out of the way. I'm not reading social media. I just want to play golf, right? I can only do my job. If I listen to a lot of nonsense, then I'm going to get distracted. That's never going to be good for me. I'll leave it to the clever people to figure stuff out, and I'll just play golf."
Tiger Woods and the divot debate
There were high hopes for Tiger Woods this week. Back at a venue where he had won twice before (200,2005). But he didn't get off to the start that most golf fans would have wanted. His tee shot settled in a divot, second in the burn and he walked off the green with a double-bogey.
The 46-year-old wasn't the first to fall foul of the numerous divots that are on the fairways on the Old Course at St Andrews. It ignited a divot debate but as always, failed to come to any reasonable conclusion.
Woods finished his round with a par but at six-over-par he has a nearly impossible job to do to make the cut at the 150th Open.
Why does the dress code still dominate the conversation at 150th Open?
The talk of dress codes seems to rear its ugly head a lot more in men's golf than it ever does in the women's game. Social media (in particular Twitter) seems to have turned into a place to critic whether the clothes that pros are wearing should be worn on a golf course.
Personally, I really do not see why it matters what other people are wearing. If you want to see golf as a progressive sport, why would you be bothered about a hoodie and jogger-style trousers?!
If you're offended by JT's outfit then I'd hate to think what you'd think when Robbie Williams rocks up in his new J.Lindeberg range which was launched at The 150th Open...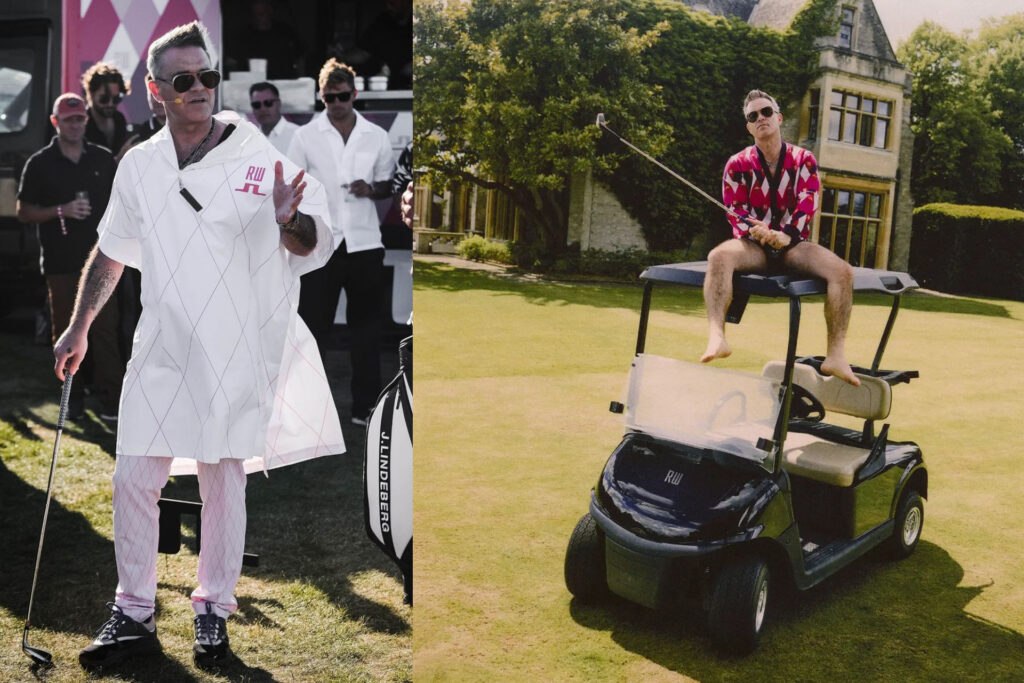 At least it affirms my belief that the colour pink definitely belongs in golf.
Cameron Young leads The 150th Open
Finally, to the player that made the biggest impression on the Old Course today. The American Cameron Young holds a two-shot lead heading into the second round. He was in the 11th group out today with home favourite Robert MacIntyre and South Korean K.H. Lee.
Young finished the third at the PGA Championship after making a cut in a major for the first time in his fourth attempt. He certainly looks like making the cut this week but is currently keeping his cards close to his chest:
"I think we worked our way around the golf course really well. I don't think that I played a perfect round of golf. I scored really well. And I think we thought our way around kind of the way you have to out there."
Asked why he wasn't excited about holding the first-round lead, the 25-year-old said:
"I think it's a pretty accurate representation of how I feel. I'm happy I shot 64. I'm happy that, as far as I know, I'm still leading The Open Championship, but it's not going to change how I feel an hour from now. I mean, it might change how I feel on the 1st tee a little bit tomorrow, but I'll forget about it very quickly."
View the full Open championship leaderboard here.