Editor Emma Ballard is here to plead the case for the colour pink in golf - not only is it popular, it's not just for girls.
We're all familiar with the term 'shrink it and pink it', it's a strategy that has often and still is used to market and produce products for women in which the existing product (usually made for a man) is simply made smaller and in pink.
If you venture onto a women's golf forum such as the Ladies Golf Lounge on Facebook, you will come across threads, every now and then, around marketing to women golfers. The opinions put across nearly always come back to why golf brands think it's acceptable to just 'shrink it and pink it'.
I'm here to argue the case that, although this may have happened in the past, this idea that this is the approach that golf brands make today is a little short-sighted. Pink in golf exists due to the demand for it from both women and men, with market research showing that the majority of women are drawn to more feminine colours, including pink, even if it isn't to every golfer's taste.
Pink for girls, blue for boys
In 1918 a U.S. trade publication Earnshaw's Infants' Department claimed the "generally accepted rule is pink for the boys, and blue for the girls. The reason is that pink, being a more decided and stronger colour, is more suitable for the boy, while blue, which is more delicate and dainty, is prettier for the girl."
It wasn't until post World War II that sex-specific clothing became more popular. There was some backlash in the 1960s and 70s where more gender-neutral colours and styles of clothing were worn. In Jo B. Paoletti's book - Pink and Blue: Telling the Boys from the Girls in America – she states that the ability to find out the sex of your baby before its birth led to gender-orientated clothing coming back into fashion in the 1980s. A trend that has continued to the present day.
The popularity of pink in golf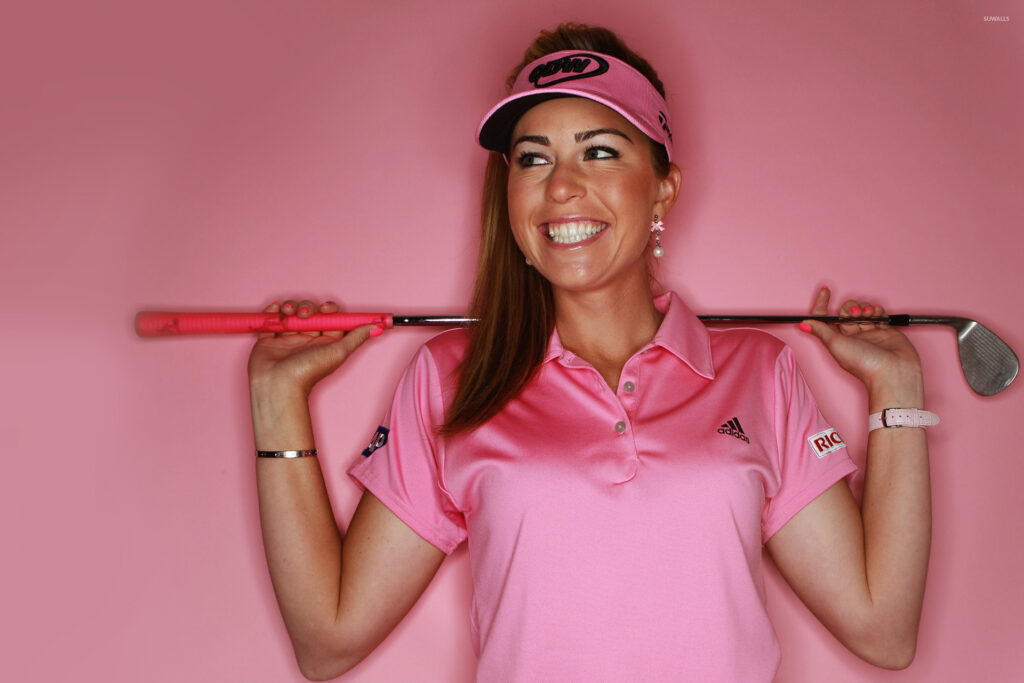 The colour pink really burst onto the golf scene in the early 2000s with the likes of Natalie Gulbis and Paula Creamer wearing the colour week in, week out on the LPGA Tour. It's not surprising as Creamer's nickname is the Pink Panther, which she had from her amateur days.
Splashes of pink are commonplace on tour, not just for the women. A lot of you will remember Bubba Watson winning the 2012 Masters using a pink-coloured Ping G20 driver. Plus do a quick Google search for 'pink golfer' and the first images you see are Jason Day, Ian Poulter and Brooks Koepka.
Fast forward to 2022 and pink is still not a colour to be ignored. Carolyn Pote from online retailer GolfGarb.co.uk explains:
"When it comes down to it pink is a very popular colour and, though we always provide the broadest spectrum of colours for our customers to choose from, our sales reflect that. There is of course a huge range of shades of pink so lots of tastes are catered for under the banner of this one colour.
"Everything from the lightest of pinks (and adidas golf's new collection - starting to arrive with us now - has an incredibly light touch of pink), to deep fuchsia and magentas are popular. Quite often pinks with a touch of peach to them are liked as something a little different."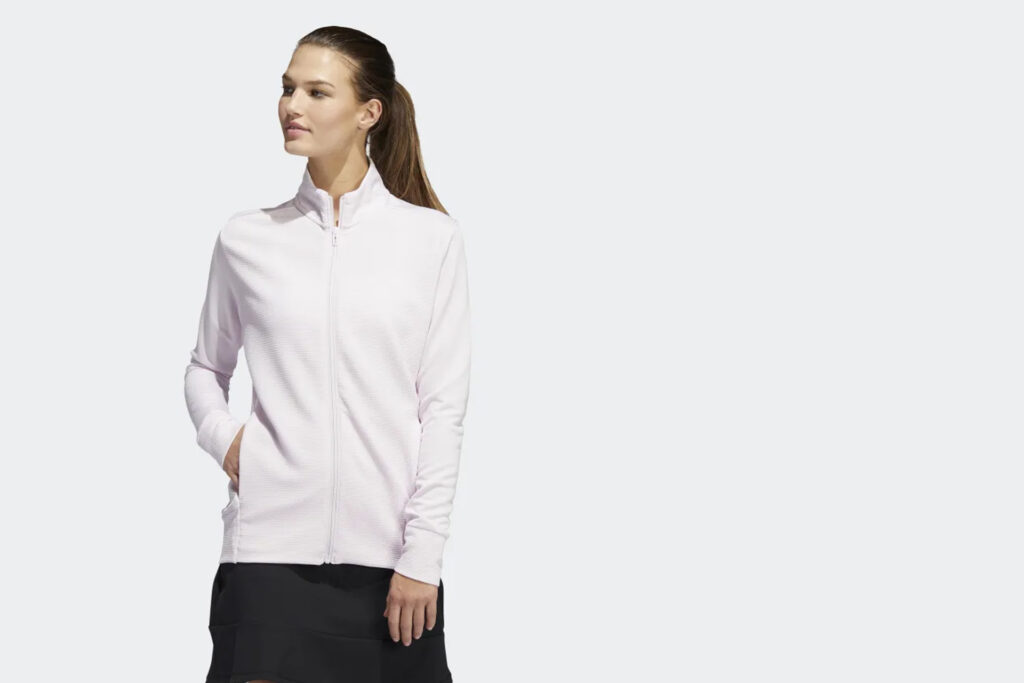 Annastasia Codd, owner of Golfingchix.co.uk, always finds that women are drawn to the colour pink, she says:
"From my experience of women buying clothes and accessories over the years. When purchasing my different collections, I will always have at least one if not two pink options from each collection that always sell out, so there is definitely a market for pink within the industry.
"I also find that women seem to be drawn to the colour pink when it's on a clothes rail amongst other colour options.
"Some people may have the impression that to wear pink you need to be head to toe pink, but actually a lot of ladies will mix and match their outfit which will have pink within it or coordinate with the rest of the outfit."
SurprizeShop conducted focus groups in October 2021 so that they could understand their customers more. Through this process, they met some women who for them pink was part of their personality and as a company pink has always been a popular colour choice.
Alternatives to pink – what about hardware?
Caitlin Farley, Manager – Product Marketing at Cobra, told Women & Golf that the brand has been a leader in offering different colour combinations, not just for women but for men too. In the new LTDx range there are two colour options for men and rather than pigeonholing women into choosing one of those colourways, they have a colour option for women. However, Caitlin says "as a low handicap golfer, I generally play men's colourway, which doesn't bother me."
But pink isn't on their agenda:
"We have done research with women. We've been trying to get away from the bright pinks and the bright blues, because these are not as refined of a colourway, and it can be off putting to some women. We've gone down the road of more of the rose gold feel, looking at what other statement pieces and accessories women buy. So that we can offer a more understated and refined colourway option that they can buy, if that suits their taste, and if that's what they think helps give them more confidence and to make a statement in their bag."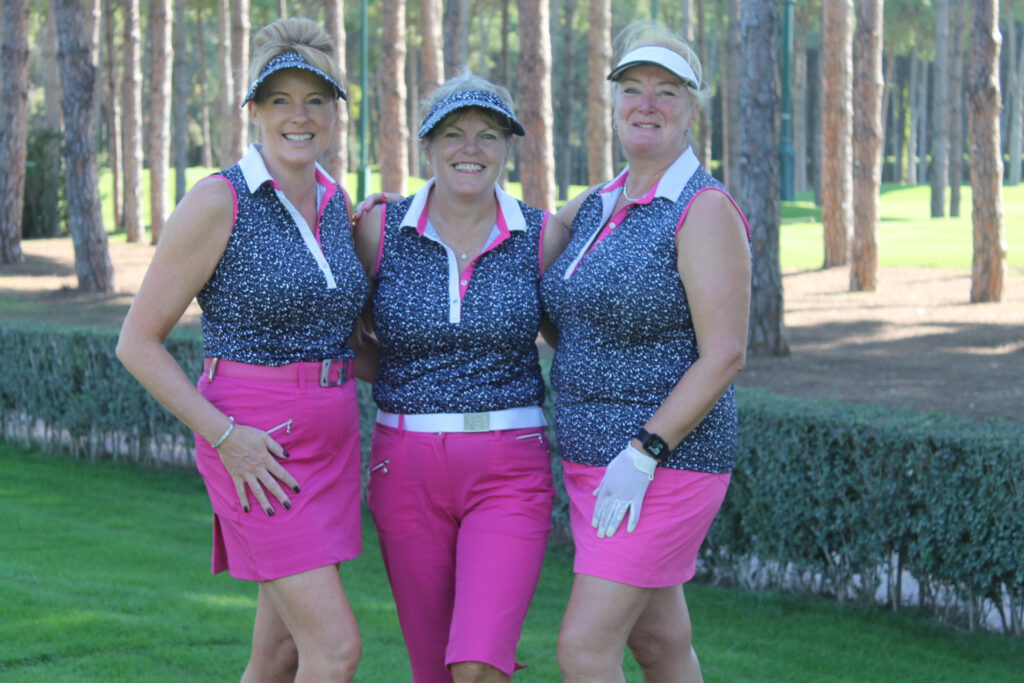 Although pink is a colour that will appear in a lot of women's golf wardrobes, it isn't the most popular.
"Ignoring anything monochrome the overall winner is of course navy, but I would say alongside the pinks, blues, in general, are equally popular, including the aqua tones.
"Other colours of note are berry shades and to an extent teal for the colder seasons, though berry is popular all year round," says Carolyn.
"With our new PURE essential colour range sales, the most popular colour has been navy, followed by light blue and lilac - a bit of a curveball for us as the stronger colours tend to look better in imagery and therefore sell better," adds Isabelle England from SurprizeShop.
Pink also works well as a complimentary colour, Annastasia explains:
"Quite often Golf Club teams will order pink polo shirts as a team colour not just because it's pink, but usually it's because the shade of pink stands out and will co-ordinate with different colour bottoms navy, white, black etc."
Let's not forget the boys
Disruptive golf brand Bunker Mentality has always been bold on colour and has never shied away from the fact that men can wear pink too. Here's the Tee Peg Polo in hot pink for SS22.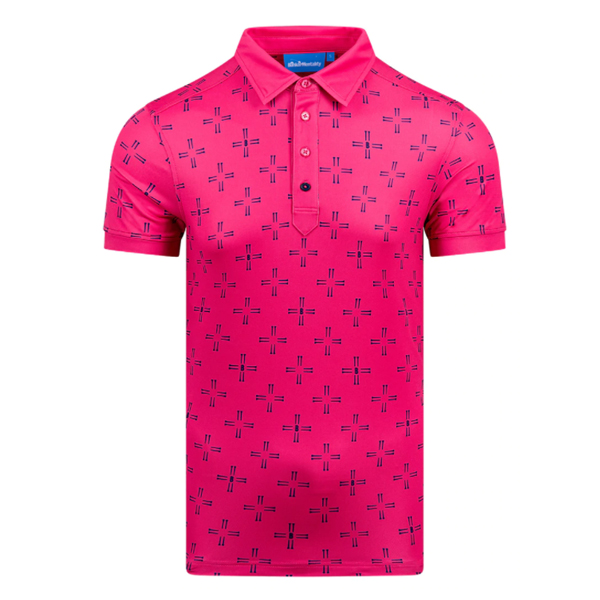 Even more traditional brands such as FootJoy are embracing pink tones, with quartz pink as one of their colours this season.
These are just two examples, but as already mentioned, pink has long been popular amongst the professional ranks.
The versatility of pink
Regardless of any of our opinions on the colour pink, both Carolyn and Annastasia are in agreement about why it is a great colour to wear. Annastasia says:
"Another reason women purchase pink is that most women suit the colour no matter what their hair or skin colour, making it a versatile colour when thinking about a cross section of women."
"When you think about which colours sit well on the broad spectrum of skin tones, pink and blue really are the kindest," adds Carolyn.
I believe it's evident that the colour and style options have grown beyond the 'shrink it and pink it' days, which now offers women a broader range of choice when it comes to clothing and clubs. You don't have to settle for pink if you don't want to.
So, there you have it, my case for the colour pink in golf. Although I will accept that it is a marmite colour, it does have its place in golf, and I'm pleased to know that it won't be leaving the fairways any time soon.
What are your thoughts on the colour pink in golf? Let me know by dropping me an email [email protected]