Our Editor Harriet Shephard tried out the Samsung Galaxy Watch Active2 both on AND off the course.
First impressions
I really liked the look of the Samsung Galaxy Watch Active2 before I'd even opened the box.
Pink and white, it's cool and chunky but not SO big that you feel like you're carrying around a lead weight on your wrist.
It's also very clear to read, and once I discovered the rotating jazzy watch faces... well, my day was made.
That said, I know a lot of ladies are frustrated by the whole 'women love pink' stereotype, and I also found that it clashed with my (admittedly a bit scruffy) red, white and black glove.
If Samsung switch the pink for grey or silver I think it would look just as good and go with more things. That's just my opinion though!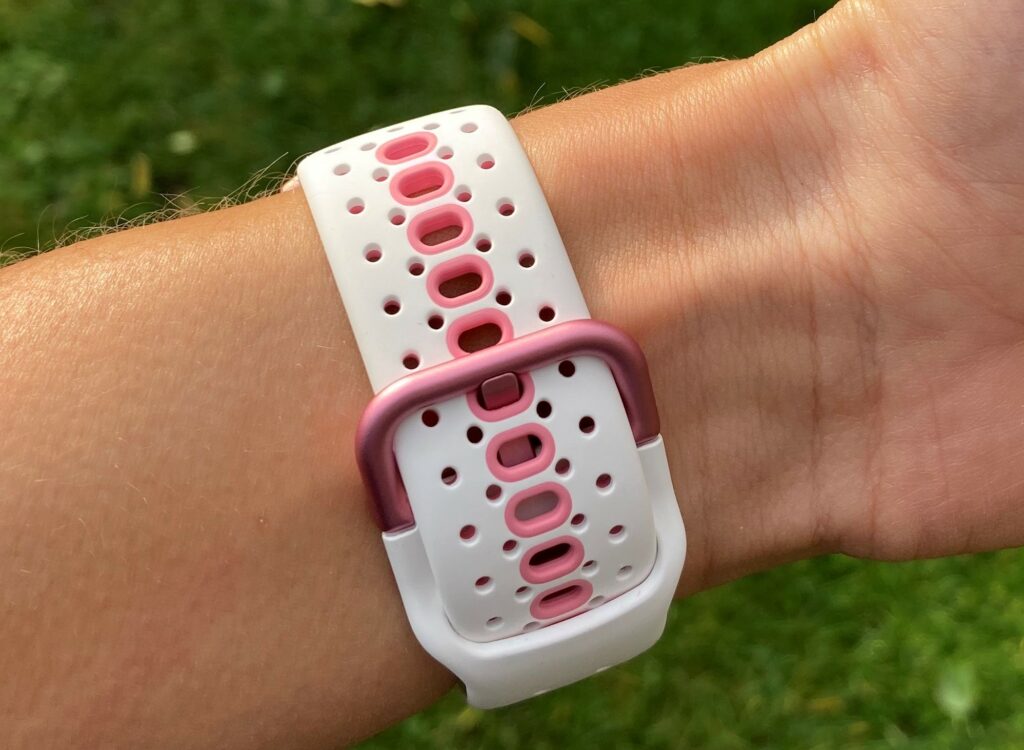 The set up
Technology has been known to get the better of me at times, so I was expecting the set up process to be a long one.
Indeed, it's fair to say that it turned out to be a bit of a palava.
I downloaded the super comprehensive User Manual to help me work out how to charge it up, download the Galaxy Watch app, create a Samsung account and activate the Smart Caddie application (normally £76 by itself!).
At this point I thought I'd cracked it, but then realised I also needed to login to the Golfwith GPS app. I probably did all the above in the wrong order, but once I was logged into everything I needed, it was really easy.
When you first turn it on there's a quick step-by-step tutorial showing you how to move through the functions by swiping or using the rotating touch bezel - this lets you move through the different apps, holes and functions by moving your finger along the edge of the watch.
Plus, when you reach the first tee and the watch buzzes into life, there's also a step-by-step guide to what all the numbers on the golf homepage mean and how you read the maps.
It's also comfortable to wear, and I love how the end of the strap can be tucked under so it's not flapping about or getting in the way.
The last thing I need is something else to think about when I'm trying not to make a mess of hitting the ball...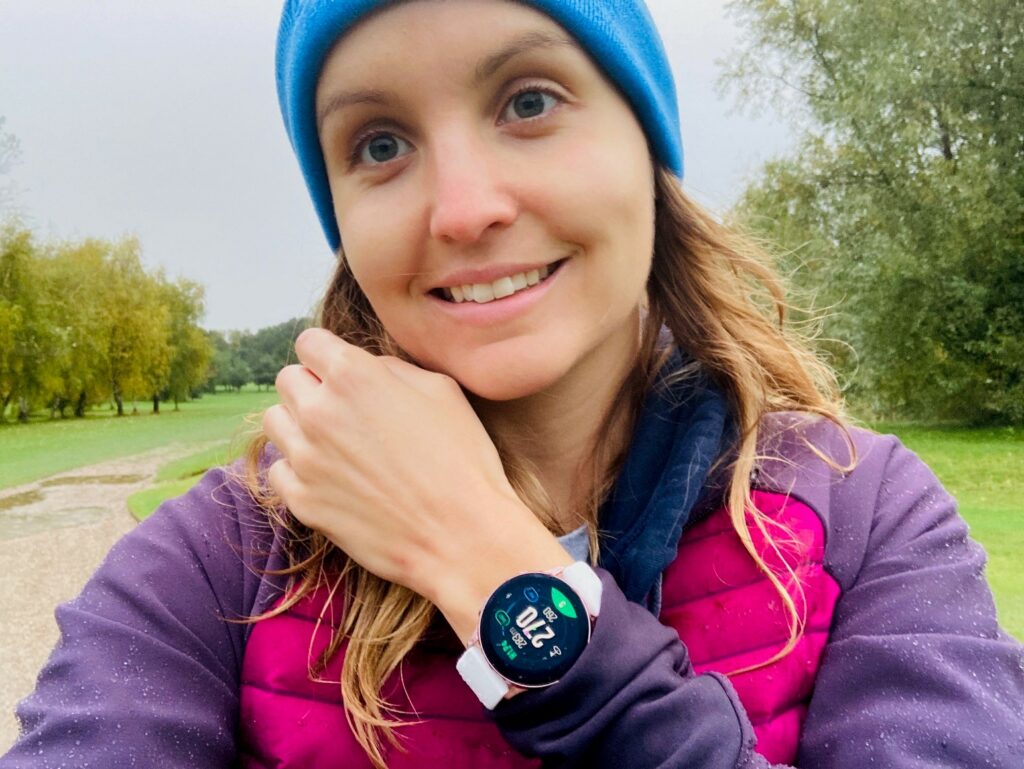 On the course
Of course, how the watch actually performs when you actually get out on the fairways is the most important bit.
With access to 40,000 courses all around the world, I was amazed to see how many countries are covered as I scrolled all the way down to select the United Kingdom.
It certainly left me feeling rest assured that, when ever and where ever I go on holiday next, this little beauty will have me 100 percent covered.
Then, when I selected 'Nearby', sure enough all the courses in my local area popped up. I could then add my home club and any others I know I'm likely to play soon to my 'Favourites' section.
Then, once the course I was playing was selected, updated and ready to go, up popped a message telling that the watch would vibrate when I was ready to go to the tee box.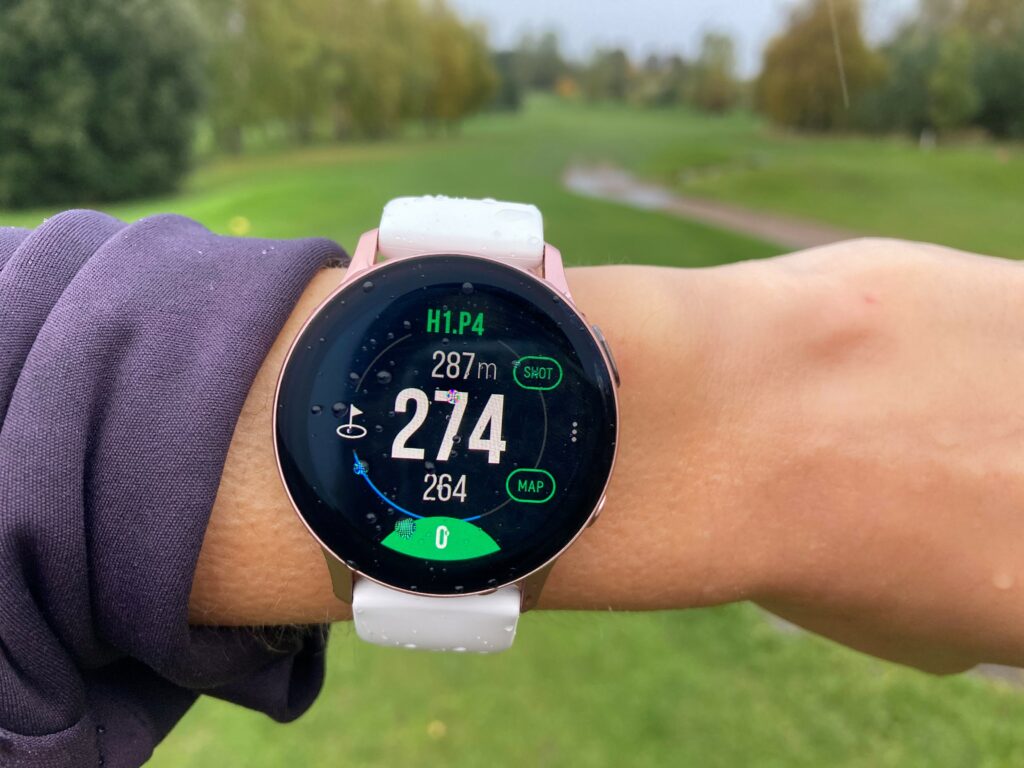 Sure enough, when I was just yards away from teeing up, the watch suddenly burst into life and up popped the front, middle and back distances of the first hole, plus its par and space for my score.
Then when I clicked on map I could see the hole in its entirety. This map can be viewed as a graphic (my preference as I found it easier to see) or as a satellite image.
I'll be honest, I'm not an expert or competitive golfer, but I still found being able to track my distances and how far I can hit the ball with each club excpetionally helpful.
Now, all I need to do is be more consistent with hitting it the same distance every time!
Easy...
It also tracks how many shots you've taken as you go along, and basically makes the whole act of playing the game immeasurably easier.
I've used range finders before that were SO much faff and just not worth the hassle. But with this all I needed to do was give it a quick glance before every shot and I was off.
Plus, if you're not a fan of having something around your wrist, you can always hang it on your golf bag instead.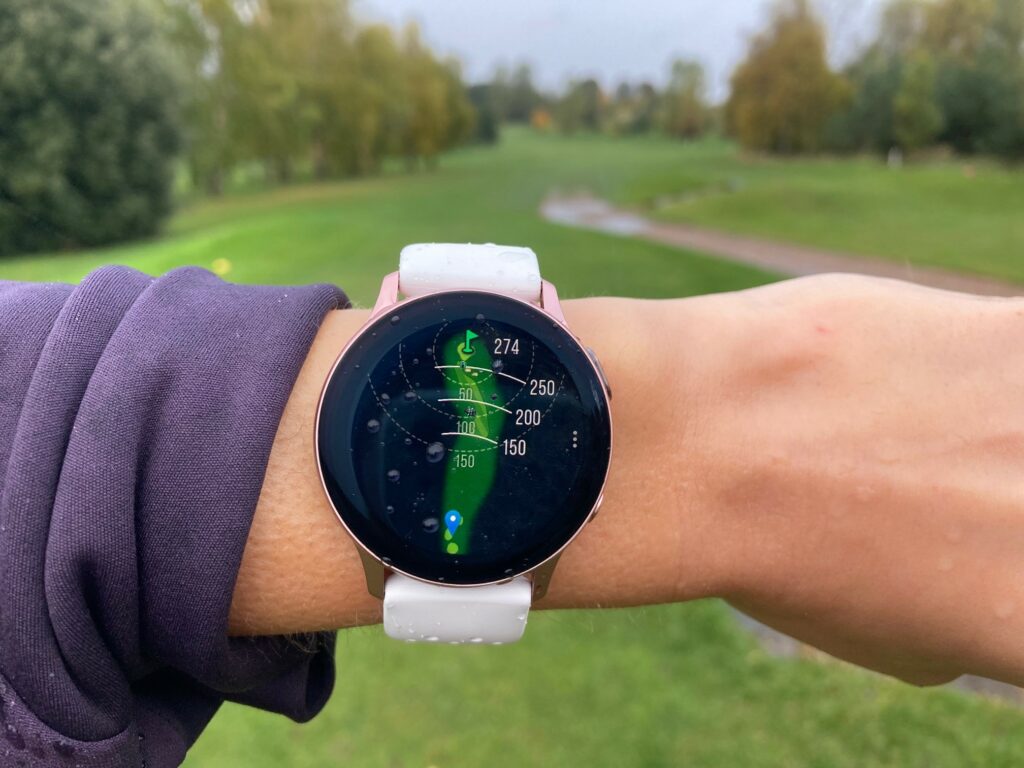 I used it on a typically soggy October day, so I can also confirm that it can survive heavy rain showers.
While at first I felt like I needed a whole manual just to workout how to turn the damn thing on and charge it, by the end of my first round with the Samsung Galaxy Watch Active2, I couldn't imagine how I ever played without it and it was so straightforward to use.
Off the course
"But isn't this a golf watch?"
Is what you're probably thinking to yourself right now.
Well yes, but also, not really.
Believe me, you will want to wear this watch ALL the time, not just when you're on the course.
If it wasn't for the camera and actually ringing people, it basically makes your phone redundant.
Not only does it tell you the weather but it can also be linked to your contact list and other applications, but to be honest I found the vibrating every time I got an Instagram notification or something equally unimportant to be a bit annoying.
The golf course is perhaps one of the places I get to be 'offline' for a bit and I want to keep it that way, but that's just me.
I got a lot of satisfaction from seeing my step count mount up in the Health app and it also records any kind of exercise, not just the steps you take when you're on the course.
This is a HUGE benefit in my opinion.
Lots of us golfers are active types, and on this nifty bit of equipment you can track runs, bike rides, swims, arm curls and basically any other cardio or strength workout you can imagine.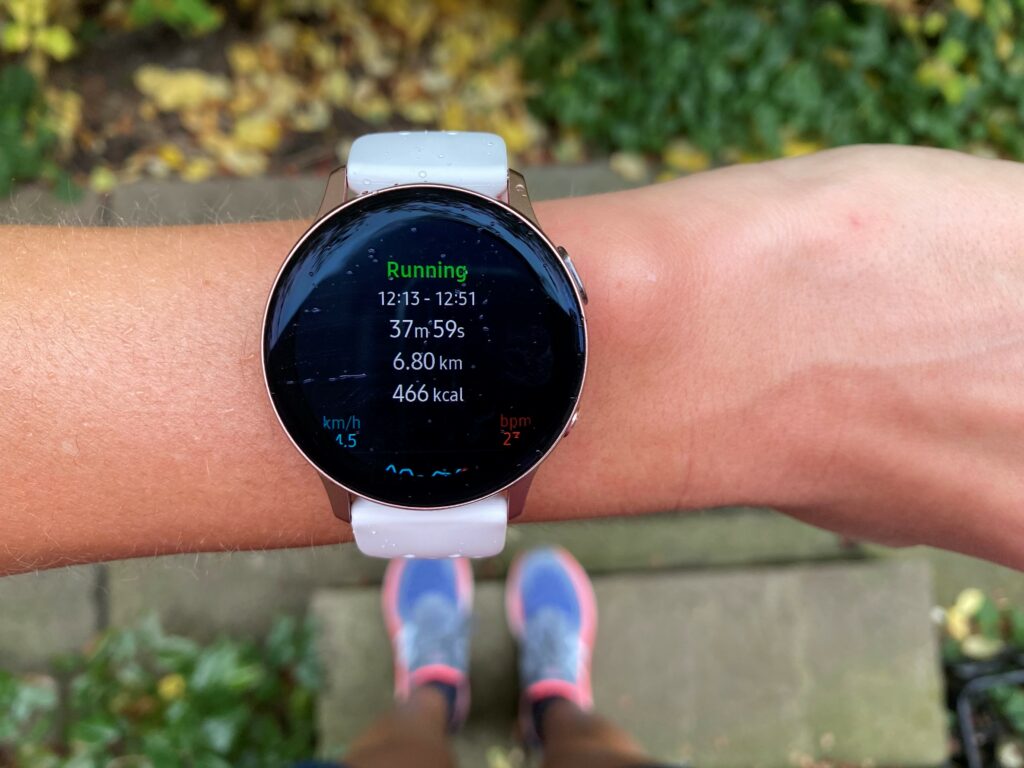 I tried it out on a run too, and it was so comfy to wear even whilst getting a sweat on. On top of that I got the added satisfaction of knowing my pace (read out at every kilometre) and how many calories I'd burnt.
It definitely further justifies the £319.99 price tag, especially if you're a casual golfer or unfortunate to be an area where golf courses are closed at the moment.
It turns out I like my golf watches like I like my golf clothing; versatile and just as fun off the course as on it.
So, if you're considering purchasing a golf watch this winter, I'd highly recommend splashing out on the Samsung Galaxy Watch Active2.
You'll soon feel like you've got your money's worth, especially if you're using it off the course too.
Plus, the best news is that Women & Golf readers get 10 percent off using the code WOMENANDGOLF at the checkout.
Buy yours and find out more at www.golfbuddy.co.uk.

Final Score
If you want a versatile golf watch that also tracks your workouts, step count and calories burnt, this nifty bit of gear is well worth your hard-earned money.
Price: £319.99 Buy: www.golfbuddy.co.uk