Editor Emma Ballard has a first look and review of the Blue Tees Series 3 MAX rangefinder.
Golf Rangefinders are now attached to most golf bags on the golf course, if not a handheld one, then a watch or inbuilt measuring device. There is a large choice and range on offer, with something to suit every desire and budget.
Recently we were sent a Blue Tees Series 3 MAX rangefinder. Blue Tees, although well established in the US market are relatively new here in the UK.
Blue Tees Series 3 MAX - What's in the Box?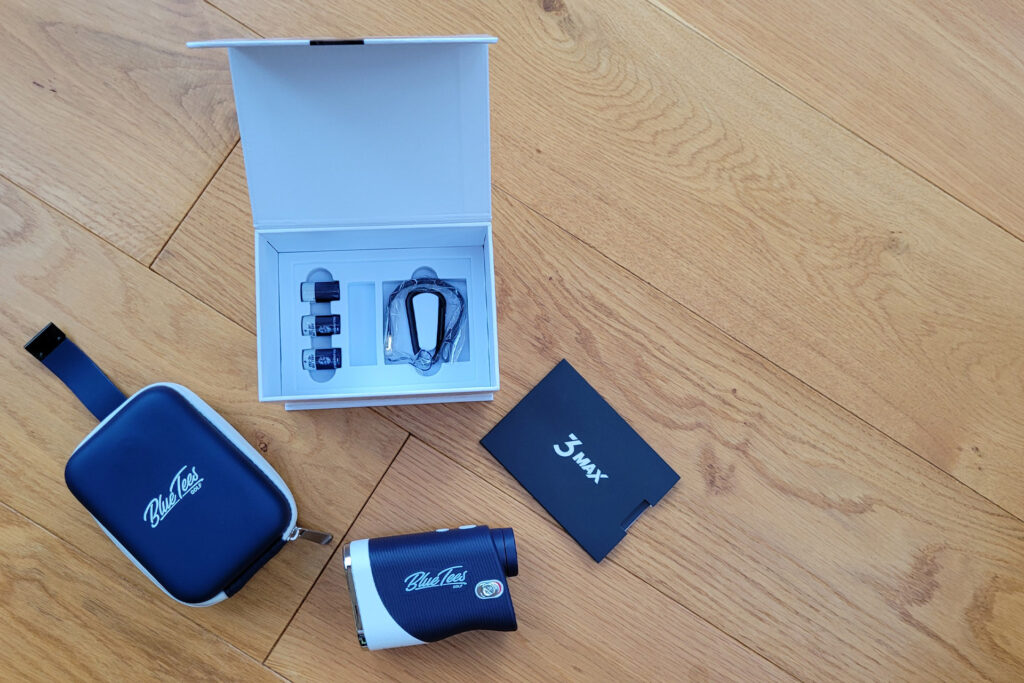 Included in the box...
Blue Tees Series 3 MAX rangefinder
Blue Tees carry case
Instruction manual, including sticker and cleaning cloth
3 x CR2-3V batteries
Carabiner clip
Lanyard
The Series 3 MAX is packaged with an attention to detail, all very compact and the amount of excess packaging is minimal. The attention to detail continues to the look of the product as well.
Blue Tees Series 3 MAX - Looks
Nothing has been overlooked with the design of the Blue Tees Series 3 MAX. The navy with contrast white colouring is carried throughout the rangefinder. The branding is also strong, even having the Blue Tees logo on the batteries.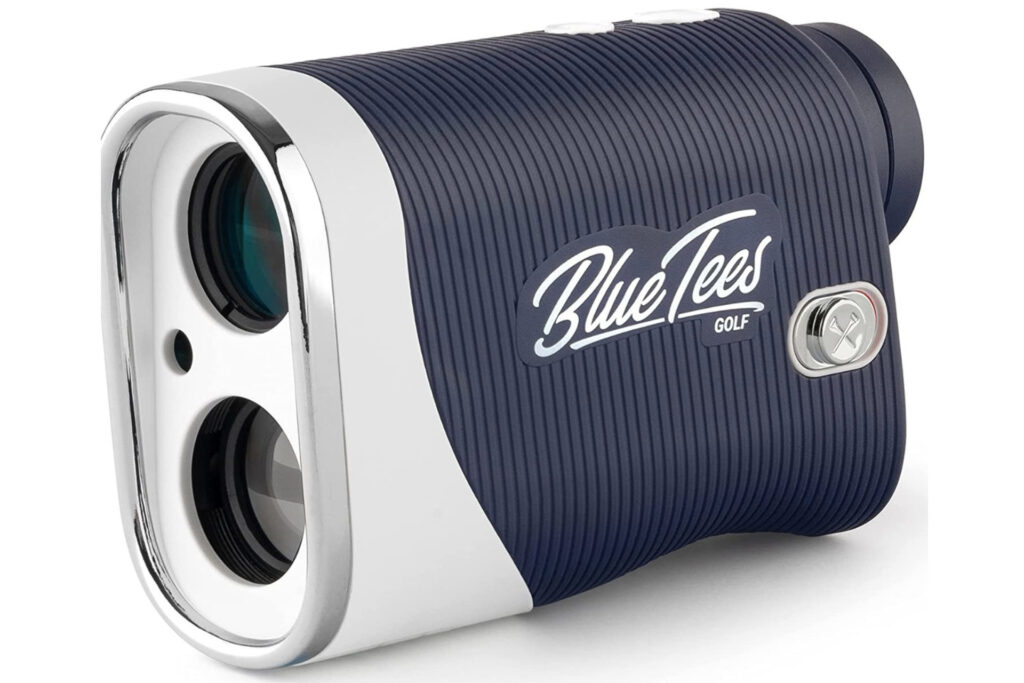 The ribbed textured finish looks smart and the silver detailing around the lens is a really nice touch. If you were giving marks for looks alone it would be a 10.
Blue Tees Series 3 MAX - Practicalities
The Series 3 MAX comes with a sturdy carry case that can be attached easily to your bag. If you're someone who uses a cart, then there is a handy magnetic strip which will attach safely to the frame. If you'd rather attach it to yourself then you have a couple of options there too. I opted for keeping it in its case and attached to my bag. The case is elasticated so you can leave it open if you would like.
Blue Tees Series 3 MAX - Performance
Features of the Series 3 MAX:
Focus the eyepiece by rotating the focus ring clockwise or anticlockwise.
Two modes - Golf and Scan - golf mode calculates the beeline distance, adjusted slope distance and angle value whilst with scan mode you will see the data on the LCD screen change as you move the rangefinder.
Auto Ambient display - automatically changes the display colour based on the environment. in light environments, the display will show black. In dark environments the display will show red.
Slope Distance Control Technology - Slope Technology provides the golfer with elevation-adjusted distances to the hole. Instead of a straight-line distance to the target, slope technology instantly calculates what the uphill or downhill position means in terms of yeards/metres. E.g. A 156 yard, 7 degree uphill shot really played at 176.8 years, 20 yards longer than a straight-line distance.
Slope Switch - this can be switched off so that it can be used in competitions.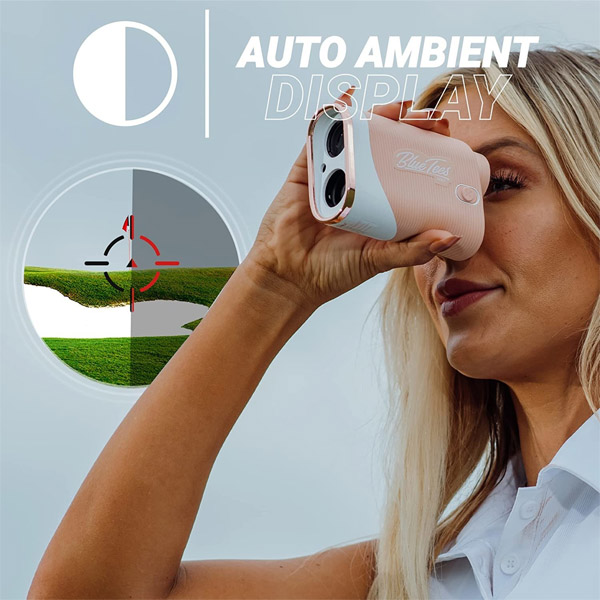 I love how easy it is to use the Series 3 MAX rangefinder. There is an instruction manual included which gives you all the information you need to know but you don't even need to read this to get started.
It takes seconds to lock in your target and you have all the information you need to help select the correct club for your next shot.
Here's Emma takes you through the Blue Tee Series 3 Max Rangefinder features
Final Score
Overall I love the Blue Tees Series 3 MAX rangefinder and it was really hard to find any negatives. The view finder is very clear and it is easy to switch between modes and lock in your target. The scan mode is really useful and gives you the ability to sweep the fairways and hazards to assess distances.  I don't believe I'm a good enough golfer to benefit from all the features just yet but it's a great range finder for all levels of golfer.
Price - £199.99 RRP - which is an extremely competitive price in this category. Plus you have a 60-day money-back guarantee.