If you're looking for a destination that has everything - fantastic golf courses, great food, amazing accommodation then look no further than Costa Navarino...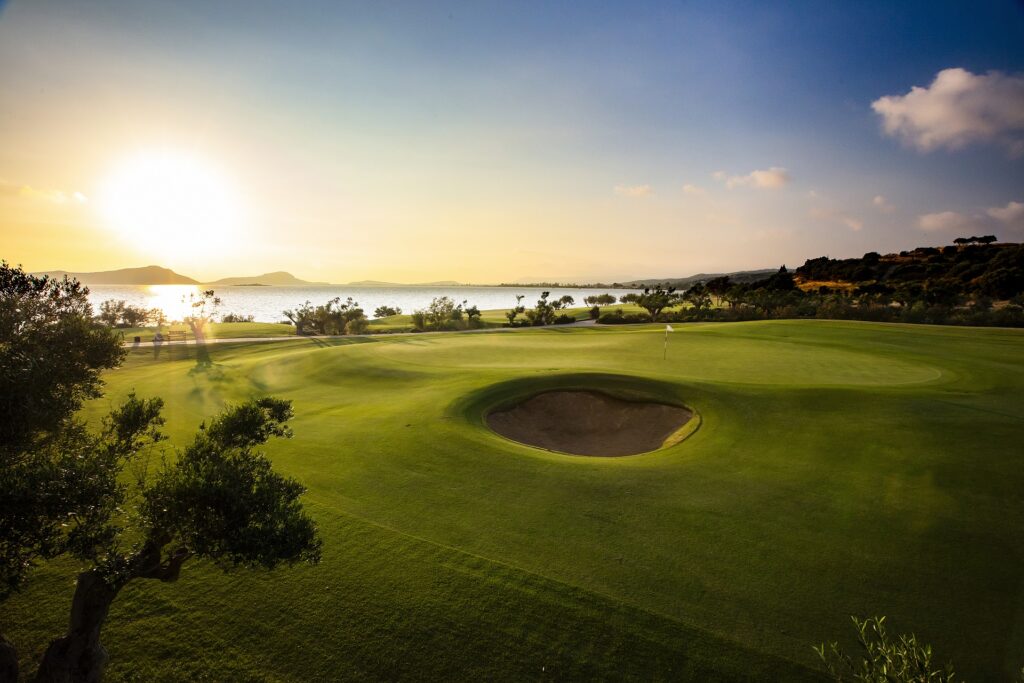 Costa Navarino is a labour of love, born in the heart of one man, Captain Vassilis Constantakopoulos, whose vision was to promote, preserve and help bring prosperity to Messinia, his homeland by placing it on the world tourism map.
Over the last 10 years, Costa Navarino in Greece has steadily raised its profile as a prime, sustainable destination in the Mediterranean by additionally offering a world-class golf experience on the four signature golf courses.
Its credentials are impressive: four 18-hole signature courses in idyllic settings next to three of the finest five-star hotels in Greece, outstanding resort facilities, a virtually endless choice of other sports and activities, plus great weather all year round… to name just a few.
Women & Golf's Jane has been waiting two years to make the trip with her golfing group. Was it worth the wait and was it possible to experience all that Costa Navarino has to offer?
Welcome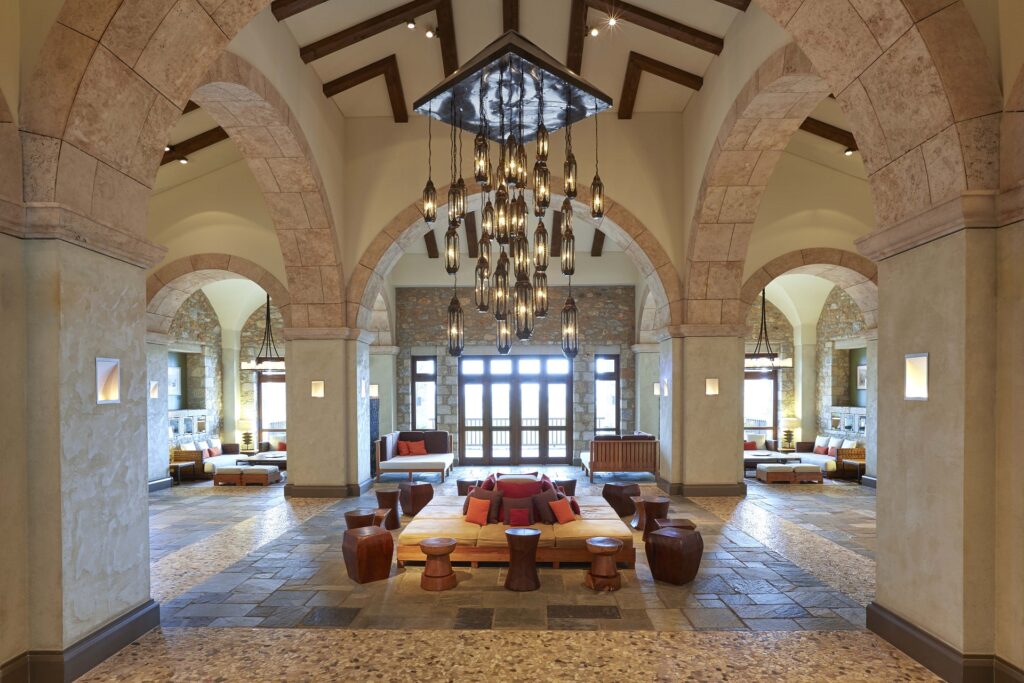 The first thing that strikes you about the resort is the friendliness of the staff. From the moment we arrived our luggage and golf bags were looked after by the porters at the entrance allowing us to check in unencumbered.
We were staying at The Westin Resort, with the Romanos (A Luxury Collection Resort) down the road. The W Costa Navarino was just in the process of opening and the Mandarin Oriental and Navarino Agora are on track to open in 2023. So much going on, plus a whole host of residences being built (so you can actually own a place on-site - something to consider if you win the lottery!).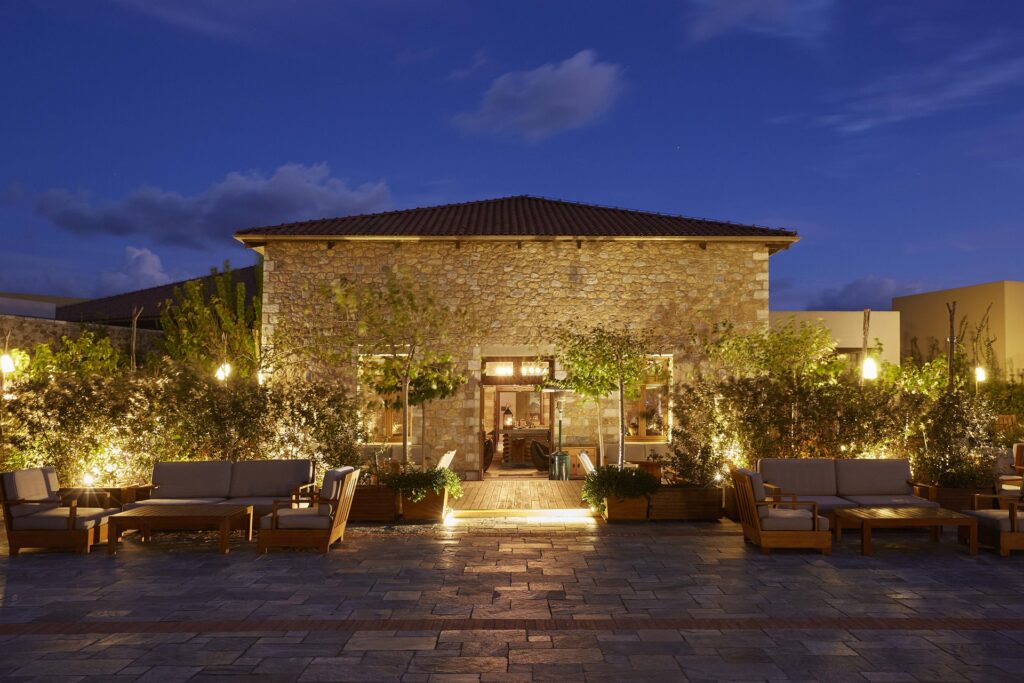 A short check-in process allowed us to have a quick peek at the lobby and outside views, give the porters our room numbers, and head off for a well-earned drink at the 1827 bar!
Many of the names within the complex hark back to the history of the area of Messinia which is a nice touch.
Point to note: it's a BIG resort so don't forget to download the resort map onto your phone on the first day.
Accommodation
There is a huge choice of accommodation - take your pick from:
The Romanos, a Luxury Collection Resort - 321 rooms, suites and villas, 128 infinity pools
The Westin Resort - 445 rooms and suites, Family suites and connecting room options, 131 infinity pools
W Costa Navarino - 246 villas, suites, and rooms
Mandarin Oriental - Opening Spring 2023 - 48 spacious earth-sheltered pool villas, 51 guest rooms
We stayed in The Westin Resort in one of the Deluxe rooms overlooking the gardens. Pool views are also available - check on booking.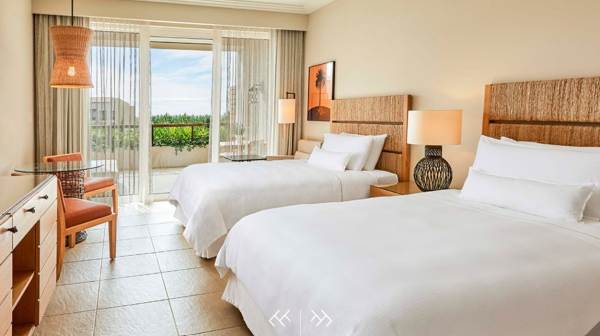 The room size is substantial with sleeping and seated area.
We were on the ground floor so had a terrace area outside with chairs & table. There are various bed options: 1 King Bed + 1 Single Sofa Bed or 2 Single Beds + 1 Single Sofa Bed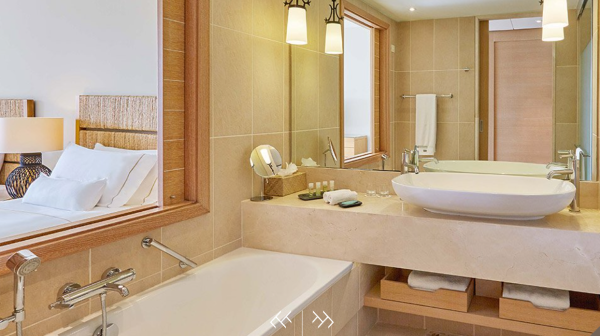 The ample-sized bathroom included large bath and walk-in shower with rain shower, sumptuous bathrobes, towels & toiletries.
Food
With 14 restaurants, 4 bars and lounges as well as 3 pool bars, Navarino Dunes ensures a fine dining experience. A wealth of fresh, organically grown ingredients along with a devotion to authentic gourmet cuisine define the culinary experience at Costa Navarino.

Costa Navarino 2022
We really were spoilt for choice where dining was concerned.
A stunning variety of more than 20 exclusive venues. These take fine dining in the Peloponnese, Greece to new heights.
A great location - Barbouni
Healthy sandwiches, freshly caught fish, grilled meat and signature delicacies complemented by chilled Greek wines and refreshments. A mesmerizing moving roof and the Ionian Sea view create a unique beachside spot for lunch and sunset dinner.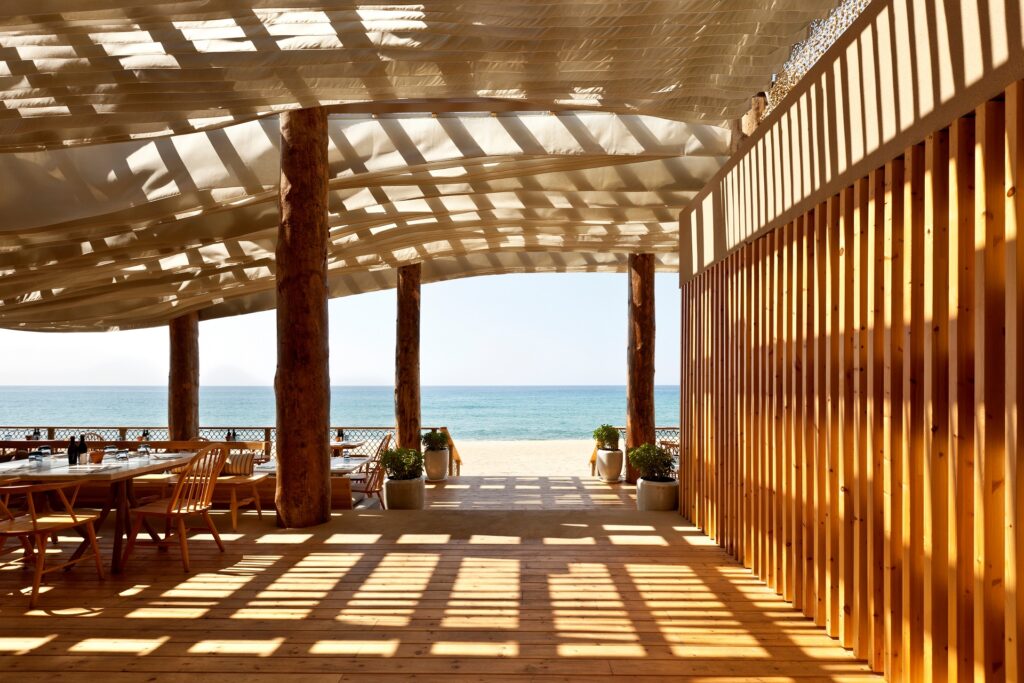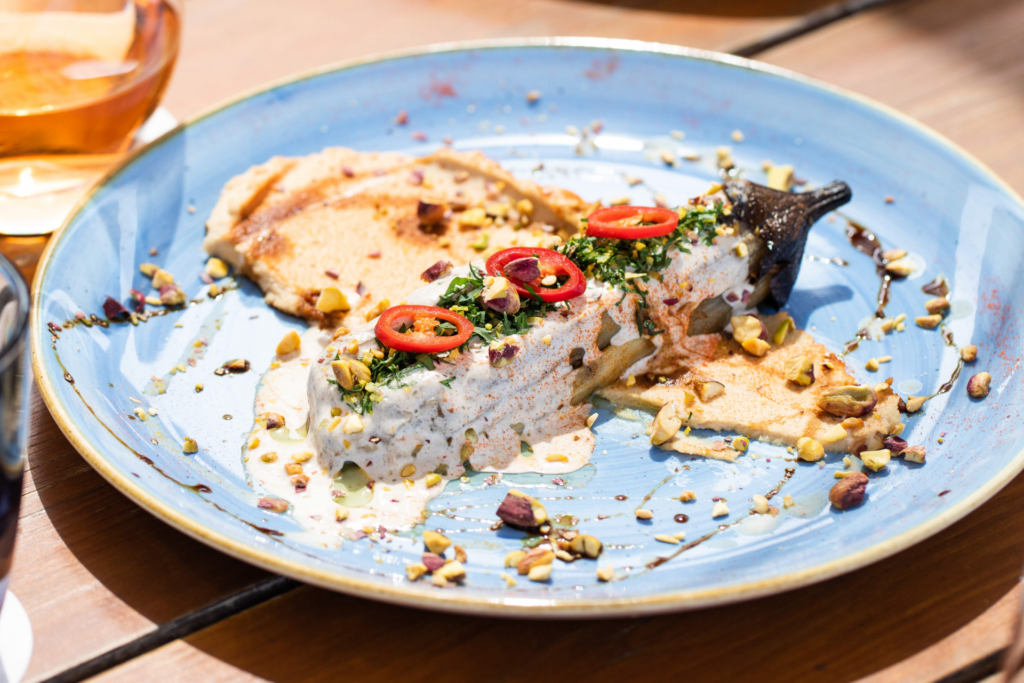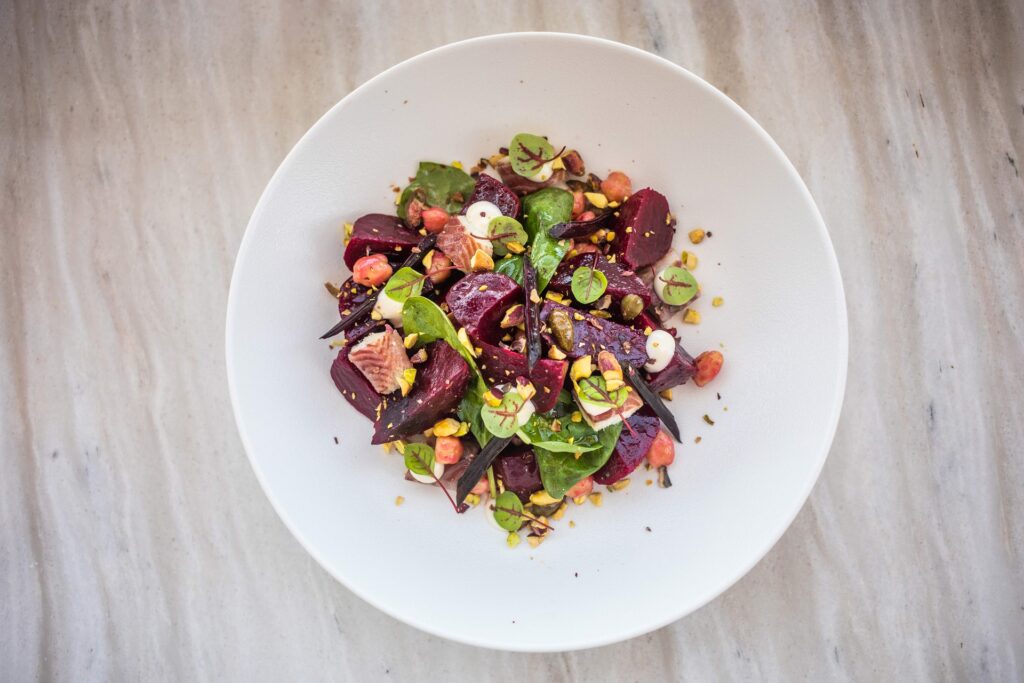 The Barbouni restaurant closes at sunset as part of the Caretta protection program that Costa Navarino has implemented in cooperation with Archelon, the Sea Turtle Protection Society of Greece. Any lights would deter the turtles from leaving the sea to build their nests on the beach, as they have been doing for thousands of years, and would also disorient hatchlings as they attempted to reach the sea for the first time.

A safe haven for sea turtles
Our favourite - Kooc
Fusion meets traditional homemade Messinian dishes and scents to form an inspired dining harmony by Chef Giannis Parikos.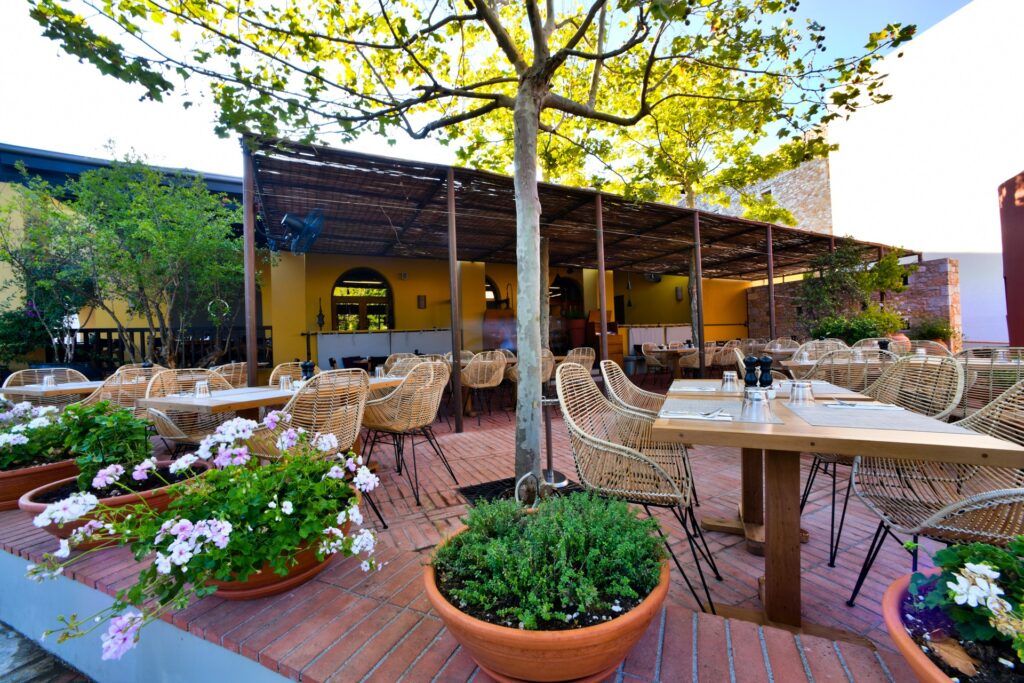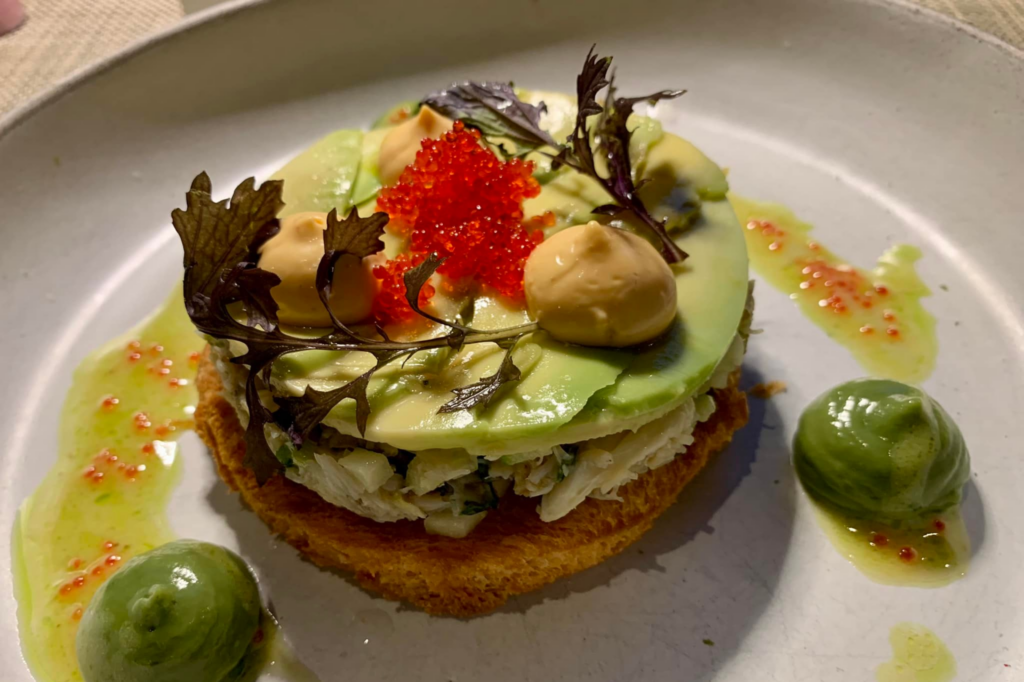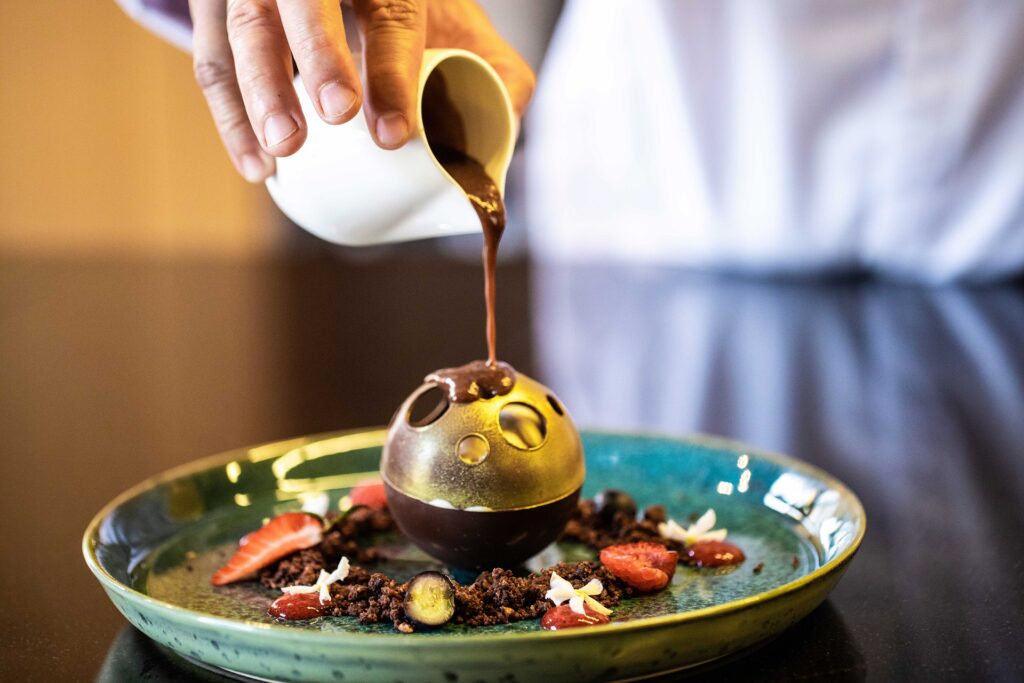 Other highlights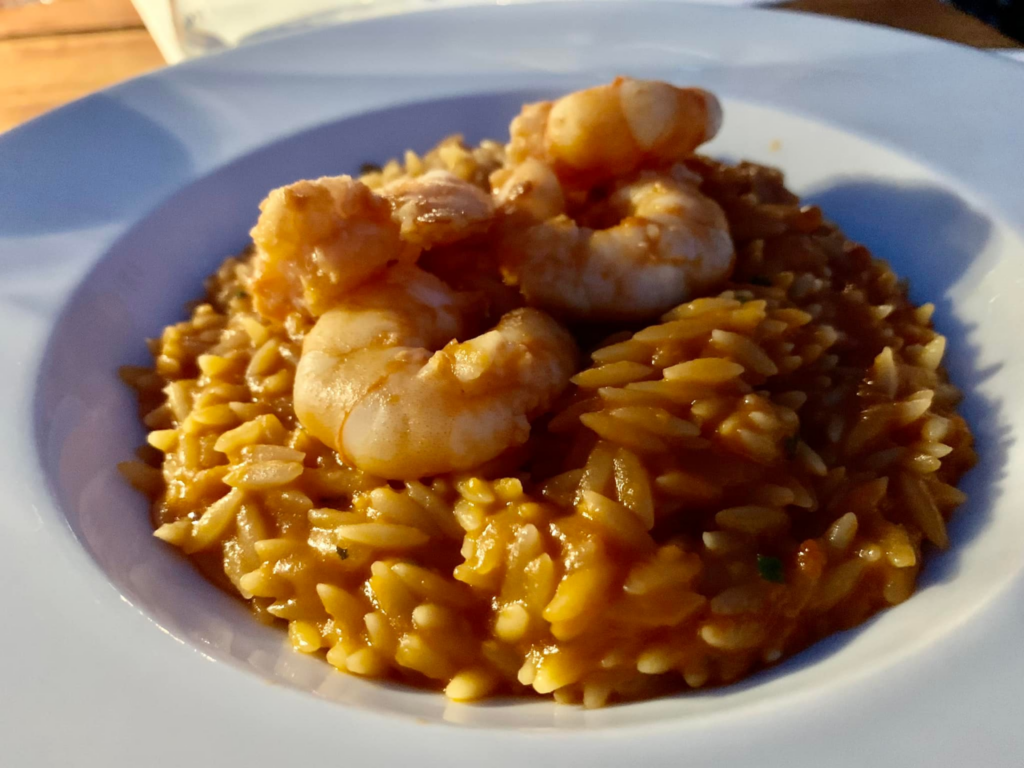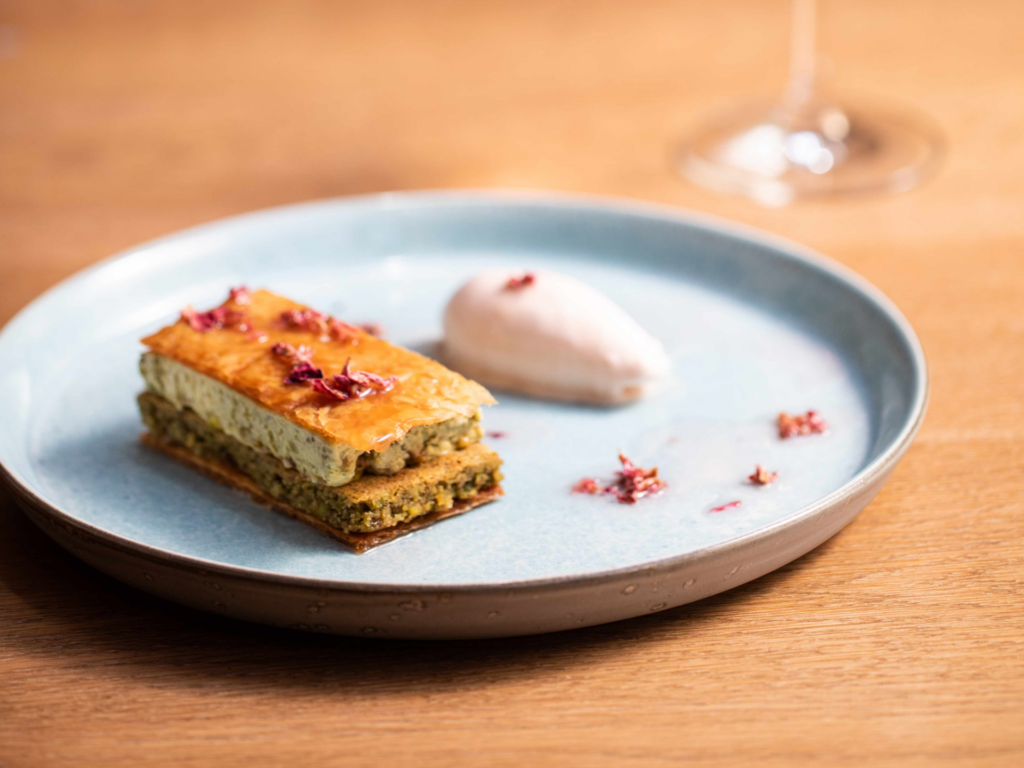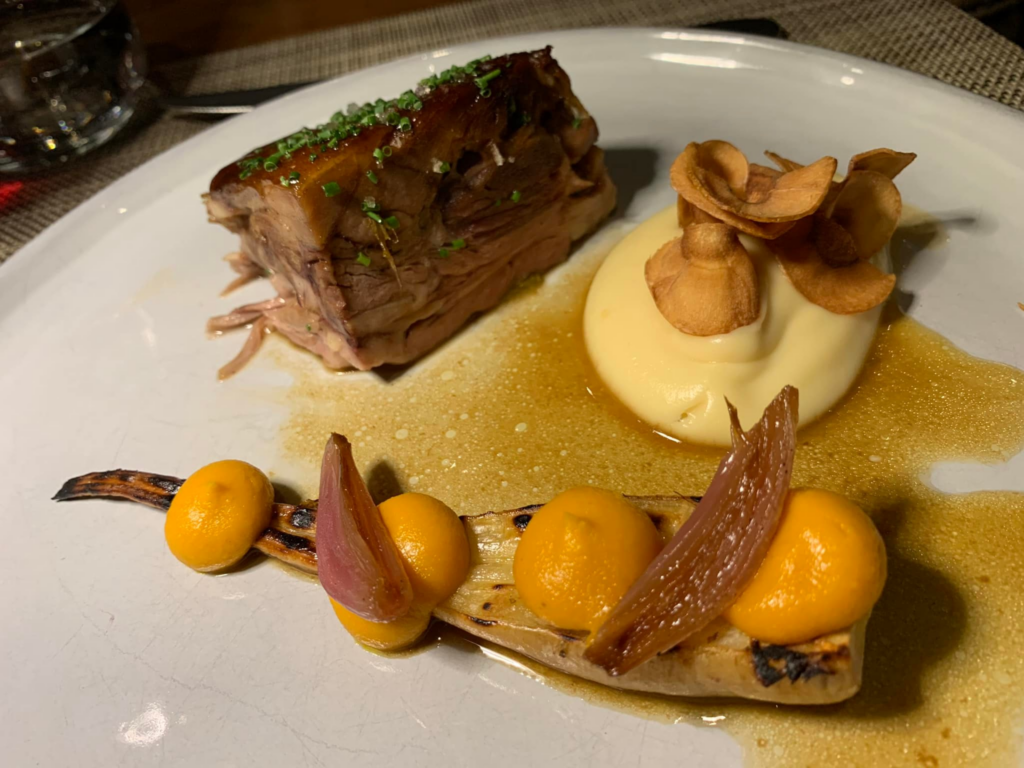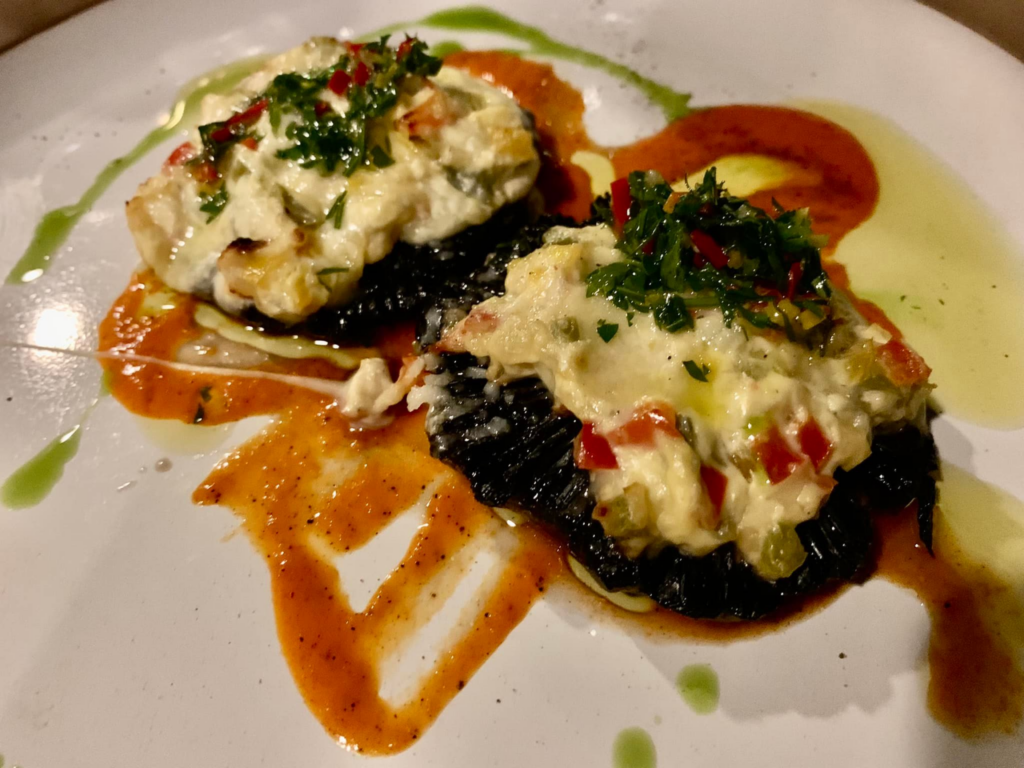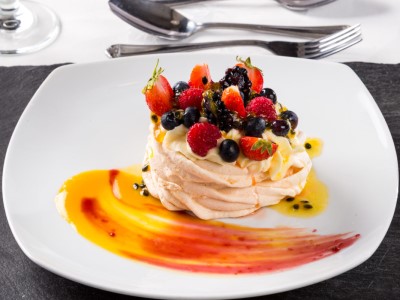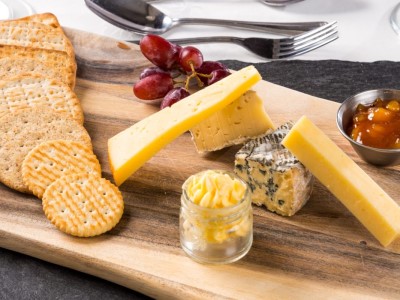 Buffet breakfast was served at Morias. Indoor and outdoor seating was available (with a resident hawk in attendance to keep the birds away!). There was an excellent selection of hot and cold food including cereals, fruit, pastries and made-to-order omelettes.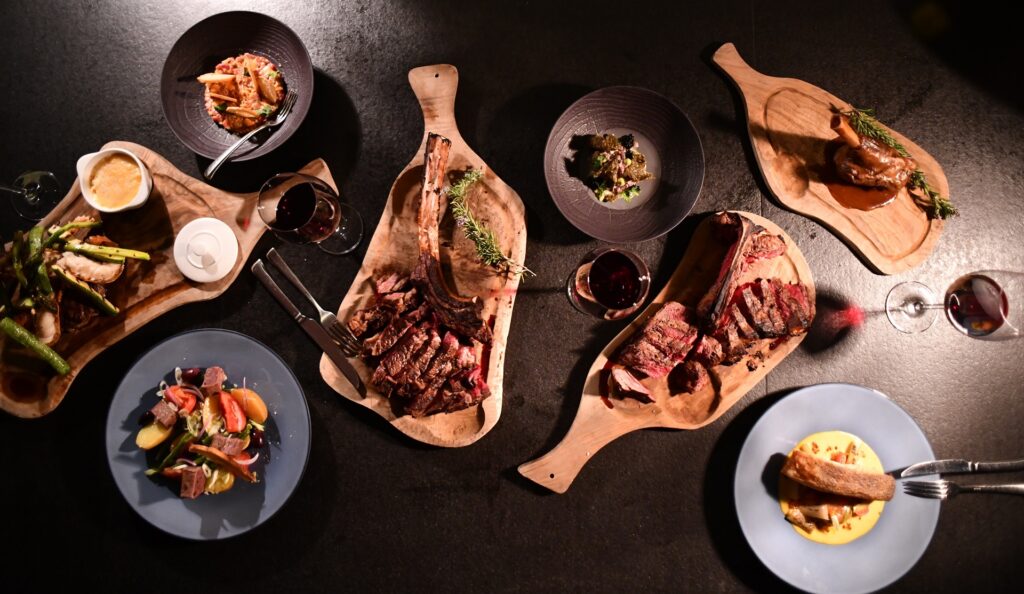 Something worth a mention: the restaurants get booked up very quickly particularly as there are many golf groups. So, it is definitely worth pre-booking. We missed out on Flame which had glowing reviews and had to eat early on a couple of nights which did shorten our beach/ pool time. Also, depending on the season some of the restaurants are closed.
Peloponnese - a place of special interest
The Peloponnese is at once historical – home to a succession of civilizations over thousands of years – and, at the same time, a place of virgin beauty and authentic rural settlements. As a result, there is a multitude of things to see; from villages to cities and from natural wonders to ancient and medieval sites, there are plenty of reasons to hit the road while staying in Messinia.
And you need not go far to see places such as Voidokilia Beach, Ancient Messene, Ancient Olympia (birthplace of the Olympic Games), Methoni Castle, The Temple of Apollo Epicurius and Diros Cave.
Read more -->10 of Costa Navarino's favourite places
Golf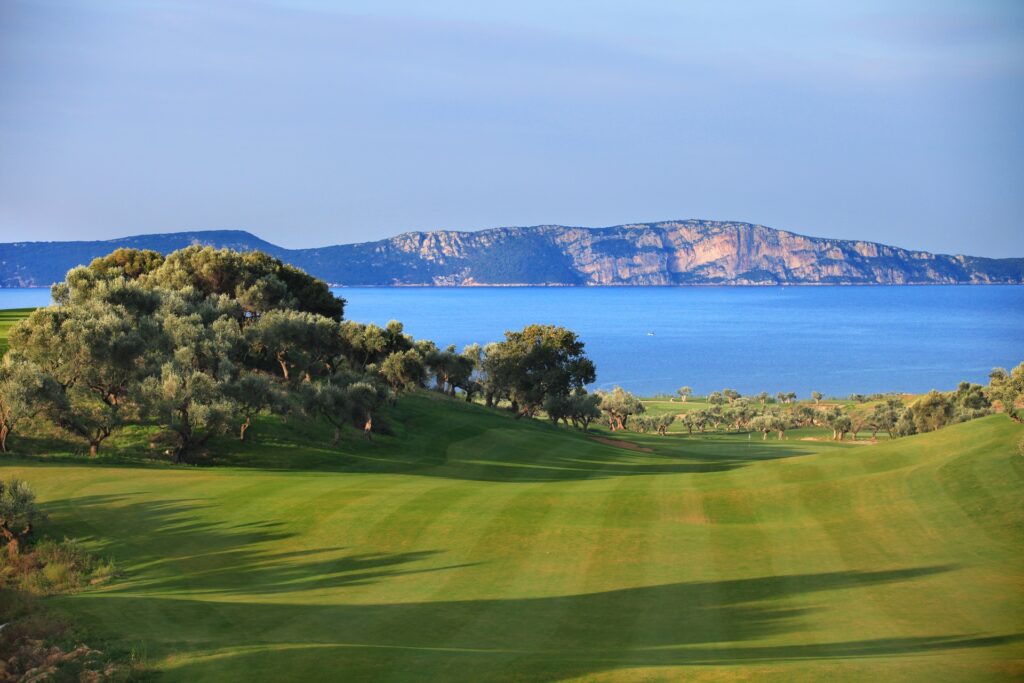 The Bay Course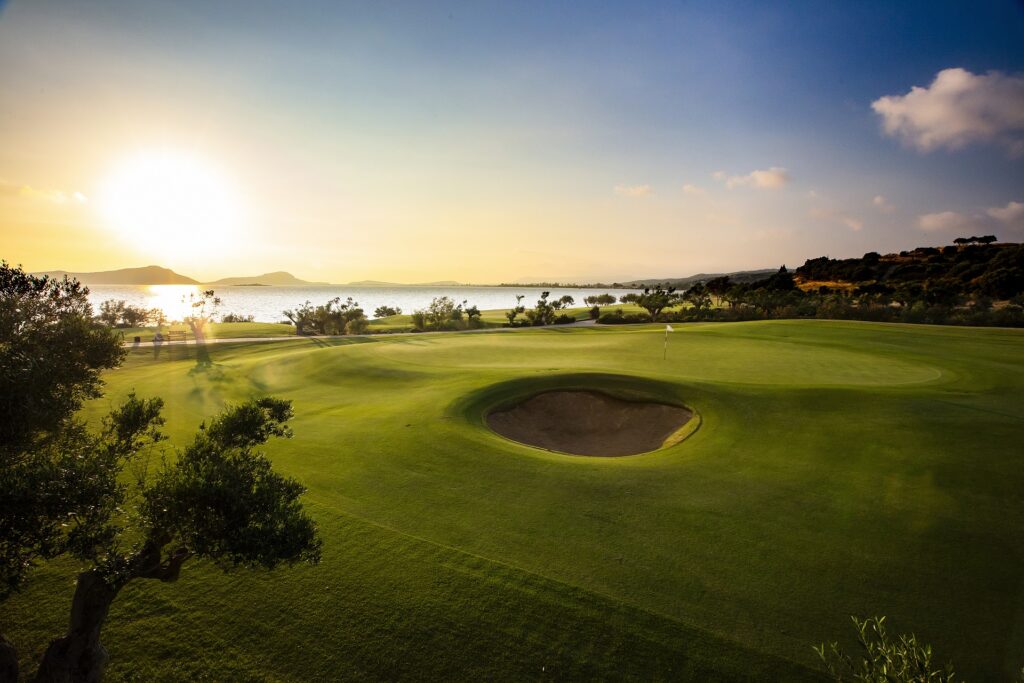 The second signature golf course in Greece, the Bay Course, is situated just a short walk from Navarino Dunes and offers an alternative golfing experience in a different landscape. This 18-hole seaside course meanders through three natural landscapes – Seaside, Canyon and Grove – providing striking contrasts and views of the sea and mountains for a truly memorable golfing experience.
This bay-side course has been open since October 2011. It was designed by Robert Trent Jones II. A fun experience and a challenging test for golfers of all levels. The majority of tees offer sublime sea views with two holes playing along the historic Bay of Navarino.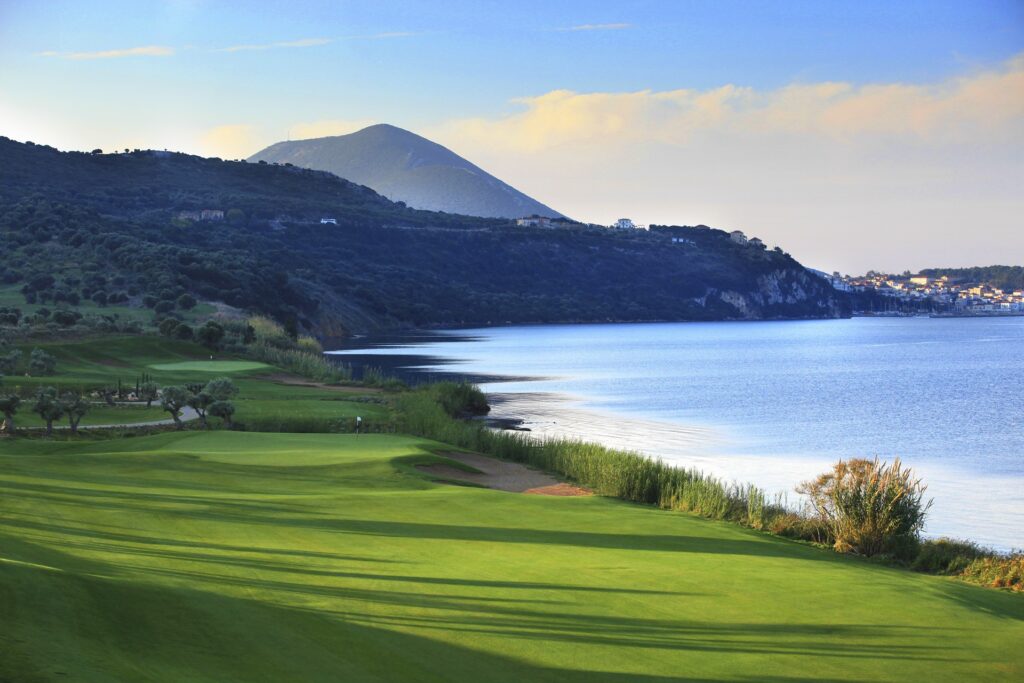 Favourite Hole
All of them! Opening 3 holes set the scene. The 6th, 9th, 14th, 16th, 17th are cherry on top.
The Dunes Course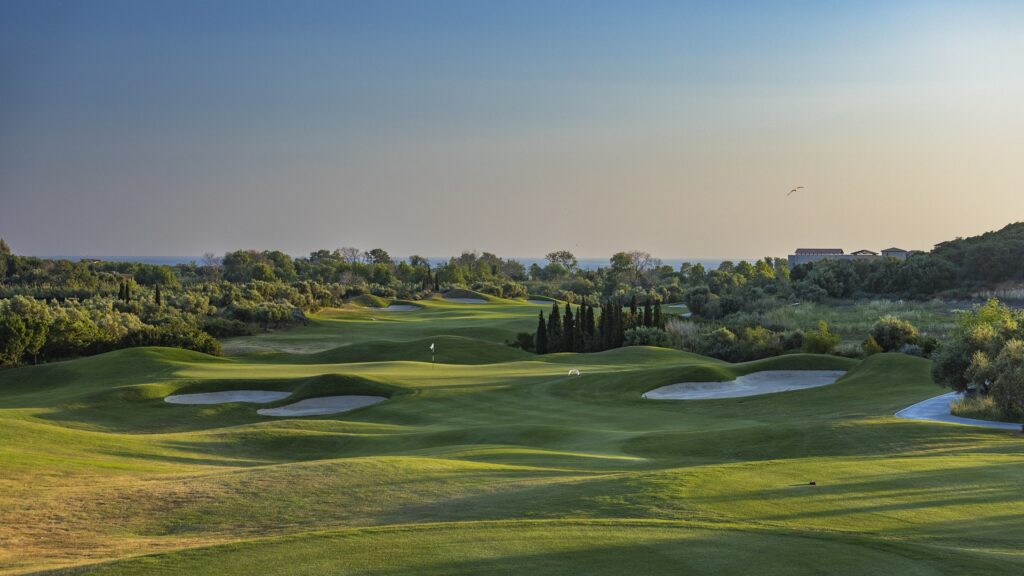 The impressive seaside Dunes Course is the first signature-designed golf course in Greece, set in a diverse natural landscape with spectacular sea and river views. It was designed by two-time US Masters Champion and former Ryder Cup Captain Bernhard Langer in association with European Golf Design. This championship course, set in a diverse natural landscape beside The Westin and Romanos hotels, offers spectacular sea and river views and incorporates some links-style features in areas closest to the sea. Some parts of the course venture into olive (yes, my ball ended up there!) and fruit groves. A few other holes run along a small river – the Sellas – which meanders through the site. Combined with large undulating greens, wide fairways, and steep-faced pot bunkers, the links element of the course adds to its unique style and playability.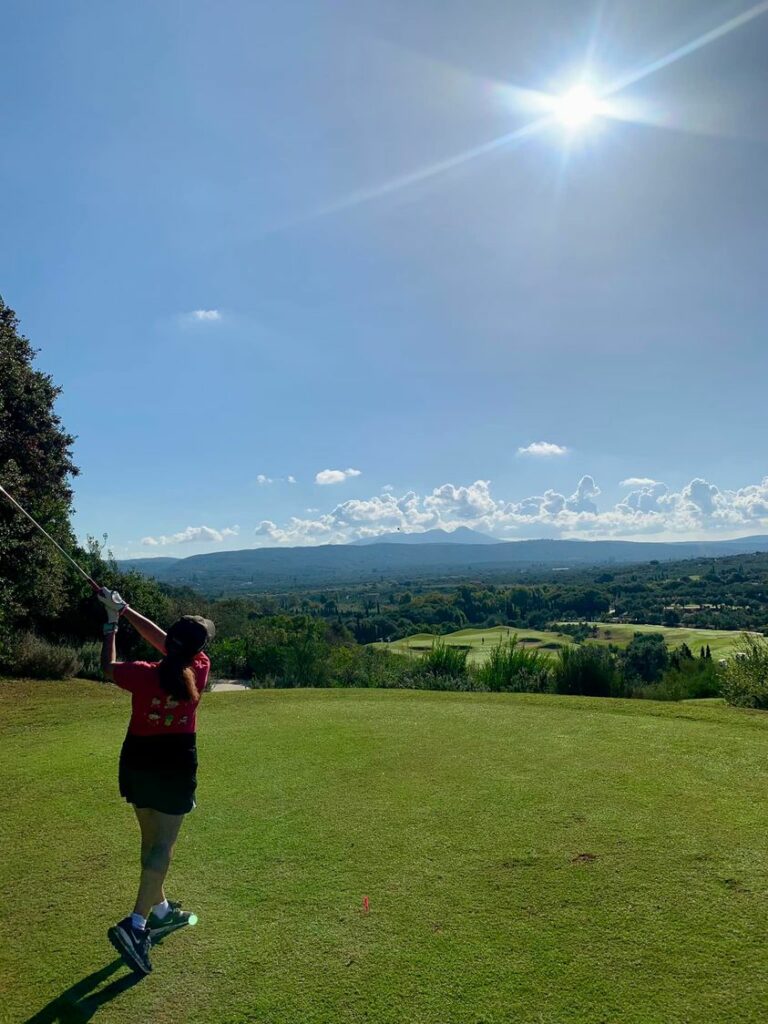 Favourite Hole
There are too many to mention - the 1st, 2nd, and 16th. Look out for the 6th - a spectacular risk/reward par 4 at the highest point of the course.
---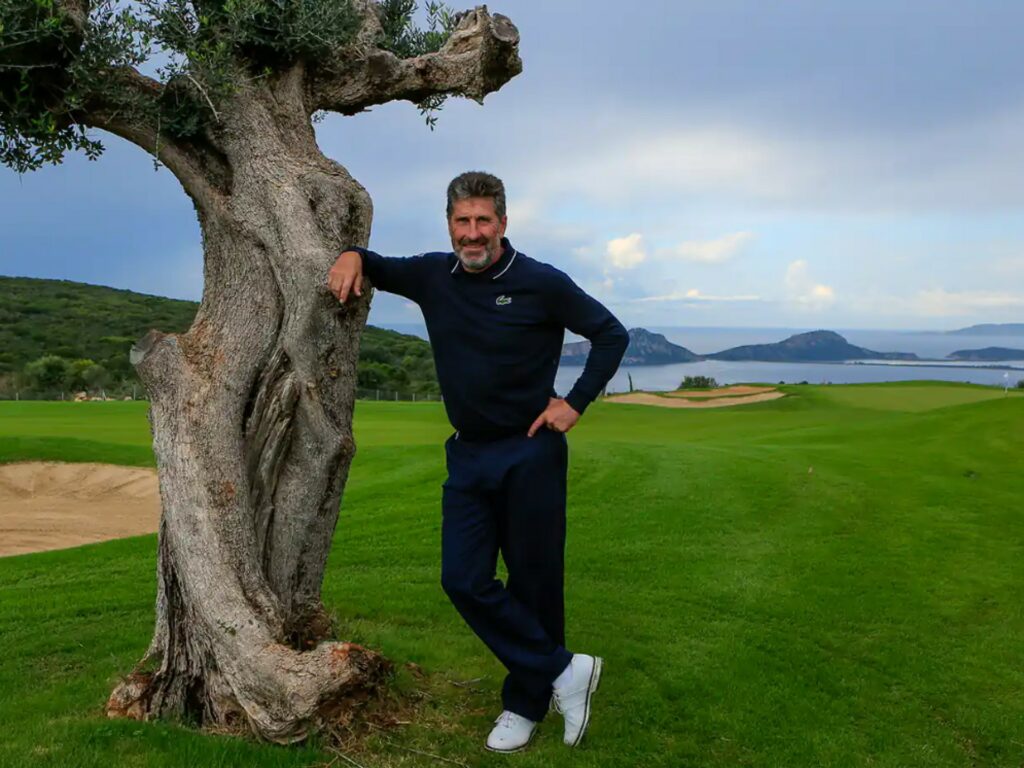 For the past 20 years, Olazábal has been designing golf courses across the world, from locations that include his native Spain to Qatar, China, and the Maldives.
He has designed two 18-hole golf courses on Navarino Hills - The Hills Course & the International Olympic Academy Course.
---
The Hills Course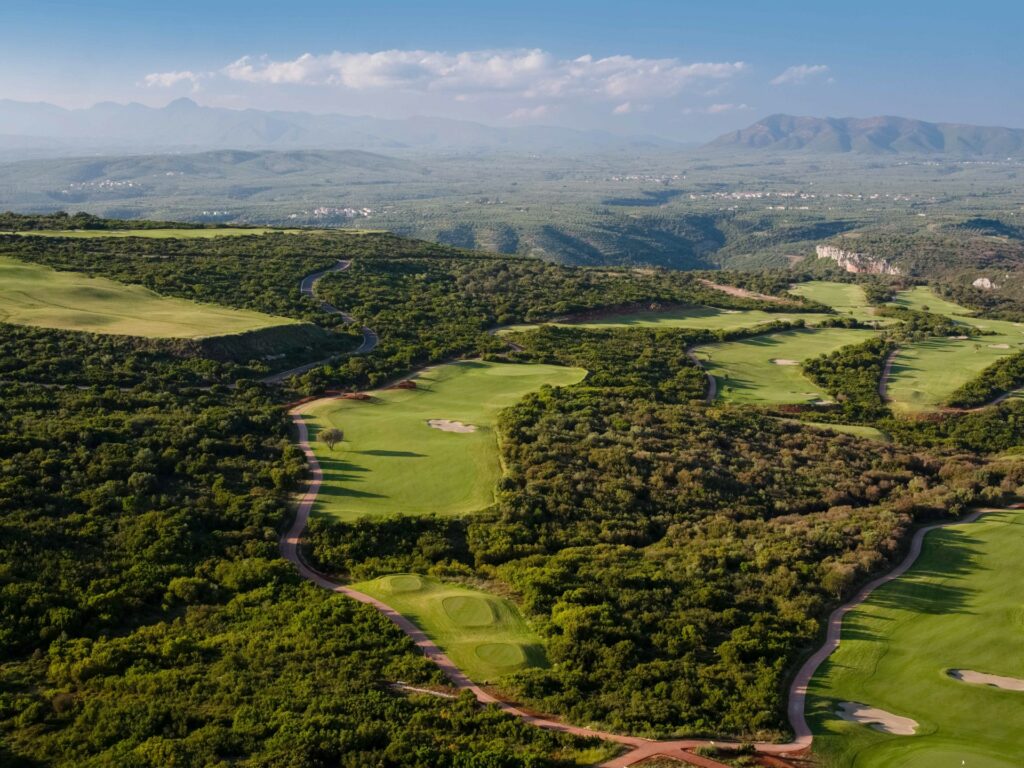 The second golf course at Navarino Hills overlooks the rural landscape of Messinia with rugged mountains and small villages.
Measuring 6,280 yards, this 18-hole course par 72 completes the challenging experience designed to challenge the most experienced golfers in a different landscape setting.
This was probably our least favourite course of the four, but a good challenge.
The International Olympic Academy Golf Course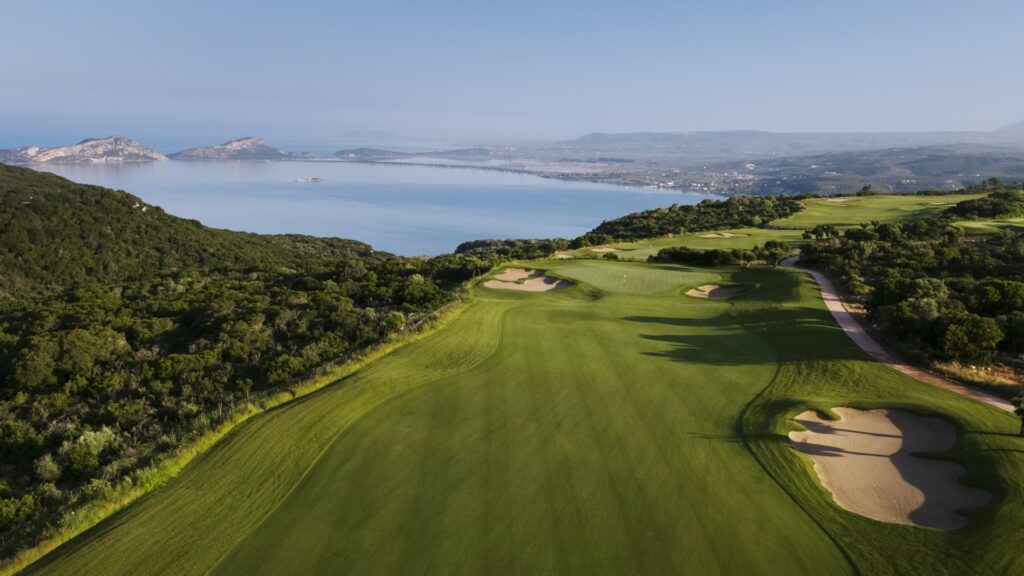 Situated over 125 hectares overlooking the historical bay of Navarino and the Ionian Sea, the International Olympic Academy Golf Course measures 6,366m in length. The 18-hole course, par 72 has been designed to challenge the best golfers in an enchanting environment with dramatic views and memorable sunsets.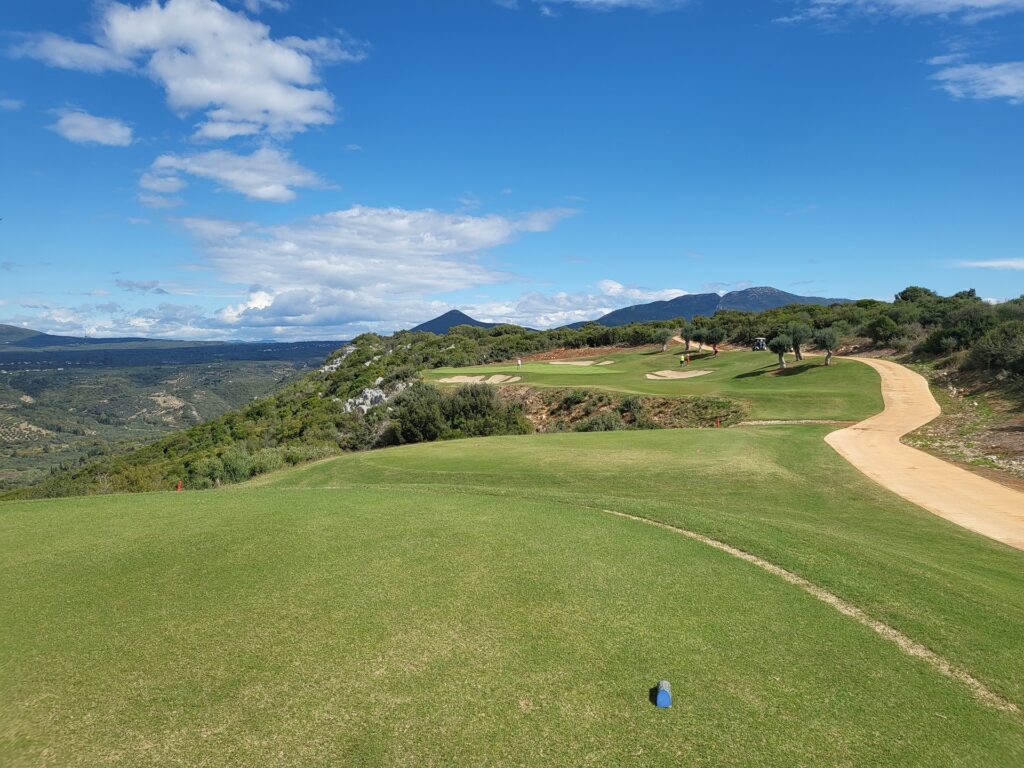 Favourite Hole
12th!! This picture does not do the hole justice. Amazing views over the bay and mountains from the tee. A knee-trembler on the tee, the ravine on the left cannot be ignored - tricky is an understatement!
We also loved the narrow 17th along the bay.
The verdict
Costa Navarino is the ultimate destination with something for everyone and a challenge for all levels of golfer. Whether you are a beginner or an experienced golfer you will not be disappointed. It's amazing that the destination has grown out of a particularly remote part of Greece known more for its olives and rugged terrain than 5-star luxury.
The service is first class and the staff is very friendly. Nothing is too much trouble, which is a key philosophy of Costa Navarino. They want you to have the best time possible, tell all your friends, and most importantly, return for another golfing adventure! We'll definitely be doing that.
It's a 'yes' from the team at Women & Golf!
Here are the fast facts about Costa Navarino...
Location
Costa Navarino is located in Messinia in the southwest Peloponnese, in one of the most unspoiled and breathtaking landscapes in the Mediterranean.
Travel Time (approx.) from UK around 4.5 hours. Plus a 40 minute car/ bus ride from the airport to the destination.
Mapping out the Future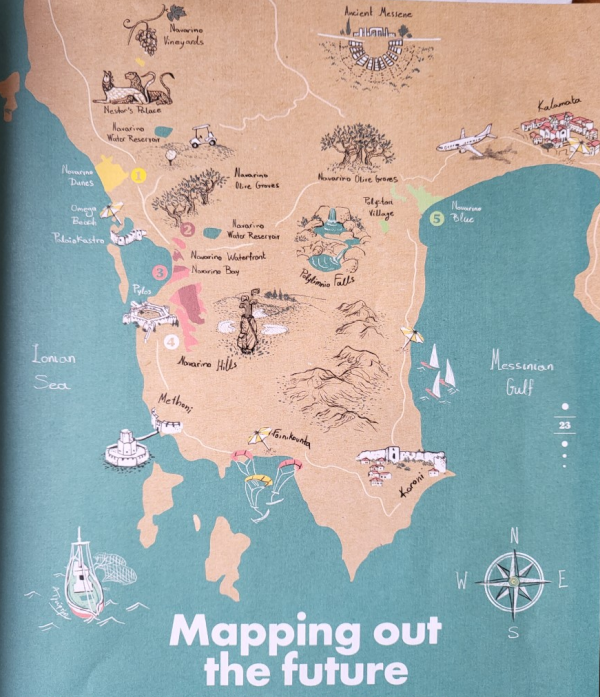 Currently, Cost Navarino is one of the few destinations in the Mediterranean offering mixed-use resorts. On completion, it will comprise 5 sites that will not compete but complement one another.
As of 2023, it will feature four 5-star resorts, four signature golf courses and Costa Agora, an open air marketplace featuring select retail outlets, artisanal street food, on-screen entertainment and a range of pop-up cultural, art and music event.
You can book your trip by visiting www.costanavarino.com
---
Thought about taking the girls to a UK destination?
How about Eastbury Hotel in Sherborne, Dorset or Cary Arms & Spa in Babbacombe Bay, Devon?