Editor Emma Ballard took a trip to Tuscany to the Argentario Golf & Wellness Resort. Here's her review.
When we head on holiday, whether that be with friends or family, we're often all looking to get slightly different things out of our trip. In my house, I like to be active but want time to relax with a good book, my husband doesn't sit still and my children would spend all day in a pool.
I appreciate that a golf-specific trip can be different, as golf is the central theme, but often there is some compromise needed amongst the group.
At the end of March, I headed to the newly rebranded Argentario Golf & Wellness Resort, nestled in a verdant valley near Porto Ercole, in the Maremma region of southern Tuscany, 90 minutes from Rome International Airport.
A two-day press trip with a motley crew of journalists. I don't mean this in a derogatory manner, but it was clear from the outset that we were all approaching this trip from different perspectives.
Travel to Argentario Golf & Wellness Resort
Getting to the resort was simple and stress-free. For me, it was a quick flight from Heathrow to Rome. And after the others had arrived from Gatwick, Manchester and Amsterdam, we took a pre-booked transfer. We had time to get to know each other a little better, which proved a good icebreaker.
It's worth noting that our return to Rome airport two days later was just as efficient.
As you would expect from a five-star resort of this calibre, the welcome was very friendly and informative as we were shown to our rooms.
In a nutshell
The Argentario Golf & Wellness Resort opened in 2008, the Resort is truly luxurious but at its heart is the drive to be environmentally friendly. There are 73 rooms and suites at varying price points, a number of independent villas, an 18-hole championship golf course, an extensive MediSPA, Espace Wellness Centre and Health Club, sporting facilities, the fine dining Dama Dama Restaurant and the Club House Restaurant.
My room
I don't think that anyone would have complaints with the room. Spacious, all the amenities you would expect from a resort of this stature. Hopefully, I can let my photos do the room justice (I've never seen a bigger hotel bath!)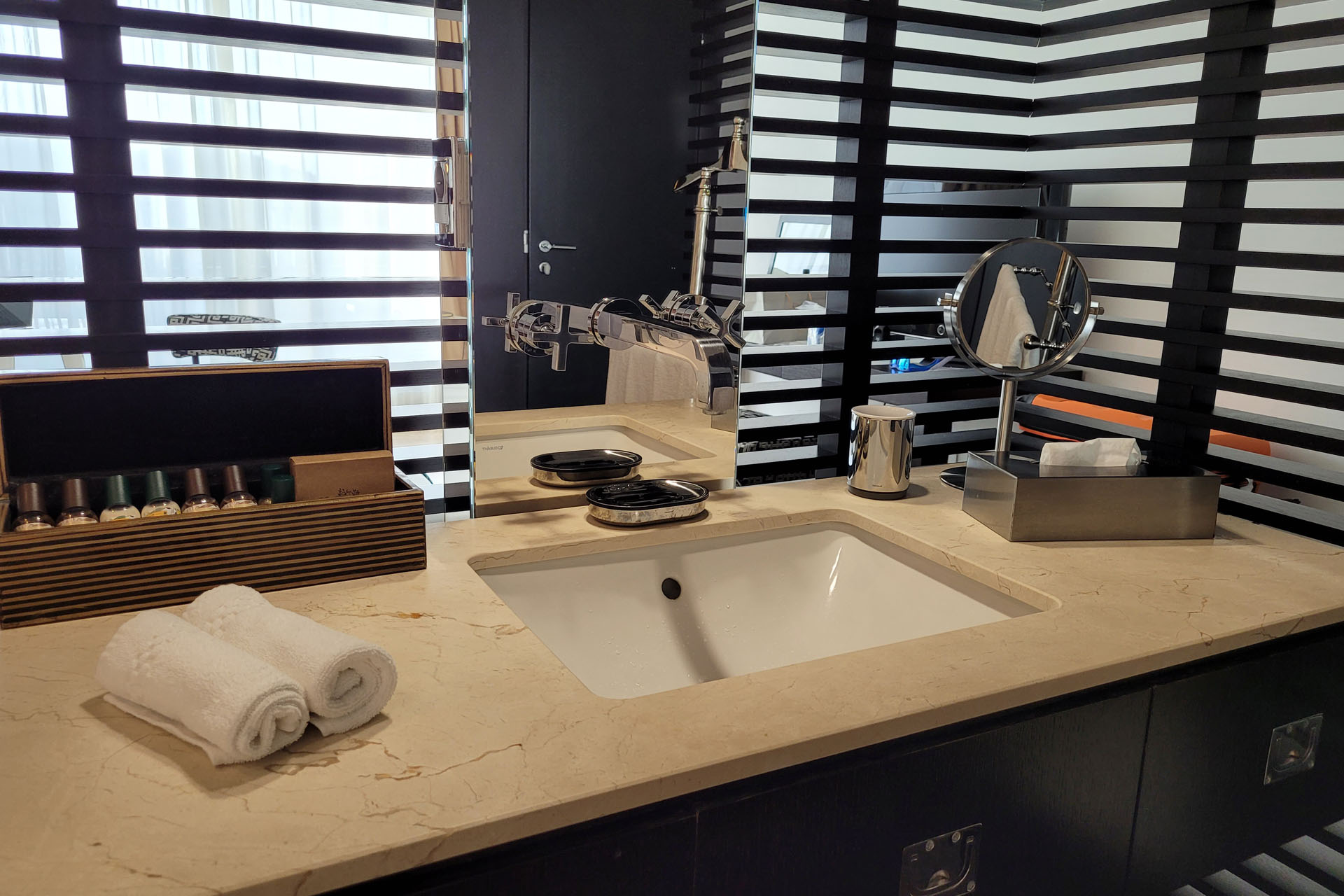 There are a range of rooms available, including twin and family rooms. Plus suites for those who would like a full Argentario experience.
Food and drink
Obviously, the golf course is important, but I have to confess to being ruled by my stomach. Dinner and breakfast had to come before we headed out onto the golf course.
Tapas and a three-course dinner awaited us at the Club House Restaurant on our first night. Lovely locally sourced, fresh food was served and accompanied by some fantastic Italian wine.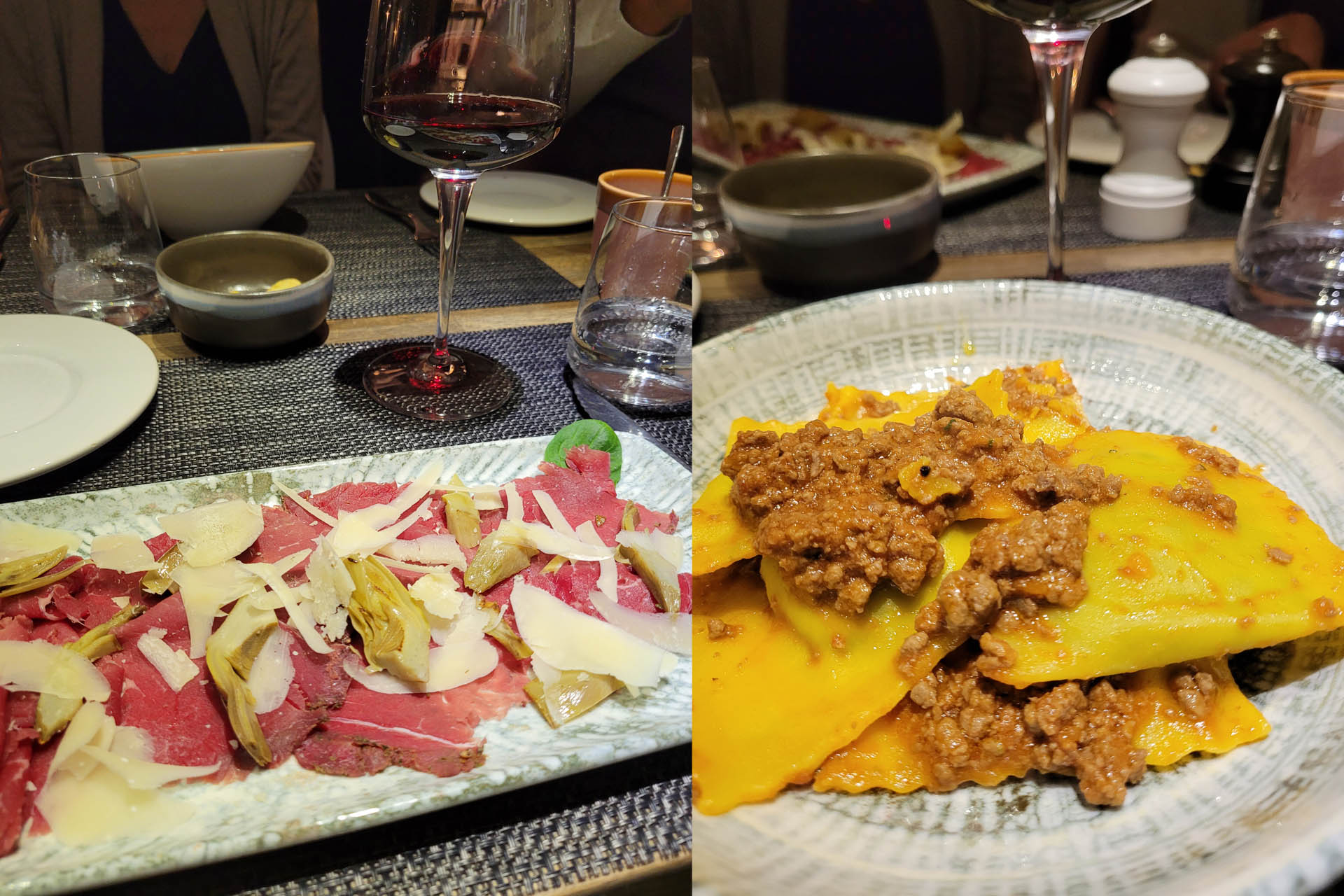 Breakfast also didn't disappoint, with a buffet-style set-up where we could help ourselves to fresh fruit, pastries, a cooked breakfast and continental options. Coffee (or other hot beverages) was served direct to the table.
As I am up for confessing, I also like cocktails and on the second night, we had cocktails made especially for us. I'm hoping "The Emma" has become a regular on the menu!
Argentario Golf Club - PGA National Golf Course
This is most likely the part that you have been waiting for. Argentario's golf course is the PGA National Golf Course in Italy. In 2019, it joined the PGA's growing list of exceptional branded resorts. In doing so, the Resort lines up alongside an illustrious group of other PGA Nationals which includes Ryder Cup venues The Belfry and Gleneagles, as well as PGA National Cyprus at Aphrodite Hills, PGA National Turkey at Antalya Golf Resort and Slieve Russell, PGA National Ireland.
With hire sets for both men and women on hand, after a quick warm-up on the driving range, we headed out in buggies to take in the course.
I would always rather walk than take a buggy but for this course, I would say a buggy is essential. The distance between some holes is quite far and it makes for a much more pleasurable experience.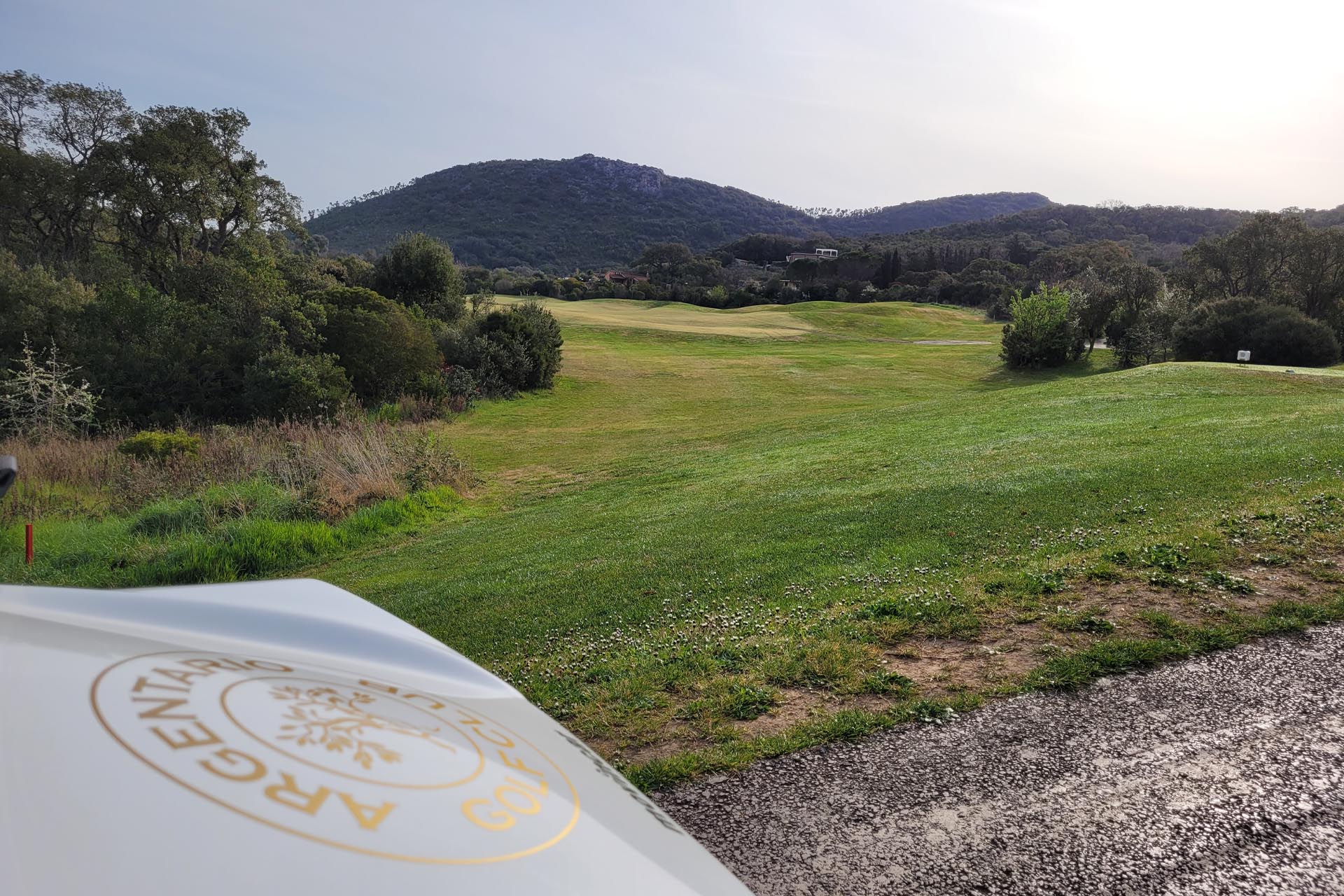 Putting my golf game aside, I really enjoyed playing the course. No two holes were the same and they all gave up different challenges. There is water on the course, but I was pleased it wasn't too directly in play, apart from my thinned bunker shot on 17!
Golf course overview
The front nine feels more open with some views of the sea (and the odd ibis), whilst the back nine winds through the olive trees. There wasn't too much rough and if you went a little of course, as I did a couple of times, it was easy to find your ball. The greens were quite fast but very manageable and the pin positions were very favourable that day.
You may look at my pictures and think the course looks quite parched for the end of March. I can honestly say it didn't feel too dry to play on. Argentario prides itself on its environmentally-friendly credentials and has been awarded the Agri Cert certification for its bio eco-compatibility, which means all the products used for its maintenance are completely natural.
The rain came as we departed the next morning, so I am sure it was looking more green and lush a few days later.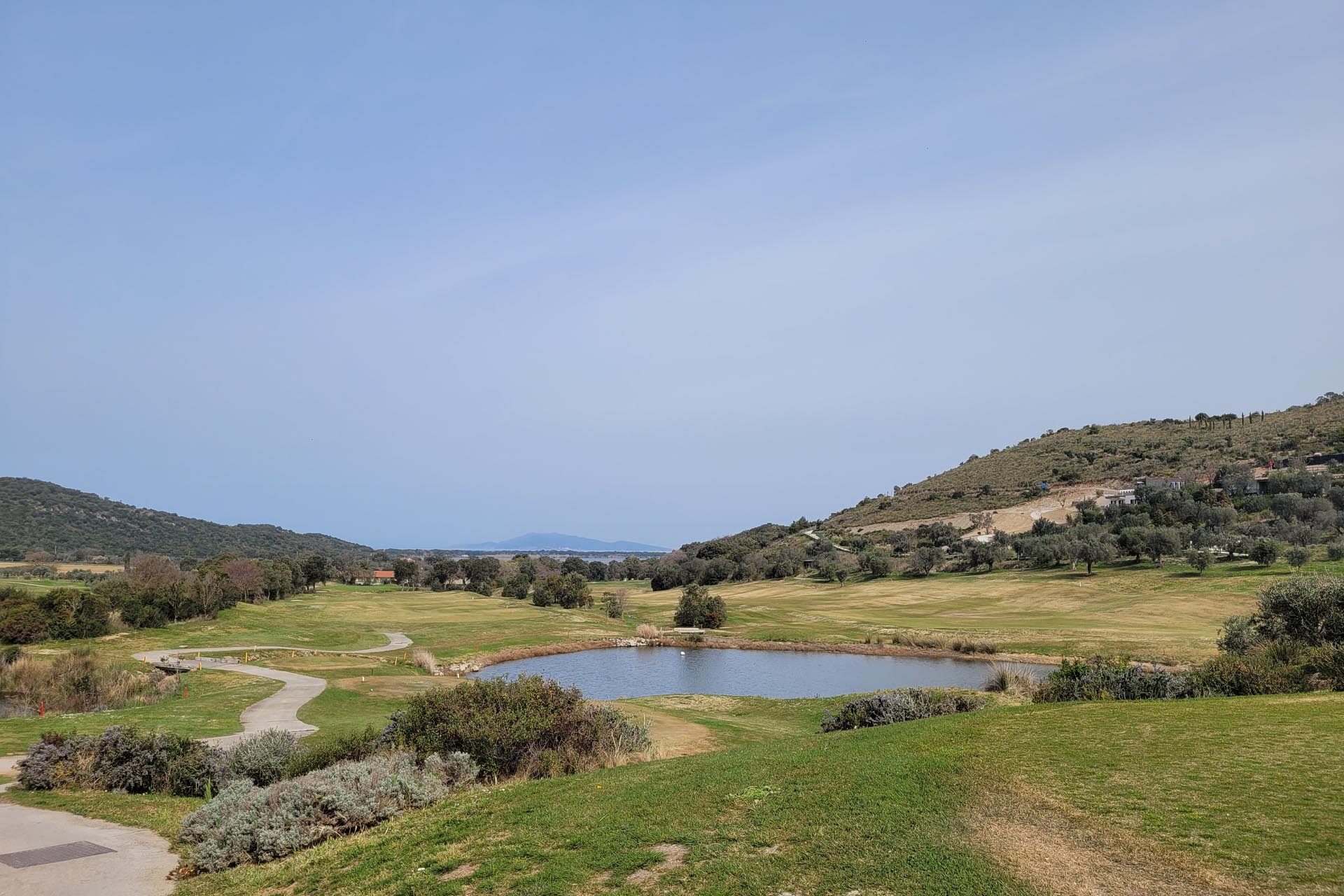 My group had a mix of handicaps, men and women, and the course was a challenge, in a good way to all of us. The golf buggy has an onboard scoring and distance feature which helped us a lot.
I was totally taken with the course, my only complaint (because I found myself in a lot of them) was the stony nature of the bunkers. Not something I was used to and I was pleased I was using a hire set.
Couples, families, friends, whatever your golf group, the course would be enjoyed by everyone, even if, like me, you weren't able to bring your A-game.
It's also worth noting that Argentario is the home of the PGA National Golf Academy in Italy – as well as individual lessons, there are clinics, team-building events and golf camps for children.
Spa and Pool
The resort has so much to offer beyond golf. Whether you want to indulge in the latest padel craze or channel your inner Emma Raducanu, use the jogging paths around the course, take a plunge, chill with a book by the pool or burn off a cocktail in the fully equipped gym. There is something for everyone.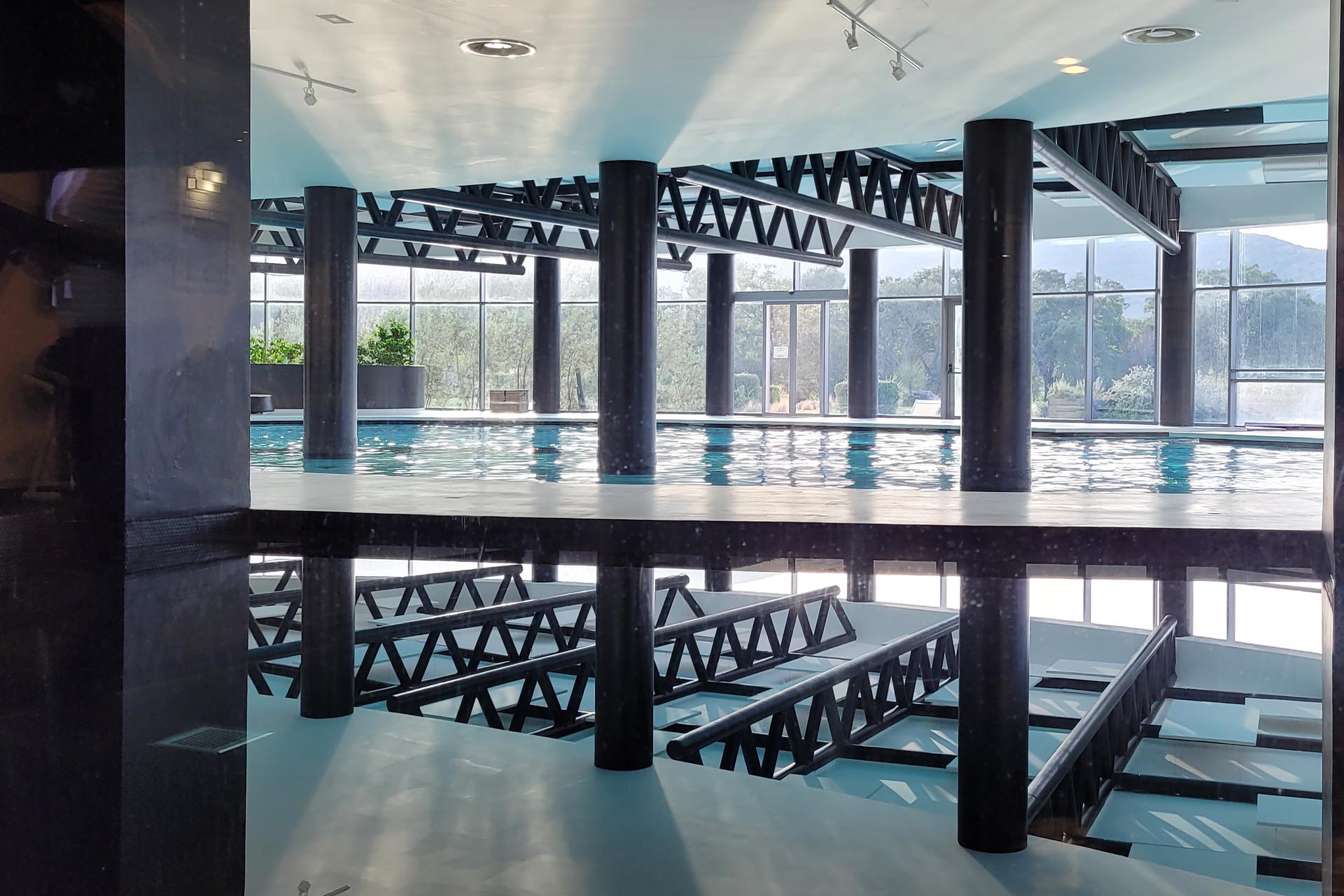 That is not all, the wellness centre at Argentario Golf & Wellness Resort is so much more than just pools and saunas. There is also an extensive range of spa treatments that can be booked on the day or in advance as well as being part of their wellness packages.
Surrounding area
On a whistlestop tour, we didn't have much time to explore the local area but e-bikes are on hand if you want to go out further. You'll definitely need an electric version as it's rather hilly but worth the effort for the spectacular views you'll get to see.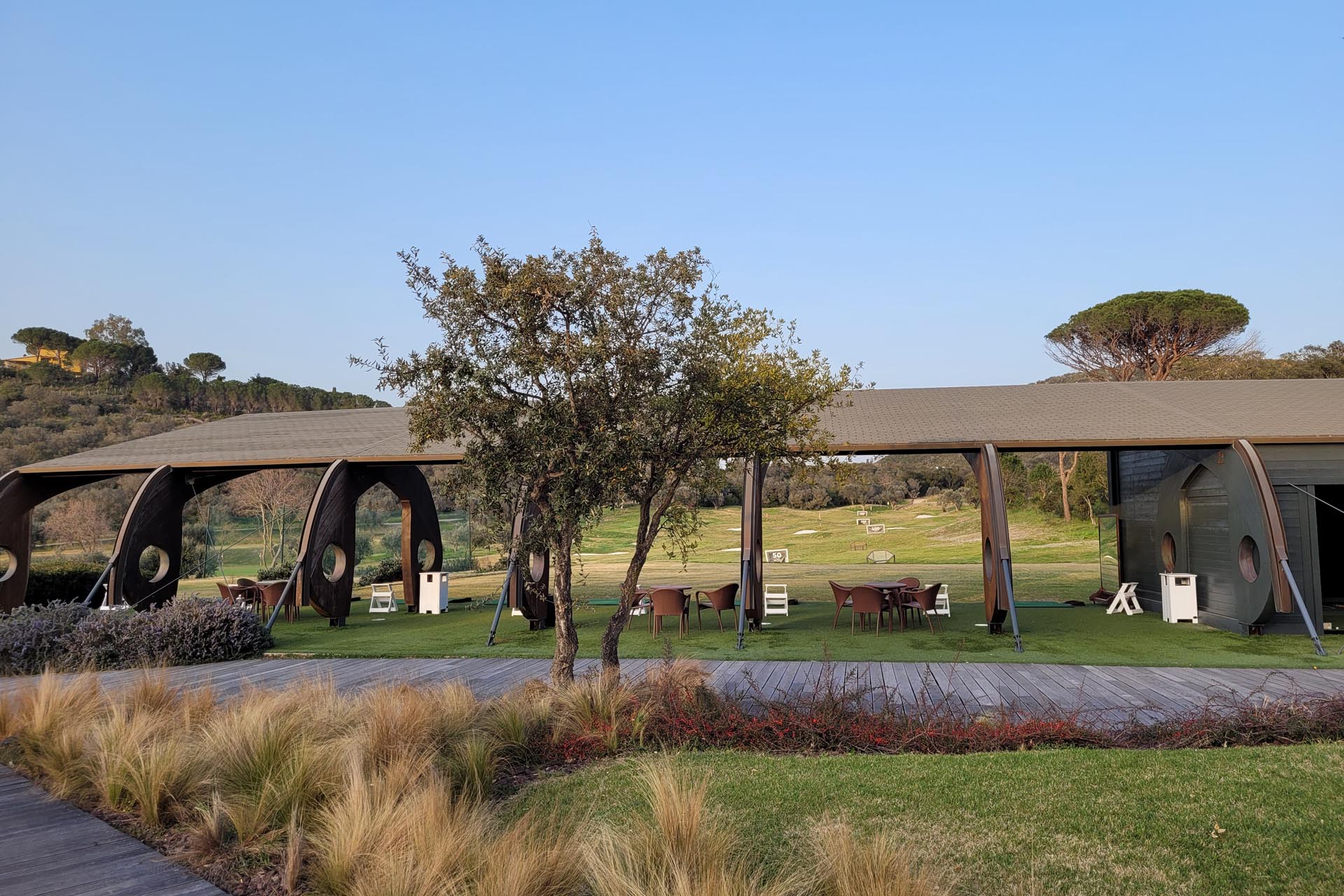 If you fancy an even more luxurious stay, then there are also Villas available to hire which have a stunning outlook over the golf course – too glorious to put into words.
Summing up my stay at Argentario Golf & Wellness Resort
With so much on offer at Argentario Golf & Wellness Resort, there really is something for everyone and if you were to read all the reviews from our motley journalist crew, I think that you would find our reviews would differ even though we travelled together.
The main negative that I could see for some is that there aren't any other golf courses in the area, the closest one is an hour away. This wouldn't be an issue for me but worth highlighting.
Overall, I had a fantastic trip to Tuscany. The friendly, attentive staff and modern facilities really appealed to me and I could imagine visiting with my family but also having a girls long weekend away. With the summer on the horizon, I can see why this resort has become a go-to destination in Tuscany and one that guests revisit year after year.
Women & Golf Offer
Argentario Golf & Wellness Resort are offering Women & Golf readers a special offer on green fees. All green fees* are included when booking a mid-week stay of three nights between now (May 2022) and 8th June and throughout October and November. This is for check-ins on either Sunday, Monday or Tuesday.
To take advantage of this offer please mention the code WG-TUSCANY when booking a stay at the Resort via email [email protected] or telephone +39 0564 810292. This is not available for online bookings. Visit their website here for more information.
*Dependent on the time of the year, the green fees are between €90-€120 per round. There is no limit to the number of rounds you can play during your stay.