The short answer? Yes! But if you're nervous, here's what you can expect from a golf club custom fitting session.
Getting your golf clubs custom fitted simply means purchasing clubs that are made specifically for your height, swing speed and technique.
A new driver or a set of irons is a significant investment and one that should last a few years. You might like your friend's driver as it's working for her, and you have a similar handicap. Or you've tried a few drivers off the shelf at the local golf range.
But it's not the best way to buy golf equipment if you want to improve your performance and play to your full potential.
Many of us may feel that we're not good enough golfers to justify getting custom fitted. But the reality is that every golfer is different – height, strength, shape, swing (shall I go on?), so there really is no one-size fits all.
So however well you play, it's important to have clubs fitted correctly to you.
After all, you wouldn't buy a pair of shoes without trying on them first, would you?
With far fewer women choosing to get custom fitted than men, we're here to vanquish the misconceptions you may have about the process. Here's what to expect when you're custom fitted for golf clubs.
How does custom fitting work?
You may be put off by the idea of standing in front of a launch monitor, but you shouldn't. It's a fun experience and you're bound to learn something new about your game. The process will vary slightly depending on where you go, but it will follow a similar pattern.
The fitting will start with an informal interview, where the fitter will ask a few questions about your game and what you are looking for from your new clubs.
If you are being fitted for an iron then you will then go on to be measured for your hand size, as well as your height and wrist-to-floor measurements.
Once this is out of the way it's time to hit some balls. Tape will be added to the sole of the club so that the fitter can understand how your set-up and swing affect the position of the clubhead at impact. Then, whilst trialling a variety of club and shaft options, a launch monitor will be used to determine which combinations work best for you.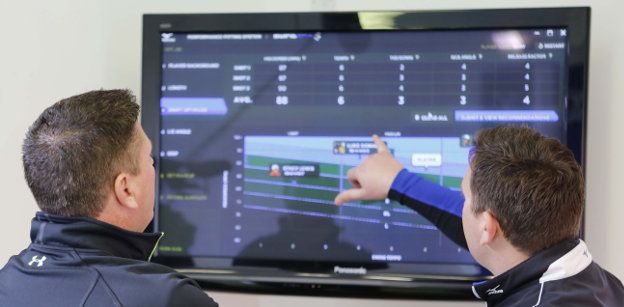 Each brand will vary slightly but is likely to follow a similar pattern. Their innovative systems are designed to fit the individual rather than a male or female golfer. So you can be sure the clubs are correct for you irrespective of gender.
Whatever brand you use to get custom fitted, the clubs you decide upon will be far more likely to suit your needs than any you picked off the shelves.
The session is likely to last between 45-90 minutes, depending on your requirements.
Where should you go to get custom fitted?
The best places to get fitted are the national custom fit centres. These are based in locations around the UK, such as Titleist at St Ives in Cambridgeshire, TaylorMade at Wentworth in Surrey, PING at Gainsborough in Lincolnshire and so on. These venues have every model for their brand, as well as all the shaft and grip options you could imagine, plus the latest in launch monitor technology.
If these aren't convenient then custom fitting and demo days are held around the country and there is bound to be one at a driving range or golf club near you.
How much does it cost to get custom fitted?
The cost of custom fitting will depend on the brand. Some will charge you on the day, and then take this price off the cost of the clubs if you place an order, whilst others will just charge a set fee for a session.
The good news is that you are under no obligation to buy. So the next time you're in the market to purchase some new golf clubs, think about the long-term investment and how much you would like to reduce your handicap!
Ready to buy a new set of golf clubs? Here are five reasons why you need to get custom fitted.