We catch up with Daniella Elson, Founder and Managing Director of Forelson; an exciting new golf clothing brand that's exclusively for women.
Women's golf fashion is changing, and Forelson is at the helm.
With high-tech, sustainable fabrics and a focus on quality items you can wear time and again, Forelson are rewriting the rule book when it comes to women's golf clothes.
Better fit, on-trend colours and subtle prints. And hardly any of it is pink *gasp*.
Introducing: Forelson
Forelson is now stocked in 20 pro shops across the UK, including England, Ireland, Scotland, Wales and the Channel Islands. And it's also branching into international waters with one stockist in Marbella, Spain.
But what's most impressive is that Forelson is still a side-hustle.
Daniella – now the ultimate Girlboss ­– works on the business around her full-time job at a tech company.
She told us: "I always had a passion to start my own business. During the pandemic, I got back into golf and played at a lot of different clubs.
"I got so frustrated about the lack of choice of women's golf clothes in pro shops. Everything looked like a menswear range made smaller and pink. And it was difficult to find good quality clothes at a reasonable price.
So, Daniella took matters into her own hands and started Forelson in April 2021.
"I wanted to create something that was thoughtful and focused. Something created by women, exclusively for women.
"The men's market is saturated, but there's still very little for women golfers. Forelson is a high-quality brand, offering stylish golf clothes you can wear time again."
And everything is tried and tested by Daniella herself: "I wear them to play golf, I play tennis in them, I run in them, I wash them ... if I'm not happy with it, we won't stock it."
This isn't fast fashion
Chatting to Daniella, it's clear that sustainability is a really important element of the Forelson brand.
That means using high-quality fabrics that are sustainably sourced wherever possible. Recycled and recyclable packaging. And regularly auditing factories to guarantee good working and environmental standards.
But for Forelson, it's also about creating items that are long-lasting and versatile enough to wear on and off the golf course.
Daniella explained, "people did a lot of decluttering and recycling during the pandemic, and I think it started a wave of a new, more conscious way of living. We know people want staple items they can wear can over and again, and that's what Forelson offers."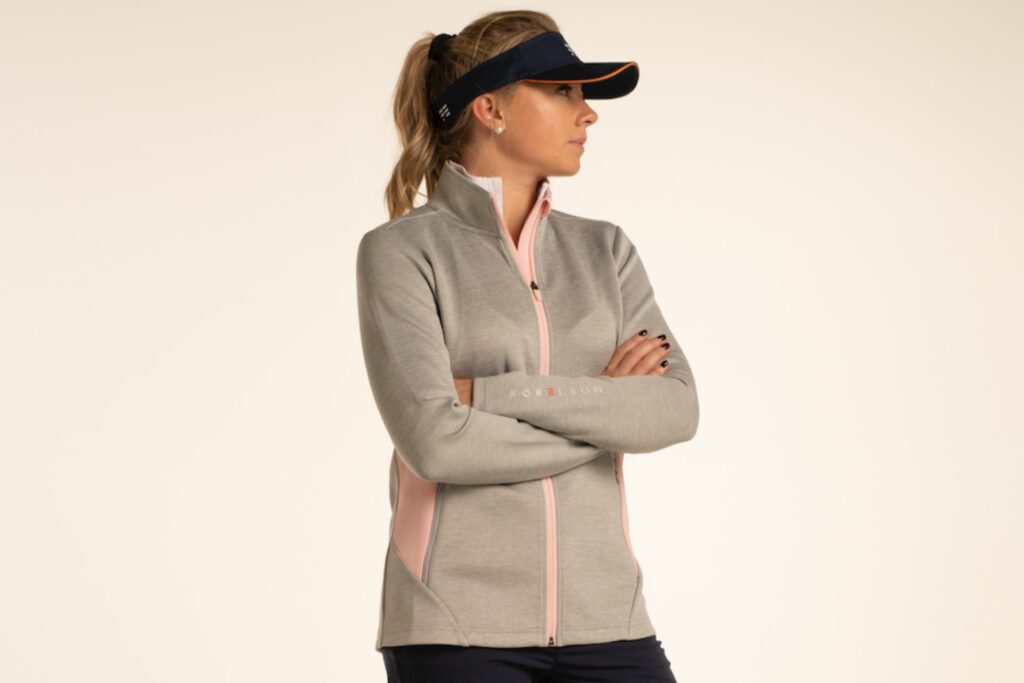 "Our clothes have been purposefully designed so that you feel just as comfortable wearing them on the golf course as you do anywhere else. You can wear them to the office, then go to the driving range then go to the pub afterwards."
Comfort combined with style
"For me, comfort is always key," Daniella tells us.
"We want to push the boundaries to make women's golf clothing more varied in terms of where the clothes can be worn. Using technical fabrics give us more diversity to ensure we're carefully synergizing comfort with practicality."
"And we're always assessing trends to make sure we stay ahead of the curve in terms of style too."
So, what does Daniella think the future of women's golf fashion looks like?
"Women's golf is going through a time of growth and as that evolves, fashion will too. Tour players – men and women – have a huge impact on the future of golf fashion. Just look at hoodies; Tyrell Hatton caused an uproar when he wore a hoodie for the first time on Tour, and now golf hoodies are everywhere."
And as for the future of Forelson?
"We have plans to grow the business but for now we're taking things slow and steady. We're working on next year's Spring/Summer range, focusing on becoming more sustainable and using more recycled fabrics."
Well, I for one can't wait to see what's next for Foreslon (and I've got my eye on the orange skort!).
Shop the full range or find your nearest stockist at forelson.co.uk.
Time for a new pair of golf shoes? Here's what's new from FootJoy.