FootJoy continues to evolve some of golf's best selling footwear models with the launch of FJ Fuel Sport, spikeless Traditions and HyperFlex
FootJoy is introducing the new HyperFlex golf shoes, available from March 2023.  Finely tuned to empower the golfer athlete, HyperFlex delivers hyper power, hyper control and hyper fit for men and women.
Building on the success of the 2021 models, golfers can expect lightweight, athletic comfort but with added stability and control to maximise power through the golf swing.
HYPER POWER: The OptiFlex outsole design promotes stability where you need it for the golf swing and flexibility for walking comfort.
HYPER CONTROL: The Power Stabiliser outsole harnesses lateral movement through the swing and ensures a secure foundation. The ThermoPlastic saddle strap wraps the foot to provide additional lateral and medial support and control throughout the golf swing.
HYPER FIT: FJ's popular StratoFoam cushioning delivers comfort and support tuned specifically for golf. The midsole design provides the perfect blend of cushioning which helps absorb shock while maximising energy return to reduce foot fatigue.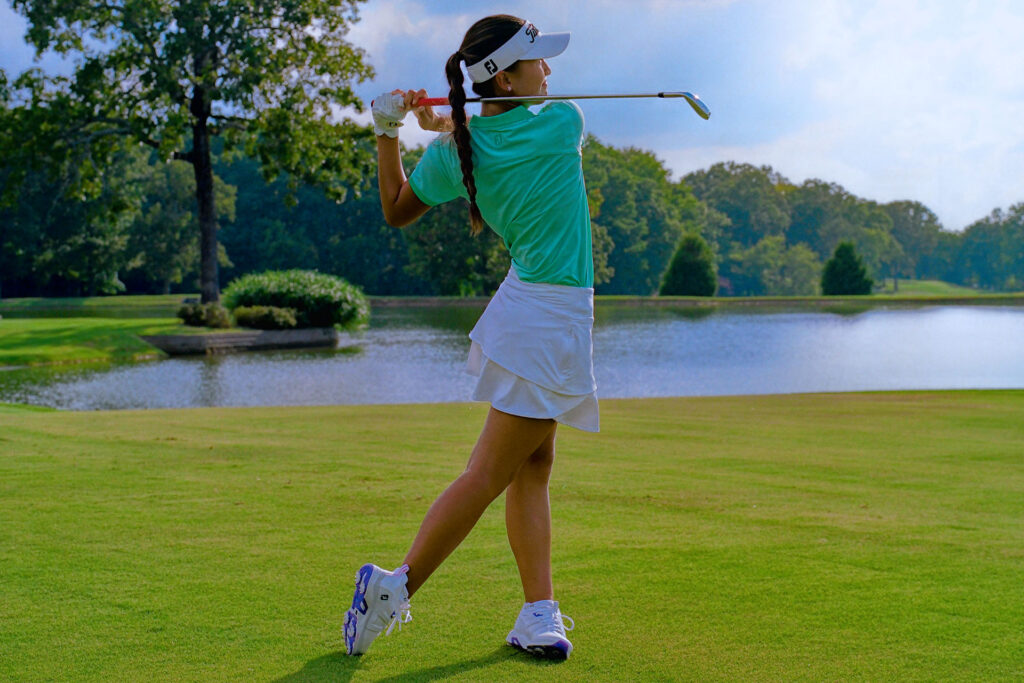 "The new HyperFlex and HyperFlex Carbon offer Tour-proven enhancements within the athletic silo, delivering unquestioned innovation, comfort, stability and a visual design aesthetic that celebrates performance technology for the golfer athlete," said Patrick Trubiano, Director of Product Management, FJ Footwear.
"This product will excite current HyperFlex wearers and those looking to add more power to their game."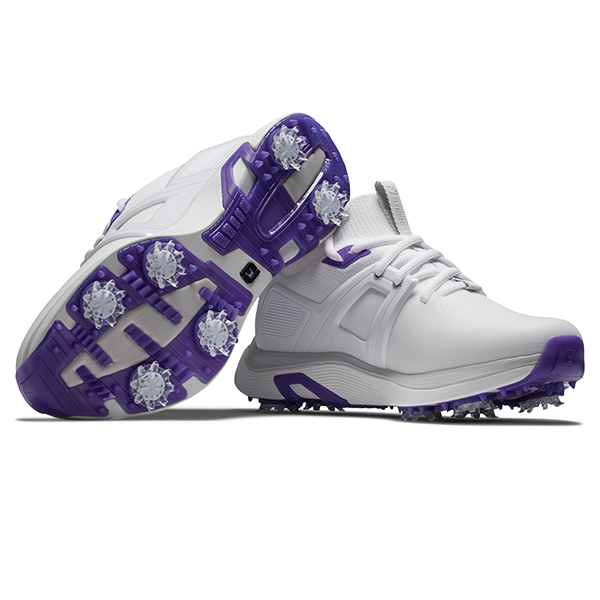 HyperFlex golfer benefits:
Breathable Performance Mesh: Vacuumed formed engineered mesh with moulded ribbed knit saddle for structure and support.
Enhanced Range of Motion: OptiFlex™ zones deliver enhanced range of motion and flex to ensure maximum ground contact.
On-Course Traction: HyperFlex are equipped with Pulsar LP cleats by Softspikes® low profile spikes that deliver stability and support from the moment you step foot onto the course.
Ultimate Comfort: StratoFoam & FTF+ delivers comfort and support with a 100% waterproof mesh upper.
Women's Hyperflex will be available in white/purple and pink/white colourways. RRP £159.99/ €185/ $175. Available to purchase online and in stores on March 1, 2023.
FootJoy launch FJ Fuel Sport and spikeless Traditions
January 21st 2023
As part of FootJoy's unwavering commitment to equipping all golfers with the best footwear to suit their performance and style preferences, they have introduced the all-new FJ Fuel Sport (top image) and a spikeless offering in the best-selling Traditions.
"Our single-minded focus on the golfer means we are continuing to listen to their feedback and provide options for all players," said Guy Smith, Product Manager for Footwear and Gloves EMEA.
"We've seen a continued appetite for athletic footwear, inspired by high street trends, so the introduction of FJ Fuel Sport provides an updated option which will continue to drive heat and excitement in that category.
"Since the launch of Premiere Series, we've seen a huge growth in the classic golf shoe category so to have a spikeless offering in the ever-popular Traditions line offers yet another option for the golfer looking for added versatility."
FJ Fuel Sport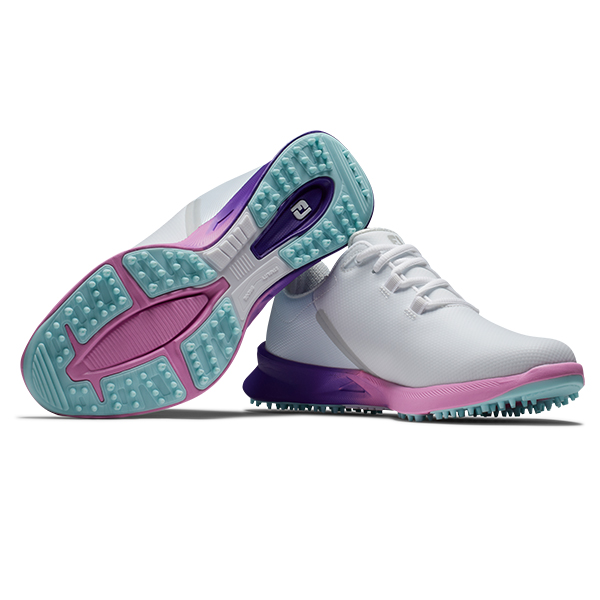 Following its hugely successful introduction in 2022, FJ Fuel provided golfers with an athletically styled, lightweight, spikeless option offering year-round stability and traction. Available in women's and men's selections, FJ Fuel Sport features a new breathable performance mesh to further add to the athletic appeal. Utilising a similar TPU Hot Melt top layer as featured in the Pro|SL Sport, golfers can enjoy lightweight comfort and traction in a stylish, easy-to-clean waterproof offering.
Golfer benefits
Breathable Performance Mesh New upper material utilising mesh and using ultra-thin TPU Hot Melt top layer
Lightweight Midsole Cushioning Stratolite foam delivers lightweight cushioning and ensure ultimate comfort and max walkability round after round.
Superior Traction The Power Stabiliser outsole features tour-proven traction with an all-new Stability Bridge to provide optimal support and control.
Flex Last A full rounded toe character with a full fit across the forefoot and instep. A toe spring and a slightly narrow heel completes the athletic profile.
Waterproof A one-year waterproof warranty
Availability and price
FJ Fuel Sport will be available in three women's (UK size 4-8) and three men's colour options. Women's SRP: £124.99 Men's SRP: £134.99
Traditions Spikeless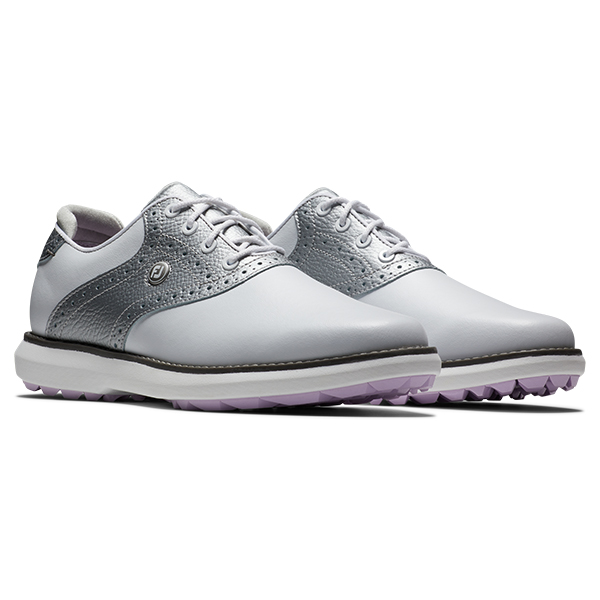 The classic styling and lightweight comfort of FJ Traditions now boasts added versatility with the introduction of a new spikeless offerings. The spiked Traditions has been the go-to golf shoe for club golfers and tour pros alike since its launch two years ago but is now available with both on and off-course versatility thanks to the introduction of the VersaTrax outsole.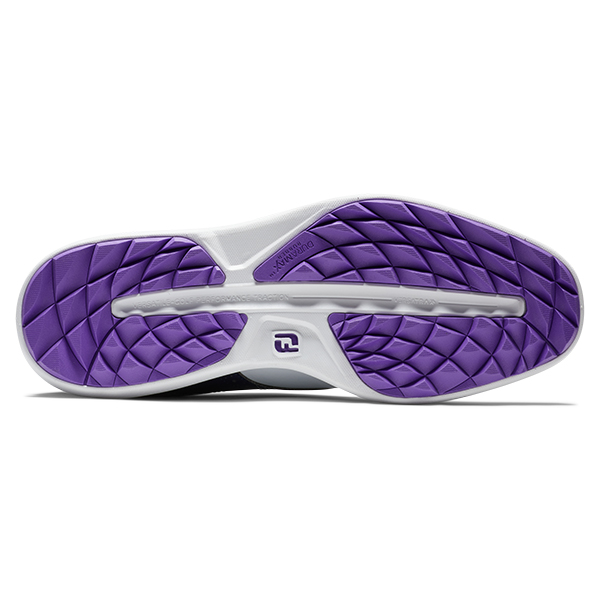 Golfer benefits
Fashionable Leather Fashionable full grain leather offers outstanding comfort, breathability, and durability
Lightweight Construction A foam midsole provides lightweight comfort
Complete Support A moulded high-density EVA FitBed and Foam Achilles pad for increased comfort
Versatile Traction The VersaTrax outsole is engineered with traction elements to create an outsole that is perfect for on course performance with wear-to-the-course versatility. Each traction zone maximises traction during your swing and provides exceptional grip when walking the course
Laser Street Last Offers a full rounded toe character, standard fit across forefoot and instep, with a slightly narrow heel
Waterproof A one-year waterproof warranty
Availability and price
Traditions Spikeless will be available in two women's (UK Size 4-8) and two men's colour options. Women's SRP: £99.99 Men's SRP: £119.99
All new FootJoy golf shoes are available in store and via FootJoy.co.uk now.