Team golf returns to the LPGA Tour this week as the Hanwha LIFEPLUS International Crown takes place at TPC Harding Park
The Hanwha LIFEPLUS International Crown is a team match-play competition that features the best female golfers from the top eight countries across the globe. The competition has returned to the LPGA for the 2023 season after last being held in 2018. It was scheduled to be held in 2020, but went on an indefinite hiatus due to the Covid-19 pandemic.
Here's all you need to know about the event:
Location: TPC Harding Park in San Francisco, California
Field: Eight countries - USA, Korea, Japan, Sweden, England, Thailand, Australia and China (in ranking order 1 to 8)
The field of eight countries will be determined by the combined Rolex Women's World Golf Rankings of the top four players from each country as of the Rolex Rankings published on Nov. 21, 2022, immediately following the CME Group Tour Championship.
Players: 32 players were determined via the Rolex Rankings published on April 3, 2023, immediately following the DIO Implant LA Open. If a player ranked in the top four of a pre-qualified country does not compete, the spot will be filled by the country's next highest ranked player available from the Rolex Rankings as of April 3.
Team USA: Nelly Korda, Lexi Thompson, Lilia Vu and Danielle Kang
Team Korea: Jin Young Ko, Hyo-Joo Kim, In Gee Chun and Hye Jin Choi
Team Japan: Nasa Hatoka, Ayaka Furue, Yuka Saso and Hinako Shibuno
Team Sweden: Maja Stark, Madeleine Sagstrom, Anna Nordqvist and Caroline Hedwall
Team England: Jodi Ewart Shadoff, Bronte Law, Alice Hewson and Liz Young
Team Thailand: Atthaya Thitikul, Patty Tavatanakit, Moriya Jutanugarn and Ariya Jutanugarn
Team Australia: Minjee Lee, Hannah Green, Steph Kyriacou and Sarah Kemp
Team China: Xiyu Lin, Ruoning Yin, Yu Liu, Ruixin Liu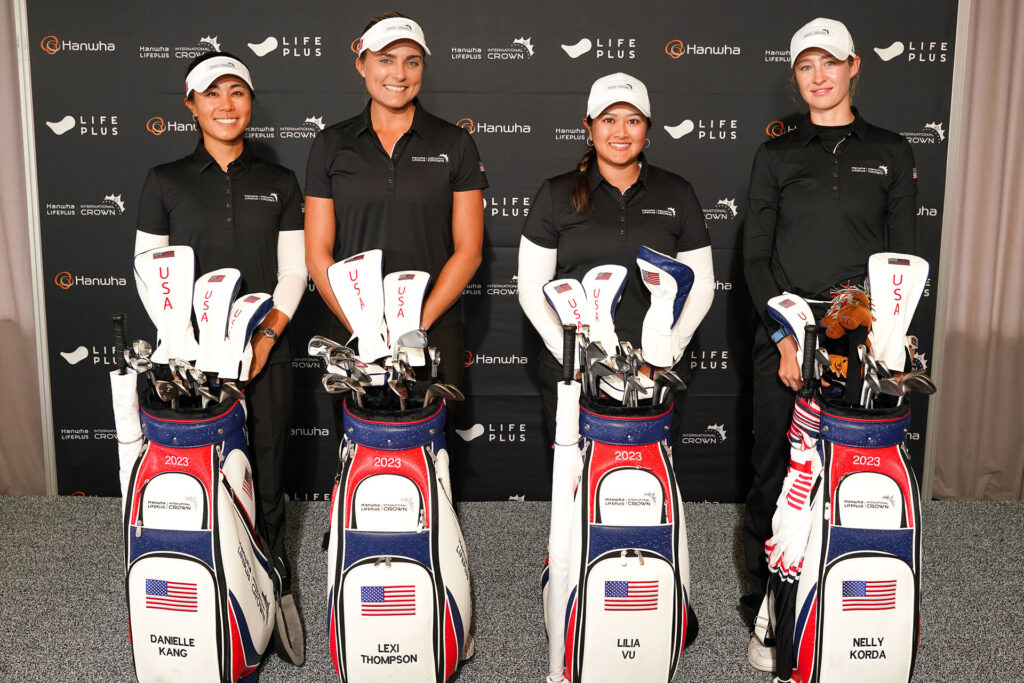 | | | | | |
| --- | --- | --- | --- | --- |
| Pool | Country 1 | Country 2 | Country 3 | Country 4 |
| A | USA | Sweden | England | China |
| B | Korea | Japan | Thailand | Australia |
Hanwha LIFEPLUS International Crown - Competition Format
The competition will take place over four days. It will feature four-ball competition on Thursday, Friday and Saturday.
The top two countries from each pool will advance to Sunday. Two semi-final matches will be played Sunday morning. Each semi-final match will consist of two singles matches and one foursomes match.
The winning semi-final countries will compete in the final match on Sunday afternoon, and a third-place match will take place between the two losing semi-final countries. Both matches will be the same format as the semi-finals.
Scoring: One point will be awarded for a win, one half-point for a tie and zero points for a loss. All points from the four-ball matches on Thursday-Saturday will be cumulative and will determine the top two countries advancing from each pool. On Sunday, the first country to four points will win the head-to-head matchup.
What happens if teams are tied on points?
In the event two countries are tied for first in each pool, the following formula will be used to break ties:
Total points accumulated in head-to-head matchups between the tied countries
Total number of matches won in all six four-ball matches
Highest seeded country entering the competition
If three or more countries are tied for first place, or two or more countries are tied for second place within each group, a play-off will be used to determine the countries advancing to Sunday.
If there are only two countries in the play-off, the format for the play-off will be hole-by-hole, four-ball match play. If there are more than two countries in the play-off, the format for the play-off will be hole-by-hole, four-ball stroke play.
Thursday matches
Pool B – Japan vs. Thailand
11:15 a.m. – Yuka Saso/Ayaka Furue (JPN) vs. Atthaya Thitikul/Patty Tavatanakit (THA)
11:30 a.m. – Nasa Hataoka /Hinako Shibuno (JPN) vs. Moriya Jutanugarn/Ariya Jutanugarn (THA)
Pool A – Sweden vs. England
11:45 a.m. – Anna Nordqvist/Caroline Hedwall (SWE) vs. Bronte Law/Jodi Ewart Shadoff (ENG)
12:00 p.m. – Madelene Sagstrom/Maja Stark (SWE) vs. Liz Young/Alice Hewson (ENG)
Pool B – Republic of Korea vs. Australia
12:15 p.m. – Hye Jin Choi/In Gee Chun (KOR) vs. Minjee Lee/Stephanie Kyriacou (AUS)
12:30 p.m. – Hyo Joo Kim/Jin Young Ko (KOR) vs. Hannah Green/Sarah Kemp (AUS)
Pool A – United States vs. People's Republic of China
12:45 p.m. – Lilia Vu/Nelly Korda (USA) vs. Ruoning Yin/Xiyu Lin (CHN)
1:00 p.m. – Danielle Kang/Lexi Thompson (USA) vs. Ruixin Liu/Yu Liu (CHN)
Watch coverage via Golf Channel and Sky Sports Golf. View the live leaderboard here.
Noticeable absences
Three players are noticeably absent this week, with team England suffering a big blow on Monday as both Georgia Hall and Charley Hull withdrew:
Georgia Hall and Charley Hull have withdrawn from Team England for the 2023 Hanwha LIFEPLUS International Crown. They have been replaced by Alice Hewson and Liz Young.
Statement from Georgia Hall
"I've been struggling with my foot for the past few weeks and in spite of daily physio treatment it's not improving, so I've been advised to take a week off. I'm really sorry not to be able to play the Hanwha LIFEPLUS International Crown and wish my England teammates the very best of luck for the week. I also want to especially thank President Yeo and his team at Hanwha for bringing this event back to the LPGA Tour."
Statement from Charley Hull
"I'm gutted to have to withdraw from the Hanwha LIFEPLUS International Crown this week. I've been quite sick the past couple of weeks with stomach issues. I was hoping I could play through it but it seems not and I'm going to need to seek some help. I'm really sorry to let the tournament down and of course my teammates, but I'm going to have to take some time out to get healthy. Thank you to Hanwha, especially President Yeo, for your support of the LPGA and women's golf."
Also absent is Linn Grant for team Sweden, this is due to her Covid-19 vaccination status which does not allow her to travel to America.
To find out more about the Hanwha LIFEPLUS International Crown - please visit the LPGA website here.