The AIG Women's Open ended in a play-off for the first time in 30 years, whilst Joohyung Kim became the first player born in the 2000s to win on the PGA Tour.
It was in the fading light at Muirfield that South African Ashleigh Buhai managed to triumph on the fourth extra hole to win her first Major at the AIG Women's Open. Taking a five-shot lead into the final round, it felt like it was the 33-year-old's tournament to lose.
It's Major Sunday, on one of golf's most well-known stages - there was bound to be drama.
Read the full report on Buhai's historic and emotional win here, as Major season draws to a close.
Amateur Sara Ericsson wins in Sweden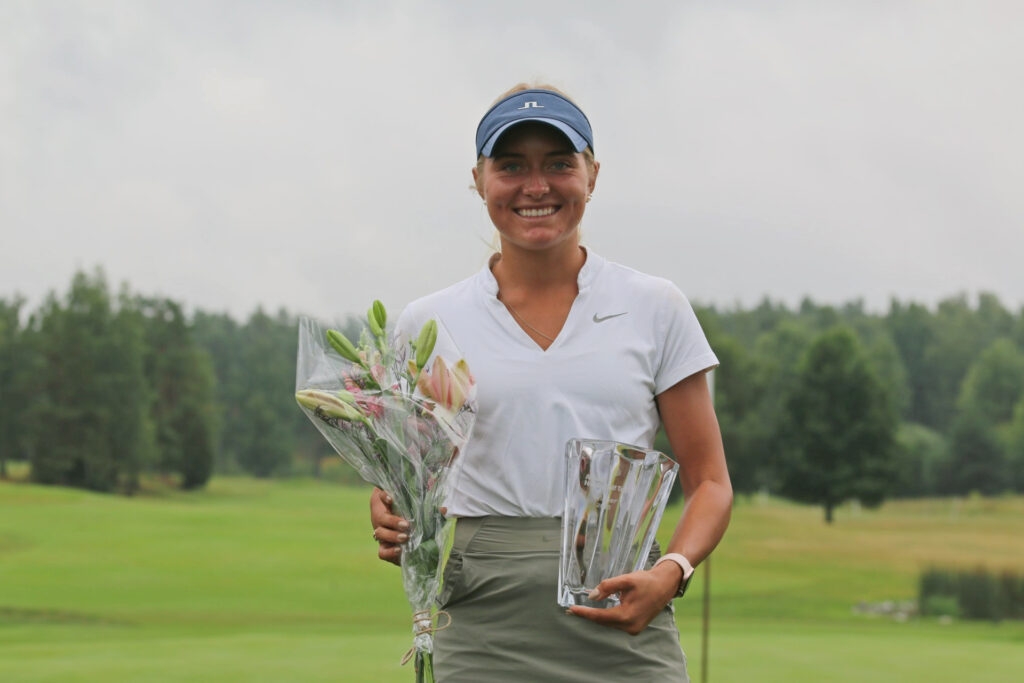 Amateur Sara Ericsson of Sweden won on the first extra hole in a play-off to secure her first LET Access Series (LETAS) title at the Vasteras Open by PadelPitch.
It was a nail-biting final day at Orresta Golf & Konferens where the local amateur started the third round as the leader, one shot clear off her playing partner and later on her play-off opponent, New Zealand's Hanee Song.
After rounds of 70 and 67 on the first two days, Ericsson had a steady start with a bogey on the fourth and birdie on the fifth before play was suspended due to bad weather.
"I was expecting a long day so when the delay was called on, I just stayed calm," said Ericsson, who was about to brighten up her last week in Europe before returning to college in the United States.
"It's a bit hard to get back in the zone after a delay and I had a tough approach shot over the water ahead, but I handled it well and just fought through the rain for the rest of the round."
As the final round resumed, the 21-year-old found the rhythm after a bogey on the seventh hole – making the turn in 37 – and rolled in two birdies on holes 13 and 15 to regain the lead.
However, a double-bogey on the par-four 16th set the Swede back, carding a final round of one-over 73 to tie the top position with Song.
In her first European start, the Kiwi kept putting pressure on the amateur throughout the round, making it all square at the turn with a score of level-par.
The 26-year-old from Auckland carded two birdies and two bogeys on the back nine to then stay patient on the final three holes, sign for a final round of even-par 72, and force play-off with Ericsson.
It did not take long for the local star to claim victory with a par on the first playoff hole.
"I was so concentrated on my game that I didn't know it ended in a playoff. When I found out in the scoring area, I got really excited.
"This is what I play golf for – the excitement and pressure, it's something I love, and I just enjoyed it while giving my very best which today resulted in a win," said the champion, who led the noticeable group of seven Swedish players in the top-10.
Four of the local amateur talents tied the third place as Kajsa Arwefjall, Louise Rydqvist, Matilda Bjorkman, and Andrea Grimberg Lignell all finished at level-par.
Italy's Clara Manzalini and Sweden's Ellinor Sudow shared the seventh spot one stroke back.
Another Swedish amateur Elsa Svensson took the outright ninth at three-over as Germany's Patricia Isabel Schmidt finished in solo tenth another shot back.
With her sixth top-10 finish this season, Schmidt climbed up one spot in the LETAS Order of Merit and currently sits in third with 1,178.21 points.
Germany's Chiara Noja stays at the top of the rankings with 1,734.65 points while New Zealand's Momoka Kobori is second with 1,332.75 points.
The LETAS season continues with another Swedish event which will be the Big Green Egg Swedish Match Play Championship in GolfUppsala.
Xiaowen Yin gets back-to-back wins
Last week the Epson Tour, the players were playing for the largest prize pool and winner's cheque in Tour history The purse for the French Lick Charity Classic was $335,000 - approximately $135,000 more than the average tournament this year. The winner would receive a whopping $50,250. For comparison, the top money earner for the entire 15 event 2013 season earned $47,000.
Ahead of the event Epson Tour's top-ranked player, Lucy Li said:
"It's a good indicator of where women's golf is going. To see that kind of purse increase on one of the developmental tours is really awesome, and I think everyone's super excited."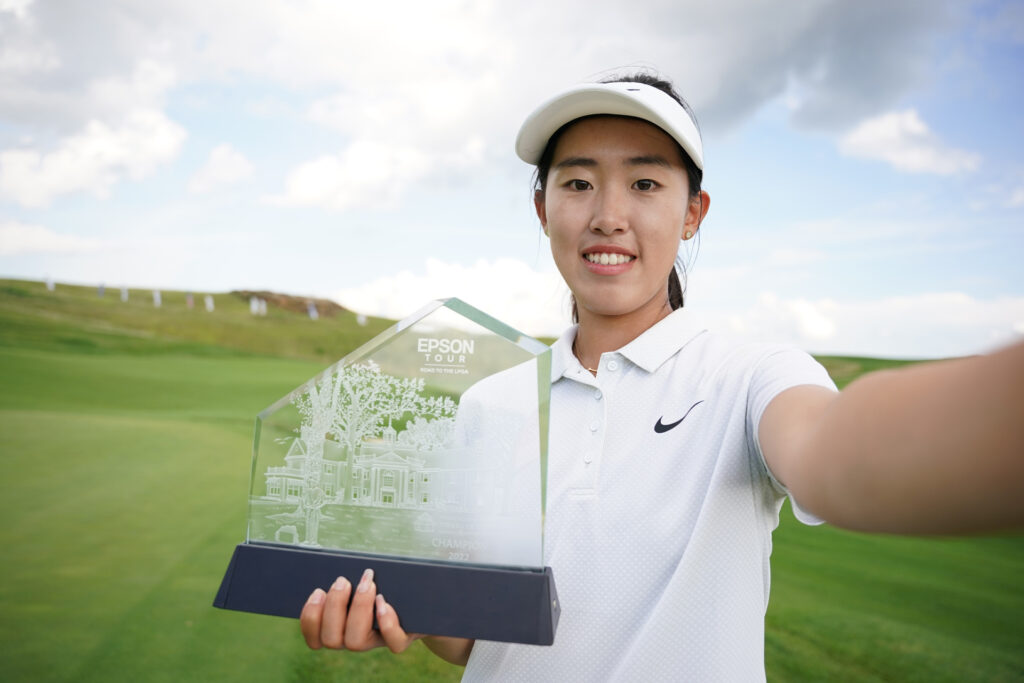 So, after a long weekend that felt like a puzzle being put together, the French Lick Charity Classic crowned a champion. Xiaowen Yin earned back-to-back wins, jumping from No. 24 on the Official Money list before last week's FireKeepers Casino Hotel Championship, to current No. 2.
"I feel incredible," said Yin. "Unbelievable. Amazing."
Yin finished her third round Sunday morning, before heading back out for the final 18. She jumped from third to solo lead after three consecutive birdies on 14, 15 and 16.
"I didn't realize I could win," said Yin. "I was thinking maybe third place or second place, I'll take it. But I never thought I could win. Seriously."
Yin's three-under-par final round and seven-under-par for the tournament secured her the victory over round three leader, Gabriella Then.
Then finished one stroke behind Yin in solo second at six-under-par. She started her round strong, balancing two bogeys with two birdies, but fell short of Yin's run on the back nine.
In solo third, at five-under-par, was Polly Mack. Rounding out the top five were Daniela Darquea at four-under-par and Linnea Ström at three-under-par. A total of twelve players shot even par or better during the challenging 72-hole weekend.
The Epson Tour's next event is the Four Winds Invitational in South Bend, Indiana.
Second DP World title for Shinkwin
Callum Shinkwin secured his second DP World Tour title, to add to his 2020 Cyprus Open, after a final round one-under-par was enough for a four-stroke victory at the Cazoo Open supported by Gareth Bale at Celtic Manor.
On winning he told Sky Sports:
"I feel great, even though I had a few shots of a lead heading into the back nine it's still not easy, especially when Connor then made a charge.
"There was a lot of pressure still and even down the last, it's not an easy hole, a lot of people have made a high number there even if they've hit the fairway.
"The scores haven't been there before this, but this week was my week. Winning anywhere is fantastic, it's a great feeling, winning with family and friends here it means so much more."
Shinkwin came through a final-round battle with his playing partners Julien Guerrier and Connor Syme.
The DP World Tour heads to Northern Ireland for the ISPS Handa World Invitational, a tri-sanctioned with the LPGA Tour and the Ladies European Tour.
First player born in 2000s to win on PGA Tour
Joohyung (Tom) Kim became the first player born in the 2000s to win on the PGA Tour plus he was also the second-youngest winner this century. Winning in style with a five-stroke victory at the Wyndham Championship.
Going into the final round the 20-year-old was two-shots off the lead, he got out in front after playing eight-under-par over eight holes to post a final round nine-under-par 61.
Starting the week with a quadruple bogey wasn't quite the start you would expect from the eventual champion, Kim reflected after his win:
"It's crazy. I mean, I've never won a golf tournament starting with a quad. It's 24 strokes later and here we are. I played great this week. It was hard to stay in the moment in the final round just knowing that I was so close, but I just never let my guard down until I holed that putt on 18."
Weather delays played havoc with the event, Kim added:
"Just it's been a crazy week with rain delays. I was worried, I was anxious actually playing my last three holes knowing that maybe we're not going to finish. I did not want a three to four-shot lead needing to sit down for three hours or to come back tomorrow, so I'm glad I was able to finish."
The PGA Tour now moves into the FedEXCup Playoffs with the first event in Memphis - Fed Ex St. Jude Championship.
Which other tours would you like us to report on? Drop us an email with your request here.