Ashleigh Buhai wins her first LPGA Tour title in America, whilst Anne Van Dam returns to form, plus Canada celebrates after the first home victory in 69 years
Report by the LPGA
South African star Ashleigh Buhai, who rose to prominence last year with her major victory at the AIG Women's Open, earned her second LPGA Tour win on Sunday at the ShopRite LPGA Classic Presented by Acer with a third-round 65, her second in a row. A win that was coming after some strong performances in recent weeks on the LPGA Tour.
Throughout the week, Buhai was draining birdies left and right, ultimately making 19 birdies in 54-holes (35%), the most in the field.
On Championship Sunday, she made four birdies in her first five holes to overtake first- and second-round leader Dani Holmqvist and runner-up Hyo Joo Kim by the sixth hole, Buhai added one more on eight before making her only mistake of the day with a bogey on 11.
Tied with Kim at that point, Buhai made birdie on 13 while Kim made bogey on 12. Walking up the par-5 18th with just a one stroke lead, Buhai landed her second shot just off the green and rolled her short chip just 4 feet past the hole. Feeling the pressure, she stepped off her putt but easily drained the four-footer once she calmed her nerves.
Watch final round highlights from the ShopRite LPGA Classic
"I kind of looked up at the leaderboard after my second shot and I saw Hyo Joo had birdied (on 17), so I said to myself, well, got to get up and down to give myself a chance to win it outright and would make her have to eagle and put some pressure on her," Buhai said. "I just kind of stuck to my processes and steps that we have worked on… tried to focus more on the moment, and that shot and not the result and the outcome, which is something that has got me to this position and something that has paid off…"
With Buhai finishing -14, the pressure indeed moved to Kim with a two-shot deficit. Knowing she needed to make eagle on 18, Kim sent her chip shot straight at the hole and, garnering a huge gasp from the gallery, nearly made it in. One more roll would have forced a play-off, but instead the ball came to rest just a foot from the pin.
Hearing the crowd, and the result, from the scoring tent, relief washed over Buhai as she secured her second victory and was showered in champagne by her husband David Buhai, caddie Tanya Paterson and close friend and fellow South African golfer Lee-Anne Pace. It is her first stateside victory and second professional win of 2023 – she won the Investec South African Women's Open on the LET in March.
Global success for Buhai
"My goal this year was to win in the U.S. I hadn't won here yet. After the AIG Women's Open I won in Australia, South Africa, and my goal this year was to get the monkey off my back and finally win here on U.S. soil, "she said. "So to do it, I'm very proud of myself for ticking it off. I've been playing some really solid golf, and knew that if I continued that form, one of these weeks I would be coming in close with a chance to get the job done."
Rookie Yan Liu earned the solo third position with a third-round 67. It is the best result of her young LPGA Tour career, beating her previous best of tied 21 which she earned last week at the Mizuho Americas Open. Holmqvist, the 18- and 36-hole leader, couldn't hold on to earn her first LPGA Tour victory in her 9-year tenure. She shot a final-round 72 to finish tied fourth alongside 2021 Tour winner Nanna Koerstz Madsen, who shot up from 16th with a -6 on Sunday.
Rounding out the top-10 are six players, including Australian Su Oh, who tied the low round of the week at -7, Thai sensation Atthaya Thitikul, who earned her seventh top-10 in nine official starts, and 2023 rookie Soo Bin Joo, playing in just her third event this season.
It's Major number two next week with the KPMG Women's PGA Championship. This week the tour moves to Michigan and the Meijer LPGA Classic for Simply Give at Blythefield Country Club in Belmont.
Maiden victory for Dale Whitnell at Volvo Car Scandinavian Mixed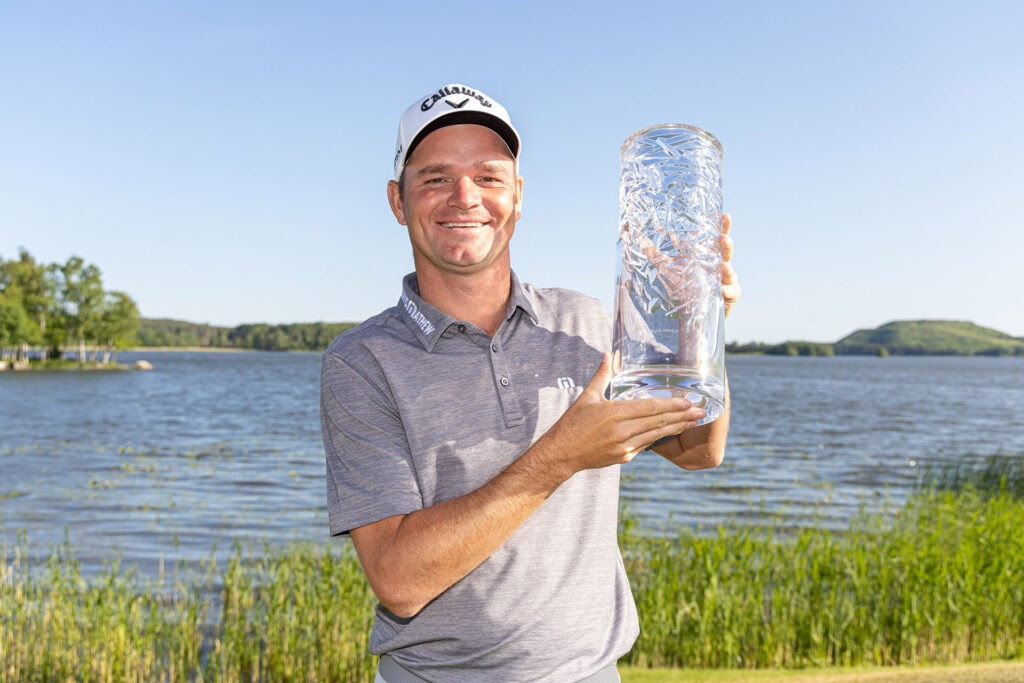 Report by the LET
Dale Whitnell produced a final round of 70 to win the Volvo Car Scandinavian Mixed with a total of 21-under-par.
The Englishman led from the halfway stage after a second round of 61 (-11) and held a four-stroke lead coming into the last day.
Whitnell dropped a shot on the fourth but bounced back with birdies on five and six, he rolled in another on the 11th before making a bogey on hole 13.
However, a birdie on 17 meant the 34-year-old could relax coming into the final hole where he made par to triumph by three strokes at Ullna Golf Club.
"It's awesome," said Whitnell. "Obviously, Sweden is a great host for a tournament like this. It was great playing with the women. I can't thank everybody enough.
"It tested me out there. [My caddie] Gaz was great. It's been a long road for me. I've got so many people to thank. My fiancée Angie, our little dog, obviously! My coach who I didn't know flew out today. My mum and dad. All my friends and family. This means everything to me.
"I'd like to obviously thank all the ladies and Ladies European Tour. It's great to play against the women but I managed to come up trumps this time. Hopefully, you can get us back again next year. I think I'm going to have a good celebration next week!"
American Sean Crocker finished in second place on 18-under-par after a round of 65 (-7) on the final day which included two eagles, four birdies and one bogey.
Anne Van Dam is leading female player
Dutch star Anne Van Dam finished as the leading female in a tie for third place on 15-under-par alongside Germany's Yannik Paul.
After her round of 63 (-9) on moving day, Van Dam followed it up with a round of 69 (-3) to end her week in Sweden six shots behind the winner.
"It was always going to be tough to follow up a performance like I did yesterday," said the five-time LET winner. "I just tried to start my round with a clean slate.
"The front nine I actually played good, I had a lot of chances and the back nine I was on top of my game, so it was nice to hang on in there and then the birdie on 18 feels extra special.
"I was 14 shots behind going into the weekend, so I knew I had to play a little bit more aggressive. Today as well, even not having my best game, you have to keep going. You have to stay aggressive and see if you can make some chances.
"My putter wasn't that good today otherwise I feel like I could have pushed a little bit harder. It's been a fantastic week and hopefully, I'll be back here next year."
Strong finish from Gabs Cowley
Four players finished in a share of fifth place on 14-under-par including England's Gabriella Cowley, who produced a final round of 69 (-3).
The 27-year-old had another eagle on her scorecard, as well as four birdies and three bogeys to seal her best LET result of 2023.
"It was a great week. I played really solid," said Cowley. "It was just a good day. Playing with Maddie we shared a lot of fans and support, so it was nice to obviously be a part of that and play well too.
"I've been playing pretty good but just haven't really had it [a low finish], so to actually do it in a four-day tournament and produce the shots that I need hit when I needed it most was a big thing for me.
"My dad who caddied is a massive part of golf, and obviously my life too. The help that gives me on and off the course, but especially this week, was really good. Playing these sorts of weeks gives you so much confidence. It's a big confidence boost and a stepping stone in the right direction."
Cowley finished on 14-under alongside England's Paul Waring, Denmark's Søren Kjeldsen and Scotland's Richie Ramsay.
In the 2023 Race to Costa del Sol, the top of the rankings stays the same with India's Aditi Ashok leading, Spain's Ana Peláez Trivino in second and Sweden's Linn Grant in third.
This week it's the Amundi German Masters on the Ladies European Tour and it's Major number three for the men at the U.S. Open.
Siyun Liu first time winner on the Epson Tour
It was another first time winner on the Epson Tour at the FireKeepers Casino Hotel Championship, with Siyun Liu taking the victory.
Liu has had an interesting ride with the Epson brand; just last year she was an intern at Epson America and is now an Epson Tour champion. Liu battled through the weather, the nerves, and a charging Amelia Garvey to finally secure the victory.
Liu started the day in a four-way tie for the lead at seven-under-par with Amelia Garvey, Lindsey McCurdy, and Min-G Kim. By the time Liu walked off the fifth hole, she was in the solo lead and held that lead until late in the round.
The 23-year-old made a birdie on 10 to move her lead to two shots with eight holes to play. The only mistake of the day would come on 13, which moved her into a tie for the lead with Garvey. The two athletes were tied heading into the final three holes, with Liu making a birdie on 17 to make it a one-shot lead heading up 18, which Liu would close out with a par on the difficult finishing hole.
"I am just really happy that all of my hard work has finally come to fruition," said Liu. "I was so nervous during the back nine of my round though. I was shaking on some of the tee boxes, and I hit a few snap hooks. I was pretty relaxed on the front nine, but towards the end you don't have room for error. My approach shots have been consistent all week, so I was able to capitalize on that and made some putts."
Liu finished tied ninth at LOTTE Championship presented by Hoakalei (LPGA earlier in April and used this to help her win.
"If you can finish top-10 in an LPGA Tour event, you can win an Epson Tour event. So that made me realize I am not that far away."
First Canadian victory in 69 years
After an extremely turbulent week on the PGA Tour, it seemed fitting that the RBC Canadian Open should have a home favourite clinch the title.
Nick Taylor did it in quite some style on the fourth play-off hole against England's Tommy Fleetwood, holing a 70 foot putt for victory.
The scenes were pretty wild for a golf event, which saw fellow Canadian Adam Hadwin tackled to the ground by a security guard as he came onto the green to spray Taylor with champagne! The confusion around the hoodie-wearing Hadwin, who was clearly mistaken for a fan, was quickly sorted and celebrations continued.
It's the first time in 69 years that a Candian has won the event.
The 35-year-old overturned a three-shot deficit at the start of the day to post a six-under-par 66 to set the clubhouse lead at 17-under-par at Oakdale Golf & Country Club.
Fleetwood had a chance for outright victory in regulation but was unable to get a birdie on the final hole. In the play-off the 32-year-old holed from 15 feet to match Taylor's birdie, both players then made pars on the next two extra holes.
On the fourth play-off hole, Fleetwood had left himself a birdie opportunity before Taylor stepped up and holed what might be the greatest putt of his career. Winning a tournament that meant so much to him:
"I heard someone shout out there, "everything," and I don't know any other word to use other than that. I think it's a tournament that we've circled on our calendar since probably junior golf. But ever since I've been on the PGA Tour this is one that we want to do as well as we can in, and the crowd support was the most unbelievable thing I will probably ever experience in my life.
"To kind of break that curse, if you want to call it, I'm pretty speechless. I don't think it's going to sink in for quite some time what happened today."
It's now time for the third men's Major of the season and with so much talk around the new entity being proposed by the PGA Tour, DP World Tour and PIF (Saudi Arabia's Public Investment Fund), it will be interesting to see how much the talk focuses on the 2023 U.S. Open.
Which other tours would you like us to report on? Drop us an email with your request here.