A sensational 64 from Australian Cameron Smith sees him crowned Champion Golfer of the Year at the 150th Open at St Andrews
The final day of the 150th Open championship was pointing towards a final day shoot-out between Rory McIlroy and Viktor Hovland who were four-shots clear of the chasing pack. But as we all know, no prediction is fully safe when it comes to a Major championship.
To be fair as we hit the turn, it looked as if Rory was in control after birdies on five and ten. However, Cameron Smith was putting together one of the best rounds of his career. In the group in front of McIlroy and Hovland, Smith made five birdies in a row from holes 10-14.
Whilst McIlroy failed to capitalise on birdie opportunities, Smith took them all. However it may be this putt on 17 that is most remembered from his round, giving him the opportunity to save par.
A final birdie on 18 sealed a sensational 64 to finish the 150th Open on 20-under-par. It meant that McIlroy had it all to do. Only an eagle on 18 could force a play-off. Unfortunately it wasn't meant to be and the wait goes on for his fifth major.
The 33-year-old Irishman spoke of his disappointment:
"Disappointed obviously. I felt like I didn't do much wrong today, but I didn't do much right either. It's just one of those days where I played a really controlled round of golf. I did what I felt like I needed to just apart from capitalising on the easier holes around the turn, 9, 12, 14. If I had made the birdies there from good positions, it probably would have been a different story.
"I got beaten by a better player this week. 20-under-par for four rounds of golf around here is really, really impressive playing, especially to go out and shoot 64 today to get it done. Yeah, I'll rue a few missed sort of putts that slid by.
"It's been a good week overall. I can't be too despondent because of how this year's went and this year's going. I'm playing some of the best golf I've played in a long time. So it's just a matter of keep knocking on the door, and eventually one will open."
Cameron Young who was playing with Smith, almost made a late charge to challenge his playing partner. Not much has been made of his round but the American delivered a final round 65 to take outright second. The 25-year-old reflected on his final round performance:
"It probably hurts a little worse to come up one shot short. If you lose by eight you don't really care. But, I played well today. I would have signed up for 65 this morning and to watch Cameron shoot what he did, it was pretty amazing."
How did the Champion Golfer of the Year feel about winning his first Major and doing it in such great style?
"Just really proud of how I kind of knuckled down today and managed to get it done.
"I don't think I hit the ball any differently all four days, to be honest. I felt like I kept hitting quality golf shots and kept giving myself looks at birdie, even from a distance, which is sometimes what you have to do around here.
"The only difference today, was the putts were dropping. I spent a little bit of time on the green last night, and just really wanted to see a few putts go in.
"I love this type of golf. I think this type of golf suits a lot of Aussies, the firm and fast fairways. Having to hit away from pins, I think, is another one, where Aussies are brought up doing that. I just felt really good with where my game was at and how the course was set up."
As the sun sets on a phenomenal week in St Andrews, it's been one full of emotion, reflection and has given us the ultimate celebration of golf. Bringing the 2022 men's majors to a spectacular close.
The DP World Tour stays on the links and heads to Hillside for the Cazoo Classic, whilst the PGA Tour heads to Minnesota and the 3M Open.
Anna Nordqvist wins first LET event outside of the Majors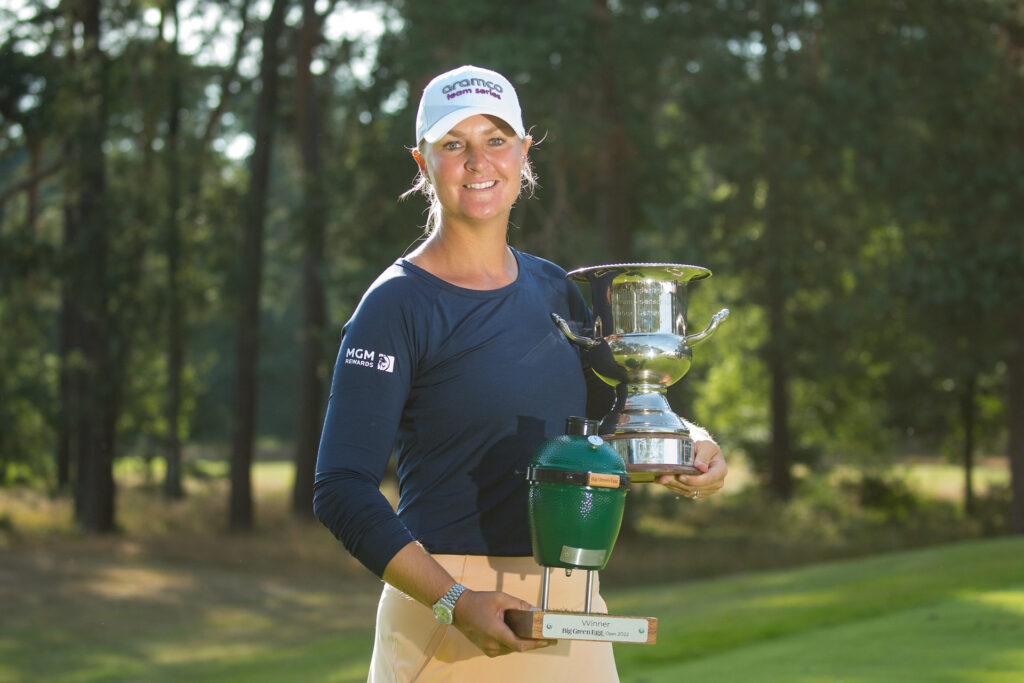 Anna Nordqvist is the 2022 Big Green Egg Open champion after a final round score of 72 saw the Swede take a one-shot victory in The Netherlands on Sunday.
After a Monday which saw her play amongst Champions of the Old Course at St Andrews, the three-time Major champion warmed up for next week's Amundi Evian Championship in the perfect way at Rosendaelsche Golf Club, with a win which was her first individual success on the Ladies European Tour outside of the Majors.
Having gone into the final round with a slender one-shot advantage, Nordqvist had to hold off the challenge from a number of players throughout the day to get her hands on the trophy.
A birdie on the 17th hole ultimately proved the difference for the Swede, who had to stay patient to seal the win on a tough day of scoring.
"It feels really good, I'm proud. It was a bit of a battle out there today, I played really well in the beginning then lost focus and rhythm around the turn. But I'm proud of myself for fighting through the week.
"The beginning of this week was a bit of a struggle, then I played so well yesterday in a bit of a breeze, I've done a lot of good things this week and it's nice to be back competing again."
The Swedish star started the day with a steady front nine, picking up a shot on the par-five fourth, before dropping a shot on the ninth to make the turn in 36.
Another bogey on the tenth saw things tighten up at the top, with Nordqvist locked on -6 alongside Vani Kapoor and Sarah Schober, with a nail-biting final stretch in store.
A birdie on the 13th saw the Solheim Cup star move herself back into the ascendency, only for a dropped shot to see her fall back to -6 alongside Schober once again, with Sophie Witt and Kapoor a shot back with three to play. But a birdie on the penultimate hole of the tournament was to prove the difference for the Swede.
A level-par round of 72 was enough for Schober to secure a career-best finish on the LET in second, as she finished the week on six-under-par.
Kapoor could be understood for having nerves as she stood on the first tee ahead of Sunday's play, as she featured in the final group of an LET event for the first time, with none other than three-time Major champion Nordqvist for company throughout the day.
And it could have been those early jitters that forced a bogey on the second, before she earned a shot back with a birdie on the eighth.
Another dropped shot on the 14th saw her fall a shot back behind the leading pair once again, with a finish of T3 the best of her career, just as it was for Sophie Witt who also finished on -5 for the week.
The German also shot the best round of her fledgling LET career on the final day in the Netherlands, with eight birdies on the card in a score of 67 (-5), which saw her shoot up the leaderboard.
Witt and Kapoor shared third spot with Nuria Iturrioz, who registered three birdies and three bogeys to go round in level-par on Sunday, leaving her two shots off the lead - just as she had started the day.
Momoka Kobori's strong performances in Europe continued with a sixth-place finish on four-under-par, with a final round score of 72 enough to keep the New Zealander in the top ten, while Whitney Hillier finished in standalone seventh on three-under-par after a final round 73 (+1).
Five players finished in a tie for eighth, with Zhen Bontan the highest Dutch finisher on home soil, alongside Anais Meyssonnier of France, Virginia Elena Carta of Italy, and English duo Lily May Humphreys and Liz Young.
Victory for Nordqvist moves her up to 21st in the Race to Costa Del Sol on 603.33 points, with Hillier causing the only movement within the top ten, as she jumps into eighth place above Tiia Koivisto on a score of 1003.53.
This week it's all about the Amundi Evian Championship - the fourth women's Major of the year.
Jennifer Kupcho and Lizette Salas win Dow Great Lakes Bay Invitational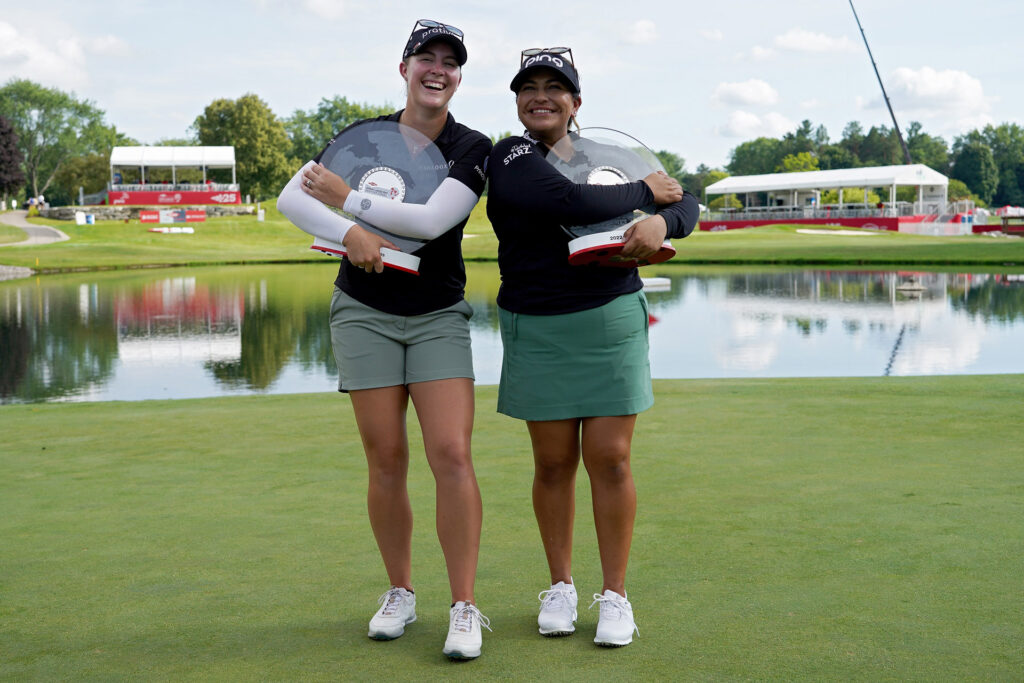 Heading into the final round with a four-shot lead, Jennifer Kupcho and Lizette Salas (Team Youth on Course) carded a four-ball 61 to win the third edition of the Dow Great Lakes Bay Invitational at Midland Country Club. The two, who went 2-0-1 as partners during the U.S. Solheim Cup, never gave up the lead on Saturday and finished at -26, five strokes ahead of the nearest team. This is Kupcho's third victory of the 2022 season, and second in the state of Michigan after also winning the Meijer LPGA Classic.
"I think after I got my first win, I felt a lot more confident in my game. It's so hard to win out here, so to know that I could do it, I think that kind of helped my confidence. And then to get the second win against a really stacked leaderboard and a play-off at Meijer, it made me all that more comfortable," said Kupcho, the first player to reach three wins this year.
"I think that's kind of how amateur golf was for me. I started out really slow, and then I was able to win and kind of just went off on it. It is a lot of fun to win and I am a very competitive person."
This is Salas' second career victory on Tour and first since the 2014 Kingsmill Championship, a span of 8 years, 1 month and 28 days. She's the fifth different American to win this season and the 42nd player in Tour history to cross the $7 million mark in career earnings. Salas, who made six birdies total on her side of the scorecard, said the win was the perfect way to celebrate her birthday eve.
"It's been a long time. I couldn't have done it without her. You know, she's a great competitor, a great friend and an amazing partner on the golf course. We played some amazing golf this week. My job was, or my goal was to play well for her. We showcased how our games can complement each other," said Salas, who turns 33 on Sunday. "But for myself to finally get another win after eight years, it's been a long journey, lots of up and downs, and just really happy."
Playing alongside Team YOC in the day's final grouping, Matilda Castren and Kelly Tan (Finasia) finished solo second at -21 overall after recording an eigh-under-par 62 on Saturday. This is Castren's second runner-up performance on Tour and is Tan's career-best finish.
"It's just so awesome that I got to do it with my best friend, Matilda, and, yeah, to have my best finish on the LPGA Tour and being able to have so much fun on the week as well. That was amazing," said Tan. "I can't ask for anything else."
Team TexMex, made up of U.S. Solheim Cup captain Stacy Lewis and Dow ambassador Maria Fassi, recorded the second round of 59 of the 2022 tournament to finish solo third at -20. This is Fassi's career-best finish on Tour since becoming a rookie in 2019, and Lewis' best since her win at the 2020 Trust Golf Women's Scottish Open.
Elizabeth Szokol and Cheyenne Knight (Elizabethan Knight's) and Haeji Kang and Tiffany Chan (HK2) tied for fourth at -19, while two rookie teams finished in a tie for sixth at -18: Hye Jin Choi and Na Rin An (Team Dynamite) and Pauline Roussin and Dewi Weber (French Fry and Apple Pie).
Sisters Nelly and Jessica Korda (Team Jelly) along with Karis Davidson and Daniela Darquea finished in a tie for eighth at -17, while five teams tied for 10th at -16, including major champion Sophia Popov and best friend Anne van Dam (Pop Dam Bottles).
After the thrilling final to The Open, all eyes now turn to the Amundi Evian Championship to see whether Minjee Lee can defend her title.
LET Access: Arpichaya Yubol triumphs in Scotland
Thailand's Arpichaya Yubol fired the lowest round of the final day to win the Trust Golf Links Series at the Musselburgh Golf Club by five shots.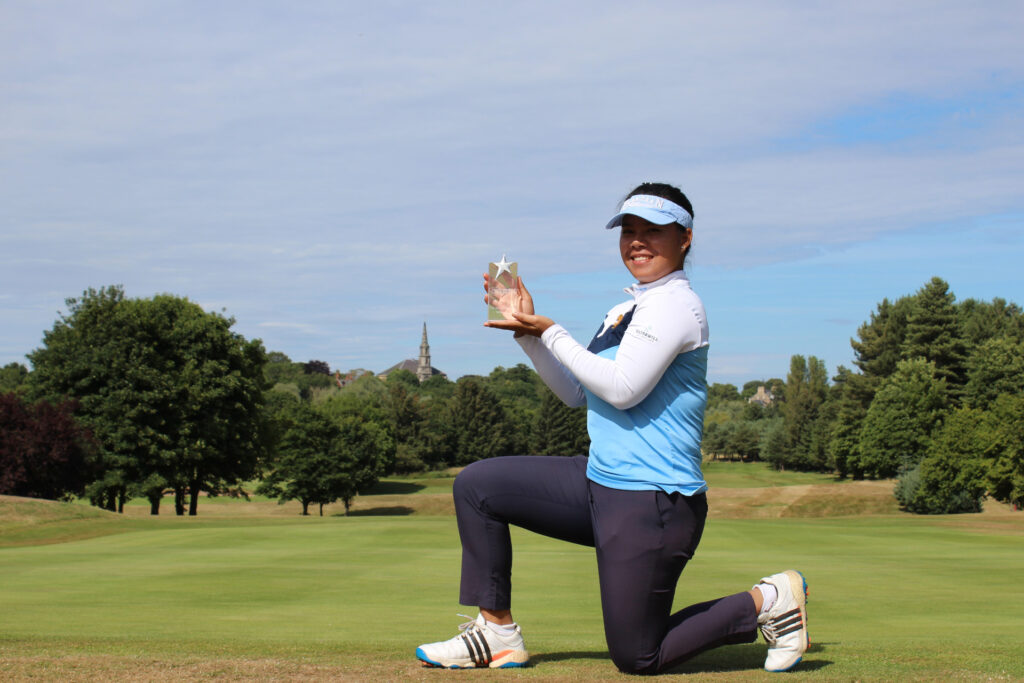 This week's champion started Saturday's round one stroke behind the leader before putting on a show today to card a round of five-under 67 and finish at a total score of ten-under-par.
"I'm really proud of myself because this is my first win in Europe and the golf course was so hard this week.
"We had a rainy day, windy day, and a hot sunny day so making a lot of birdies overall made me very confident for the upcoming events."
Yubol opened her final round with an early birdie on the second hole and added one more birdie and two bogeys on the front nine to make the turn in 36 shots.
She then started to get away from the rest of the field, making six birdies on the back nine with two pars and one bogey which came on the 14th hole.
Coming down the final four, the 20-year-old talent maximised her lead and sealed her first European win with three birdies on 15, 16, and 18.
"I think today was my lucky day because I could rely on my putting, and I could do it on every hole.
"I didn't put a lot of pressure or stress on myself, just focused on my own game and smiled if I made any mistakes."
Her win this week follows a runner-up finish last week at Ramside Hall, and with that Yubol secured one of two invitation spots in the Trust Golf Women's Scottish Open that will take place at the Dundonald Links between July 28–31.
"I am really looking forward to that week because I will be playing with famous golfers from the LPGA Tour, and they are all superstars. I don't know how to focus on myself because I'll be so excited to see all of the great players there!"
In a tie for second at five-under-par were Dutch amateur Lauren Holmey with a final round of two-under 70 and Germany's Patricia Isabel Schmidt carding one-under 71 today.
Thailand's Chanettee Wannasaen took outright fourth space shooting three-under 69 on the last day in Scotland. With her win last week at Ramside Hall, she will join her compatriot Yubol as the second invite for the Trust Golf Women's Scottish Open.
In solo fifth is Germany's Chiara Noja finishing on three-under-par, extending her lead in the season-long LETAS Order of Merit.
Amy Taylor of England finished another stroke back, taking sixth place in her third LETAS start on -2, while the seventh spot goes to Sara Kouskova from the Czech Republic who finished at -1 total for the tournament.
Thailand's Trichat Cheenglab and Italy's Clara Manzalini finished in joint eighth at level-par after three rounds.
Welsh talent Jordan Ryan and Thailand's Aunchisa Utama finished in a tie for tenth place at +2 total.
The LET Access Series will continue with Santander Golf Tour – Málaga which takes place on July 21–23 at Golf Torrequebrada.
Which other tours would you like us to report on? Drop us an email with your request here.