Team Europe come out strong as a rules violation threatens to overshadow a commanding performance which silenced Team USA supporters
Home advantage is something we all hear talked about when it comes to any team matches. This Solheim Cup was always going to feel lopsided, with Covid travel restrictions meaning that there are very few European fans on site in Toledo.
The expectation was that there would be a baying crowd of American fans putting pressure on the Europeans. Before the first tee off in the foursomes on Saturday morning, Team Europe Vice-Captain Laura Davies talked about how the team were prepared for this and how they would be looking to play well and silence the crowd.
The whooping and hollering was there but it didn't seem as loud as you would have expected considering the one-sided nature. Maybe they need a little time to warm up?!
Morning foursomes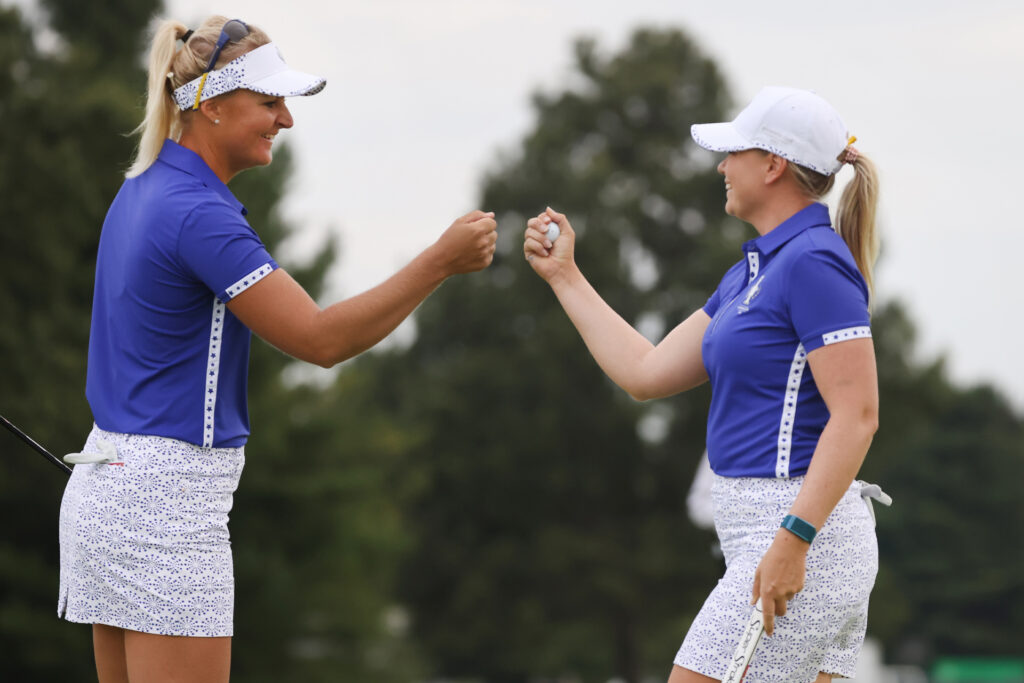 AIG Women's Open champion Anna Nordqvist had the honour of hitting the first tee shot and, as always, she seemed ice-cool, hitting her drive with ease. Nordqvist was paired with rookie Matilda Castren for the morning foursomes and then again for the afternoon fourballs.
Facing the turn one down, Castren found the bottom of the cup on ten from 23 feet, while Ernst left it inside five feet off the tee at the par-3 12th and Kang capitalised. From there, Nordqvist and Castren strung together three straight birdies from holes 13-15 to open a 2-up lead. Despite a par from Team USA to take 17, the European duo shut the door on 18th for a 1-up victory.
Talking after the foursomes Nordqvist said:
"It's such a cool honour to be able to hit the first tee shot, and we striped it down the middle, so we got off to a great start. I loved hitting the first tee shot. It's moments like that I live for. I feel like we played solid. The course is tough, especially if you hit it in the rough. There's so many long clubs in, and with the greens being as firm as they are, it's hard to get it close."
Rookie Castren added:
"Honestly I could not have asked for a better pairing. She is a very nice person and great player, so she made me feel super comfortable out there, and I could play my own game and trust her. I really enjoyed it."
And enjoy it they did as they headed out again in the third match of the afternoon fourballs – which they went on to win 4&3 over Lexi Thompson and Mina Harigae.
Two points from two matches was a lot more than rookie Castren had expected, she said:
"Getting two points is more than I could ask for. And playing with Anna was great. We had some fun today."
Boutier and Hall continue unbeaten streak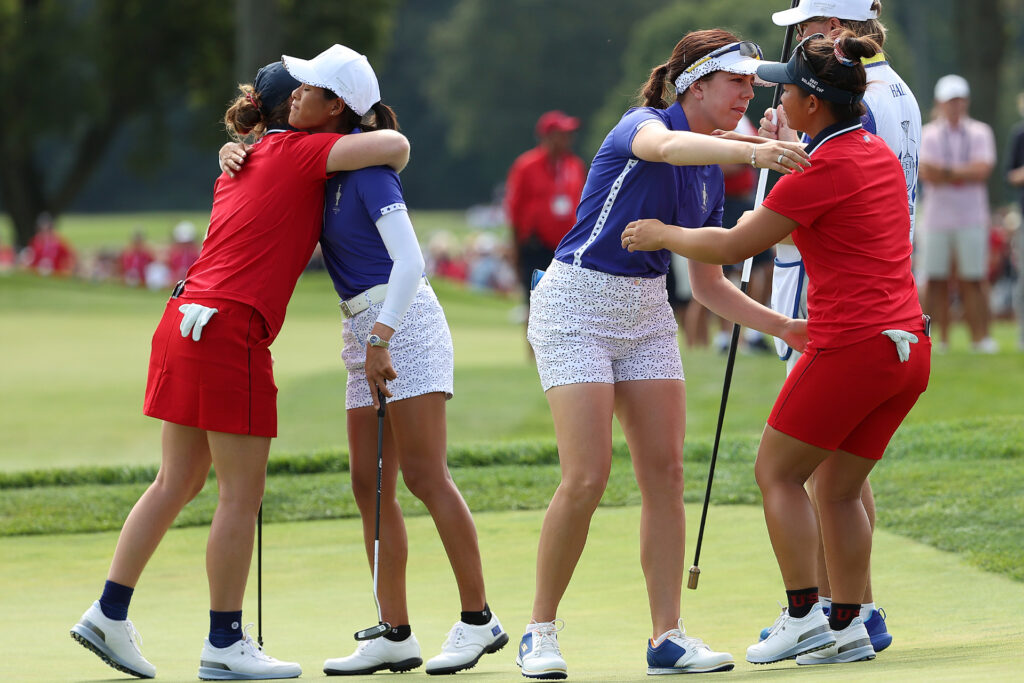 The European duo of Celine Boutier and Georgia Hall had a great comeback in their morning foursome match against USA's Ally Ewing and Megan Khang. While the Americans took the early lead after winning the first two holes and kept a 2-up advantage for much of the match, the Europeans stormed back over the closing holes to tie the match. Maintaining their unbeaten Solheim streak.
Hall was pleased with the result, she said;
"It was a really tough match actually. We both played, both teams played really well. Being two-down with two to play is not ideal, but really glad that we managed to get a half point."
Reid and Maguire prove too strong for Korda sisters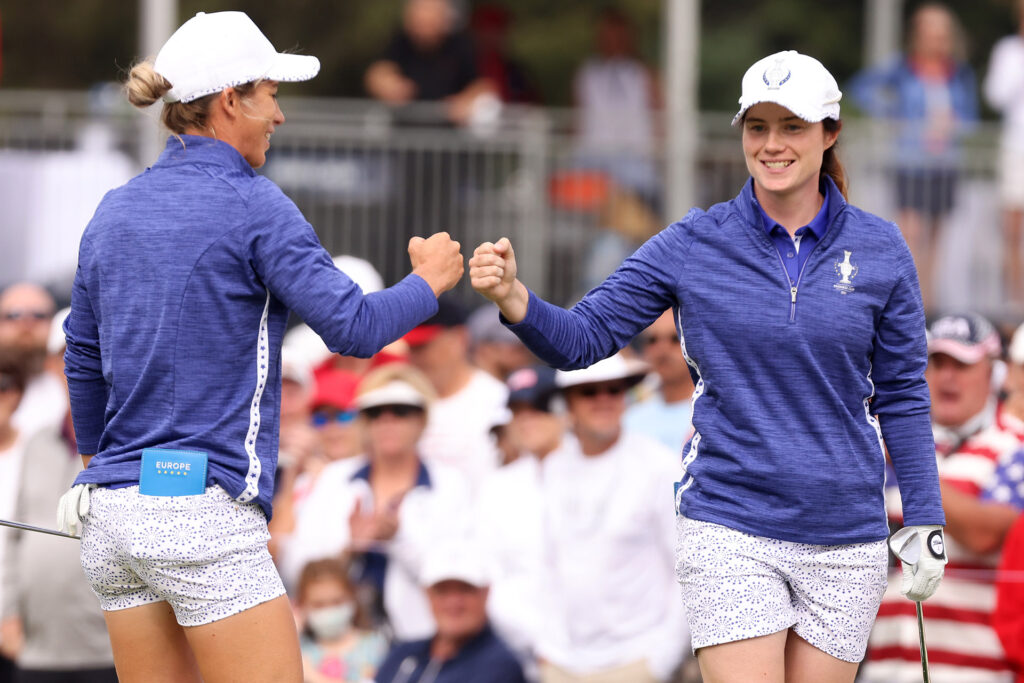 The match of the morning was always going to be Mel Reid and Leona Maguire playing against the Korda sisters. The sisters were a formidable pairing who had won their two foursomes in Gleneagles 6&4 and 6&5.
Rookie Maguire and Solheim stalwart Reid took the early advantage and were two up through six holes. The Kordas gained one back from Jessica's chip in on 13 but that is how it stayed. Reid had nothing but raves about her rookie teammate, especially when it came to putting, someone she admitted to barely knowing when the week started, she said:
"Leona is one of the best green readers I've ever seen, so I was like, listen, mate, you come in, because I'm a bit of a streaky putter and it just gives me a little bit of confidence when she's reading them."
Maguire added:
"I couldn't have asked for a better start to my Solheim career. Very lucky to have Mel alongside me. I think everybody had written us off today, and we just sort of took that in our stride and wanted to be as relentless and fearless as possible, and I feel like we did that."
Hull and Pedersen secure the morning's final point
The final group of Charley Hull and Emily K. Pedersen was a very close match. The match was tied on the 10th before the Americans found some momentum and soon were 2 up with four holes to play. But Europe came back strong and won two of the last three holes before Pedersen rolled in her putt on 18 to secure a 1-up victory over Team USA.
Team Europe headed into the afternoon with a 3½ versus ½ point advantage. As the fourballs commenced, the excitement and noise from the first tee didn't reverberate around the course. It's safe to say that the European players had rattled the American crowd.
Afternoon fourballs
As already mentioned, it was Team Europe who claimed the first point of the afternoon fourball matches when Nordqvist and Castren produced a commanding 4 up victory over Lexi Thompson and Mina Harigae.
Captain Matthew was understandably pleased with the pair's performances on Saturday, she said:
"Matilda has been great all year, and I just felt Anna and Matilda, Anna's experience and then she kind of helped Matilda around the course, and I thought that they just gelled really well together."
Solheim Cup courting controversy again
Gaining the first full point on the board for Team USA was Nelly Korda and Ally Ewing. However, it was a point that was won through a story that is likely to overshadow this week in Toledo.
Here's what happened:
On the 13th hole, Korda reached the par 5 in two and lined up a 27-foot eagle putt. The read, the roll, was all perfect, so much so that she fell to her knees as the ball sat by the hole. Then Sagstrom scooped up Korda's ball to concede birdie, quicker than the allotted waiting time, which was a point of emphasis during the pre-tournament rules meeting on Wednesday. LPGA Tour Rules official Missy Jones stepped in to share the breach of the regulation and that Korda's previous stroke was deemed to be holed – so USA won the hole.
No players or teams were involved in the ruling and it very much soured what had turned into a real crunch match. Team Europe weren't able to come back and lost the match on the final hole.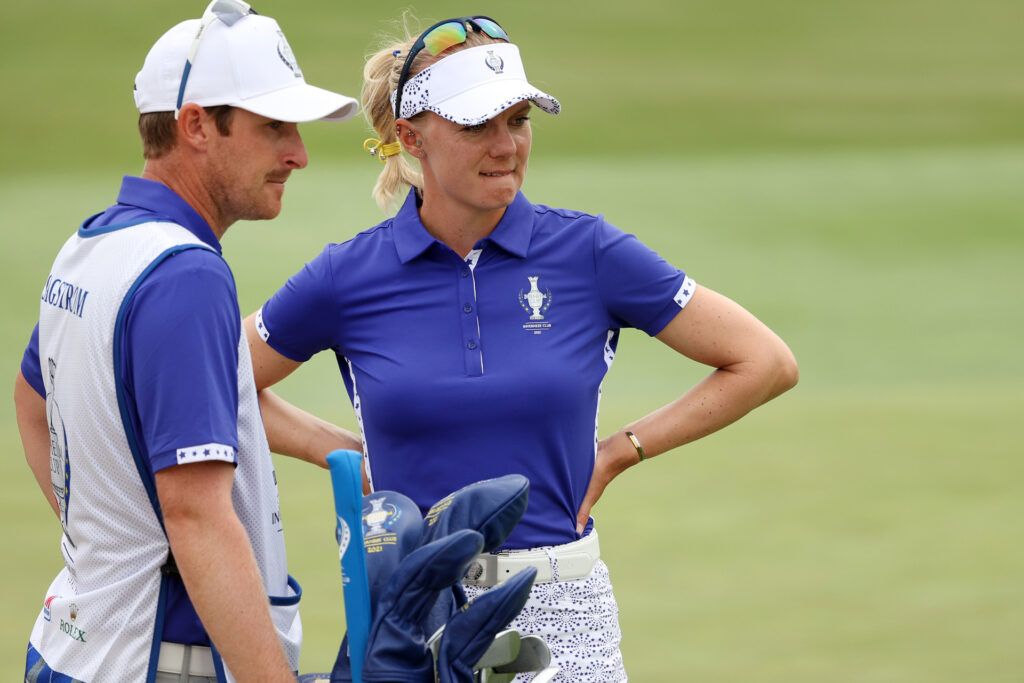 Twitter went into meltdown. Solheim Cup generating more talk than the Tour Championship – great to see people watching but yet another controversy that seems to blight the Solheim Cup.
Sagstrom was visibly upset after her round, accepting that she hadn't followed the rules but that her integrity should not be questioned, she said:
"Obviously, I wasn't following the rules about leaving the ball for 10 seconds, but I do believe in integrity and honour of the game of golf, and I would never pick up a putt that had a chance to go in.
I personally don't agree with the decision with the ball being on the edge, but I didn't follow the 10-second rule, so it sucks right now because I feel like I let my team down."
Nelly Korda was also keen to add that they had no choice but to accept the ruling, she said:
"We obviously had no say in it. They said they were going to look at it on the TV. It's the worst way to win a hole, honestly. You never want to win a hole like that because Ally and I, we get along with everyone. We never get into ruling.
"I'm at a loss for words, because the way I feel right now is not a way I should be feeling."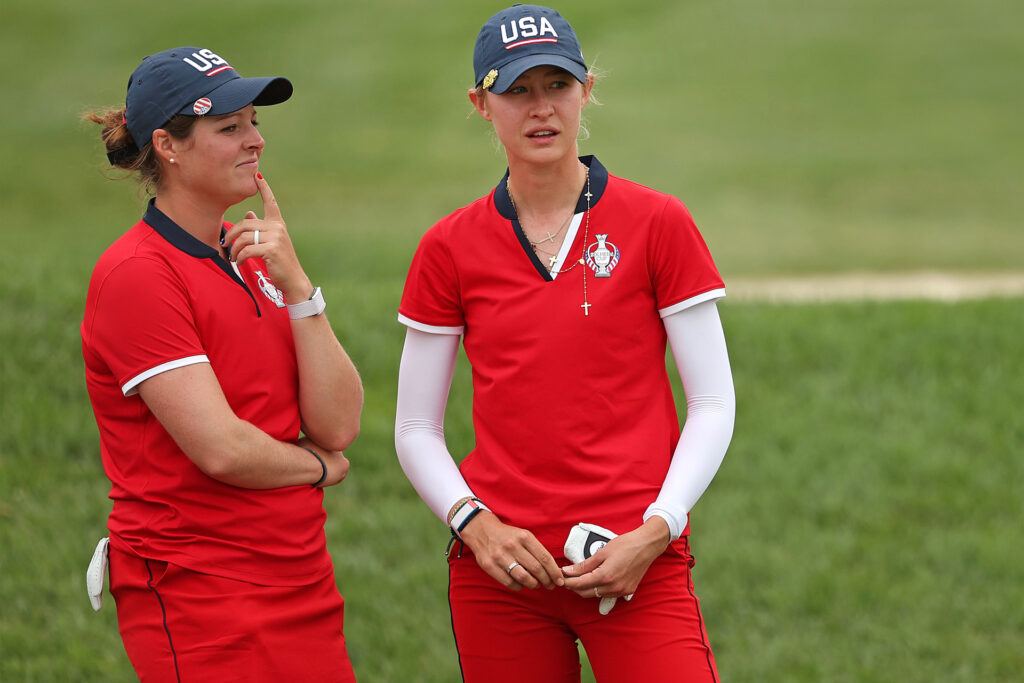 It's time to move on
We can only hope that this doesn't overshadow the next two days, but knowing what golf chatter is like, it most likely will. Both Captains were adamant that it's time to move on.
Team Europe's Matthew said:
"I mean, I hundred percent believe Madelene did not for one instance think that ball had any chance of going in the hole when he she picked it up, and I don't honestly believe Nelly or Ally actually thought it was going to go in either. There was no reaction when Madelene picked up the ball and threw it to them. It's just an unfortunate incident which kind of mars such a great day of good golf, so hopefully we can put it behind us and get on with tomorrow."
Team USA's Pat Hurst said:
"It was just an unfortunate situation that had happened. We want to just move on from that."
A point each way in the final two matches
After another tight contest, it was Americans Jennifer Kupcho and Lizette Salas who earned USA another point when the latter rolled in a birdie putt on the last hole to beat Carlota Ciganda and Sophia Popov.
The final match went all the way to 18 too but Hall's birdie on 15, which put her and Maguire 1 up, was enough to seal the last point of the day against Yealimi Noh and Brittany Altomare.
There was no sign that Maguire or Castren were rookies, both played very solid golf. Maguire was keen to thank her playing partners, she said:
"I have to give a lot of credit to my two partners. It is a team effort. Both Mel and Georgia made me feel so comfortable out there and that just let me play my own game, play free and do what I do best. I think the captains did a really good job."
Heading into Solheim Sunday
Team Europe lead Team USA by 5 ½ to 2 ½ points. Team USA have never come back from anything more than a two-shot deficit after the first day – as Sky Sports Golf commentator Richard Kaufman said – read of that what you will.
You will see some familiar pairing for the Sunday morning Foursomes. It's great to see Sagstrom coming out in the first group. We see a re-match with Thomson and Altomare taking on Hull and Pedersen. Nelly Korda and Ewing continue their winning partnership and set up another exciting match again Reid and Maguire. In the final match, Salas and Kupcho continue from the fourballs and face what's proving to be a really exciting pairing of Nordqvist and Castren.
Let's see whether the Team USA supporters can find their voices on Sunday. Bring on day two!
Watch live coverage from 12pm (BST) on Sky Sports Golf and watch for free on Sky Sports Golf YouTube here.