The wait is over, the 2021 Solheim Cup is ready to tee off and we're excited to announce the Saturday morning foursomes at Inverness Club, Toledo.
It seems fitting that at her seventh Solheim Cup and following a Major win that Anna Nordqvist will lead out Team Europe in the first foursomes of the 2021 Solheim Cup at Inverness Club in Toledo, Ohio. She is paired with a fellow Scandinavian, rookie Matilda Castren. Although a seven-time veteran paired with a rookie may seem like a situation where the 'newbie' is being mentored, Castren has proved herself very worthy of her place in this European team.
Nordqvist may have a Major to her name this year but Castren has won on the LPGA at the Mediheal Championship and on the Ladies European Tour (LET) at the Gant Ladies Open. The LET event being more significant because that gave her the LET membership that she needed to be eligible to play this week.
Managing the pressure as the first match out
When asked about how she was going to cope on the first day in front of fans, Castren responded:
"I'm not sure anyone can fully be prepared for what's going to happen on the first tee and what the feeling is like and all the butterflies in your stomach, but I've been in some pressure situations before and I'm just trying to think back at those moments and talk to the other girls and talk to our captains and vice-captains and just ask for any advice they can give me. But all I can control is my own game and my own thoughts and just try to be the best player I can."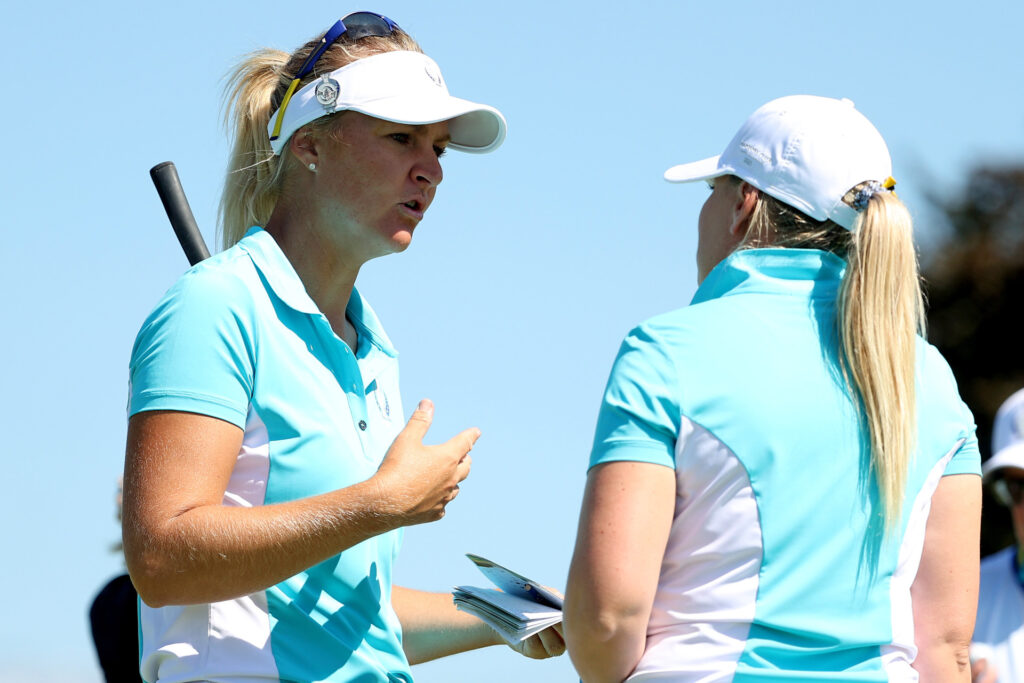 Nordqvist isn't worried about the rookies on the team this year, she said:
"I think our rookies this year, they're very experienced. They've played great. They've won on tour and they don't really need much support.
"I think just learning what to expect and maybe just a friendly reminder to pace themselves this week because it's going to be really long. It's Wednesday today and we're not starting until Saturday. It's just such a really cool atmosphere. I think everyone is running high on adrenaline on a week like this."
Kang on winning ground
Norqdvist and Castren will be teeing it up alongside the pairing of Danielle Kang and Austin Ernst. Kang and Ernst haven't played together before but Kang has won at Inverness Club. She won the LPGA Drive On Championship in July 2020, the first tournament to return after the suspension due to the global pandemic. She beat Team Europe's Celine Boutier by one stroke.
It may not be the advantage that you would expect, as Kang pointed out earlier this week when asked about the golf course, she said:
"The golf course is playing a little bit more different. Back then it was colder and we had rain and wind. Now it's a bit hotter, the ball is flying further. It was soft back then; right now it's pretty firm. I think it's only going to get firmer and faster. Around the greens are pretty difficult. You're just going to have to play really good golf out here. But it's definitely good to see the golf course early."
Saying that, Team USA Captain Pat Hurst has specifically chosen Kang to go out first due to her knowledge and victory at Inverness.
Building on 2019 by Team Europe in match two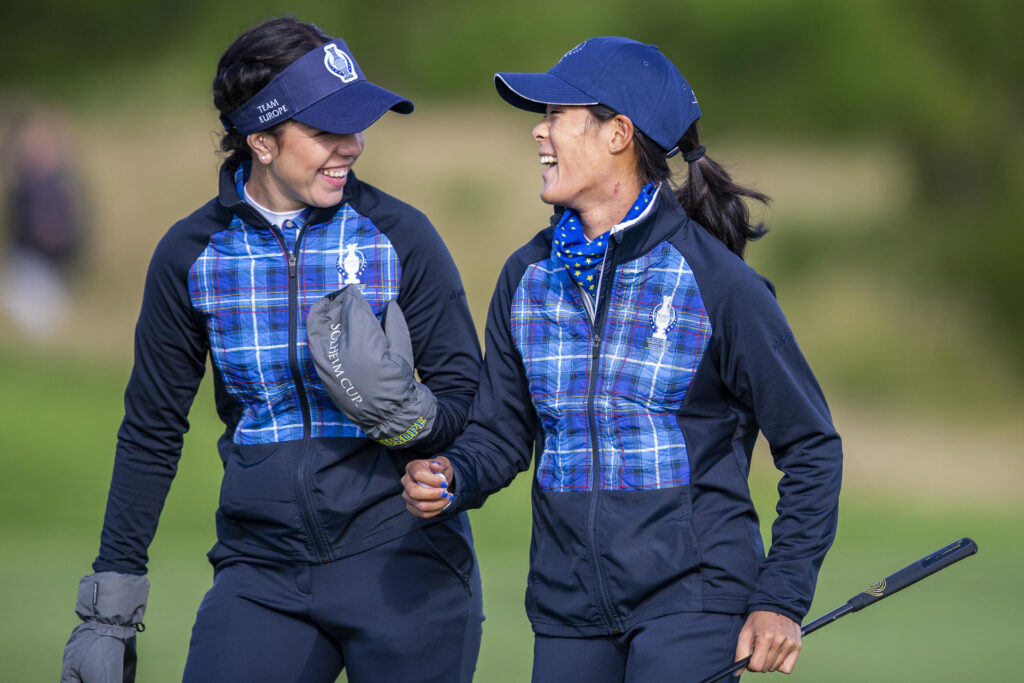 The second tee time belongs to a power combination from the 2019 Solheim Cup at Gleneagles, team Europe are fielding Celine Boutier and Georgia Hall, who won all of the matches they played in. It's a pairing that Captain Catriona Matthew was keen to use again, she said:
"Obviously, Celine and Georgia did so well, at Gleneagles. That was an obvious one that we were going to certainly try out and put out again, this time."
They will be paired against Ally Ewing and Megan Khang – both played in 2019 but not together, so it will be interesting to see what this pairing brings against the record of Boutier and Hall.
The return of Mel Reid
The third match sees the return of Mel Reid who has been paired with rookie Leona Maguire. Earlier this week, Reid admitted to not knowing Maguire that well, she said:
"I played with Leona today. Fantastic player. Haven't honestly spent much time with Leona. You know what tour life is like, if you don't get paired with them you can kind of miss people. I've obviously been keeping an eye on Leona because she has had a fantastic amateur career. She's obviously progressed, and naturally progressed as we all expected into LPGA and played some fantastic golf this year. It was really nice playing with her today, getting to know her a little bit better, and she's a great girl. Yeah, I mean, she's just a great girl, great player."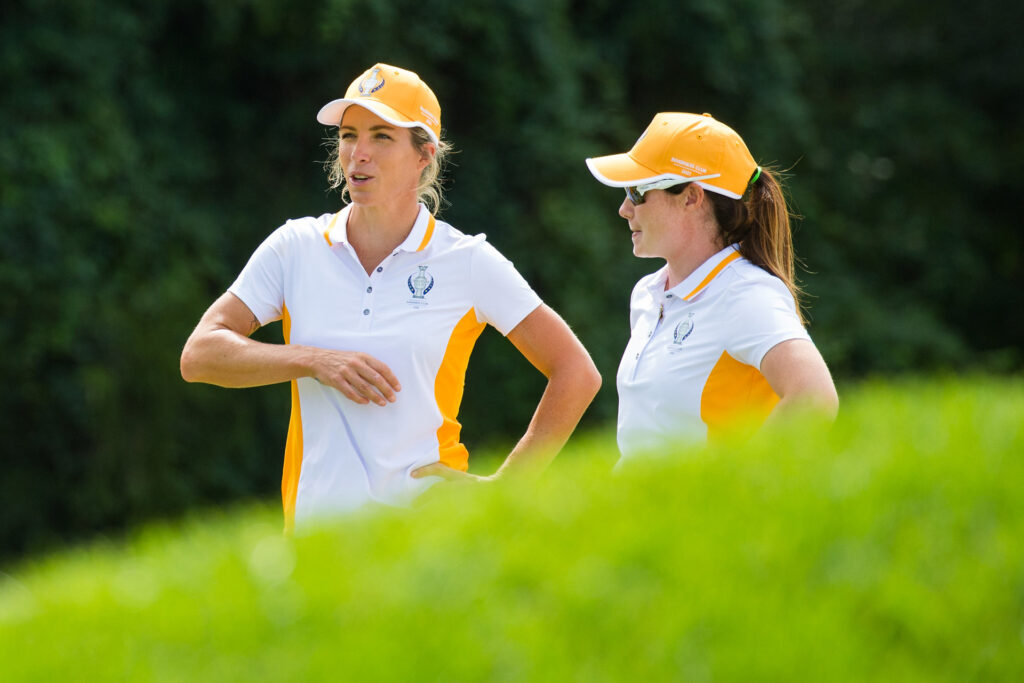 Captain Matthew is confident that they're a good pairing, she said:
"Very confident. You know, I think with Covid it's been difficult in the last probably year and a half on tour, for Leona, obviously fairly new on the LPGA. They've not been able to go out and they don't see as many different people but, you know, we're all together as a team. And as you say, they've played the last couple of days together and they've got to know each other and you watched their press conference yesterday. They're getting on great."
Watch out for the Korda sisters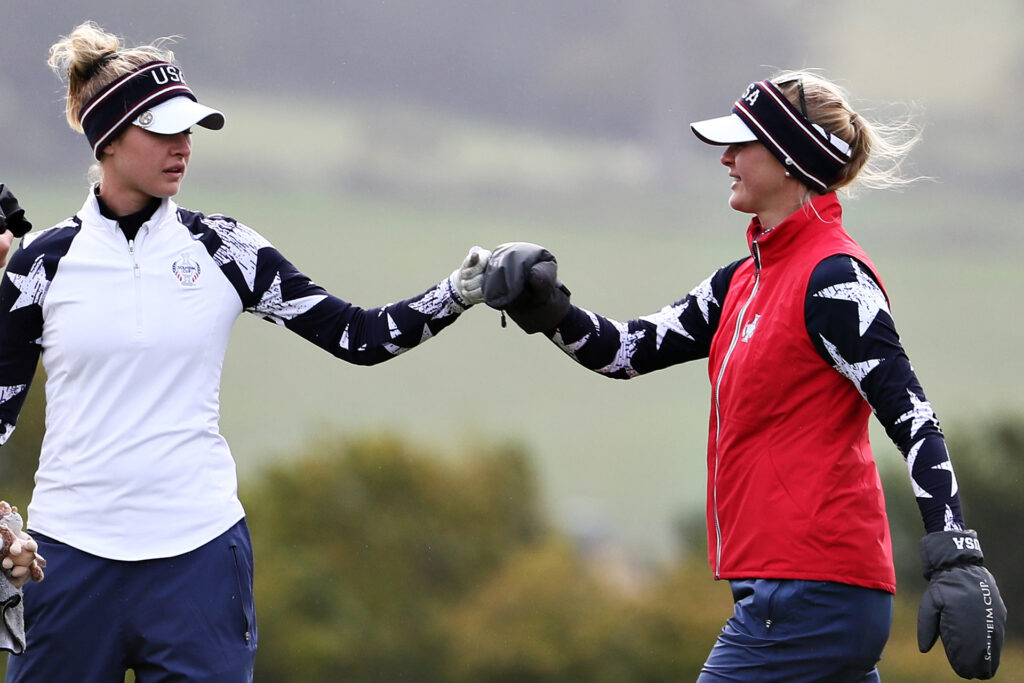 They will be playing the formidable pairing of the Korda sisters, we say formidable because unsurprisingly they are a force to be reckoned with. In 2019, they won the first morning foursomes 6&4 against Caroline Masson and Jodi Ewart-Shadoff and again on the second morning 6&5 against Carlota Ciganda and Bronte Law. This is likely to be the most exciting match of the morning.
Thompson and Altomare paired together again
Last out in the morning session is Charley Hull and Emily Kristine Pedersen against Lexi Thompson and Brittany Altomare. A European pairing that hasn't been used before. Pedersen makes a return to the team having yet to win a point for team Europe. Thompson and Altomare were also paired in the first foursomes at Gleneagles, narrowly missing out on the win with a 2&1 victory to the Hall and Boutier pairing.
Captain Hurst, was keen to keep the rookies out of the first session, she said:
"Foursomes for us is usually the more difficult format. So, we want to put out people who are feeling a little bit more comfortable and not kind of just throw them out there. That's why we went with more veterans out there."
All we can say is…bring on 12:35pm UK time tomorrow! We can't wait!
Watch live coverage from 12pm on Sky Sports Golf and watch for free on Sky Sports Golf YouTube here.