A glorious first day at Royal Liverpool for the 151st Open Championship - we look into the main talking points from the opening round
The first two days at The Open Championship are a marathon, not a sprint. Fifteen hours after the first tee shot, the first round comes to an end. Here are four talking points from day one of The 151st Open at Royal Liverpool
Major moment for Matthew Jordan
The opening tee shot at any Major tournament is significant, a ceremonial act to get the players out and competing for a coveted piece of silver wear or green jacket. With a slight break from tradition, there was a different feel to the opening shot at the 151st Open Championship.
At 6:30am in a group with Scotland's Richie Ramsay and South African Branden Grace, local favourite and Royal Liverpool club member Matthew Jordan stepped up to kick start the Championship.
Coming through regional qualifying just two weeks ago ahead of the likes of Graeme McDowell and Sergio Garcia, the 27-year-old was certainly deserved his place amongst the 156 golfer strong field.
The first tee shot may not have been perfect but the rest of his round went well with a birdie to settle the nerves on the second and a phenomenal bunker save on 11th. At times there was some scrambling but overall, Jordan was more than happy with a first round two-under-par and a share of …
Describing his experience, he said:
"Amazing. I'm kind of running out of words to describe it. It was crazy, mental, loud, everything that I could have wished for. I'm certainly trying to think of a better experience than that, and I don't think I can."
Oh to be local
Talking of local support. At the top of the leaderboard is Southport's Tommy Fleetwood whose near blemish free round of 66 was enough to take a share of the lead. Fans were right behind the popular Englishman, something that was very much appreciated:
"It feels [like] I am one of them, one of the guys that's out there. I'm a fan of the game. I'm from this area. Yes I feel at home, and to feel that support, it means a lot."
Amateur tops the leaderboard
Last month, Christo Lamprecht became the third South African winner of the Amateur Championship in the last six years, following Jovan Rebula and Aldrich Potgieter. As a player, he's not difficult to miss, standing head a shoulders above most of his competitors at 6ft 8ins.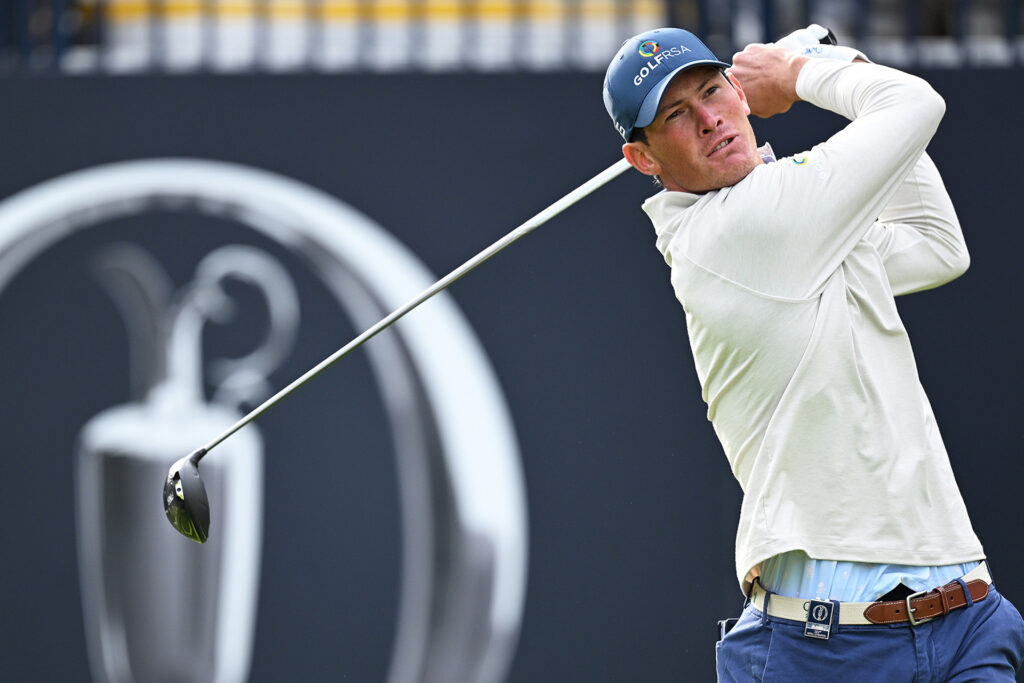 In the final of the Amateur Championship, he beat Swiss player Ronan Kleu 3&2 in the 36 hole final at Hillside which secured his entry into the 151st Open at Royal Liverpool.
Playing alongside his golfing idol, fellow countryman and 2010 Open Champion Louis Oosthuizen, he began feeling nervous but then embraced the moment:
"I'd probably say the first tee shot was the only bit of nerves I had all day. I just kind of walked off the first tee box after hitting my snap hook drive, and my caddie just told me, listen, you're playing The Open as an amateur; no need to stress. We kind of had fun from there."
Is it surprising for him to see his name at the top of the leaderboard?
"I mean, as an amateur, yes, it is. But in my own head, no, it's not. I think I'm very hard on myself, and I think I earned my spot to be here. I think the way I played today I earned to be on the top of the leaderboard, as of now.
"It's not a cocky thing to say. I just personally think I believe in myself, and I guess stepping on to the first tee box if you're a professional or a competitor, you should be believing that you should be the best standing there. Yeah, I'm very proud of it. I'm a little bit surprised, obviously."
Laprechet shares the lead with Fleetwood and Argentinian Emiliano Grillo, who birdied the last two holes to join the group at five-under-par.
Stewart Cink rolls back the years
Fourteen years since he won his only Major, 50-year-old Stewart Cink rolled back the years to shoot a first round three-under-par 68. At an event that he freely admits isn't his strong point, the American gave an overview of how he handles The Open: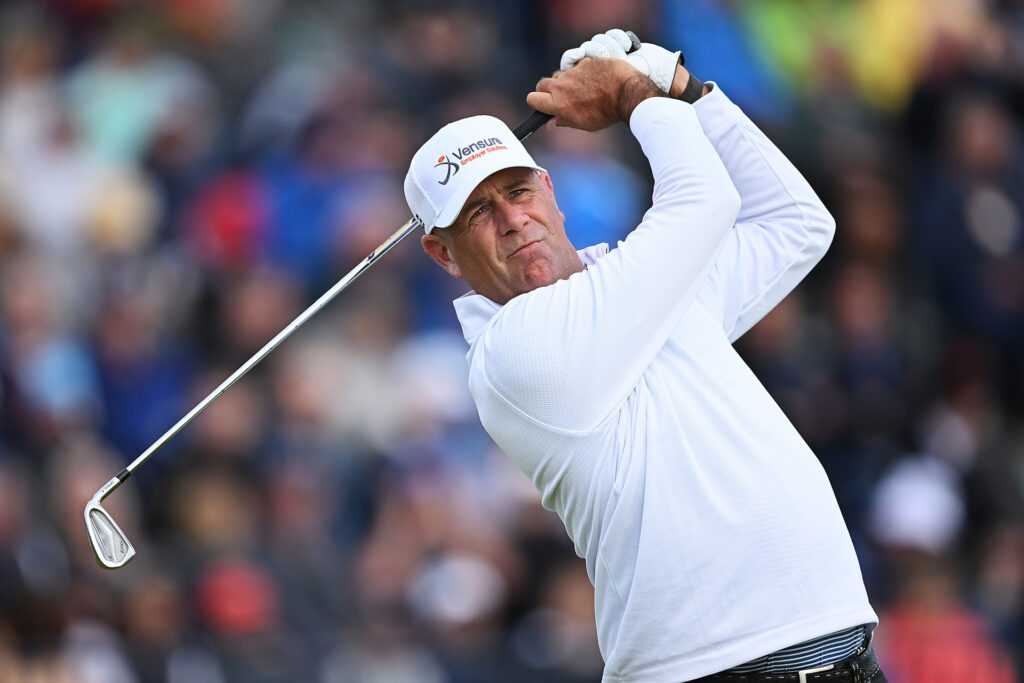 "Well, nothing really. To be honest, it's not like I just knock it dead every year. I won the one year, and then I don't have a whole lot of great results other than that.
"I love playing it. I'm fascinated by the way the course is set up. I think it's a really fun test and it's very challenging. It doesn't really fit my game, to be honest. But playing smart and being disciplined and patient and keeping your heart in the right place, that fits my game.
"It's required on courses like this, and it comes down to execution. Today I executed very well, and it was pretty evident in the scorecard. It was a nice clean day. Putted well from inside eight feet. That's the kind of stuff you have to do in a Major."
BUNKERS
The bunkers this week are TOUGH! Most "normal" bunkers slope towards the middle but this week a lot have flat bottoms, which make them so much more difficult to get out of. Even local Jordan hasn't played in them like this before:
"I haven't seen the bunkers like this at all. I don't know who's annoyed the green keeper, but yeah, to have them, they're just so flat and they're so penal. You just can't hit it in any bunkers whatsoever.
"We know how penal fairway bunkers are, but even the greenside bunkers this week you can drop two shots just like that."
Scottie Scheffler who is currently one-under-par, also talked about the bunkers earlier this week:
"Basically around this golf course if you just avoid the bunkers you can do whatever you want, but any time you're in a bunker, I mean, it's pretty much a stroke penalty they way the bunkers are shaped this week."
There were a lot of penalty shots today and they'll be many more this week.
View the full 151st Open Championship leaderboard here.