Celine Boutier became the first Frenchwoman to win The Amundi Evian Championship, winning by a staggering six-shots.
The phrase 'same same, but different' springs to mind as we come to the end of a second Major Championship in two weeks.
Last week, in a rain-soaked Hoylake, American Brian Harman rolled in his par putt to win The 151st Open Championship at Royal Liverpool by six shots. Fast forward to today and Celine Boutier did exactly the same, with a par putt at the last to win The Amundi Evian Championship, also by six shots. Both players securing their first Major Championships.
The composure showed by Harman and Boutier in their final rounds was what you would expect from a Major Champion. A complete focus on the job at hand and not taking their multiple-shot leads for granted.
Two dominating performances that gained two differing reviews. Whilst Harmon failed to gain the backing of the majority of the fans on the ground or those watching at home, Boutier had all the fans willing her to become the first Frenchwoman to win her home Major.
It was a pressure that Boutier had on her shoulders all week, especially since she held the lead from Friday. Something that she reflected on heading into the weekend:
"It's definitely not easy. I feel like in the past I've definitely not handled it very well. I just feel like I put a lot of pressure on myself because I don't want to disappoint anybody. If I learned anything from the past, I really have to just focus on the job and on the course, on each shot.
Final round of the 2023 Amundi Evian Championship
From the first tee shot, it seemed that Boutier was destined to win. The weather conditions weren't perfect. Although the rain of Hoylake had been replaced with glorious sunshine, there were strong gusty winds throughout her round. She settled in with a birdie at the first, which was matched by her playing partner Nasa Hataoka, so the lead remained three shots.
You can't really have a turning point on the second hole but we could call it a momentum builder as Boutier holed a long range putt for another birdie, whilst Hataoka settled for par.
Another birdie followed on five and her lead was extended to five shots. A bogey from Hataoka on six would make the deficit six shots. Whilst Hataoka struggled to find a birdie, defending Champion Brooke Henderson, who was playing in the group in front, birdied the ninth to claw one shot back.
Boutier made the turn at 14-under-par, seemingly in control. Hataoka got back to nine-under-par on 11, whilst Henderson dropped a shot at 12.
One bogey, Boutier's fifth of the week!
The Frenchwoman's only minor blip in the round came on 13, where she narrowly missed out on making par. A potential turning point that we're sure Hataoka was hoping to capitalise on, however a slightly wayward tee shot on 14 which resulted in a bogey, meant that the charge just didn't materialise.
Boutier saved par on 14 and followed it with a birdie on 15, whilst Hataoka dropped seven shots behind. Henderson did get to nine-under-par again on 15 but another bogey on 17 meant that the Canadian would have to settle for second at eight-under-par.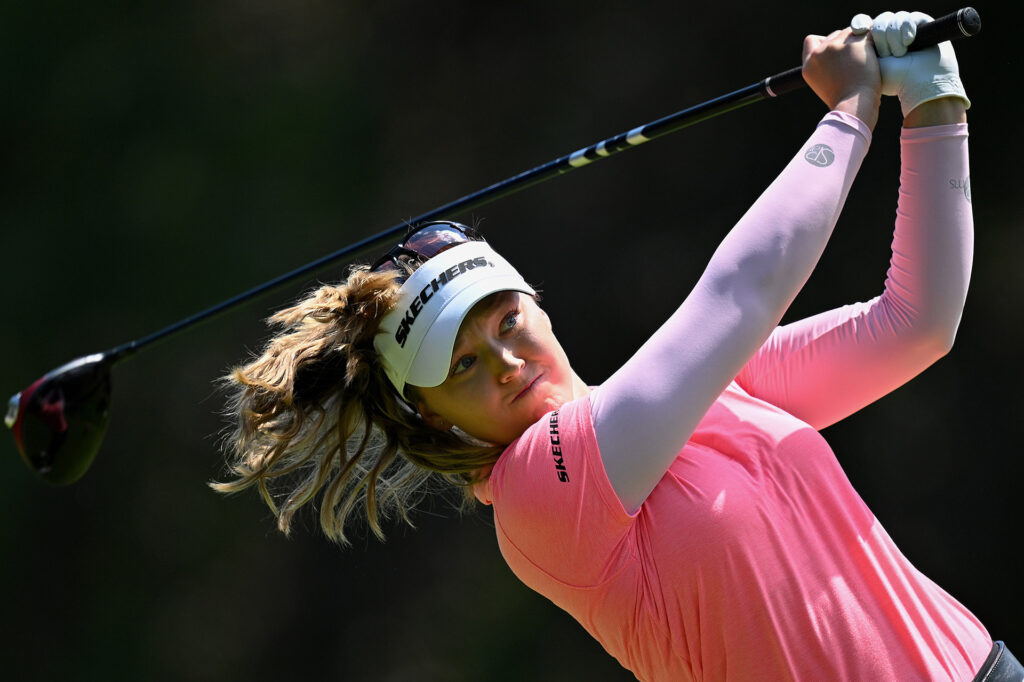 That meant six top-25s in eight starts for Henderson, who was understandably pleased with her performance:
"I love coming here to France. The atmosphere, the people are amazing. This course is so beautiful and a lot of fun to play. I feel like we have a good strategy for it now which is exciting. To finish T2 this year is amazing after coming off the win last year. I'm really proud of that. Celine played amazing, so really happy for her too."
With three holes to play the 29-year-old gave nothing away as she hit an impressive shot into the par 3 16th, again a safe par. A deep breath or two was all that we saw from Boutier, as she took a six shot lead into the final hole.
After laying up, she pitched onto the front of the green and used all five shots on the par 5 to make par and secure her maiden Major Championship.
Champagne celebrations for Boutier
The champagne shower from her friends was very impressive, as were the roars around the 18th from all the fans that had come out to see history made.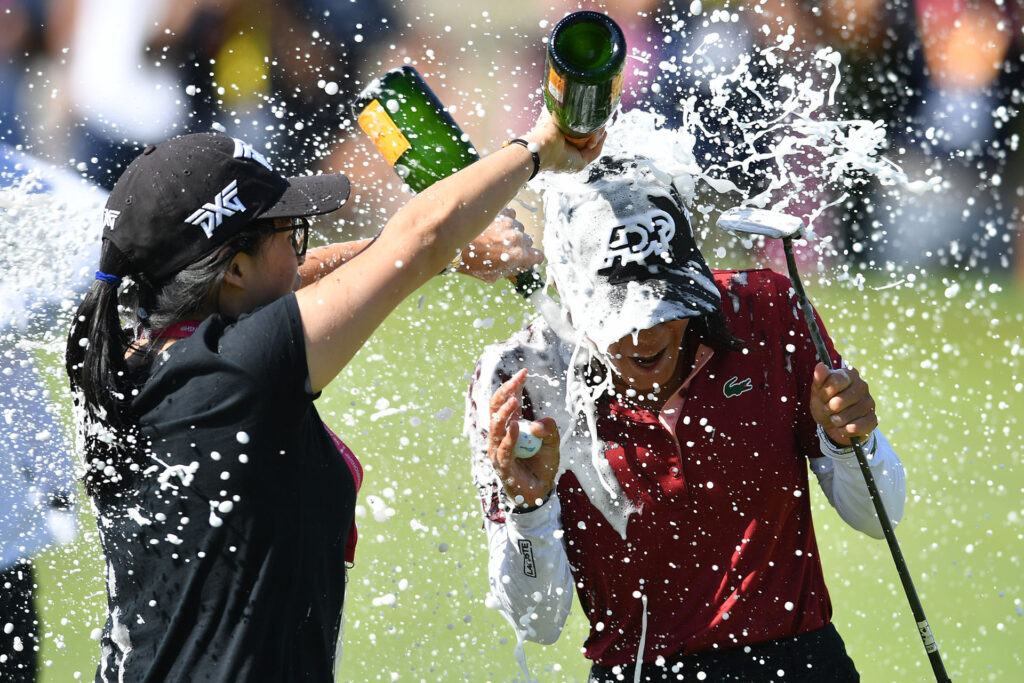 "It's everything. It's definitely the biggest dream of mine. If I was going to win one tournament it had to be Evian. I just really did not expect it to be this week. But I just feel like so grateful to be able to share it with my family and with all the French spectators.
"They were amazing all week. Such a great amount of support and positive energy and definitely fed off the crowd a little bit. I just feel super grateful to be able to share it with the French golf community.
"It definitely was not easy, the conditions were so tough I felt like it could go either way really fast, so I just tried to stay focused on each shot and hole at time. It was pretty challenging with the wind."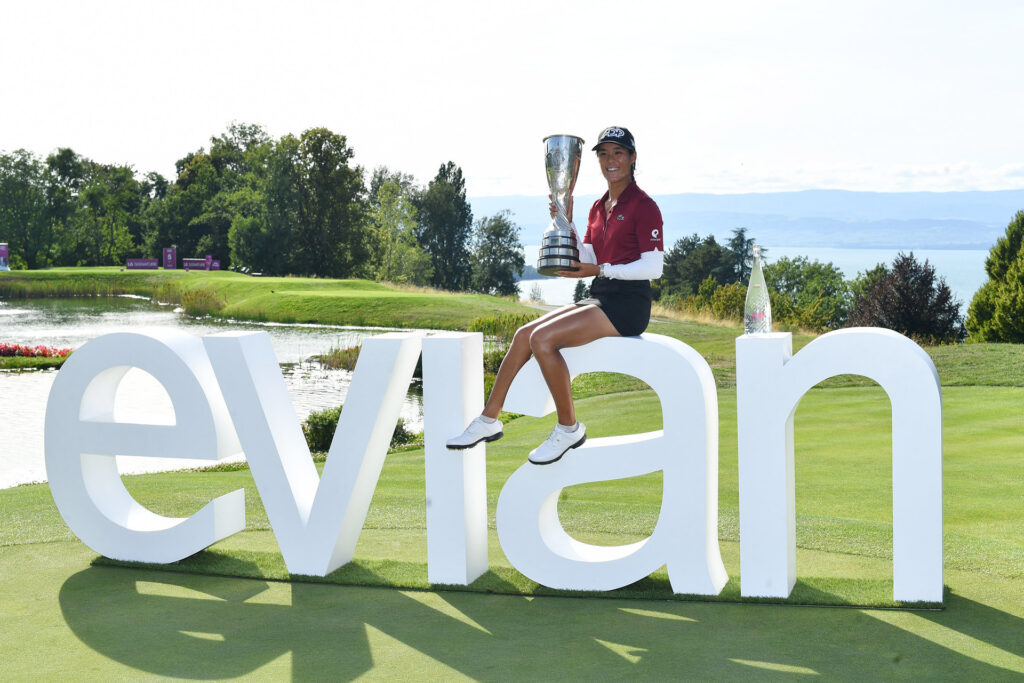 The win is going to take a while to sink in but there is no disputing the fact that Celine Boutier is the 2023 Amundi Evian Champion:
"It's just unbelievable that I get to have my first major win at home, I mean, in France. I could not have scripted it better. I feel like it's just so perfect that it's hard to believe that it's true."
If there is one takeaway from this week, it's that The Amundi Evian Championship deserves its place as a Major on the women's golf calendar. Let's stop the annual debate, embrace this fantastic tournament and feed off the energy from the organisers and fans. A major week and a major winner in Celine Boutier.
Next is the FREED GROUP Women's Scottish Open being played at Dundonald Links, which will be followed by the final Major of the season, the AIG Women's Open.
View the full Amundi Evian Championship leaderboard here.
Inspired by the fourth women's Major of the season? Why not come and watch the best players in the world at the AIG Women's Open this summer at Walton Heath. Ticket prices start from £20.