Team Van Dam and Grant battling out in the team competition whilst Sofie Bringner leads the individual competition at the Aramco Team Series - London
After last year's Aramco Team Series – London event was under Covid restrictions it was a much easier return to Centurion Club this year. Gone were the masks and PCR tests and in its place a "super-sized" set-up. I don't want to dwell on it too much but it has to be said that by using the LIV Golf infrastructure that was already in place, the event has more of the feel of a Major rather than a regular Ladies European Tour event.
The branding, messaging and look of the event is fantastic. There is plenty of attention to detail across the course and you are in no doubt that you need to "Bring The Energy". The only thing lacking from the first day was the energy – not just from the warm weather but the crowds were a little thin on the ground.
I fully appreciate that for a lot of golf fans, it feels difficult to embrace this event due to the Saudi Arabia link but I sit somewhere in the middle. It's a phenomenal set-up, something that these women deserve to have every week and it's so difficult to attend and not see the crowds that an event like this should be able to draw.
You cannot dispute the vision that this series of events has – its aim to elevate the women's game in Europe to a new level. Which is something that these professional golfers really deserve.
I'll step away from my megaphone and get to what happened on day one. The format has slightly changed from last year. There is still a team and individual component but the team event only lasts for two days and then the final day focuses on the individual event. $1 million is split equally between the team and individual competitions.
Aramco Team Series – London: Day 1 Team competition
Team Van Dam and Team Grant share the lead on 16-under-par at the end of the first day of the Aramco Team Series – London.
Anne Van Dam, Pasqualle Coffa, Elena Hualde and amateur James Dunkley joined forces to set the early pace at Centurion Club.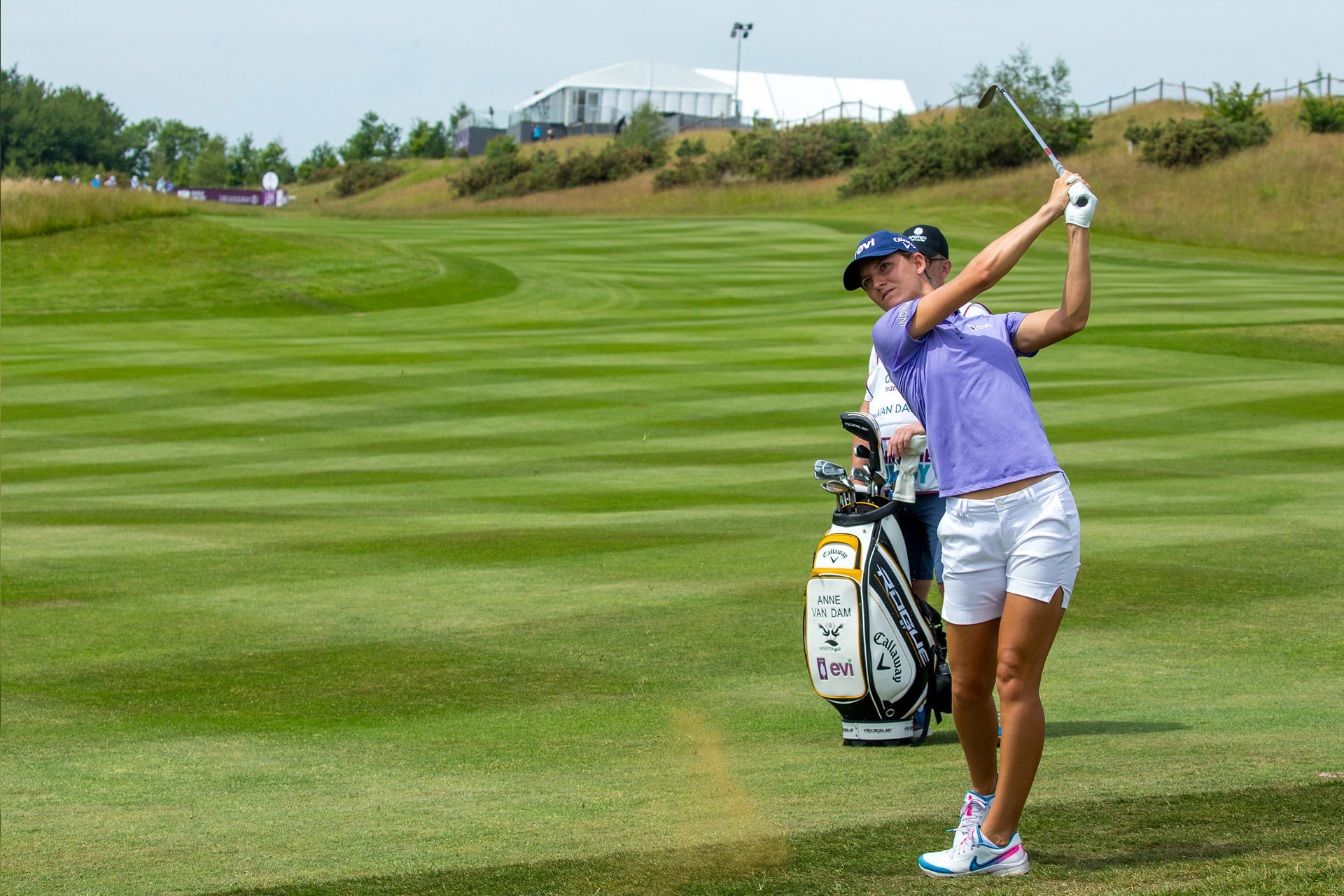 The quartet made the turn in eight-under-par and replicated that on the back nine only dropping two shots all day to reach a total of 16-under.
Captain Van Dam said:
"It was very fun. We started very early, and we got off to a really good start. Elena was playing amazing on the front as was Pasqualle.
"We made a ton of birdies and had good individual round. Overall, we made a lot of birdies, and it was fun out there."
Hualde explained:
"I get so happy for their birdies. When you're playing with your own ball, but with this way you want to do them so well. You always want to do it so well but it's extra exciting when they have a good shot. I really like this format."
While amateur Dunkley added:
"It was a joy to watch these guys play, incredible for me. Tough out there for me but a joy to watch these girls play, the accuracy, brilliant."
Team Grant made up of Swedish duo Linn Grant and Sofie Bringner alongside English legend Trish Johnson and amateur Peter Thompson finished not long after.
The quartet were tied alongside Team Van Dam after a sensational back nine, which saw them 10-under in the final six holes.
Watch Day 1 Highlights from the Ladies European Tour Aramco Team Series - London
[parone_rss_video_player campaign="262" feed="41-ladies-european-tour" autoplay="true" env="prod" defaultlang="en" /]
And the excellent performance was in part thanks to Sweden's Bringner who fired a brilliant first day of 66 (-7) which included three eagles to lead the Individual competition.
"We had a great time out there. Obviously, Sofie's performance, helped us out a bit," said captain Grant.
"I like the format. You make a bogey, and you know you can make it up on the next hole and help team. Peter contributed on a couple of holes with a few shots, we wouldn't be here on -16 if it wasn't for him."
Johnson added:
"Just to watch these guys play is a dream. They're both utterly fantastic, and if that's their idea of solid golf, God knows what their idea of good is.
"The both of you were absolutely superb today and Peter did, as well. It was tough but they hit some extremely amazing shots between the two of them and it's just great to watch."
Aramco Team Series – London: Day 1 Individual competition
Bringner, who secured LET status in 2022 thanks to finishing fifth on the Order of Merit on the LET Access Series last year, rolled in four birdies and an eagle in her final six holes.
"I played really solidly. I made a few mistakes, but made three eagles, so that was really fun. It feels good, I haven't been in this situation that many times so it's quite new but I played well today," said the 24-year-old.
Bringner leads by one in the Individual competition with England's Georgia Hall and Sweden's Jenny Haglund in a share of second place on six-under-par after carding rounds of 67.
The English star, who won the 2022 Aramco Saudi Ladies International, has put herself firmly in contention on the first day.
"I played pretty flawlessly; I could have holed many more putts. My putting was very average today, but I managed to hit good iron shots close which gave me some tap-ins," said the Major winner.
And it was an excellent day for Haglund, who is working her way back to fitness after a back injury, and sunk eight birdies during her round.
"I got off to a rocky start, I actually hit three drives on the first hole, but I made birdie from what was my second ball," said the Swede, who won the 2018 Lalla Meryem Cup.
"From there on it as quite nice, I hit a lot of good shots and some nice putts. Golf was easier than it has been in a while, so it was nice.
"This morning I felt really good, and I hadn't felt this good in a while. With a lot of help from my team at home and the physios here, it has been a nice little journey back."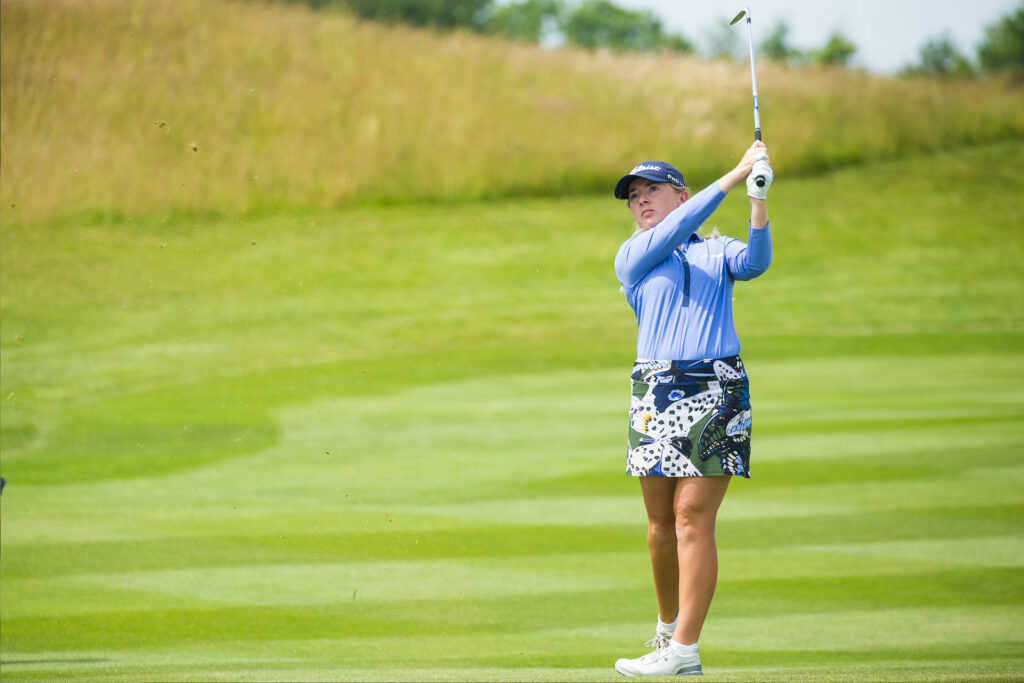 One shot further back at five-under-par is England's Bronte Law, after she fired a round of 68 which included nine birdies.
Law said:
"I think any time you post a number under par, you did stuff right. I hit a lot of close shots, but I mean, still had a lot of chances that I missed. I wasn't really aware of how many birdies I had made, I was just going with the flow and enjoying it out there."
Nine players are in a tie for fifth place in the Individual competition with Dutch duo Van Dam and Coffa, alongside Scottish pair Michele Thomson and Kylie Henry, Sweden's Isabella Deilert and Johanna Gustavsson, as well as England's Hayley Davis and Charley Hull all on four-under.
In the Team competition, Team Hedwall sit in third place on 15-under-par after making the turn in seven-under and coming back in eight-under.
Team Peláez Trivino are in fourth place on -14, while six teams are on 13-under as Team Georgia Hall, Team De Roey, Team Simmermacher, Team Garcia and Team Wikstrom and Team Herbin all share fifth place.
The second round begins on Friday at 6.45am (local time) and it will see the conclusion of the Team event.
Women & Golf are covering all three days at the Aramco Team Series but you can also follow all the action on @LETGolf on Instagram and Twitter and Ladies European Tour on Facebook and YouTube – #RaiseOurGame #BringTheEnergy.