Teenager Chiara Noja beats Charley Hull in a two-hole play-off to secure maiden LET victory, whilst Team Garcia secure play-off victory over Team Wolf with birdie on the first extra hole.
The Aramco Team Series – Jeddah finished in dramatic fashion with both competitions ending in a play-off as Team Garcia and Chiara Noja claimed victory at Royal Greens Golf & Country Club.
In the Individual, it was Germany's Noja who triumphed after a sensational final round of 65 (-7) to finish level with leader at the start of the day Charley Hull.
The 16-year-old then made a birdie on the first play-off hole putting pressure on English star Hull, but she duly rolled in her birdie putt.
And the duo headed back down to 18 for the second time but this time it was teenager Noja who rolled in her birdie putt to clinch her maiden LET title.
"I don't think it's sunk in quite yet! I think the stress and happiness will come later this evening," said the Dubai-based player, who finished second on the LET Access Series Order of Merit in 2022.
"It is hard work over a lot of years, and a lot of commitment and just trying not to back out of shots and commit to everything that I do and not be afraid to fail."
Noja started the day brightly with back-to-back birdies before sinking an eagle on the fourth hole, and she finished her front nine with a bogey in-between two birdies to make the turn in 31 (-5).
Two further birdies on 11 and 12 put the German rising star in pole position before she finished her round with a birdie on 16 and bogey on 17.
"This course, when you can go into par-fives in two, it is a massive advantage," she continued. "I tried to take advantage of that this week, and it paid off.
"I can't even like begin to fathom what I've just done. I'm just going to try and relax tonight. Maybe have a burger, I don't know, treat myself! Sleep. I think it'll be the best night of sleep I'm probably ever going to get, and see how I feel tomorrow."
South Africa's Nicole Garcia had a great final day with an eagle putt on 18 to finish in third place on 12-under-par, Italy's Virginia Elena Carta was fourth just one shot further back.
England's Bronte Law and South Africa's Lee-Anne Pace finished fifth with Sweden's Caroline Hedwall in seventh place, while Scotland's Laura Beveridge, India's Vani Kapoor and Slovenia's Pia Babnik rounded out the top 10 on eight-under-par.
Aramco Team Series – Jeddah: Team event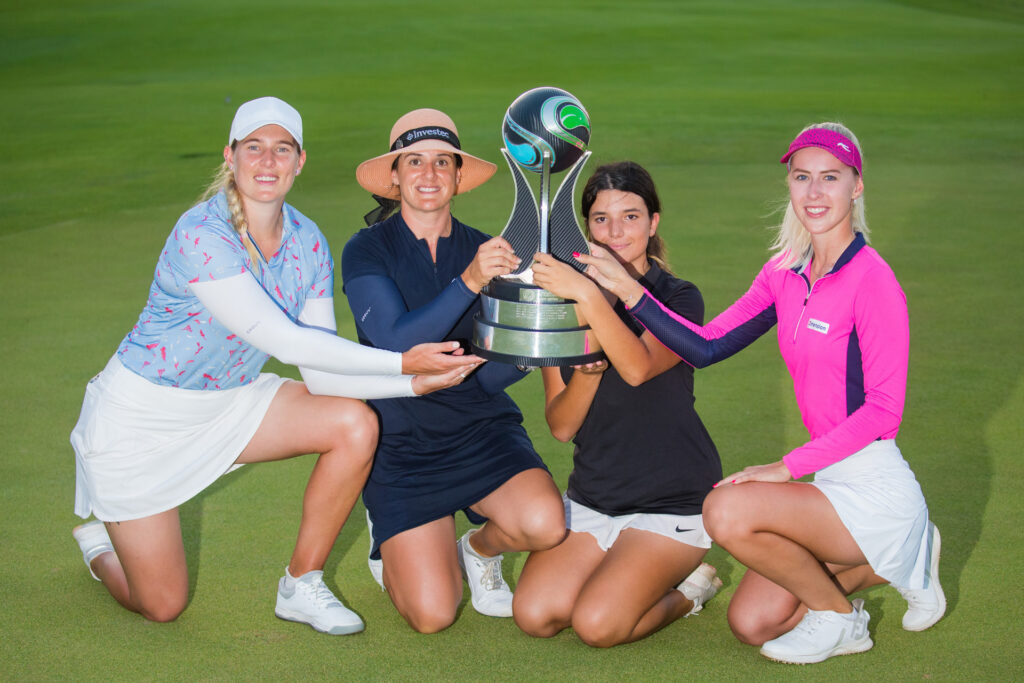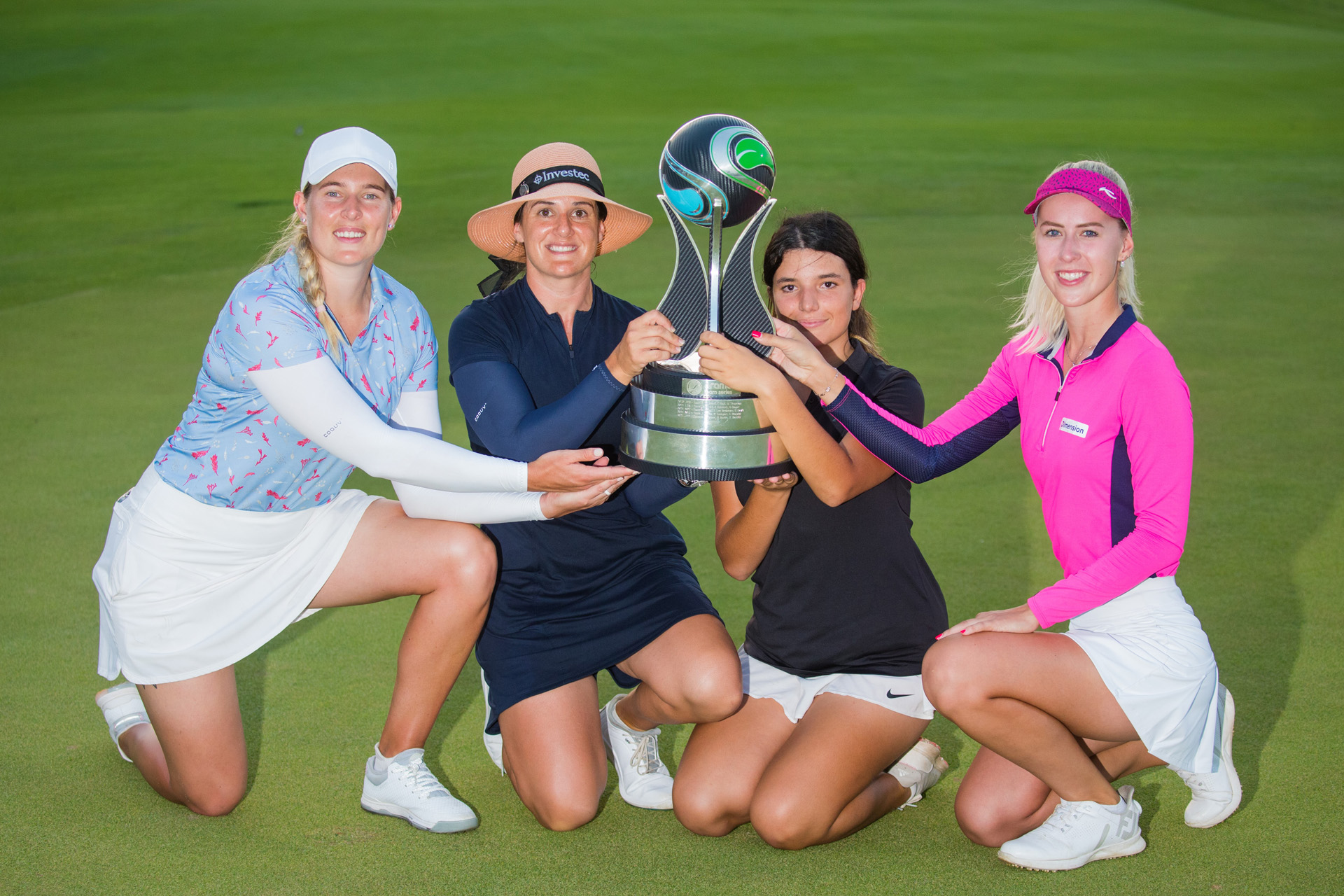 At the end of day two, Team Garcia and Team Wolf finished tied at the top of the leaderboard on 29-under-par each and both teams contested the play-off on Saturday afternoon.
Team Garcia made up of South African duo Garcia and Casandra Alexander alongside Czechia's Tereza Melecka and Moroccan amateur Sonia Bayahya chose Alexander to contest the play-off on 18.
For Team Wolf – the quartet of Austria's Christine Wolf, Scotland's Beveridge, Alexandra Swayne of the U.S. Virgin Islands and Saudi amateur Raghdah Alessawi – it was the Captain who took the responsibility.
The players went back down to 18 and Alexander managed to make the green in two, while Wolf chose to lay up and it was the South African who nailed her birdie putt for Team Garcia to win.
And it is a second win in an Aramco Team Series event for each of the professionals with Garcia victorious in London earlier this year, Melecka in Sotogrande and Alexander in the inaugural Team event in 2020.
Speaking of her decision to elect her compatriot to play, Garcia said:
"We've obviously had a few rounds together and we have known each other for a long time. Before we even knew we were in the play-off, we had spoken yesterday in the round and I said if we do get into a play-off, you know you're in. It was already decided yesterday."
"It was a bit nerve-wracking but I kind of knew what I was going to have in from playing earlier," said Alexander. "I went to the range and hit a couple and kind of had an idea what I was going to hit. I took a 7-iron and fluffed it a little bit. I still had a putt left-to-right, but a fluffed 7-iron was enough to get the job done."
Melecka explained: "I'm speechless; the team and the atmosphere and everything was so great. I'm very happy to be part of this team, and I'm speechless, so happy."
Amateur Bayahya added: "It's a really good experience. The play-off victory was so good. I was really a part of the team, and the girls were so sweet with me. Thanks to them and thanks to all of Aramco Team Series – Jeddah."
With one event remaining, Linn Grant continues to lead the 2022 Race to Costa del Sol with 3,394.91 points while Maja Stark sits 69.77 behind in second.
Sweden's Johanna Gustavsson added further points to her tally with 1,942.38 in third, Belgium's Manon De Roey is fourth (1,773.46), Spain's Ana Peláez Trivino in fifth (1,614.21) and Argentina's Magdalena Simmermacher moved back up into sixth place (1,567.73).
View the Aramco Team Series - Jeddah leaderboard here.