Just days after winning the Saudi Ladies International, Emily Pedersen has made history by winning the team and individual titles at the Saudi Ladies Team International.
Well, we're absolutely speechless.
Remember when we said "oh imagine if Emily Pedersen wins all three trophies in Saudi Arabia, how mad would that be?"
Well, she only went and did exactly that.
The Danish star followed up winning the first women's golf event in Saudi Arabia with a double victory at the Saudi Ladies Team International, topping the leaderboard of the individual and team events.
Oh, and it also sealed her title as the winner of the Race to Costa Del Sol rankings. Just as a casual added bonus...
It's fair to say it's been quite a day.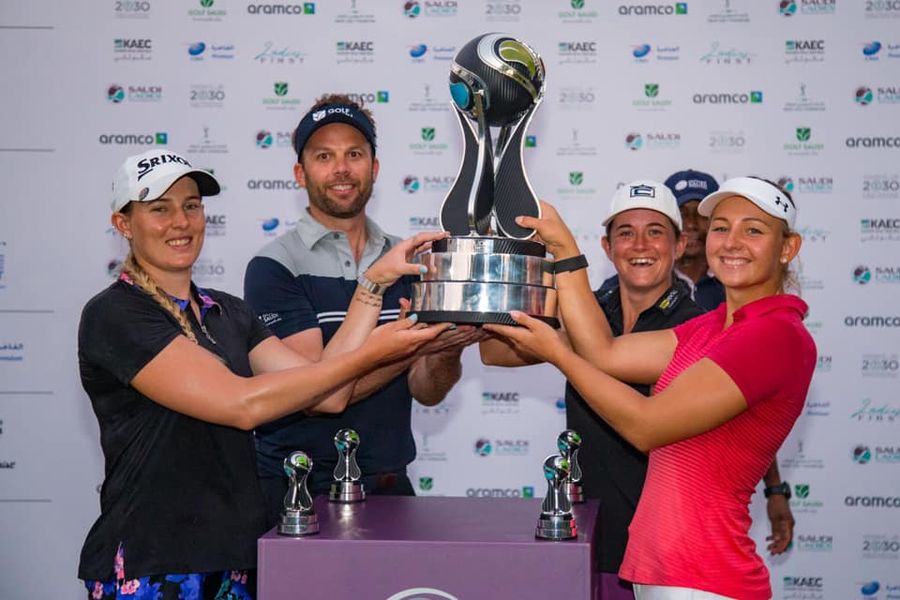 Team Pedersen
Golf is a funny old sport.
Just two weeks ago, Emily was left disappointed after shooting an opening round of 82 at the OMEGA Dubai Moonlight Classic.
And now she's won an incredible four trophies in two weeks.
How many athletes can say they've done that??
Of course she didn't win the team event by herself. It was a team effort from Emily as team captain, Scotland's Michele Thomson, South Africa's Cassandra Hall and amateur Matt Selby, who secured their victory with a birdie on the final hole and left them 40 under after the final round.
The team format saw each team captain pick a player to join them, and Michele was honoured to be Emily's top choice.
"It's been unbelievable, I was absolutely delighted when I heard Emily picked me," said Michele, who recently finished T2 on the Scottish-based Tartan Tour.
"She's one of the best players I think I've ever played with and we just wanted to make some birdies out there today. Although I am about ten years older than her, I have learnt a lot from her and I've gained a great friend this week."
We're sure you'll agree that the new team format was so fantastic to watch, and the players definitely loved the chance to play together and not be in direct competition with each other for once.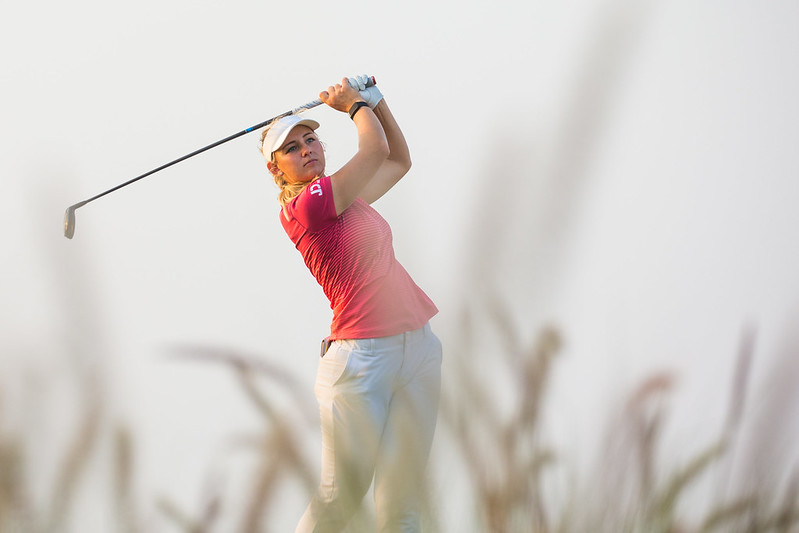 One of the brightest stars of the game
The day started with Luna Sobron Galmes in the lead, but Emily surged ahead and finished two ahead of Luna,
Pedersen's final round 67 sealed victory at 14-under to finish two shots ahead of Luna, big-hitter and Sophia Popov bestie Anne Van Dam and rookie Stephanie Kyriacou, all at T2.
Predictably, Emily is still letting her meg streak of wins sink in.
" I can't believe what's happened this season. I was confident I could get back to where I was but I couldn't imagine that it would be like this," she said.
"It's been a strange year for all of us with COVID but while everyone's saying it is the worst year, I'm having the best year ever, so that's a little weird but I am really happy."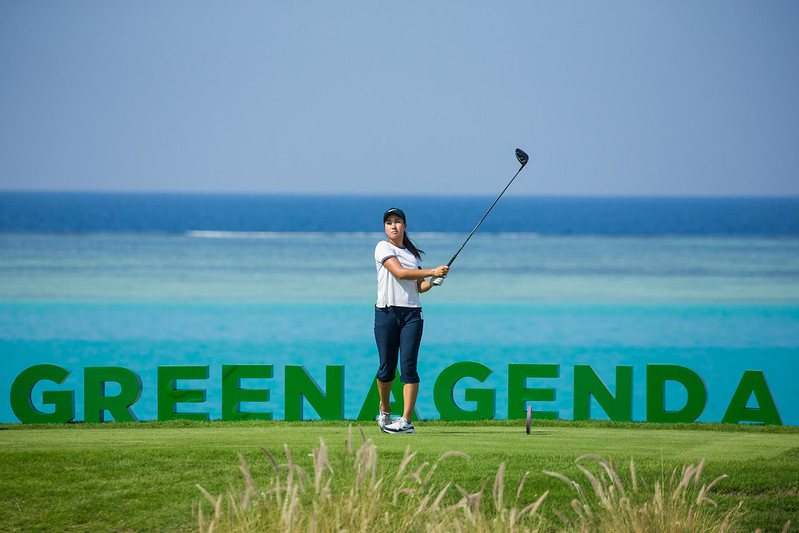 The runners up
Team Kyriacou (Stephanie Kyriacou, Pia Babnik, Manon Gidali) and Team De Roey (Manon De Roey, Eleanor Givens, Linette Littau Durr Holmslykke) finished one back on 39-under.
Meanwhile, the lowest team round of the day was achieved by Team Mehmet, who combined for a sublime round of 21-under par.
Team captain Inci Mehmet, from Royal Mid-Surrey, said: "We had loads of fun out there as a team. Marta holed out on 13 and I holed out on number ten with Jenny making lots of clutch putts, so we dovetailed brilliantly."
ANOTHER course record
Remember Georgia Hall breaking the course record last week? Well that didn't last long.
19-year-old Stephanie Kyriacou has beaten Georgia's record-breaking 65 by two strokes.
Carding a score of 63 that included an amazing two eagles and five birdies, the Australian has basically all but sealed the Rookie of the Year prize with this incredible performance.
"It was a obviously a great day," said Steph, who also finished T2 in the individual event.
"I started with a birdie, wanted to keep the momentum going then holed out on the 14 and then chipped in on the last for eagle which was a great way to finish the year.
"I hadn't thought about the Rookie of the Year title until my friend told me about it and then was like, 'That's cool, it would be great to win'. It's a once in a lifetime opportunity."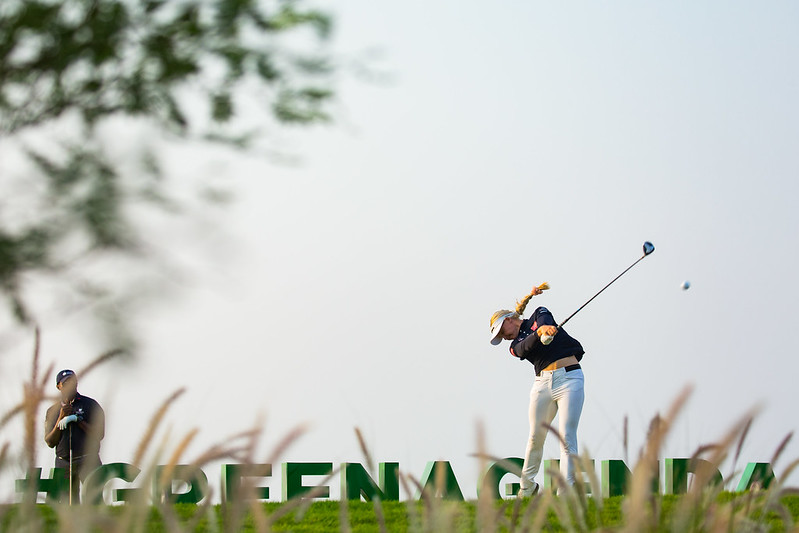 The English dominate the top 10
The English girls finished inside the top ten positions!
Highest was Charley Hull in fifth at nine under, while Rockliffe Hall's Ellie Givens and major-winner Georgia Hall finished one back at eight under and T6.
All three shot rounds of 68 and it was a really successful fortnight for all of them, particularly for Georgia who narrowly missed out on winning the Saudi Ladies International in a playoff with unstoppable champ Emily Pedersen.
A moment in history
We know so many of you have loved watching the first women's golf events in Saudi Arabia at home, and its fair to say its been a brilliant course.
Held over the stunning course at Royal Green Golf & Country Club and so well organised, we'd love to see more team events like this in the future.
H.E. Yasir O. Al-Rumayyan, Chairman of the Saudi Golf Federation and Golf Saudi, said: "This has been an historic time for Saudi Arabia and women's golf, and we could not be prouder. I am confident this won't be the last we hear of exciting team formats in the professional game."
You can see the final leaderboard HERE.