Here's all you need to know about the 123rd U.S. Open taking place at The Los Angeles Country Club
It's time for the third men's Major of the season, the U.S. Open which comes four weeks after Brooks Koepka won his third PGA Championship and fifth Major at Oak Hill Country Club.
This week we're in California at The Los Angeles Country Club which is hosting the U.S. Open for the first time. After a turbulent week in men's professional golf, the USGA will be hoping that the focus shifts to their headline men's event. Regardless, we're sure the players will aim to have their focus on the U.S. Open trophy and a spot in the history books.
123rd U.S. Open Fast Facts
Host: The Los Angeles Country Club North Course is hosting its fourth USGA Championship. In 1930 at the U.S. Women's Amateur, Glenna Collett (Vare) defeated Virginia Van Wie, 6 and 5. In 1954 at the U.S. Junior Amateur, Foster Bradley defeated Al Geiberger, 3 and 1. In 2017, Team USA had a convincing win over GB&I at the 46th Walker Cup winning 19-7.
Set-up: The Los Angeles Country Club North Course will be set to 7,421 yards and will play to a par of 35-35 = 70. The yardage for each round of the championship will vary due to course setup and conditions. Holes of note include the Par 3 7th and 11th which will both be over 280 yards!!
Field: 156 golfers, from 26 countries, will be cut after 36 holes to the low 60 scorers (and ties).
Purse: The 2022 purse was $17.5 million, with the 2023 purse yet to be announced. With the winner received $3.15 million.
Champion: receives a gold champion's medal plus the U.S. Open Trophy which is a 1986 full scale replica of the original trophy. The winner also receives a five-year exemption on the PGA Tour, invitations to all four majors for five years, extended to 10 for the U.S. Open.
Current champion: What a final round by Matthew Fitzpatrick at The Country Club in Brookline. His fairway bunker shot on 18 will go down as one of the greatest shots in Major history. He became the 13th player and first non-American to win both the U.S. Open Championship and U.S. Amateur. Plus only the second golfer since Jack Nicklaus to win both championships on the same course.
About The Los Angeles Country Club North Course
George C. Thomas Jr. designed The Los Angeles Country Club's current North Course, which opened for play in 1928. W. Herbert Fowler designed the club's original North Course and South Course, which opened in 1921. Gil Hanse, along with Jim Wagner and Geoff Shackelford, restored the Thomas design of the North Course in 2010 while Hanse also did work on the South Course, which was completed in 2016.
This will be the fourth USGA Championship hosted at the club with the 1930 U.S. Women's Amateur, 1954 U.S. Junior Amateur and 2017 Walker Cup all being held at the Californian club.
Players to watch this week
There are some all-star groups heading out for the first round on Thursday, you can see the groups and tee times here.
Matt Fitzpatrick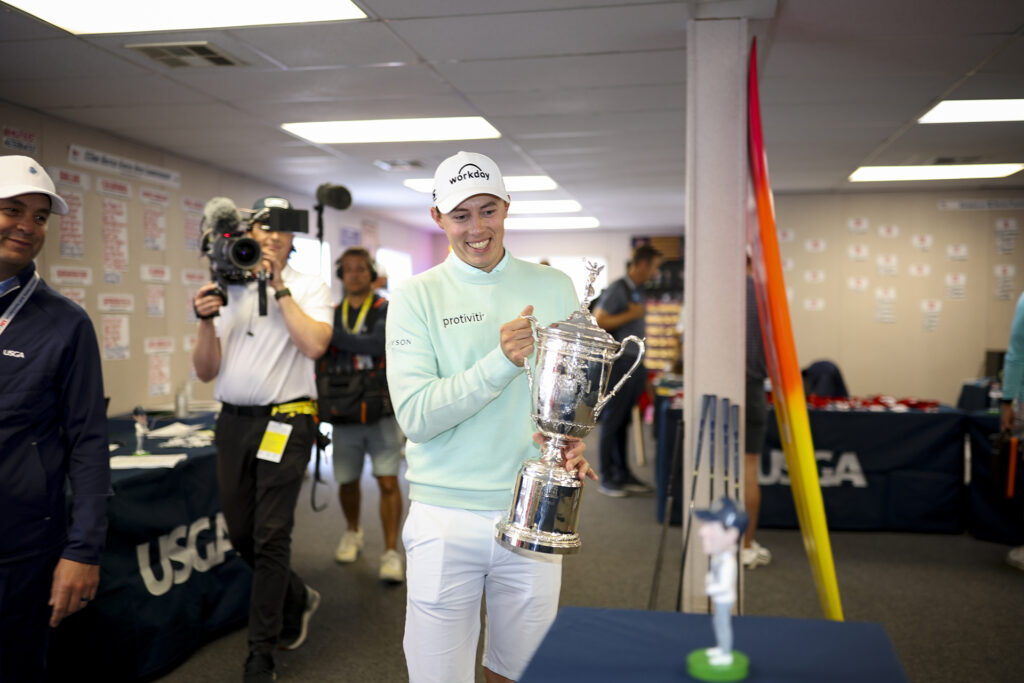 Defending Champion Matt Fitzpatrick will be teeing it up with last year's Open Champion Cam Smith and the amateur, now turned professional, who made a big name for himself for his performance at The Masters Sam Bennett.
After a start to the year that included injury, it remains to be seen whether Fitzpatrick will be able to properly defend his title this year, the way he would have liked to. At the Monday press conference he said:
"This year I would say is quite a bit different. I feel like the start of the year, I had a good first event in Hawaii and then got injured, and that kind of felt like it set me back quite a bit for February and March. Ended up obviously playing well in April.
"I feel like my game is kind of getting in the right place. You asked me at Memorial after round 1 or 2 if I was trending. I certainly felt like Memorial and last week I was playing some good golf. I didn't necessarily score too well last week, but again, I had a slight flare-up on the Friday afternoon with my neck.
"I definitely feel like my game is in better shape. I certainly don't think it's as good as it was last year."
But as the saying goes... 'Beware the injured golfer'. Definitely don't underestimate what Fitzpatrick is capable of.
Viktor Hovland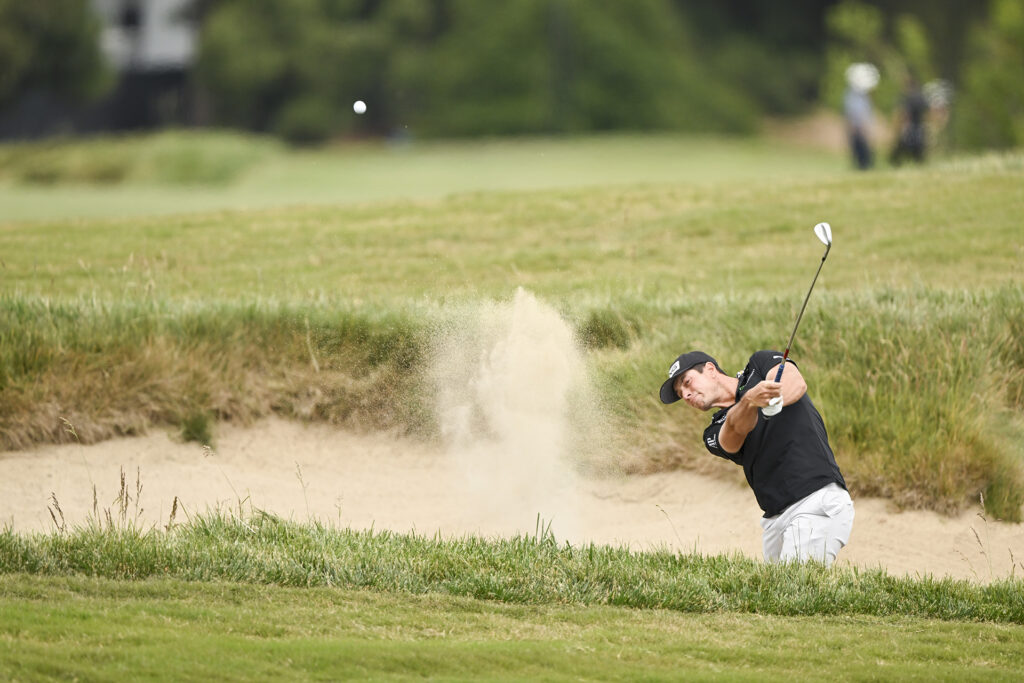 Viktor Hovland has to be a popular pick amongst golf fans after proving he can get a tournament win across the line at the Memorial Tournament at the beginning of June. The 25-year-old has been in contention at both the Majors played this year, coming up so close to Brooks Koepka at the PGA Championship but having to settle for second.
Here were his thoughts after his win at Muirfield Village 10 days ago:
"When you're in that spot, it's just hard to win golf tournaments, especially when you're playing fields like this at a golf tournament or a golf course like this. You can play great golf and still not win. I think just being in contention as many times as I've been the last few months or the last year, I think that's just a great sign in itself.
"Obviously, I would have liked to have finished off a few more tournaments. PGA Championship was a great step in the right direction. I didn't really feel like I backed down that Sunday. Brooks went out there and earned it. He played amazing golf. A little disappointing in Dallas. That was a bad Sunday. But it's just one of those things, you got to keep learning from it instead of thinking, okay, here we go again and I'm just not going to win this week. You just got to stay within yourself and keep fighting and sometimes it works out like it did this week."
The Norwegian will be playing alongside the American Xander Schauffele and world number two Jon Rahm, so there will be plenty of motivation to go low.
Brooks Koepka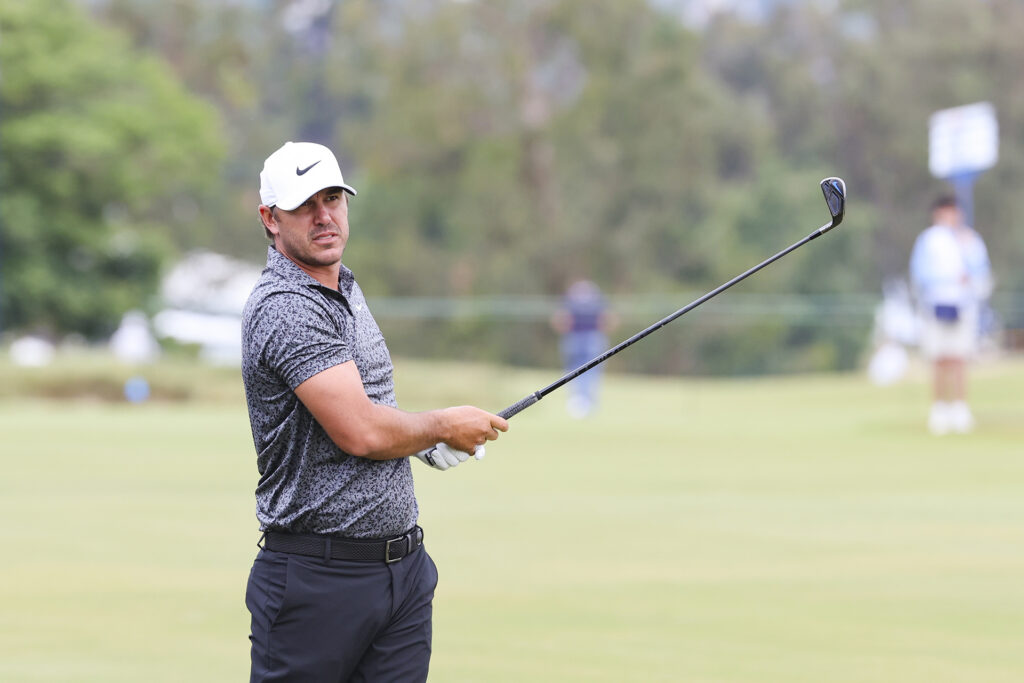 The final player that we're looking to is Brooks Koepka. Not only did he win his third PGA Championship last month, he was in the final pairing at the Masters and he is no stranger to U.S. Open wins, taking home the trophy in 2017 and 2018.
Injury woes seem to be behind him and with a new vigour and solid mental approach to his game, he would be a formidable opponent if he gets into the final group come Sunday afternoon.
Asked at his Tuesday press conference how he manages to peak at Majors, his response:
"I think there's a few of them, but I think it's definitely one of them. I enjoy the chaos."
Giving an example of what he meaned by chaos, Koepka added:
"First one that popped in my head was maybe Shinnecock. Everybody was bitching, complaining. I just felt like it was, they were all so focused on the golf course they kind of forgot about what was going on, that they were there to play a major championship instead of, okay, the greens are pretty fast. But if you leave yourself with an uphill putt, it's not too bad."
The 33-year-old will be alongside Rory McIlroy, who won the U.S. Open in 2011 and 2021 Masters Champion Hideki Matsuyama who finished runner-up to Koepka in 2017.
Now there seems to be a cooling of the PGA Tour / LIV Golf rivalry, we're not expecting anything more than three extremely talented golfers playing alongside each other for the first two rounds.
Who will eventually triumph obviously remains to be seen but one if not all of these players are likely to be in the mix near the top of the leaderboard on Sunday.
How to watch the 123rd U.S. Open
There will be over 45 hours of live coverage from the 123rd U.S. Open. In the UK, live coverage starts at 3pm (BST) on Thursday June 15, running for 13 hours. Friday coverage also starts at 3pm, whilst Saturday is from 6pm and final round coverage begins at 5:30pm on Sunday.
With the Major being played in Los Angeles, it's going to be a very late (or maybe we would say early morning) finish for golf fans in the UK. Coffee will be needed to get through the work day on Monday!
You can view the full 123rd U.S. Open field and tee times here.