Everything you need to know about the 2023 Amundi Evian Championship - facts, prize money, tee times and how to watch. Plus who we think will win.
It's time for the fourth women's Major of the year, The Amundi Evian Championship from July 27-30. The only Major, on both the men's and women's tours, to be played in continental Europe.
Since 2019, The Amundi Evian Championship moved to a July date, moving it from the last women's Major of the season to the penultimate one.
It looks like the weather may be a contributing factor to scores this week as unsettled weather moves in on Friday, with the risk of thunderstorms forecast.
Here's all you need to know about the 2023 Amundi Evian Championship.
The Amundi Evian Championship Fast Facts
Host: Evian Resort Golf Club, Évian-les-Bains, France. This is the ninth edition of the Amundi Evian Championship since it became a major championship in 2013 (the Major wasn't played in 2020 due to the Covid-19 pandemic). From 1994-1999, the event was called the Evian Masters and was played as a Ladies European Tour event, and from 2000-2012 it was an LPGA and LET co-sanctioned tournament. Amundi, one of the largest asset management companies in Europe, was named title sponsor of the tournament on February 1, 2021.
Set-up: The Champions course will play approximately 6,523 yards, par 71 (35-36). The yardage for each round of the championship may vary due to course setup and conditions.
Field: 132 golfers, from 30 countries. After 36 holes the field is cut to top 65 and ties. View the full field here.
Purse: In May 2022 it was announced that the Amundi Evian Championship prize fund would increase by $2 million to $6.5 million. There has been no announcement at this stage of any further prize increase for 2023.
Champion: The winner receives the Amundi Evian trophy and a cheque for $1 million.
Current champion: Last year, in a thrilling final day where five players tied for the lead but it was overnight leader Brooke Henderson who secured her second Major title with a 12-foot birdie putt on the last hole to win by one shot over rookie Sophia Schubert.
Who will win?
There have been three first-time Major winners this year with Lilia Vu (Chevron Championship), Ruoning Yin (KPMG Women's PGA) and Allisen Corpuz (U.S. Women's Open). None were particularly stand-out picks at the start of each of the Majors they won which indicates the real depth of talent in the women's game.
Could this week in France see another first-time Major winner? We think so.
Linn Grant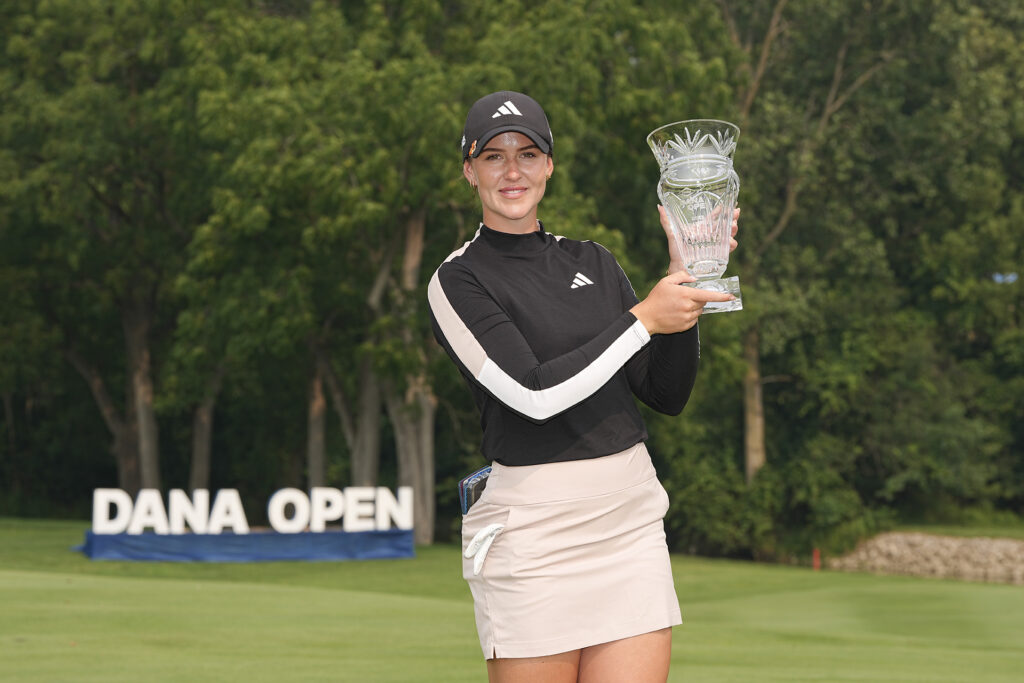 Top of our list is Sweden's Linn Grant and here are three reasons why:
Won the Jabra Ladies Open in May which is played on the same course. Grant's fifth LET title.
Won the Dana Open, her first LPGA victory just two weeks ago
Finished in a tie for 8th last year in her first Major as a professional
The 25-year-old was asked if the above gave her a lot of confidence heading into this week:
"I tried not to have too much confidence coming into this golf course. You have to play it smart. You cannot be too greedy out there, really play to the big areas and not be too greedy with some of the pins.
"So just if you're having a great week on the greens, I just try to, that's my plan, to have confidence in my putting and just hopefully drop a few birdies."
Rose Zhang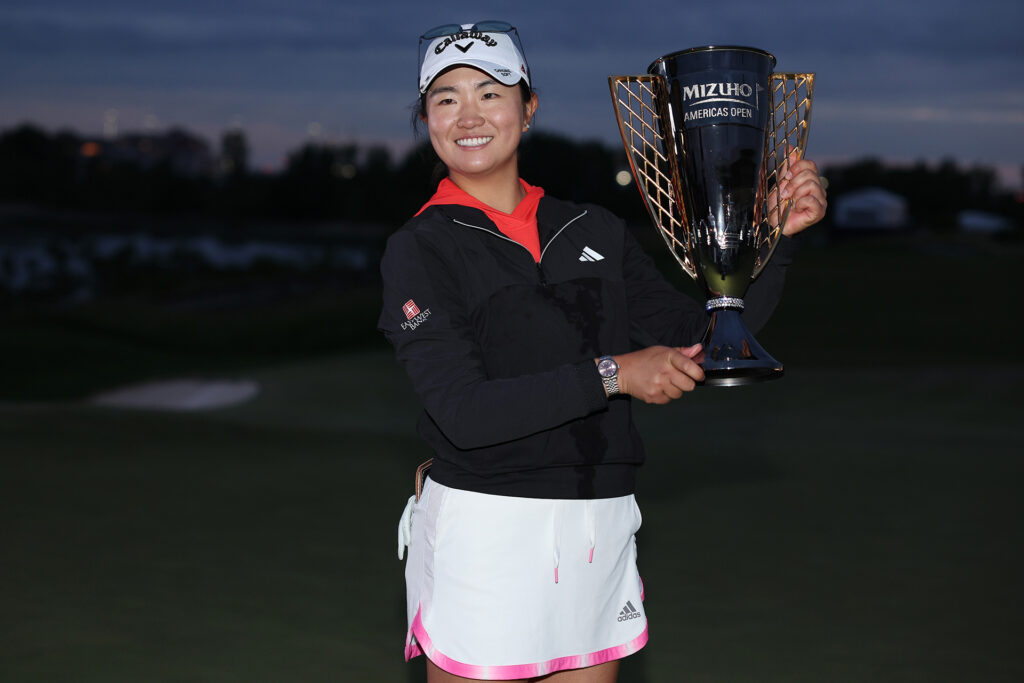 Rose Zhang had been given a sponsor's invite to play at this week's Amundi Evian Championship, but in the end, she didn't need to take it after securing her first LPGA title at the Mizuho Americas Open in June.
Whilst the 20-year-old is still adapting to pro life, there is no doubt that there will be a lot of interest and speculation around the American this week.
How does she feel to have about gaining a place through her status on tour rather than via an invite?
"It's incredible. I couldn't have imagined myself to be in position, even at the start of early June. Everything has been coming really quickly.
"But with my status now I'm just really blessed and thankful. Regardless I was able to have that opportunity, but it is very different when you're in a different position and have a different status.
"Evian is just beautiful to be out here, so just excited to see how the week goes."
With two top-10 finishes in the KPMG Women's PGA Championship (8th) and U.S. Women's Open (9th), Zhang comes in in form and will be playing this Major for the fourth time.
Leona Maguire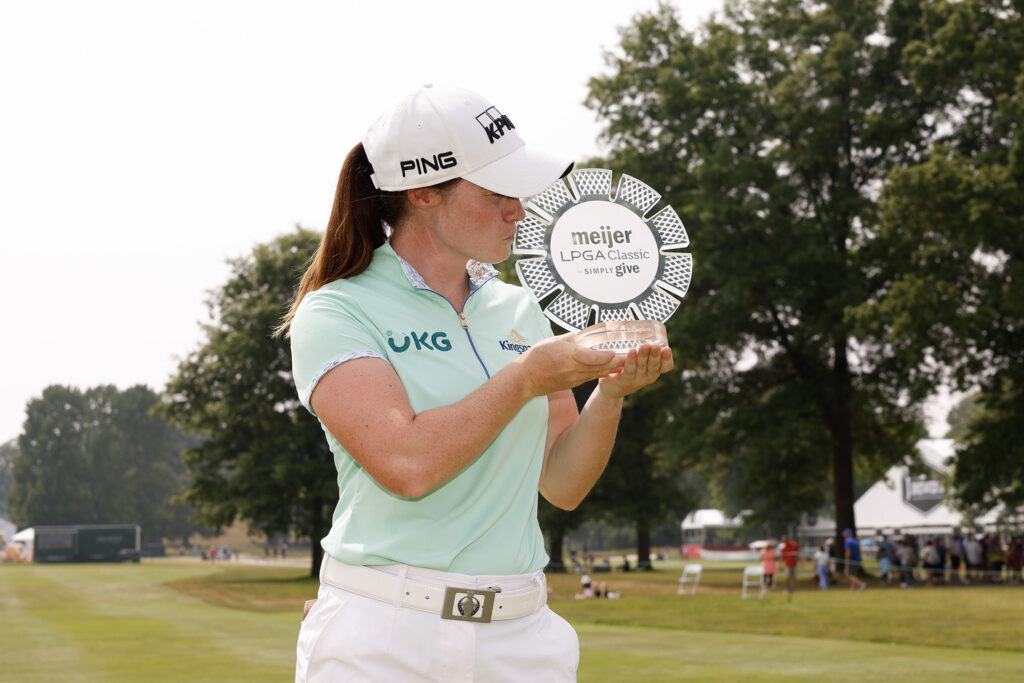 We picked Leona Maguire ahead of the KPMG Women's PGA Championship and although she wasn't able to convert her one shot lead on the final day at Baltusrol into her first Major win, she still had a fantastic week. The 28-year-old came into that week on the back of winning the Meijer LPGA Classic, so fatigue may have been an issue.
After being back on European soil for a couple of weeks, Maguire has hopefully had the chance to
Reflecting on her performance at Baltusrol, she said:
"I think I played some really good golf and that's obviously, it's one thing playing good golf in
regular tournaments, but knowing that you can compete with the best golfers in the world and at a
major, at a venue like Baltusrol.
"I take a lot of confidence from that. I think Baltusrol was one of the toughest tests we've probably
had. It was a really, really good golf course and a really good test. So it's nice to know that my game sort
of stacks up at a venue like that.
"And it's all about just putting myself in positions to contend. And that's exactly where you want to be on
Sunday at any tournament and the same at majors. So take confidence in knowing that my game's in
good shape."
Charley Hull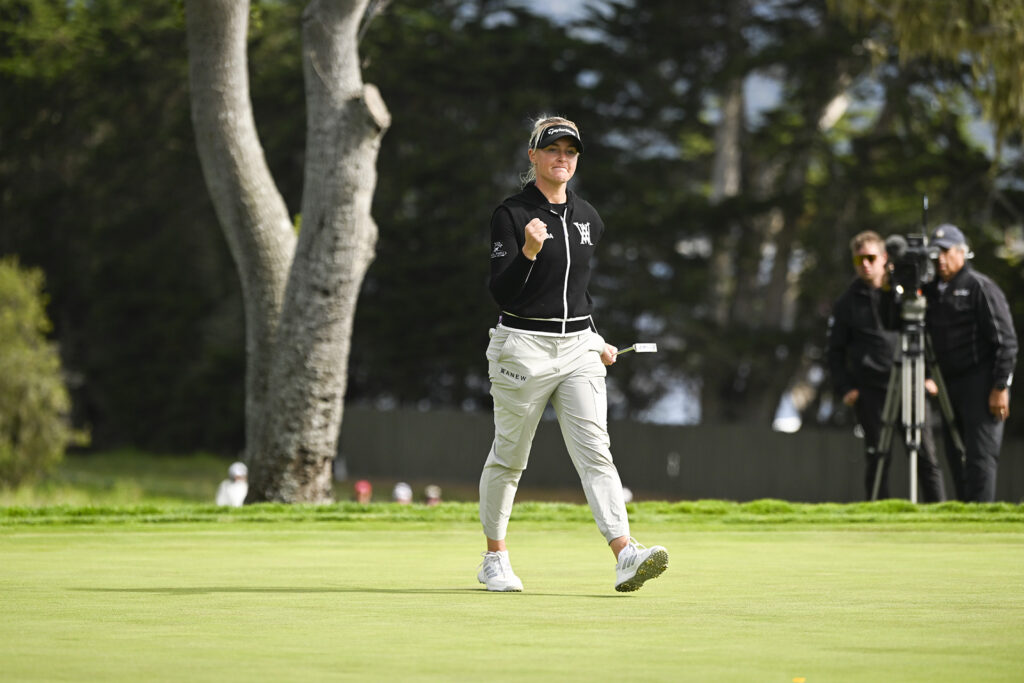 That's three players that we believe will be high up the leaderboard and contending this week but we must also mention England's Charley Hull. Just three weeks ago we witnessed an exceptional final round of the U.S. Women's Open, where she finished in a tie for second. The 27-year-old finished in a tie for third at last year's Amundi Evian Championship too. Another player in search of their first Major title...
...watch this space, an exciting week ahead!
2023 Amundi Evian Championship Tee Times
View the Amundi Evian Championship tee times here with play starting at 7:15am local time on July 27. Keep an eye on the live leaderboard here.
How to watch The Amundi Evian Championship
Don't expect wall-to-wall coverage like we were treated to last week at The 151st Open. There will be 23 hours of coverage in the UK across the Championship days.
UK - Sky Sports Golf LIVE golf times (BST) below:
Thursday 27 July - 10:00am to 1:00pm and 2:30pm to 5:30pm
Friday 28 July - 10:00am to 1:00pm and 2:30pm to 5:30pm
Saturday 29 July - 10:30am to 4:00pm
Sunday 30 July - 10:30am to 4:00pm
USA - Golf Channel, NBC Digital, and Peacock LIVE golf times (ET) below:
| | | |
| --- | --- | --- |
| Date | Golf Channel | NBC Digital/Peacock |
| Thursday 27 July | 5-7am / 9:30-11:30am | 7-8am / 11:30am-12:30pm |
| Friday 28 July | 5-7am / 9:30-11:30am | 7-8am / 11:30am-12:30pm |
| Saturday 29 July | 5:30-11:00am | 5:30 -11:00am |
| Sunday 30 July | 5:30-11:00am | 5:30 -11:00am |
Make sure you're following the LPGA, LET and The Amundi Evian Championship on social media to keep up to date with everything that is going on.
Inspired by the fourth women's Major of the season? Why not come and watch the best players in the world at the AIG Women's Open this summer at Walton Heath. Ticket prices start from £20.