Women from across the golf industry came together on December 7 to celebrate the inaugural Women in Golf Awards.
Oh what a night! The first Women in Golf Awards took place this week at The Bramshaw and Bell Inn.
It was a night to celebrate and shine a light on the women who work across the whole of the golf industry. There were 80 women in attendance, from business owners to greenkeepers, PGA Professionals to player managers and everything in between.
To kick start the evening we were shown a preview screening of a new documentary that has been three years in the making. "Breaking with Tradition" tells the hidden stories of women in golf. Coming to a TV screen near you soon it was great to be able to see the final cut that Film Producer Sandra Mesrine and Women in Golf Awards co-founder Nicole Wheatley had produced. Well worth a watch.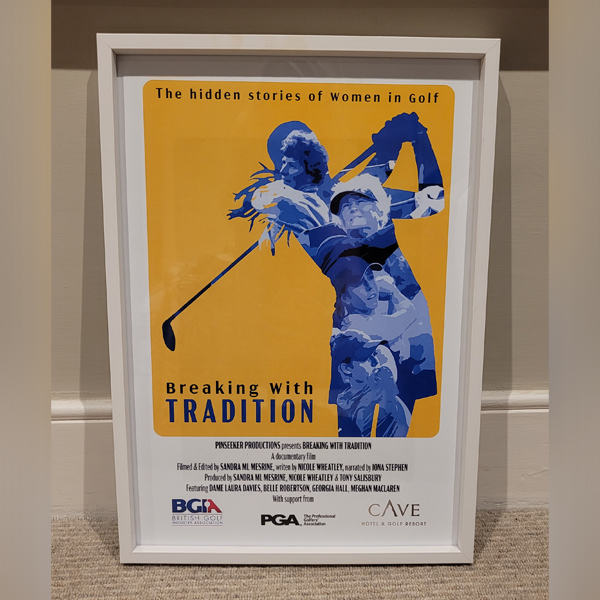 Venue of the Year: Highwood Golf Club
Onto the Women in Golf Awards. There were six awards on the night and they were kickstarted by the Venue of the Year. This award was voted for by members of the Ladies Golf Lounge Facebook group and presented by its founder Yvonne Brooke.
Brooke commented:
"It was of paramount importance that the winner of this award must have demonstrated, over a period of time, dedication to the promotion of women's golf. They have a female General Manager, of which only 10% of GM's in the UK are women and have a female Chairperson. As well as being a signatory of The R&A Women in Golf Charter, they also gained funding from England Golf to promote their Academy to new women.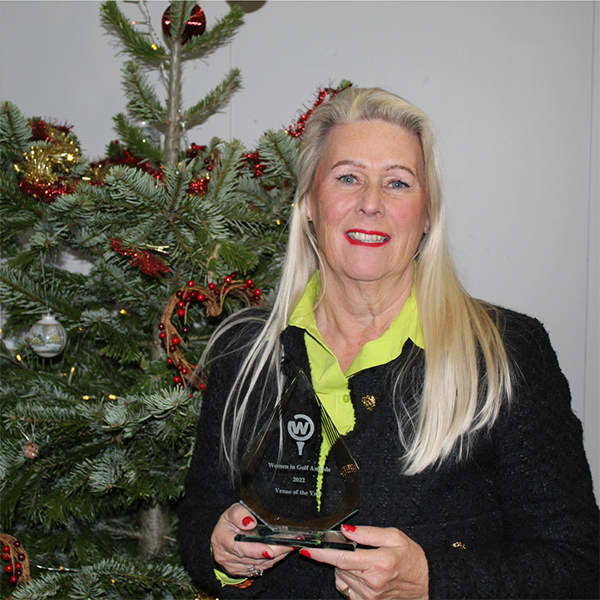 "They have over 100 female members of which 50/60 play each week, including competitions at weekends. So I think it is fair to say that this club is setting a great example of how a club needs to change to pave the way for equality and diversity."
Current Lady Captain Jacqueline Watson Stanford was on hand to receive the award and was delighted on behalf of the golf club.
Women's Initiative: The R&A Women's Leadership Development Programme and Project Ukraine
This award was chosen by the golf industry judging panel - former Tour professional now presenter Sophie Walker, BGIA Board Member Helen Willmser, Editor of Women & Golf Emma Ballard, Group Services Director at The TGI Group Adele McLean and COO of BIGGA Sami Strutt.
Presented by Helen Willmser, the award went to Project Ukraine, which was delivered by one of the latest cohorts taking part in the R&A's Women's Leadership Development programme:
Molly Bullard – Excel Sports Management
Toni Zverblis – England Golf
Joelle Efford – Golf Canada Foundation
Lauren Witherspoon – The R&A
Zoe Thacker – Wales Golf
Emma Corless - Golfbreaks
Polly Clark – Ladies European Tour
Magdalena Villar – Peruvian Golf Federation
AND Veronika Rastvortseva – formerly of the Ukraine Golf Federation
Pictured: Zoe, Emma, Toni, Molly & Polly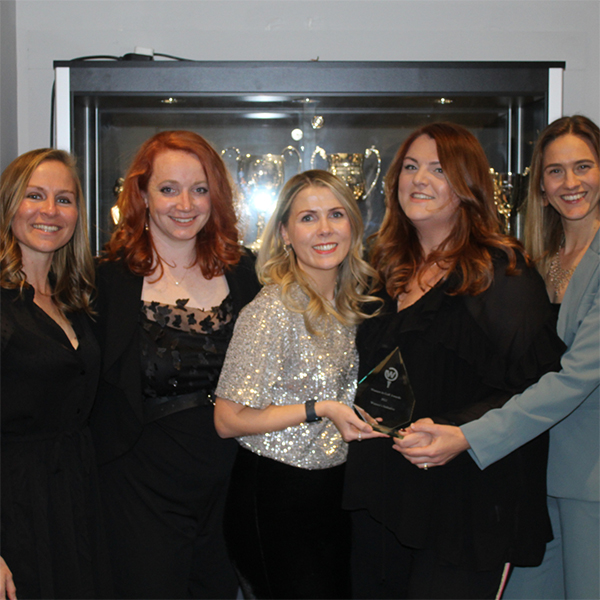 "Veronika Rastvortseva bravely dialed in to the groups' first zoom workshop from an underground bomb shelter in Ukraine. When the women heard and saw how Veronica's family life was instantly changed, they committed to taking action in helping the people of Ukraine.
You can read the full story here.
"This group continues to fundraise, imminently launching a Go Fund Me in order that we can continue to provide for the young people in our project with the hope of repeating our residential golf camp, at least, in 2023."
Five of the group were able to attend to accept the award on the night, having made a last-minute trip down from St Andrews where they had been graduating from The R&A Women in Golf Leadership Development programme.
Trailblazer: Lucy Sellick, Head Greenkeeper, Wenvoe Castle Golf Club
The Trailblazer Award was selected by the awards organiser Nicole Wheatley, who also presented the award. On the night she said:
In a career spanning more than 20 years our winner has broken countless boundaries.
She began her career in 1991 when her next door neighbour offered her some work – he was building Virginia Park Golf Club where she later became a greenkeeper, training at Pencoed College.
In 2000 she joined Celtic Manor Resort after attending a careers fair:
"They had no idea she'd already been in greenkeeping for 10 years and asked why on earth a woman would want to come into the industry!?"
She admits that she had to work harder and smarter to get the acknowledgment she deserved, but went from strength to strength joining Saltford Golf Club in Bristol as deputy course manager in 2008.
In 2018 she made history by becoming the first female head greenkeeper in Wales, joining Wenvoe Castle in Cardiff. I pulled this quote from an interview:
"I realised when I was greenkeeping that I wasn't just setting an example for other women who may want to be greenkeepers, but I was also setting an example to golf clubs who were thinking about employing a woman."
Her list of firsts doesn't stop there!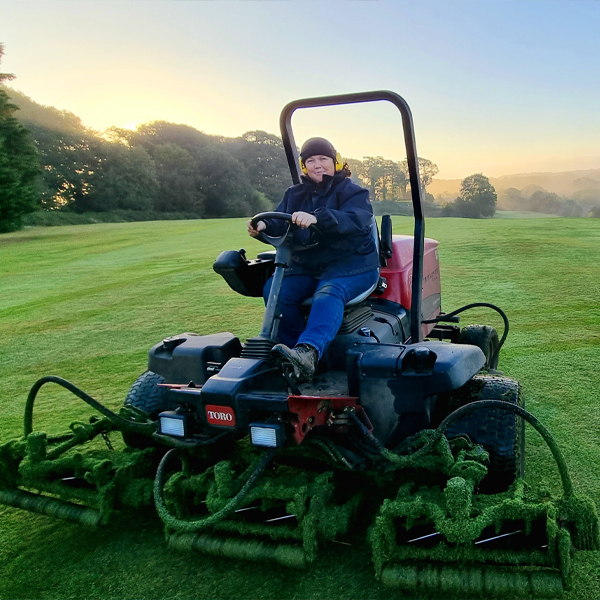 In 2020 she became the first female BIGGA member to join the delegation to the Golf Course Superintendents Association of America Conference and Trade Show with Bernhard and Company. A moment she described - at the time -as a big highlight of my career."
Lucy has worked on eight European Tour events, and two golf course constructions and in 2020 Lucy quietly became the first female National Board member of British and International Golf Greenkeeper's Association.
She is a quiet, humble, passionate woman and we are extremely proud to give her the Trailblazer Award.
Unfortunately, Lucy was unable to attend but sent in a video message to accept the award.
Brand of the Year: Surprizeshop
As Editor of Women & Golf and as part of the judging panel, I was given the honour of presenting the Brand of the Year. This was an award that had been voted for by you, the Women & Golf reader. Here's what I said about the Brand of the Year winner on Wednesday evening:
We received a fantastic response, with 36 different brands being nominated – from large well established brands to small businesses relatively new to the golf market.
The parent company of this family run business was set up 25 years ago, but it was when they saw a gap in the market for golf accessories and gifts for female golfers, that Suprizeshop was born in 2009.
Since then they have established themselves as the UK's Number 1 for ladies golf gifts, prizes and accessories. And what started as an online venture has now grown to a business that stocks over 500 golf shops across the world.
As well as their highly successful golf accessories business, their retail website and shop in Hemel Hempstead stock a wide variety of women's golf clothing from Daily Sports to Tail Golf.
Not content with just the accessories market, this year they launched their first own-brand ladies fashion collection PURE Golf. A range of affordable and versatile ladies golf wear established on the principle of an interchangeable wardrobe. PURE Golf comprises core essentials which repeat year on year with patterned seasonal styles. A key focus is mixing and matching for golf looks with longevity.
It was clear from the overriding number of nominations that they received that they are highly valued by a large number of women who play golf. With comments such as:
"They have an extensive range of products, at reasonable prices, with the lady golfer in mind. Chosen by real people who actually play and understand the needs of female golfers."
"I have used this brand since 2011 and have watched their development with great interest. They even sought pinions of shoppers in its early days. They cater for every aspect of Ladies golf and keep their prices realistic."
"I was Lady Captain in 2014 and I found the goods were idea for gifts. I recommended them to every Lady Captain since."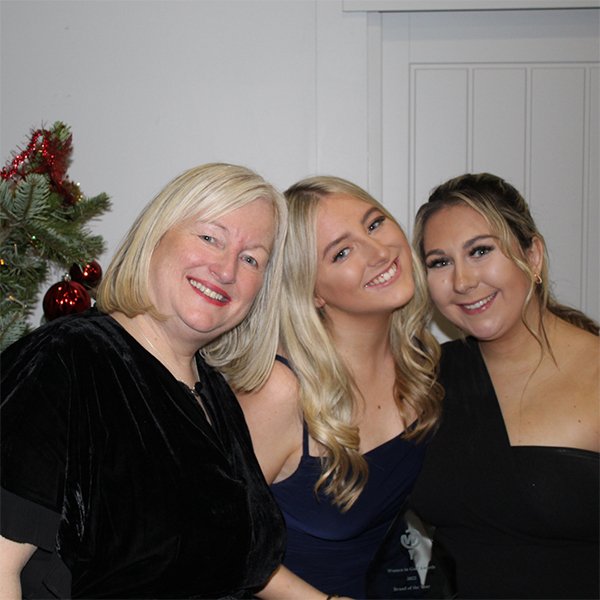 Co-founder Christina Smith was extremely touched and emotional to receive the award alongside Chloe Smith and Gemma Allman.
Unsung Hero: Emma Booth, Winchester Golf Academy
The Unsung Hero Award was also chosen by the judging panel and was presented on the night by The Jazzy Golfer. She said:
"The judging panel were looking for an individual who is going over and above to inspire, champion and elevate women in golf.
"The judges were impressed by her commitment to women as an employer, as a coach and as an advisor to the industry. Her team nominated her for this award and they describe the culture of inclusivity, equality, opportunity and accessibility for every visitor, customer, and golfer she has created as non-negotiable.
"Our winner made the headlines a few years ago by challenging one of the largest brands in golf. Her exchange with TaylorMade has been well documented, but to recap, it started in 2018 when she attended an industry product launch and was disappointed to find no mention of women's golf products. She took to the floor to speak up at the event and took to Twitter afterwards and is now part of the TaylorMade Women's Advisory Board.
"This line from her nomination really struck the judges: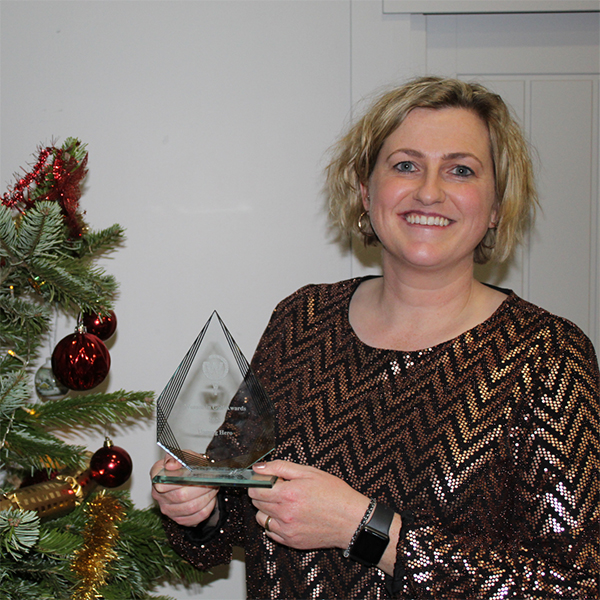 "Her motivation for the work she does in golf is not for applause or praise, but to be a passionate, effective, strong and authentic voice for real change and progress within the sport, and within the industry. She has shown, and will continue to show courage by speaking up, often against the mood in the room for what is equitable and right."
The winner of the 2022 Unsung Hero Award went to Emma Booth, the co-founder, co-director and co-manager and PGA Professional of Winchester Golf Academy.
Inspirational Achievement: Vicky Cuming, VP Golf at The IMG Group
The biggest award of the night went to IMG's Vicky Cuming in celebration of her remarkable career. Over the last 30 years she has managed Ryder Cup Captains and players, Major winners, a Solheim Cup winning Captain, a Dame and a few Sirs along the way.
In addition, Vicky is a tireless champion of the women's game and gives up her time as a mentor to help future generations realise their own potential. For so many women in the room on the night and throughout the industry, Vicky represents what can be achieved. She has shown that there are no glass ceilings. Just opportunities.
On receiving her award Vicky said:
"I've never really been aware of barriers, but I would say that when I started I couldn't have sat in a room full of women working in the industry – so we have made some progress! It's a great time for women's golf and for women's sport and I feel that all of us have a responsibility that golf keeps up with those other sports.
"Let's make sure this becomes an annual event. It's so important for us to keep supporting each other. What a brilliant group of women we all are, so let's keep doing what we're doing!"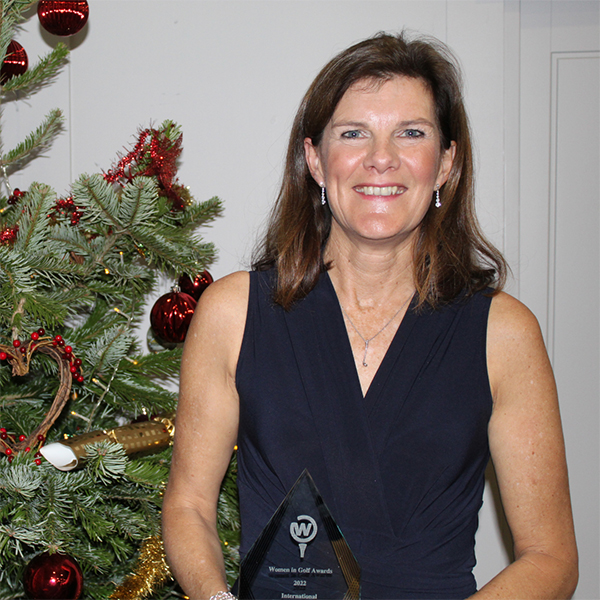 Women in Golf Awards 2023?
"I have no doubt that this event will become a significant date in the calendar for men and women alike," said co-founder of the Women in Golf Awards, Ben Blackburn. He continued: "I have been privileged to be here tonight and it's clear that the Women in Golf Awards can play an important role in attracting the best female talent to golf and in nurturing our future leaders, many of whom were in the room tonight."
"This has been a phenomenal evening," commented co-founder Nicole Wheatley. "I feel quite overwhelmed by the response from the room and thoroughly inspired by the people I have met tonight. Our winners are all excelling in their respective areas of the industry, but most significantly every award winner we have heard from tonight is committed to making golf better for the women who play the sport, or the women who have chosen golf as a career."
Follow the Women in Golf Awards on social media - Instagram, Twitter and LinkedIn