iGolf, from England Golf, showcases the pathway to golf club membership as subscribers exceed 50,000
England Golf has reported a 100 per cent increase in iGolf subscribers in the past 12 months, with 6,000 people transitioning into club membership.
iGolf, which provides non-club members with a Handicap Index, has witnessed continued success and interest from golfers since its inception in 2021, doubling its first-year numbers to over 50,000 subscribers.
The platform's rising popularity in the golfing community has also played a pivotal role in facilitating iGolfers' transition into club memberships, which saw an impressive increase from 1,440 just a year ago, to over 6,000 people as of last month. Notably, 1,320 different golf clubs have welcomed one or more iGolfers into their membership categories.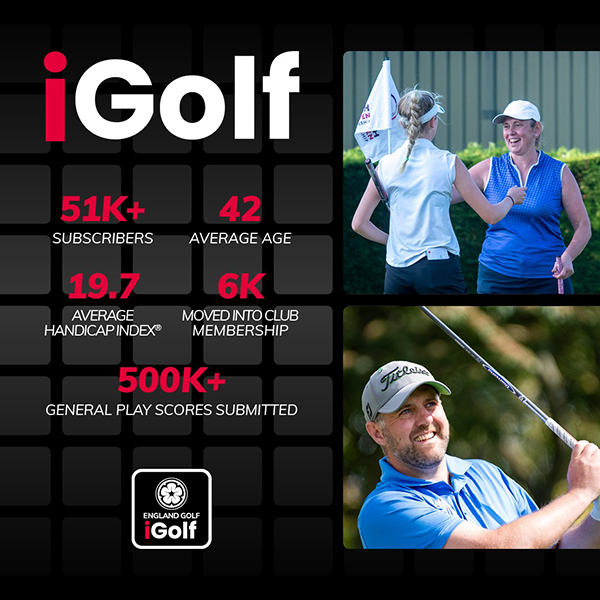 It has seen a lower average age of users, now at 42 years old, indicating an influx of younger participants, alongside 87 per cent of iGolfers submitting scores to date and 75 per cent of the community establishing an active Handicap Index, averaging 19.7.
Furthermore, an encouraging 500,000 general play scores have been submitted by iGolfers, helping to increase their golfing activity since subscribing. This figure illustrates the platform's role in nurturing a passionate golf community that are driven to furthering their ability as dedicated golfers.
iGolf Open
As iGolf starts its third year, golfers will also notice a refreshed brand look and feel across the platform, as well as the inaugural iGolf Open, which takes place at Woodhall Spa, the home of England Golf, on Friday 18 August. Based on the overwhelming response to this iGolf event, golfers can expect to see more dedicated iGolfer opportunities in the future.
Richard Flint, COO of England Golf, said:
"The growth and vibrancy we've seen in the last two years is a testament to the impact iGolf is making. We're not just increasing numbers, we're reaching the targets we set, engaging with a group of golfers who previously had no official means of obtaining a Handicap Index, increasing participation levels of the sport, as well as benefiting the network of clubs up and down the country."
Women & Golf's iGolf experience
At Women & Golf, Editor Emma Ballard and her friends all joined iGolf in June 2022, where Emma blogged about the experience. After a year, all iGolf memberships were renewed and the group continues to track their Handicap Index.
A tool that until a year ago meant that the group of golfing friends, who had been having lessons for six years but didn't want to play in competitions, would just play casually for fun. The experience is still for fun but now there is a way to monitor their performance, something that they have all found beneficial.
Future iGolfers in England can take advantage of a 30-day free trial to iGolf by heading to www.englandigolf.co.uk