Editor Emma Ballard speaks to Jenny Brown, Director of Business Development at The R&A at the launch of their new Golf It! facility in Glasgow
The R&A's new golf facility Golf It! opened its doors last month in Glasgow. A state-of-the-art facility that has community at its core. I headed to the opening and was really taken aback by how far removed this felt from anything that The R&A had done before.
Whilst at Golf It! I got the opportunity to speak with Jenny Brown who is Head of Business Development at The R&A. I wanted to find out why this project was so important to The R&A and ultimately whether this facility could be used as a blueprint and rolled out across multiple locations to build the next generation of modern, family-focused community golf venues.
Why is this project so important from The R&A's point of view?
Our vision is to make sure that golf is more accessible, appealing and inclusive and I think it was very important for us as a governing body to start walking the walk. So it's all very well saying that, but what does that actually mean? What does it look like?
If you think about golf and its origins, it is at the heart of community life. When we were approached by Glasgow City Council, this really gave us an opportunity in the home of golf in Scotland, in Scotland's biggest city, to actually show what thriving in our eyes could look like, and also how to bring golf back to the heart of a community.
We really are in central Glasgow here. We're right next to the Blackhill and Ruchazie communities, where there was passion and interest around the council site. We thought how could we actually really attract a new audience into the sport and integrate more into the community?
When the opportunity came up we just thought that this is a great chance for us to bring our vision to life, but actually a physical manifestation of what that vision is.
There has been quite a shift from the initial concept designs to what we see today. What was the reasoning behind that?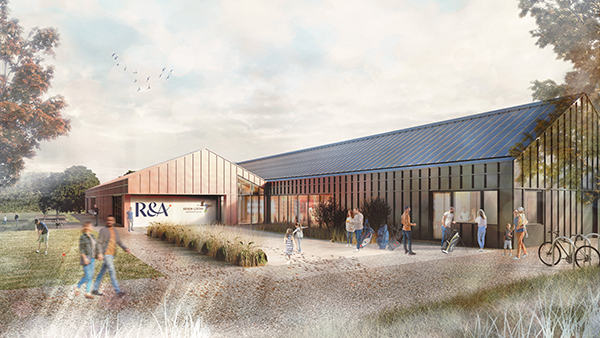 There was a reason, which happened early on after surveying our target audience. We went out to market and engaged with all the local communities around this area, to really hone in on that active family demographic, and ask them what they would want from a brand, facility and golf destination.
This then led to a huge piece of strategic work and brand strategy. That then informed the look of the whole facility. It's really the implementation of that brand strategy that's brought the whole thing to light.
We built a manifesto. Again, what did the audience want? They wanted to have more golf, less barriers. And we really worked on this end-to-end pathway concept.
It's that Golf It! brand coming to life that has informed so much of what we were doing, even down to the to the tee markers. We've got four sets of tees, they're all colour coded. It's easy to understand as a complete non-golfer - to come in and work out that they could get from adventure golf, to park golf to the driving range to the Golf It! tees to the back tees.
Also, we wanted something that kids had a part in developing. What we did with adventure golf was to ask kids to design this for us.
That's part of the whole thing, Golf It! has got to be somewhere that everybody feels like themselves. We've removed all the normal barriers that you'd find in a golf club, like dress code, etc. and we just want everybody to feel really welcome and at home. That's where a lot of the colour and positivity really come in.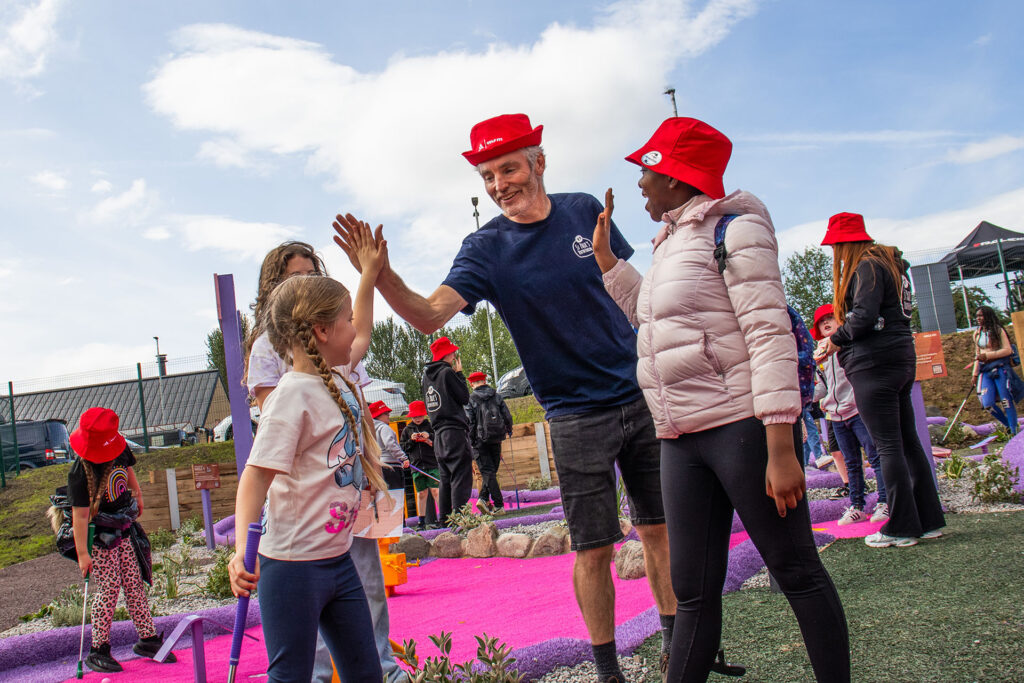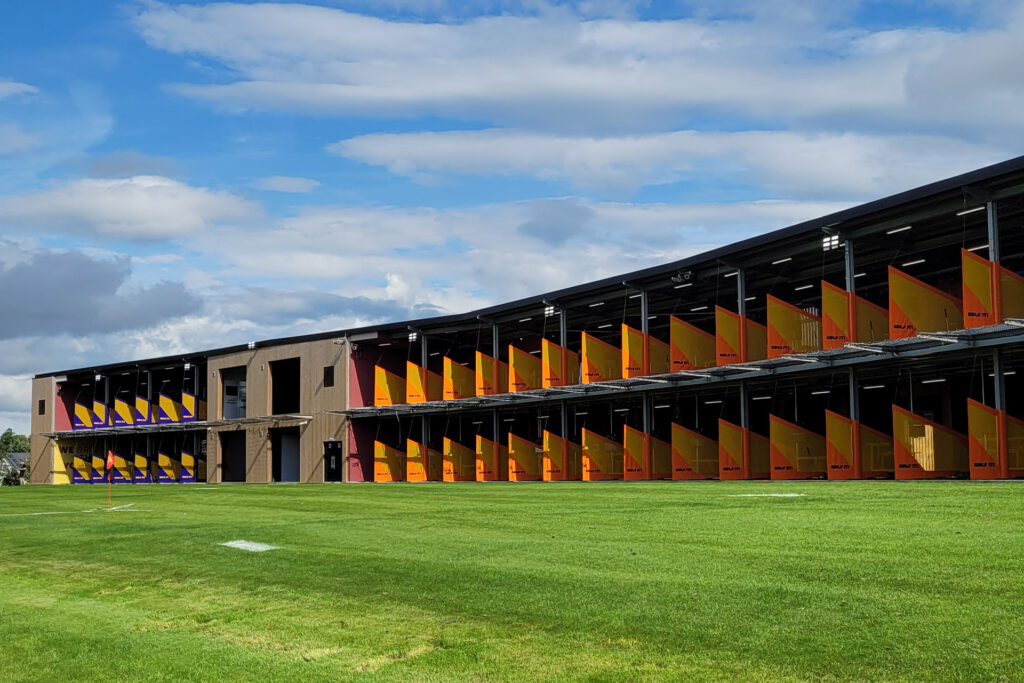 Tell us more about the introduction of a nursery and creche facility and the important part they play at Golf It!
Through all our demographic audience research, it came back really strongly that families said that we would use this facility every day, but especially if they were dropping their kids off at nursery. The ability to then hit a bucket of balls, for example, before going to work, helping to engage with golf around family life.
The nursery and creche facility was imperative for attracting family footfall 365 days a year whether you're in the nursery operation Monday to Friday or maybe one of the barriers to trying golf was actually there's no one to look after my child, well let's just remove that barrier with our weekend creche.
We've got a great creche that overlooks Hogganfield Loch, surrounded by nature trails. It's not just about golf, there's bike hire for free, paddle tennis and lots of other things for the family to engage with and enjoy.
Is this model something that The R&A are keen to see modelled or licensed out across the world?
Our ambition clearly is to have lots of these, but I think, year one, we just need to learn and listen to our audience. We will not have anywhere near everything right, so it's really about seeing how people engage with this, what works, what doesn't and learn from it. Hopefully, we then see it replicated.
A really interesting USP that we have is not just the end-to-end pathway for playing the sport, but also the way that we've integrated with the community. We've got a volunteer programme, with 32 different volunteers weekly that come into the facility. We employ over 100 people from the local community and we have an apprenticeship programme.
The apprenticeship programme is on the greenkeeping side and is sponsored by Toro. We've got two apprentices from the local community who will spend the first two years here in Glasgow, one year in St Andrews and then a year in Ohio.
It is not just about showing increased participation in the game through the facility, but changing the perception of the sport, removing the barriers and showing actually what it's like to work in golf.
You don't know until you try so it's actually about making those channels open to all to come and try it and hopefully create a whole generation of people that just absolutely love the game for lots of different reasons.
You can't argue with that sentiment! I can highly recommend visiting Golf It! if you are ever in the Glasgow area, so that you can see what The R&A have achieved. If Golf It! has anything to do with it, the future of golf is just like its colour scheme bold and bright.
Find out more about Golf It! by visiting golf-it.com