Editor Emma Ballard takes her two daughters to the press launch of the new golf facility from The R&A - Golf It! in Glasgow
It's the first time in my career that I have had an invitation that actively encouraged me to bring my children to a launch event.
In the full throws of the summer holidays, juggling work and child care, the idea of having a win-win day with my 12 and 10-year-old daughters made my decision to attend the Golf It! press day in Glasgow all the more easier.
Saying that, I had been intrigued to see the result of The R&A's new community golf facility ever since it was announced that they would be redeveloping the Lethamhill golf course site, located on the south bank of Hogganfield Loch in Glasgow, back in early 2021.
What could be created when you had a reasonably blank canvas to start with? In my mind, it gave The R&A a fantastic opportunity to show what they could do and lead the way in what a modern day golf facility should look like.
First impressions of Golf It!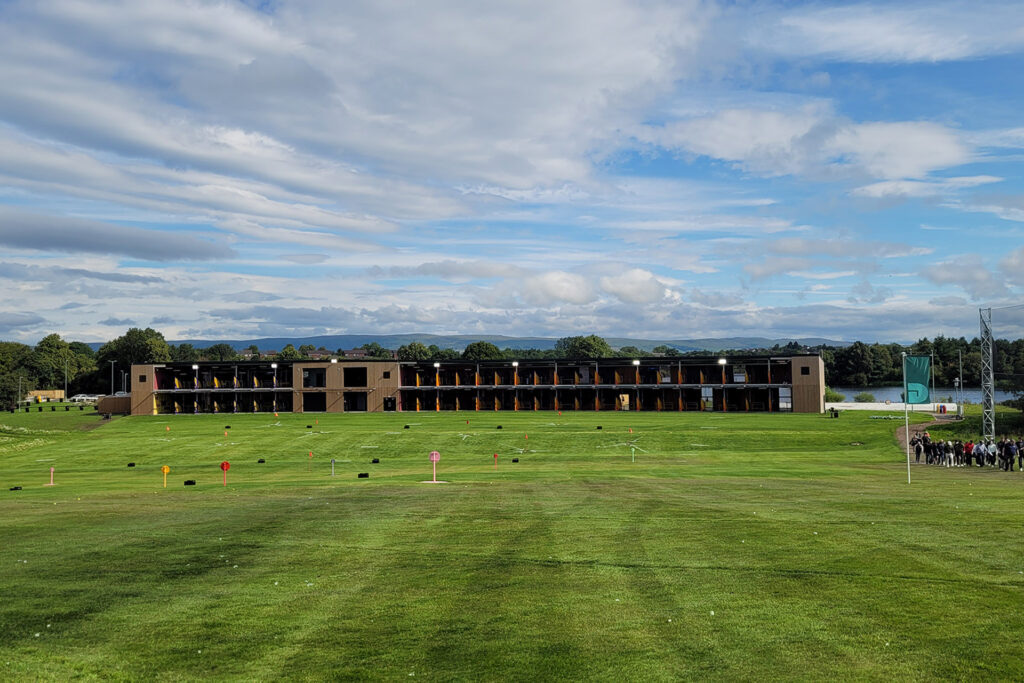 From the outside, the main Golf It! building sits well in the landscape and feels very unassuming, with street vendor vans offering a variety of food and drink just situated outside.
Once you enter the building, the best way I can describe it is industrial. Concrete floors, exposed pipes, high ceilings and plenty of metal work. A complete contrast from any golf club I have visited. Music is blaring and the atmosphere is buzzing.
My daughters are excited to get going after the welcome pyrotechnic display, watched from the outfield of the driving range.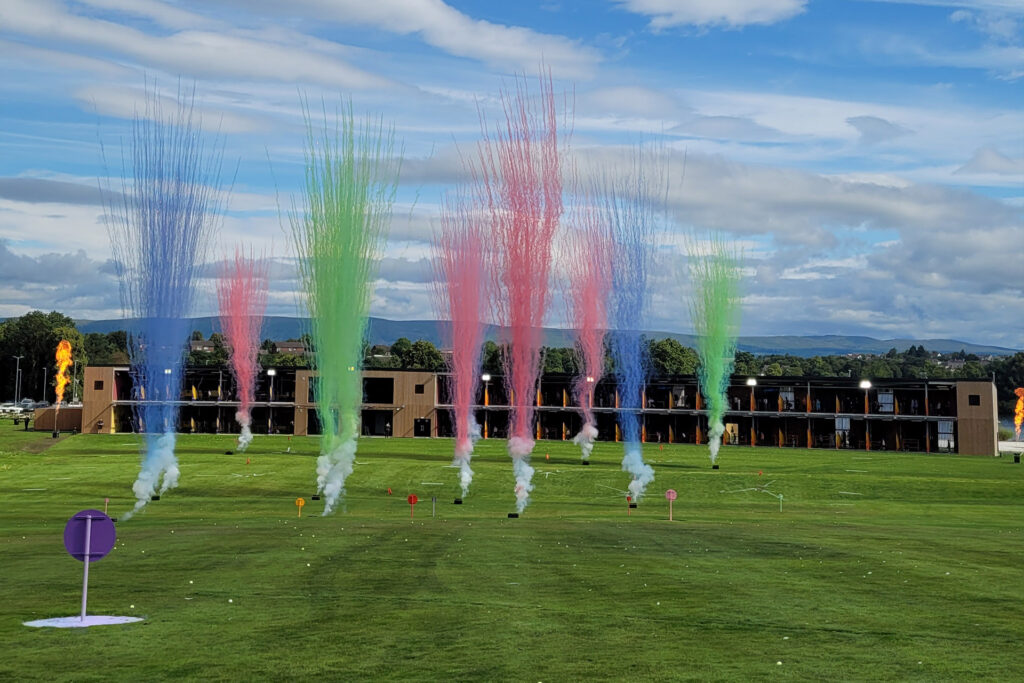 A welcome goody bag from adidas and a chance of winning a pair of shoes is a good start. Golf It! bucket hats on and both nail a hole-in-one to be entered into the draw. Ellie getting a high five from Scottish pro golfer Connor Smye (who hadn't managed it first time)!
Onto the driving range, of course, my daughters want to go onto the second floor. Neither of them have used Top Tracer before but set themselves up quickly, choose from three different sizes of clubs available and get hitting.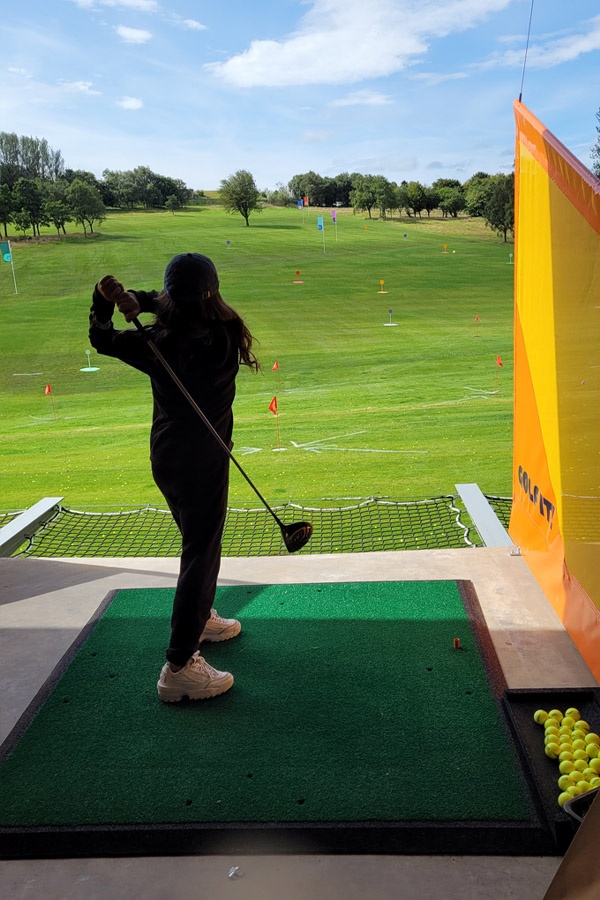 The simple enjoyment from making a good connection is where it starts then it comes down to who can hit the furthest. Ellie beating her big sister, much to her delight!
We're obviously not there for custom fitting but with a new Regional Fitting Centre from Titleist and Fit.Build.Play at Golf It! from Scottsdale Golf you can have a tour level fitting experience, regardless of your ability.
Lunch calls and the girls tuck into pizza from Base Pizza part of Big Feed which has made Golf It! their permanent home, after making a name for themselves with weekly family foodie events across Scotland. Whilst I get some time to speak to Jenny Brown who is Director of Business Development at The R&A. More on that to follow.
Golf It! Adventure golf was a big hit
Energy levels restored, it was time for adventure golf. Three nine hole courses designed by children for families. Bright and vibrant, the colour pops all around you. I don't remember a time my daughters have had a score card in hand by they know exactly what to do, again both keen to beat the other.
Each hole had a marker with information on it, I am not sure they paid much attention but I thought this was a great addition, especially around the 'Our Earth' course.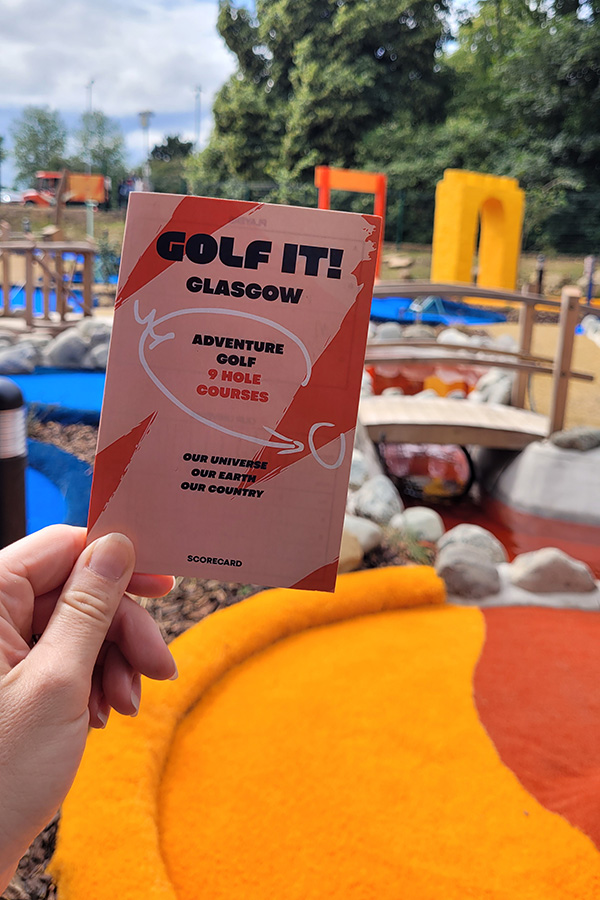 I thought that attempting to play the nine hole course may be a bit too much, so I can't give too much insight into it. However, the course has been designed to be accessible to every level of golfer and playable in 90 minutes. With five tee options, you have the opportunity to tackle the course in different ways every time you play.
There will also be Fast 5 Fridays - Five friends taking on five holes, with only five clubs, every Friday. Another interesting concept which I am interested to see if it catches on.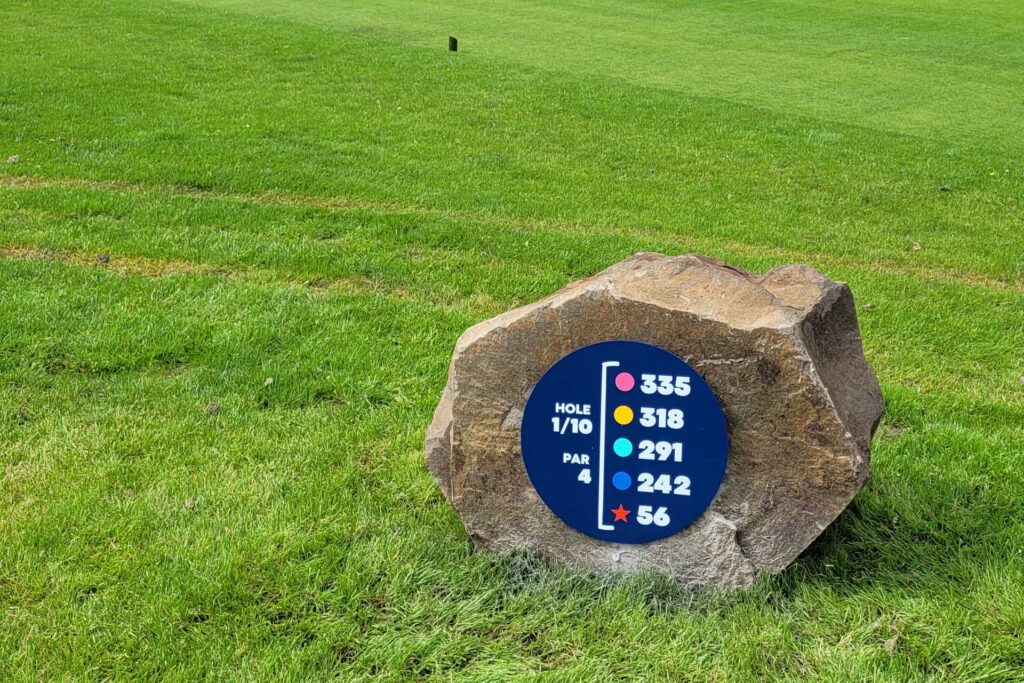 I also wasn't able to convince them to come away from the adventure golf for a nature walk but there are a series of walking trails in the heart of the golf course (you can get a handy map from the reception desk). Plus there is the opportunity to cycle the loch that you can see from the adventure golf with access to free bikes from Golf It! partner On Bikes by St Paul's Youth Forum.
Child care - a much-needed golf facility addition
A creche is something that I don't require any more but I am a firm believer that having an onsite creche facility is one of the best ways of attracting families to a golf. I went back to the gym three months after having my daughters because they could spend an hour in a creche. I didn't regularly go back to golf until my eldest was five years old.
Lullaby Lane will act as a nursery during the week and a creche facility at the weekend. A perfect opportunity to hit a bucket of balls before work or head out for nine holes at the weekend.
I haven't even touched upon Park Golf, the Seven Lochs visitor centre on the padel tennis available, something for our next visit perhaps.
The die hard traditionalist golfers may take some convincing that a venue like this is needed but you cannot fail to come away thinking that there are so many things that The R&A have got right.
This is so much more than a box-ticking exercise by the governing body, who have created a template that, once tested, can be replicated across the UK and beyond. I'm excited to see how Golf It! is embraced by the local community, because it's the community that this venue has in mind, golf is just the vehicle to bring everyone together.
Golf It! Review by children for children
Don't just take my word for it. Both of my daughters are very much casual golfers as they are yet to fully fall in love with the game. I asked them to give me their thoughts on their first experience of a facility like Golf It!
I didn't know what it would be like going to Glasgow with Mum, but it was amazing! Let me explain why.
As we arrived at Golf It!, it set a welcoming scene, a pretty setting, happy staff and overall a beautiful facility. The opening was mind-blowing, with lots of children of all ages hitting golf balls from the driving range whilst there were some amazing fireworks.
Not being a very experienced golfer, I found it fun just to be able to have a go. There were all sorts of different games/challenges - like trying to hit a hole-in-one.
The crazy/mini golf was really cool because it was designed by children, making it really fun environment. I also loved the street food, the pizza was delicious.
Overall. I had such an amazing day experiencing all this new facility and its wonders. I totally recommend other families to go to Golf It! for a fun family day out.
Izzy - aged 12
When we were on our way to Golf It! I was very sceptical about whether it would be good or not. But once I got there, I LOVED IT.
The grand opening was amazing with lots of children hitting golf balls off the driving range. There was fire on the sides of the building and there were colourful fireworks going off here and there.
We got free goodie bags from adidas and then we tried their hole-in-one competition. I didn't think I would be very good, but then... I GOT IT IN ON MY FIRST TRY! So I might win a pair of adidas trainers.
Then we headed onto the top level of the driving range for the first time. I hit a shot 147 yards, it was fun to see how far I had hit it [using Top Tracer] and I kept trying to hit it further.
I enjoyed the great pizza at lunch which came from a van outside and we also had some sweet strawberries.
Then we went to the crazy golf courses, where we had so much fun, with some more holes in one.
We went back to the driving range again and I got some compliments on my golf swing from some of the workers at Golf It! Then we went home.
If you are thinking of coming to Golf It! I recommend coming. It is a family friendly place with lots of yummy food and lots of fun is waiting for you!
Ellie, aged 10
Both girls are disappointed we live 300 miles away, as they would highly recommend Golf It! to their friends and are already asking when we can go back.
Golf It! opens to the public on Saturay August 5. To find out more visit the Golf It! website here.