Often the unsung heroes at golf events, the volunteers who give up their time to make sure tournaments run smoothly. We spoke to one at the AIG Women's Open.
Straight after marshalling at the Trust Golf Women's Scottish Open at Dumbarnie Links, volunteer Lynn Cook headed to Carnoustie and the AIG Women's Open. We caught up with her to find out how she got into marshalling, what it involves and some golfing highlights along the way.
Name: Lynn Cook
Home club: Waltham Windmill Golf Club, Grimsby
Golfer: 43 years – since meeting her husband in 1978
A little background…
Over the years Lynn has been Lady Captain twice in the UK and her husband has been Captain twice. Many years ago when she used to be at Immingham Golf Club and then Forest Pines in Lincolnshire, Lynn was the Lincolnshire Junior organiser, looking after the junior girls. She also lived in Portugal for 11 years and her husband George was Captain and President there too.
How did you get into marshalling?
Our interest in marshalling came from when we used to go and visit some friends in Portugal. They said that the WGC World Cup was coming to Portugal, in 2005, and they invited us to marshal with them. We agreed as it sounded interesting. It just snowballed from there.
What happened once you moved out to Portugal?
When we moved to Portugal, there weren't many ex-pats that played golf and knew about it, so we got jobs on the golf courses like starters and marshals. I was then offered the opportunity to be an organiser of Golf for Greys, a golf society in the Algarve which gives golfers competition golf once a week.
When the European Tour came to Portugal, they got in touch with Golf for Greys as we had a lot of members and asked if we would provide marshalling services.
So, that's how George and I became involved. This got us into lots of European tour events, team events - they would just call when they needed us.
Where there any highlights in Portugal?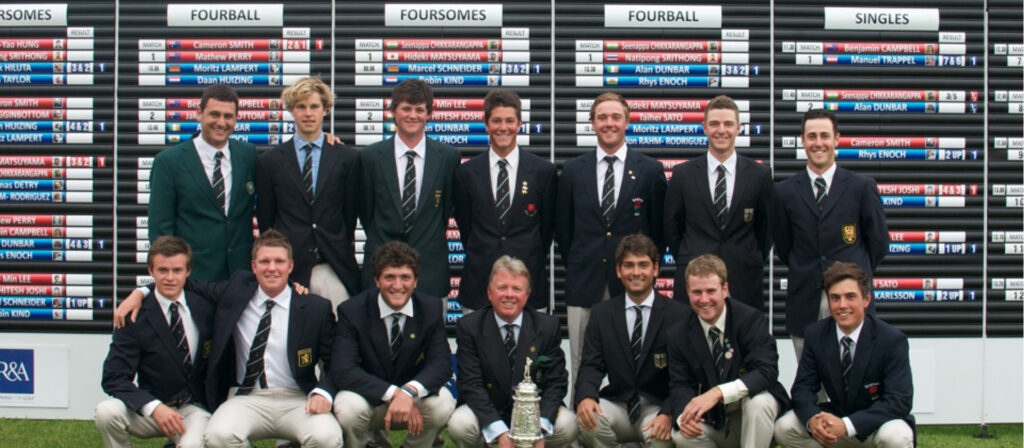 The Sir Michael Bonallack Trophy took place at Monte Rei in 2012. The tournament wanted someone to provide all the caddies for Europe and Asia. George and I decided to do it and we got the members from our golf club together. We had to drive buggies with their clubs on the back, so it was no hardship walking the course. Jon Rahm was in the European team and Hideki Matsuyama in the Asia-Pacific team. On the last day, I got to caddie for Hideki. Now I see them on the tour, winning the Masters and thinking wow, you know, I actually caddied for him when he was an amateur, which is really exciting.
We have also been involved with the Portugal Masters, since the very first one. Last year I got to go back to Portugal and run the marshalling for the event which was shows how my role has evolved over the years.
What happened when you moved back to the UK?
Yes, the tours were still keen for us to do events and we wanted to do as many as we could, as we're both retired. We bought a motorhome so that we could zoom about. We've been at Ladies Tour, Senior Tour, European Tour events, not just in the UK. We've been to Ireland, Abu Dhabi, Dubai, obviously back to Portugal and Spain. So, we do get about!
We both love golf, if we're not playing it, it's the next best thing to watch others play.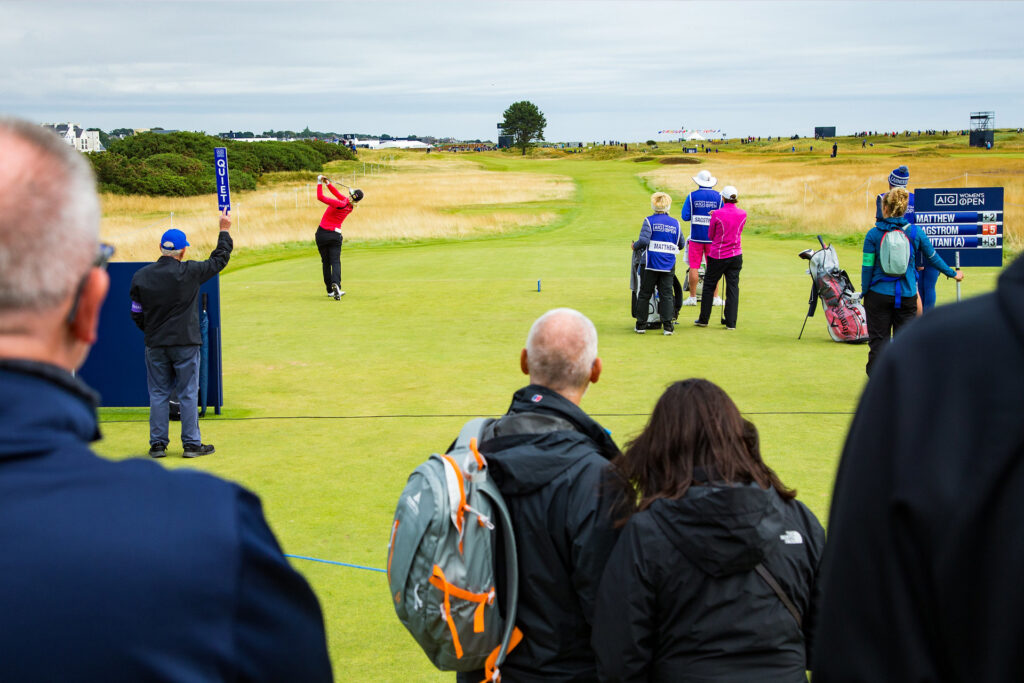 If someone was interested in getting into marshalling, what roles are there?
There are lots of roles. If you don't want to do anything particularly taxing, you can just be a static marshal on a hole with a 'quiet please' board and just monitor a green or a crossing where people come across and stop it for the players.
You can work on a grandstand where you're monitoring the people coming up and down when the play is happening. You can also do a leaderboard, which is good fun, because you're elevated above the green, you can see exactly what's going on. And you can hear the scores and see how everybody's doing.
The R&A still use walking scorers or you could be a board carrier if you're fit and strong. You can be walking marshal with a group, just making sure they're clear passage through and the spectators don't get in their way and things like that. So, there are lots of opportunities. But if you love golf you should get involved.
What was your role at the AIG Women's Open?
My role was on the driving range. I started on the Monday. Monday, Tuesday and Wednesday, were extremely busy, we never stopped work because we do the short game area and the driving range. Every time a player finishes on the range, we have to collect the balls, clear their tee area and make sure that it is ready for the next one that comes along. We also cover the short game/chipping area – this involves moving the balls off the green and picking them up and raking the bunkers, keeping everything tidy. We're on the go all the time!
On Thursday, we had to put the names of the player in front of them, so that the spectator knew who they were watching. That was an extra job. Putting all the names in alphabetical order, and I was the one responsible for making up the boards and getting them out and back.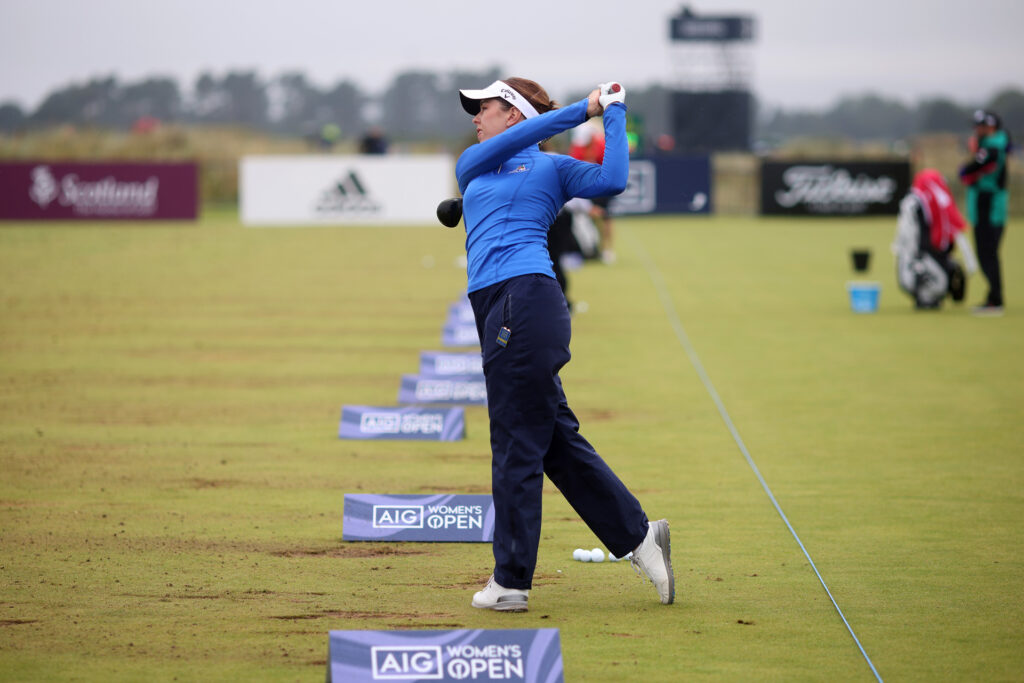 What was your husband George's role?
My husband was buggy driving players from the hotel to the putting green to the driving range. Shuttle driving which he liked because he's got a new knee and is not great at doing long walks. But my step count was really busy. I have a little contest with my sister-in-law normally with us both golfing. But I think last week, she clocked up 51,000 and I clocked up 151,000!
What's the rest of the year looking like for you?
We'll be home about a week and then I'm down at Wentworth at the BMW PGA Championship. I'm in admin, I'm assisting the Chief Marshal with the assigning duties for all the marshals. And, then at the end of September I am back up here to bonnie Scotland for the Dunhill Links. I don't quite know what I'm going to be doing at the Dunhill yet because we haven't been allocated our jobs. That's all that I know at the moment.
Is your work all voluntary or are there paid roles?
You used to be able to get paid roles, if you worked for a media company like IMG or something like that. They often had little jobs that you could do and get a basic wage, and they'd pay your expenses. Mostly what I do is voluntary. We pay for our own accommodation, fuel etc because we love what we do, even if it's sometimes 12 hour days.
What has been your favourite event to marshal?
The Irish Open because the Irish just love their golf and they are just so much fun to be with. Around the town there are gala ribbons, every shop is decorated in golf attire whether it's a cake shop or a dress shop. They've all got golf club and golf balls in the windows, and you can't mistake there's a golf event.
The support from the Irish is unbelievable, I've never seen so many spectators as I see at the Irish Open. They love their golf, and it's just a great atmosphere! I love the music and you almost feel like you could be doing an Irish jig down the 18th! Everybody loves the Irish Open.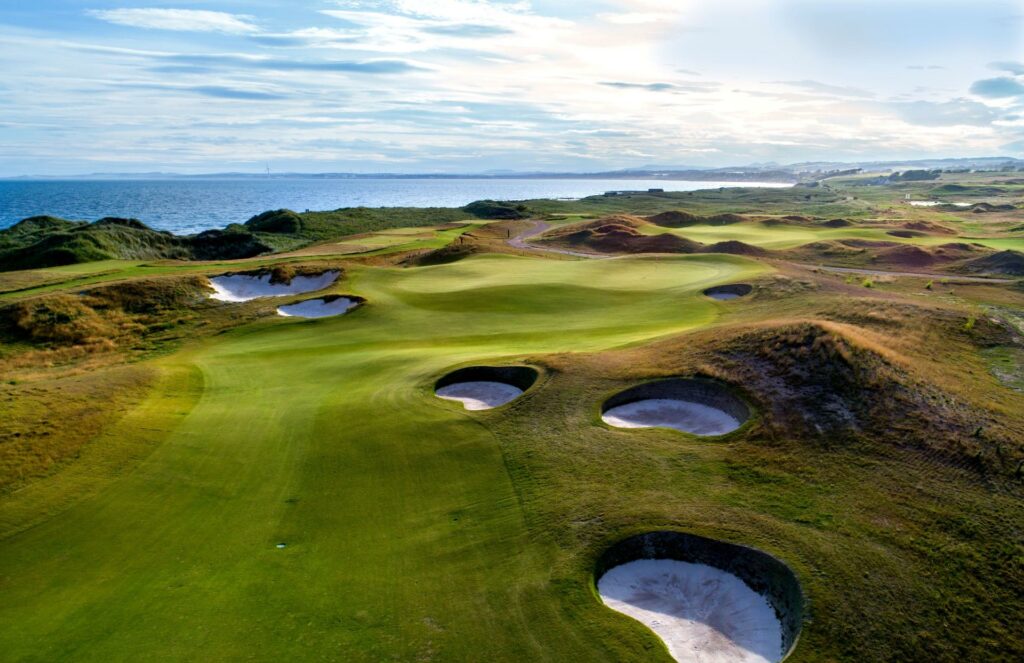 Do you have a favourite golf course, maybe one that you've been a marshal at or maybe one to actually play?
I have to say Monte Rei in Portugal on the Algarve is pretty special. It's a little bit like the one I saw last week Dumbarnie Links. It's a golf course where you can only see the hole that you're playing. It feels a bit like millionaires' golf, because you feel you're the only one playing on the course because you can't see anybody else. And Monte Rei in Portugal is like that. It's a Jack Nicklaus course, and it's beautiful. It's my favourite on the Algarve. Although there are some wonderful golf courses on the Algarve.
We'll be catching up with Lynn later on in the season to see how the rest of the marshalling year went. Do you marshal and have a story to share? Please do get in touch via email